Advanced Micro Devices (NASDAQ:AMD) and Nvidia (NASDAQ:NVDA) have long been the hottest subjects for debate when it comes to equipment supplies to the crypto mining business. We think many investors do not understand the exposure to crypto mining for each of the two companies and headline news has created unjustified reaction at times. In this article, we aim to provide our two cents on the issue and hopefully clarify certain common misunderstandings regarding Bitcoin (COIN) (OTC:GBTC) and Ethereum, the two largest cryptocurrencies at the moment. We think AMD has higher exposure to the crypto mining space and will likely suffer bigger losses if demand wanes. Nvidia is a more diversified business with bigger scale and less likely to be affected meaningfully.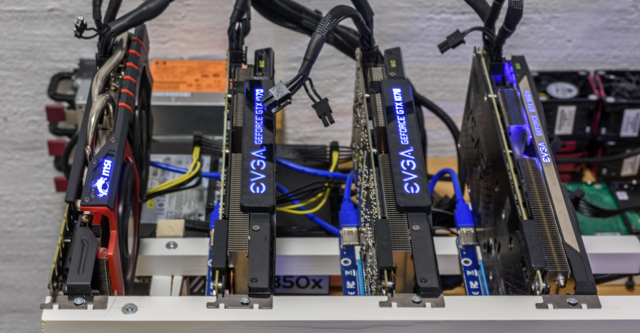 (The Merkle)
We think AMD is currently the preferred GPU for Ethereum mining over Nvidia due to its lower cost that results in higher profitability and shorter payback. However, crypto-related revenues have come to account for 6-8% of AMD's total revenue, a substantial amount that is subject to several headwinds outside of AMD's control. The upcoming switch to "proof-of-stake" for Ethereum and the recent correction in the space have not provided support for the industry to become a sustainable long-term revenue source for AMD. We think Nvidia has a relatively smaller footprint compared to AMD and its diversified business model and bigger scale will be able to absorb any potential downturn much better than AMD would. We caution investors to realize that crypto-related revenue has become a substantial portion of AMD's revenue and any collapse in crypto mining will impact its sales and growth rate materially.
Setting the Stage
In the past twelve months, NVIDIA share price appreciated over 100% while AMD lost 20% in the same time period. Nvidia is a diversified business with close to $10 billion in revenue whereas AMD reported $5 billion this past year. Nvidia's market value of $136 billion is more than 10x the market value of AMD's $11.5 billion. According to consensus estimates on FactSet, AMD currently trades at 1.8x EV / '18 revenue and 29x '18 P/E and Nvidia trades at 11.1X EV / '18 revenue and 38x '18 P/E. It is clear that the higher market value of Nvidia is largely due to its superior margins and earnings.
Crypto mining has also had an impact on both companies through their GPU offerings. Both companies reported higher-than-expected earnings from crypto-related businesses, although none of the two reports such revenue stream separately in their financials.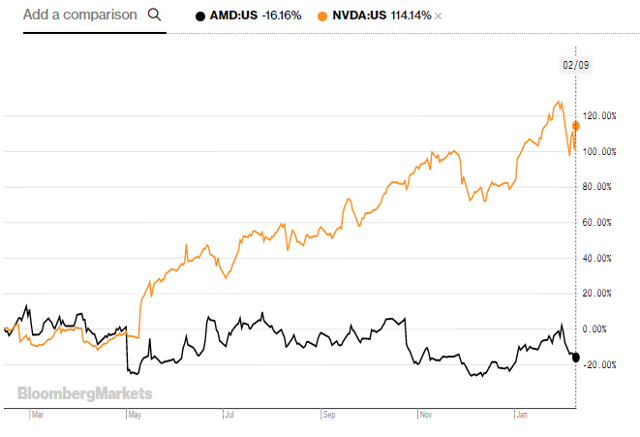 Crypto Mining 101
To understand how both companies are affected by crypto mining, it is important to first understand how "mining" works in this case.
Cryptocurrencies mining refers to a process where "miners" receive rewards for confirming transactions in the blockchain system. Miners help confirm each transaction and load them onto the blockchain while in return they receive a small amount of the currency. In order to confirm the transaction, the miners will use computing power to solve cryptographically secured transactions and record them on the ledger. This process is called "Proof of Work". The confirmation process requires a large amount of computing power and energy to support such activities.
To understand the impact of crypto mining for AMD and Nvidia, one has to understand the difference between coins being mined by ASIC versus GPU. The table below listed coins with their ideal mining hardware. For example, the biggest cryptocurrency Bitcoin is mined by ASIC whereas the second-largest currency, Ethereum, is mined mostly by GPU.
ASIC-based coins do not use GPUs produced by AMD and Nvidia and have no direct impact on the demand for both companies. However, we recognize that coins tend to trade in close correlation with each other and a slowdown in Bitcoin would most likely mean a similar downturn for other coins.
GPU-based coins require chips made by AMD and Nvidia and their prices could affect demand and sales for both companies directly. The algorithms used to mind these currencies require memory hard hashing which is why GPU is used in this case, instead of ASIC.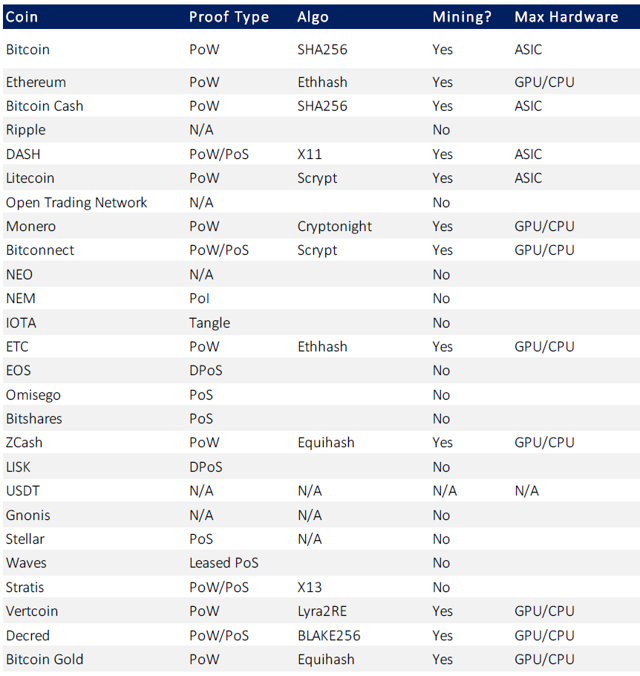 Source: Cryptocompare
TAM for GPU-Based Mining
How big is the market for the crypto mining business for AMD and Nvidia? We use Ethereum to estimate given its dominant market share among GPU-mined coins. RBC estimated that the total TAM for Ethereum mining is $1.87 billion. With roughly two-thirds of the total spent on GPU alone, RBC estimated that the total demand for GPU is $1.25 billion from Ethereum alone. Note that the numbers only include Ethereum and other coins could expand the market once they become profitable to mine.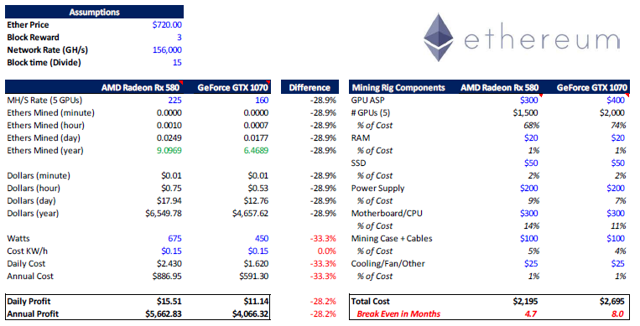 Source: RBC research
Note that the price of Ethereum will be the determining factor in this analysis as the lower price could materially impact profitability for miners thus their demand for GPUs. Note that Ethereum prices have fallen from high above $1,400 to around $850 at time of this writing. RBC's analysis assumed $720 for Ethereum price and calculated break-even time of 5 to 8 months, which is a highly attractive return for most people. However, if Ethereum prices were to drop significantly we would expect miners to suffer from much lower profitability and longer payback period.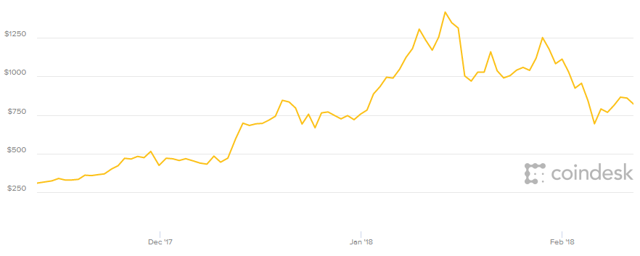 AMD vs. Nvidia
AMD disclosed some information about the impact of crypto mining on its fourth-quarter earnings call with the following commentary:
I previously said we thought it was about mid-single digits percentage of our annual revenue. It may be a little bit higher than that, let's call it a point...What we see in the market, though, is – because I know there's a lot of conversation about this out in the market, it is an important market. I mean, we're now seeing it from the standpoint of there is a lot of dynamic movement in the market. But it is consuming a lot of GPUs. It's a good part of our business, and we intend to sort of work with the large players to better forecast that business going forward.
What that means is that AMD is saying that likely 6 - 8% of its fourth-quarter revenue was tied to crypto. AMD reported $1.48 billion in revenue for the quarter, and that implies ~$100 million in revenue.
Nvidia reported fourth-quarter results last week and management also admitted that crypto revenue was higher than expected despite offering little information on its impact on the overall business. Nvidia reported crypto revenue in its Gaming segment and has noted the difficulty in estimating such contribution due to retail demand from both miners and gamers.
The impact of higher demand for GPUs has driven up the prices for both Nvidia and AMD products. According to PC Gamer, the median GPU price has increased by a whopping 65% since these products were initially launched. AMD GPUs saw the largest price increases due to its lower price and as a result higher revenue and profitability for miners. RBC's estimate showed that AMD GPUs have a payback of 4.7 months versus 8.0 months for Nvidia. The price increases also confirm that AMD products are in higher demand.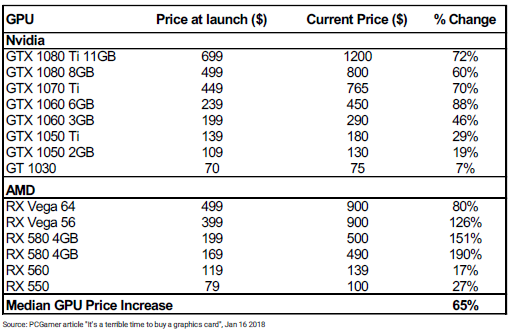 (PC Gamer Magazine)
Who Is The Bigger Victim?
We think demand from crypto mining is still in its early stage, hardly can be called an established industry yet. There are a few public companies that recently capitalized on the trend, such as HIVE Blockchain Technologies (HVBTF) but their share prices have deflated significantly as well as Ethereum slumped. The prices of digital coins have swung widely and adoption in any large scale has yet to happen. We also believe that many miners have purchased mining equipment during early 2017 when prices of major coins shot up manyfold in a matter of weeks. However, as the recent correction brought prices back down we think miners are less likely to add additional equipment at the same pace they did before. The reported results from AMD and Nvidia also has a natural lag due to the fact that the correction in Bitcoin and Ethereum prices happened in the new year.
We think AMD definitely has a higher exposure to crypto mining than Nvidia due to its smaller revenue base and less diversified business model. AMD's computing and graphics segment reported $958 million in revenue for the quarter and based on our estimate of $100 million in crypto-related revenue, the segment almost generated 10% of its revenue from crypto mining. AMD also attracted higher demand from miners due to its superior economics as demonstrated by the analysis from RBC. Nvidia is the clear second choice for miners would most likely benefit from a shortage of AMD GPUs in the market and frankly an undersupplied GPU market for quite some time.
Implications
So what does all this mean for AMD and Nvidia going forward? We think the implications are that investors will have to watch closely any changes to the GPU-based mining business as a key risk to AMD in the near-term, more so than for Nvidia. There are several risks for crypto-driven GPU demand:
Prices of Ethereum and other GPU-based coins might drop further which would dampen demand from miners as profitability drops
Any changes to the block reward or block time would alter the economics of mining Ethereum and others dramatically
Ethereum is moving from "proof-of-work" to "proof-of-stake". The transition would result in changes in the algorithm and could, in theory, kill the need for GPU. However, others have guessed a hybrid of both GPU and other mining methods might be needed.
`
Author's Note
We hope you found our article helpful. Consider "following us" to receive updates for future publications. Check out our recent articles on the space:
Editor's Note: This article covers one or more microcap stocks. Please be aware of the risks associated with these stocks.