REIT Rankings: Data Centers
In our REIT Rankings series, we introduce readers to one of the fifteen REIT sectors. We rank REITs within the sectors based on both common and unique valuation metrics, presenting investors with numerous options that fit their own investing style and risk/return objectives.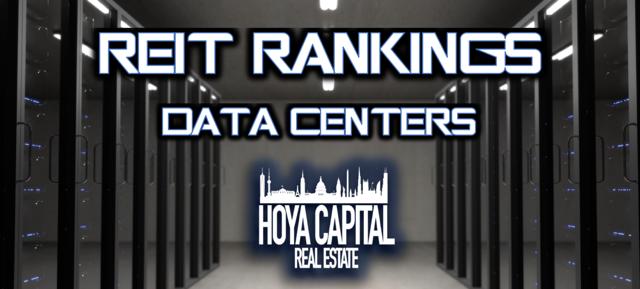 We encourage readers to follow our Seeking Alpha page (click "Follow" at the top) to continue to stay up to date on our REIT rankings, weekly recaps, and analysis on the REIT and broader real estate sector.
Data Center Sector Overview
Data Center REITs comprise roughly 9% of the REIT Indexes (VNQ and IYR). Within our Hoya Capital Data Center index, we track the five data center REITs within the sector, which account for roughly $75 billion in market value: CoreSite (COR), Digital Realty (DLR), Equinix (EQIX), CyrusOne (CONE) and QTS Realty (QTS).

We note the strategic focus of each of the five REITs above. "Quality" is determined by the average value per square foot of the underlying data center portfolio. The value of each data center is largely a function of its position along the internet backbone, the physical fiber optic network that links every connected-device across the world. Properties within the backbone are able to provide higher-value network-based "co-location" and interconnectivity services, which command higher rent-per-MW and generally have higher barriers to entry. Properties on the periphery typically provide more ubiquitous enterprise-based services, including storage and cloud-based software applications, and primarily rent these facilities to wholesale customers who pay lower per-SF rent.
Equinix has the highest "quality" portfolio of network-dense assets (roughly 65%) followed by Digital Realty and CoreSite (each roughly 30%). CyrusOne and QTS focus primarily on lower-valued enterprise assets. We also note that Digital Realty and Equinix have a global data center platform while the other three REITs are primarily US-focused. Finally, we note that unlike the other four REITs, EQIX owns less than 50% of the real estate that it leases and thus has slightly different investment characteristics than the other REITs.
Data Center Primer
Data centers are the home to the "cloud," which simply refers to the outsourcing of computing processing and storage capacity from one's own device to a data center where it can be handled more efficiently. Cloud computing gives customers the ability to access computing resources on an as-needed basis and negates the need to have under-utilized processing and storage capacity on-site or on-device. The economics of utilizing cloud computing is highly favorable for most consumers and businesses, which has prompted an insatiable wave of demand for data center space.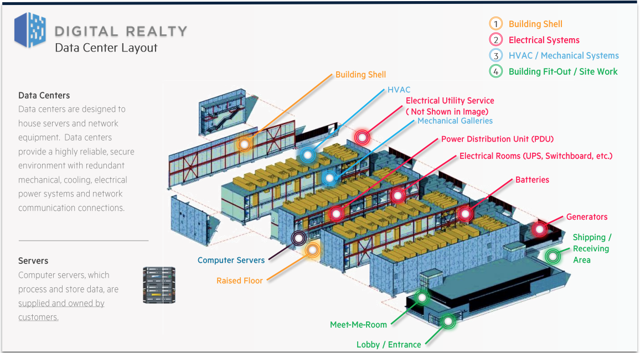 (Digital Realty Data Center Overview)
Consumers and small businesses typically access the cloud via public cloud providers such as Amazon (AMZN), Microsoft (MSFT), Apple (AAPL), and Google (GOOG) (GOOGL). These companies rent substantial quantities of space from data center REITs in order to "release" capacity to these customers but command significant pricing power over REITs as "wholesale" customers. Convenience and scalability are benefits to the public cloud, but privacy and lack of control can be issues for larger businesses.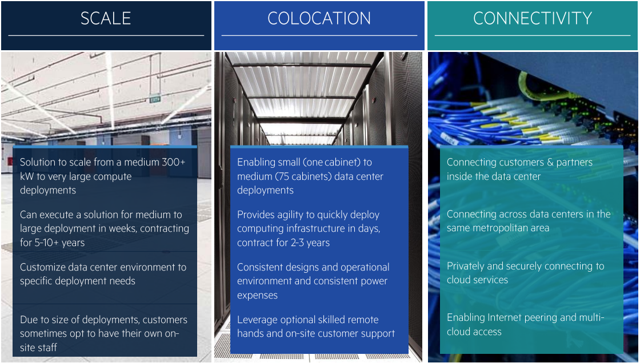 Medium and large businesses, on the other hand, typically have an economic interest to create their own "private cloud" which gives them more control, more privacy, and the ability to customize their IT solutions. While more expensive in the short run, the economics of managing one's own cloud can be more advantageous than the public cloud over time. These entities typically rent their own server space from data center REITs and have less pricing power as "retail" customers. "Hybrid" cloud solutions (outlined below) combine the benefits of the public and private cloud, whereby businesses run non-sensitive applications on the public cloud and sensitive applications on a private cloud. This IT strategy is most advantageous to data center REITs which can retain some pricing power over retail customers while continuing to lease in high volume to wholesale customers. Shifts in the propensity to use the public vs. private cloud affects the value of data center REITs.

Recent Performance
Data Center REITs were among the best-performing real estate sectors in 2017. The sector returned more than 25% on a total return basis compared to a 5% total return for the broad REIT index. The sector rallied more than 90% between the start of 2016 and the end of 2017.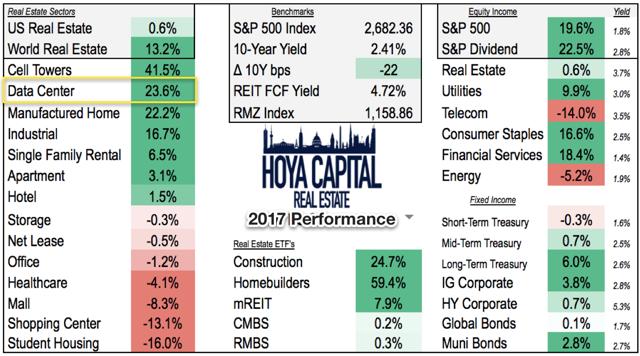 So far, 2018 has been less favorable. Dragged down by a broader REIT sell-off related to fears of rising interest rates, data center REITs have dipped 16% so far this year compared to a 12% decline in the REIT index. So far this year, Digital Realty has been the top-performer, followed by Equinix. QTS has dipped nearly 40% so far this year, which we'll discuss below.

Quarterly Earnings & Recent Developments
After a strong two years of sector-leading performance, expectations remained sky-high heading into this earnings season. 4Q17 results came in roughly as expected but 2018 guidance was conservative. Leasing activity was decent but continues to be choppy and was slightly shy of expectations at CoreSite, CyrusOne, and QTS. Pricing on new and renewed leases remains firm with low- to mid-single-digit growth rates, indicating that market rents remain roughly steady despite the rapidly shifting industry dynamics at play.

For full-year 2017, Core FFO grew 14%, slowing from the 20% rate in 2016. 2018 guidance suggests a further slowdown in growth to 8%. Development activity has cooled from the furious pace of 2013-2016 as market fundamentals have reached relative equilibrium. While these REITs remain active developers, the double-digit AFFO growth rates appear to have passed for this cycle. Positively, EBITDA margins expanded in 2017 led by Digital Realty and CyrusOne.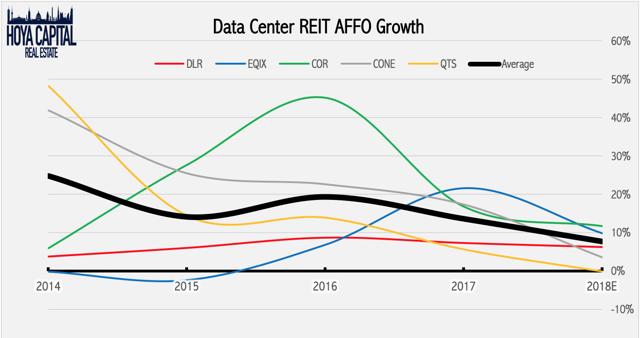 Over the past quarter and during earnings calls, several key themes and recent developments are being discussed.
1) It's All About Hyperscale
As hyperscale has exploded in size and popularity and their applications have become an increasingly viable option for mid-size and larger businesses, the industry dynamics have shifted. Average lease sizes have increased dramatically and rental rates have reflected this shift towards wholesale pricing. While private cloud solutions have also seen steady growth and integration into a "hybrid cloud" model, the general sentiment is that the runway for growth is far longer for the hyperscale model and these providers are expected to take an increasingly larger share of the pie.
This shift culminated in QTS's announcement this quarter that it would focus exclusively on its hyperscale and hybrid cloud businesses, divesting from the retail-level managed services business. Perhaps most indicative of the fast-shifting landscape, the term "Hyperscale" was mentioned a total of 70 times on the most recent QTS conference call, up from just 6 times in 4Q16.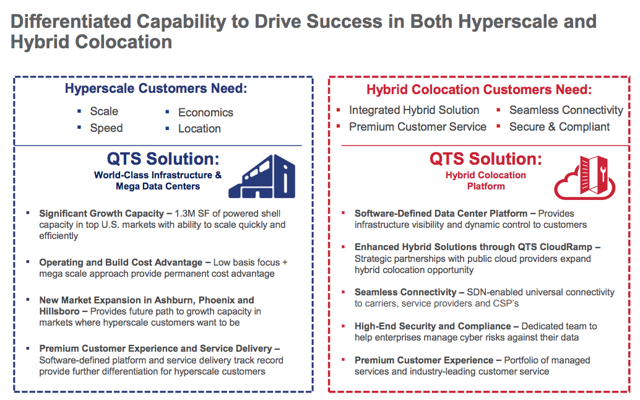 QTS generally expects lower but more predictable returns from the focus on hyperscale. Leasing results are expected to be choppy, however, and the dependence on a more limited set of clients could pose a risk. This strategy shift is expected to improve EBITDA margins which have been at industry-lows. From the QTS call:
We do see the Hyperscale business as a 9% to 11% return business. It's one of the reasons why the reason we're still comfortable with double-digit returns, mid-teens type of returns on a fully stabilized basis is the power of the Hybrid Colocation model.
The announcement of this strategic shift, combined with the executive shakeup, was a bit of a surprise and was received poorly by investors. QTS dipped more than 20% after earnings results as investors worry about the increased uncertainty regarding 2018 and 2019 results.
2) Supply/Demand Near Equilibrium
Despite high levels of construction activity in recent years, REIT executives report that supply/demand conditions appear roughly balanced across most markets and supply-constrained in key markets including Silicon Valley and Los Angeles, a positive sign for future rental growth. Some markets, however, have seen downward pricing pressure from oversupply. Demand continues to be relentless for both the public and hybrid cloud. Earnings results from the hyperscale cloud providers beat expectations across the board, providing a strong macro tailwind for the data center sector. Digital Realty reported an LTM absorption to current pipeline multiple of 1.9x, up from 1.7x in 3Q17 and 1.5x in 2Q17. Digital Realty saw steady or decreasing supply in all of its major data center markets.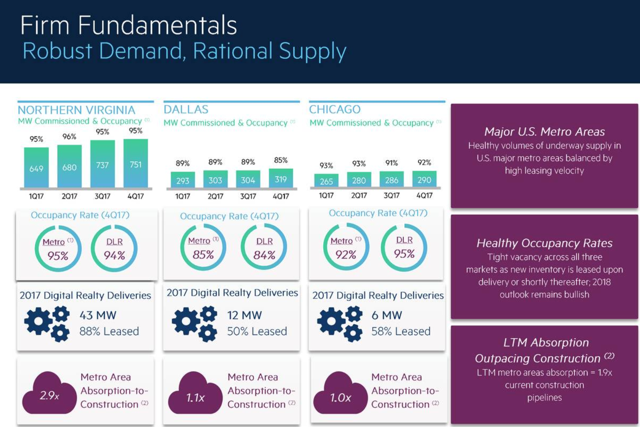 Digital Realty believes that barriers to entry are beginning to develop in some major markets. These barriers include lack of available land and lack of adequate power supply. Other markets, particularly those in California, are also quite difficult to develop because of tight zoning restrictions, high energy costs, and other costly regulation. From last quarter's Digital Realty earnings call:
Demand is outpacing supply in most major markets… Given the sector's recent history, any prospect of an uptick in speculative new supply bears watching. We expect the demand will continue to outstrip supply, while barriers to entry are beginning to grow in select metros, which we believe bodes well for long-term rent growth"
The favorable supply-shortage of the past several years, which spurred the surge in development from these REITs, appears to have abated as the landscape has become more competitive.
3) Choppy Leasing Results Will Continue
Leasing activity continues to be choppy and there are continued concerns over downward pressure on rents from the mega-scale hypercloud companies. Pricing trends, however, have been notably resilient across most metrics. There is a general awareness, however, that the competition from the public cloud providers has driven down pricing across the sector as even small and mid-sized tenants have stronger negotiating power to receive "wholesale" prices. The long-term cash rent growth across the sector has historically averaged roughly 3% per year. Just-in-time expansions and broader supply growth have historically kept a lid on rent growth and seeing periods of near-term weakness is not uncommon and may indeed be a result of near-term oversupply rather than competition from the public cloud providers. From last quarter's Digital Realty earnings call:
Broadly speaking, I think despite the robustness in the overall volume of demand, the fact that supply is rising up to just try to intersect with that demand is something that kind of puts a bit of a lid on rates from spiking and you also have a phenomenon where the buyers are buying in bigger and bigger quantities, hence commanding better pricing on each of those buys. We remain optimistic that these rates stay flat to slightly increasing, going within the U.S. for half a second.
Overall, it was another solid quarter but for investors far less than the "perfect" results that were expected after the nearly 100% rally over the past two years. Investors will remain focused on leasing and pricing trends as key indicators for the relative pricing power of hyperscale providers relative to these REITs.
2 Reasons To Be Bullish on Data Center REITs
1) Demand for Data and Connectivity Will Be Relentless
As Digital Realty outlines below, data centers are on the cutting edge of the secular boom in data demand. Double-digit annual growth rates are expected over the next decade in IP traffic, storage needs, and mobile computing demand. This surge in data demand has occurred even without the participation of developing nations, which will add another leg to the demand-boom once high-speed internet access becomes available to several billion more people over the next decade.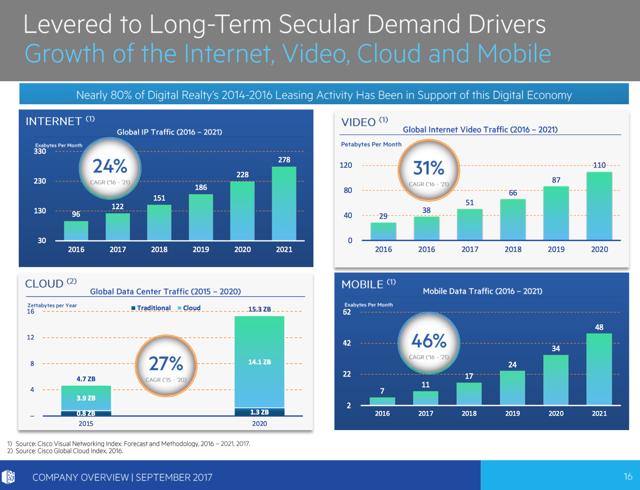 2) The Shift To the Cloud Is Still in The Early Innings
Business spending on cloud infrastructure is still in its infancy, as nearly 70% of global IT spending is still on traditional IT. According to IDC, cloud deployment is expected to steadily accelerate over the next decade, and by 2020, more than 50% of IT spending will be on cloud-based infrastructure. The economics of cloud deployments are expected to remain highly favorable for the foreseeable future.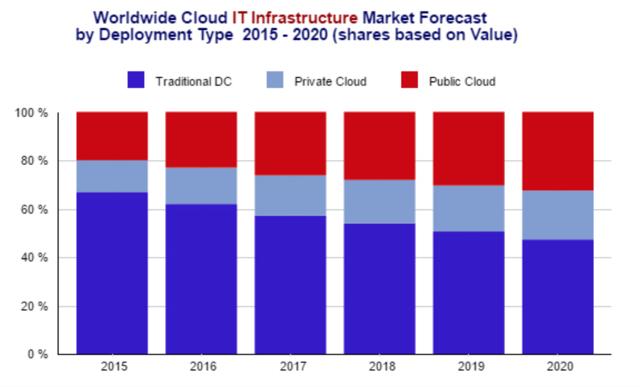 2 Reasons To Be Bearish on Data Center REITs
1) Mega-Cap Tech: Customers in Short-Term, Competitors in Long-Term
Enterprises have two choices when it comes to deployment of their networks. They can rent space directly from these data centers (private cloud) and install their own servers and software, or they can use one of the hyperscale providers such as Amazon Web Services, Microsoft, Google, and Oracle (ORCL), and run their software through these providers, generally mitigating the need to use their own servers and software. Public cloud providers rent massive amounts of space from data center REITs, but command significant pricing power relative to smaller, individual "private cloud" leases. A concern for investors in data center REITs has been the power of the hyperscale providers to push down rents low and implicitly threaten to build their own data center space using their ample liquidity. For now, at least, the hyperscale providers' demand for space far exceeds their ability to build it themselves.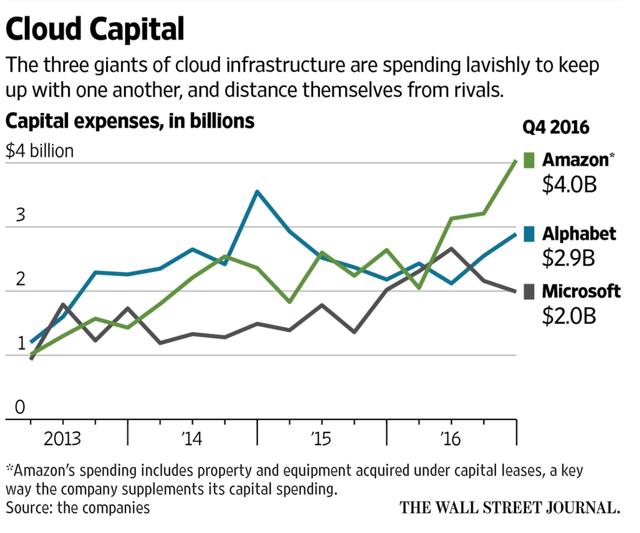 2) Just-in-Time Supply Growth Continues to Keep Lid on Rent Growth
Unlike most other real estate sectors, expanding capacity at existing facilities is more achievable as many data center facilities are built with expansion capabilities to meet incremental demand. While this will continue to be a significant growth driver for data center REITs, this just-in-time supply growth does have the effect of keeping a lid on rent growth. Outside of existing facility expansion, supply growth of new facilities has also been robust and has been able to keep up with demand. Historically, cash rent growth on renewals has averaged less than 3% across the sector. In other words, the performance of these data center REITs has been fueled by external growth while the underlying organic growth metrics have been average at best. If and when the external growth environment cools, the underlying organic growth of these facilities will become a larger focus.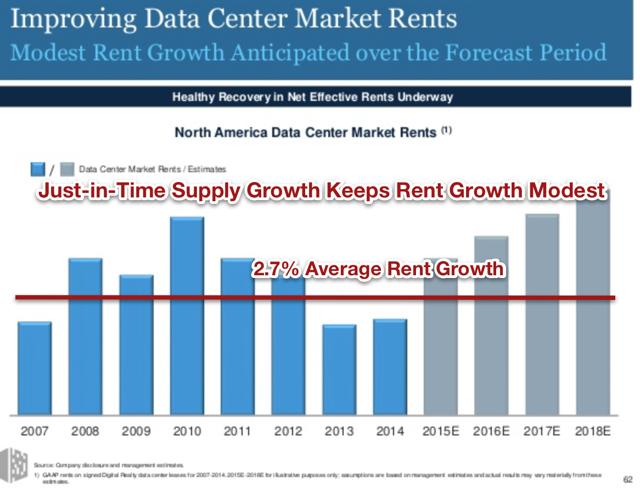 Valuation of Data Center REITs
Before the recent pull-back, data center REITs traded at the widest premium of any real estate sector at nearly 30x current FCF (AFFO). After the sell-off, data center REITs trade at a more attractive 21x current FCF, the lowest valuation for these REITs in at least three years. Data centers appear attractive based on our FCF/G metric which incorporates their expected growth rate. Data center REITs trade at an estimated 10-20% premium to NAV. Maintain this NAV premium is critical to accretively fund their external growth ambitions.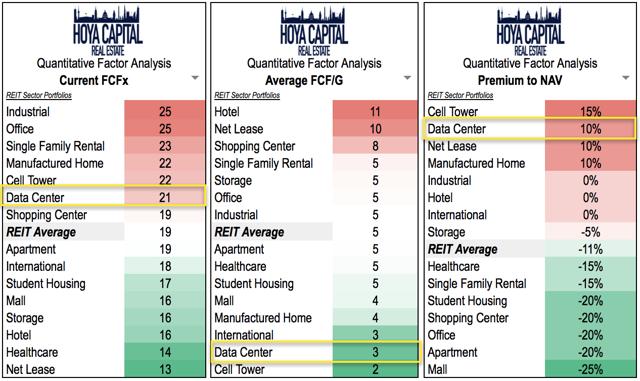 Within the sector, we see the market places a premium on network-dense portfolios. Equinix trades at the richest valuations, followed by CoreSite and Digital Realty. The smaller wholesale Hyperscale providers trade at discounts to the sector.

Sensitivities to Equities and Interest Rates
Outside of Equinix, which trades like a tech stock, data center REITs are among the more interest-rate sensitive REIT sectors, which is a surprise to many investors. High interest rate sensitivity is a result of the sector's long lease terms and relatively high dividend yields. The low Beta to the S&P 500 (SPY) shows that these REITs are not particularly sensitive to movements in equities.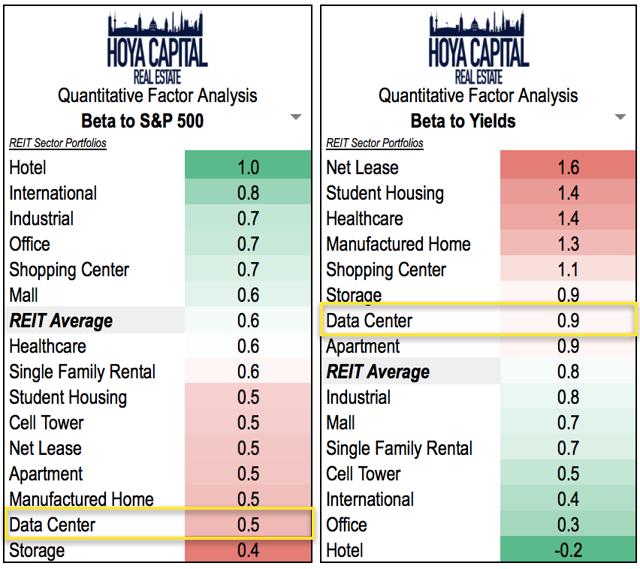 We separate REITs into three categories: Yield REITs, Growth REITs, and Hybrid REITs. (click to read more information about our methodology).

Within the sector, we note that there are significant divergences in factor sensitivities. Digital Realty and CoreSite are among the most interest-rate sensitive REITs in any sector. Equinix, on the other hand, is among the least interest-rate sensitive and has one of the lowest correlations to the overall REIT index. Investors seeking bond-like characteristics with higher income yields would be better suited with Digital Realty, while investors seeking growth characteristics and lower income yields would be better suited with Equinix.

Dividend Yield and Payout Ratio
Two years ago, before the 100% rally in share prices, Data Center REITs were among the highest yielding REIT sectors. At 3.1%, the sector is now one of the lowest-yielding REIT sectors. Data Center REITs, however, pay out just 65% of their free cash flow, leaving them ample capacity to increase dividends or reinvest in growth.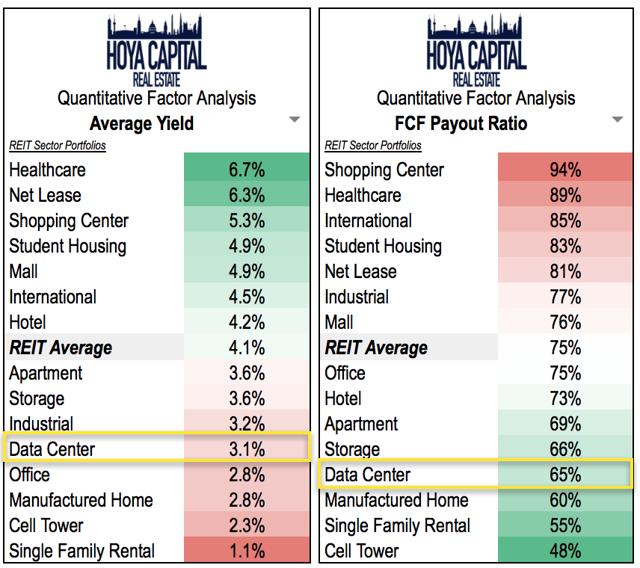 Within the sector, we note the differences in yield for these five REITs. After the recent sell-off, QTS yields 4.6% followed by CoreSite at 3.9% and Digital Realty at 3.8%.

Bottom Line: It's All About Hyperscale
Data Center REITs were the standouts of the REIT sector in 2017, returning more than 25%. Riding the big-data wave, the sector continues to be the growth engine of the industry. The growth of the hyperscale public cloud providers, including Amazon, Google, and Microsoft, continues to be a long-term competitive risk. For now, they have a symbiotic relationship with these REITs. The boom in demand for data center space has been met by an equal boom in construction activity. AFFO growth has slowed as competition has heated-up significantly since 2014.
4Q17 earnings were generally in line with expectations but guidance was conservative. Leasing activity continues to be light and choppy but pricing has remained firm and margins continue to improve. QTS announced a strategic shift to focus exclusively on wholesale hyperscale and hybrid co-location, divesting from its retail cloud and managed service business. QTS sees long-term growth in hyperscale deployments.
We aggregate our rankings into a single metric below, the Hoya Capital REIT Rank. We assume that the investor is seeking to maximize total return (rather than income yield) and has a medium- to long-term time horizon. Valuation, growth, NAV discounts/premiums, leverage, and long-term operating performance are all considered within the ranking.

We currently view the sector very favorably after the recent sell-off. We see value in the network-dense portfolios including Equinix, Digital Realty, and CoreSite. QTS also appears attractive after the recent 40% plunge. For further analysis on all fifteen real estate sectors and how they all stack up, be sure to check out all of our quarterly updates: Student Housing, Malls, Hotel, Cell Tower, Single Family Rental, Industrial, Healthcare, Apartment, Mall, Net Lease, Shopping Center, Manufactured Housing, Office, and Storage.
Please add your comments if you have additional insight or opinions. Again, we encourage readers to follow our Seeking Alpha page (click "Follow" at the top) to continue to stay up to date on our REIT rankings, weekly recaps, and analysis on the REIT and broader real estate sector.