This article is written by Michael Schoonover, COO of Catalyst Funds and portfolio manager of the Catalyst Buyback Strategy Fund (BUYIX).
2018 is on track to be a record year for buyback announcements, driven by a strong economy and tax-reform legislation. Companies, including Wells Fargo (WFC) and Valero Energy (VLO), have already announced their intentions to return some of the excess cash to shareholders, with a $22.6 billion and $2.5 billion buyback announcement, respectively. While tax reductions alone position 2018 as a record-setting year, repatriated cash filtering into buybacks significantly increases this probability.
Approximately $2.6 trillion in American corporate profits are sitting in overseas bank accounts, with about half of that in cash. The new tax law encourages these companies to repatriate this cash, and as such, we will likely see an influx of buyback announcements due to lack of opportunities for companies to put that much cash to work elsewhere in the short-term. In a recent article by Barron's, it is suggested that the tax reform will "encourage companies to repatriate much of the cash currently held outside the U.S., and much of that will likely find its way into stock repurchases."
The prophecy of a $1 trillion buyback year in 2018 is substantiated by a number of important facts (see charts below). First, historical buyback trends and the record-strong start for 2018, as of February 14, positions this year to outpace any other on record. Only 2016 experienced a similarly strong start, but that year faced downward trends from political and economic uncertainty. Second, 2018 is positioned to be a year with a strong economy and lower taxes. And last, but certainly not least, is the potential for a meaningful portion of the $2.6 trillion in American corporate profits sitting in overseas bank accounts to come back to the U.S.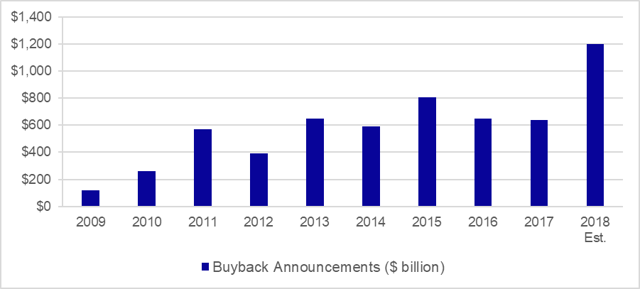 Data Source: Catalyst Capital Advisors LLC and Bloomberg L.P.
(When analyzing historical buyback trends, it appears 2018 is in a strong position to be the first year where U.S. companies announce more than $1 trillion in buybacks.)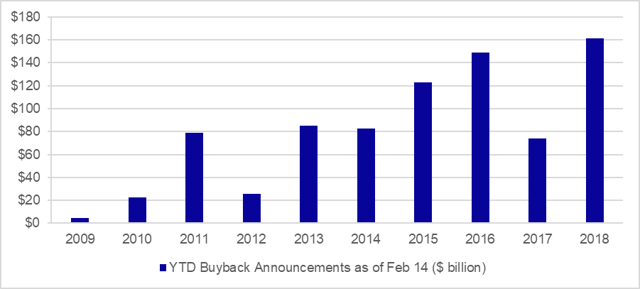 Data Source: Catalyst Capital Advisors LLC and Bloomberg L.P.
(2018 is off to the strongest start in history, as of February 14 when comparing to past years since 2009.)
We've already seen the repatriation trend kickoff in spectacular fashion. As early as November of 2017, companies began positioning themselves for buyback opportunities. It can be argued that some companies revealed their confidence in tax reform and repatriation of their cash with quick announcements following the election. Facebook (FB), for example, authorized its first ever buyback on November 18, 2016. As of February 1, 2018, $3.9 billion of the $6.0 billion remains under the authorization. Of the $2.1 billion that has been repurchased, $630 million was reported on November 2, 2017 and an additional $1.0 billion was repurchased before the next report on February 1, 2018. As the tax reform has come into play, Facebook has ramped up its buybacks. Facebook has approximately $7.5 billion in cash overseas.
This trend has continued with other notable companies that have excess cash banked overseas. On February 14, 2018, Cisco Systems (CSCO) unveiled a plan to repatriate $67 billion under the new tax law while authorizing $25 billion in additional buybacks, bringing the total buyback potential to around $31 billion. Similarly, Juniper Networks (JNPR) authorized a $2 billion buyback at the end of January while stating that it intends to use the approximately $3 billion in repatriated cash resulting from the Tax Cuts and Jobs Act to invest in its business, support M&A and fund its return of capital to shareholders.
With about $250 billion in overseas cash, Apple (AAPL) is already in a strong position to put repatriated cash to work using the $34 billion remaining under its current buyback authorization. On February 14 of this year, Apple announced that it intends to become cash neutral, meaning that it may significantly ramp up its buyback authorization. Apple has consistently authorized additional purchases every April/May since April 2013. It seems reasonable that Apple will increase its authorization again this May, probably authorizing even a larger buyback increase than in past years. Analysts believe that increased buybacks will boost Apple's earnings per share by 30% from current estimates.
Investors should expect the pace of buybacks to continue as companies better estimate the impact of the tax cuts and are able to start repatriating significant amounts of cash. This is the likely catalyst for 2018 being a record year for buyback authorizations.
Disclosure: I am/we are long WFC, VLO. I wrote this article myself, and it expresses my own opinions. I am not receiving compensation for it (other than from Seeking Alpha). I have no business relationship with any company whose stock is mentioned in this article.
Additional disclosure: As of 1/31/18, BUYIX held WFC & VLO.