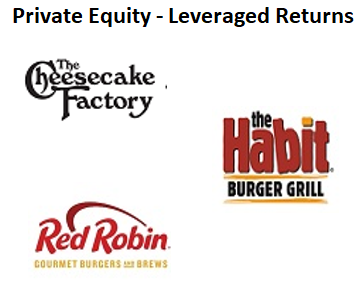 What happens when you have mature businesses that generate tons of cash, but without much leverage on the balance sheet? An opportunity for private equity to come in and throw on more debt.
Consider David Overton, founder and CEO of Cheesecake Factory (CAKE). Mr. Overton is nearly 72 years old and has built a chain of more than 200 locations that collectively generate more than a quarter of a billion dollars in cash flow annually. And he has done that with no debt on the balance sheet. If he is ready to retire, a private buyer could acquire the company for $2.5 billion (a 20-25% premium), and easily manage a 3x leverage ratio, which would cover 30% of the cost of the deal. With high-end mall traffic stagnating, there is really no reason to build more locations. Slices of cheesecake at $6 or $7 a pop will help cover a leveraged balance sheet for many years to come.
Red Robin (RRGB) finds itself in a similar, low-to-no growth situation. With management planning only four new locations in 2018, on a base of more than 500, this chain could be ripe for a private buyer to leverage it up and focus on cash generation. RRGB does have some debt already (1.8x leverage ratio), but Wall Street is valuing it so cheaply (less than 7x EBITDA) that the entire deal would cost less than only a little over $1 billion. Funding a buyout with 25-35% debt would be no problem and free cash flow per year could reach $100 million if it stops building new locations.
Habit Burger Grill (HABT) is a small chain, mainly on the West Coast, but it has been building a dynamite chain without a penny of debt outside of landlord financing. With $30 million of net cash on the balance sheet and a market value of just $235 million, this company would be a great target for a smaller private equity firm. It reminds us of Fogo de Chao (FOGO) in that regard.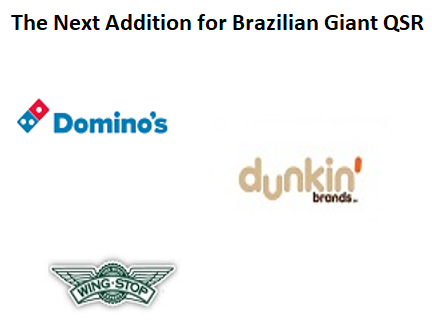 There is little doubt that Brazilian franchising giant Restaurant Brands International (NYSE:QSR) will have an appetite for more deals after integration efforts for its 2017 acquisition of Popeyes is complete. Given its size, a target has to be big enough to make a dent in the profits, and/or have enough global expansion potential that it can simply unleash a multi-decade plan to paint the world with new locations.
Domino's (DPZ) is a long-rumored fit because QSR lacks a pizza presence, the company has become best in class for the category, and its CEO recently announced his departure later this year.
Dunkin' Brands (DNKN) is also intriguing because it comes with two brands: DD and Baskin-Robbins. With Tim Hortons already in the fold from a prior deal, many investors doubt QSR would even consider adding another bakery type play, but the fact that DD has a dominant position in the U.S. market, as TH does in Canada - might make for solid geographic coverage. In international markets, it is very likely that Dunkin' would have an edge in terms of consumer adoption over Tim Hortons.
Wingstop (WING) would be the dark horse, as a smaller player and one that also fills the chicken niche, but wings are not really a Popeyes' area of focus. With 1,000 units in the U.S. and only 100 in the rest of the world, WING would cost far less than other targets, and bring QSR a huge runway for global growth. The idea that multiple chains in the same category is pointless flies in the face of what we have seen with JAB Holding Company, which is quietly building up a dominant set of businesses in markets such as baked goods and coffee (Panera Bread, Krispy Kreme, Keurig Green Mountain, etc.). It is not crazy to think QSR will mimic that strategy.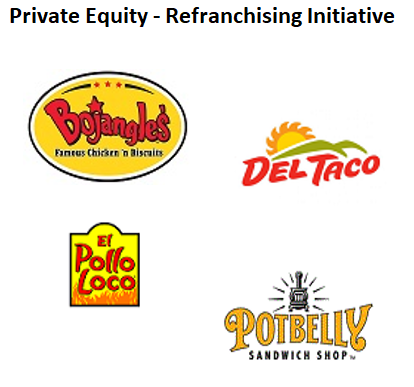 These four companies are small (under $1 billion market caps) and are getting little respect on Wall Street despite generating lots of cash and coming with low capital requirements, which makes them attractive options for franchisees. Other than Potbelly (PBPB), the rest have around 50% of their units franchised already, but are being valued like they are only company-owned.
Bojangles' (BOJA), Del Taco (TACO), and El Pollo Loco (LOCO) each have between 475 and 775 units (in the U.S. only) and feature systems with 45-55% of all units already franchised. Unlike pure franchise operators, which often get 15-25x EV/EBITDA multiples, this trio trades for 8-10x 2017 projected cash flow.
This opens the door for private equity buyers to pay a 20-30% premium, initiate a refranchising program over multiple years, use cash proceeds to pay themselves dividends and increase leverage as the portion of owned units declines, and IPO the business for a much higher valuation 3-5 years down the road.
In fact, Potbelly already has activists circling, hoping for a similar strategy within the public markets, as it only has 10% of its locations franchised, despite a goal to get to 20-25% or higher over the long term.
It would not be surprising if these companies attracted even more private equity attention in 2018, especially with interest rate starting to increase. A flurry of deals is not out of the question, and Wall Street is not exactly loving the restaurant sector these days, given the competitive pressures. It seems like a great time to go private.
Disclosure: I/we have no positions in any stocks mentioned, and no plans to initiate any positions within the next 72 hours.
I wrote this article myself, and it expresses my own opinions. I am not receiving compensation for it (other than from Seeking Alpha). I have no business relationship with any company whose stock is mentioned in this article.