I have been stunned recently by some of the discussions I have had with some of my own children's friends and relatives about finances and investing towards a more secure financial future. The lack of knowledge that has swept over this country is alarming to say the least. Younger folks with longer time horizons are not investing! They might be saving some money or placing some "bets", but they are NOT putting that money to work.
Why is that? What is going on?
Well, in talking to my own son, he states that his friends (ages 25-40) are afraid of the markets. His pals have seen the errors that their own parents have made and are really confused as to what to do with their cash. NOBODY HAS TAUGHT THEM! Some are even putting cash in a safety deposit box!
As so pointedly stated in "Investor Place":
Of course, caution is one thing; ignorance is a whole different ball game. Unfortunately, I know far too many young adults who are woefully out-of-step with the world outside, whether through lack of knowledge or incessant apathy.

Countless studies demonstrate eye-popping, unimpressive levels of basic financial literacy for millennials and show that even higher-educated young adults express high levels of confusion when it comes to saving and investing.

As The New Yorker explains, this is problematic for Generation Y because, while financial ignorance isn't new, "the consequences have become more severe, because people now have to take so much responsibility for their financial lives."

Plus, such ignorance compounds itself. The less you understand, the more daunting the stock market — charts, ratios, numbers, mergers and so on — seems.
Let's Look At The Facts First
If you are under 35, I am really concerned about your lack of investing in blue chip mega cap quality stocks to help you make a more secure financial future for yourself. You are probably not even investing, unless someone puts a little bug in your head that you can make a bunch of quick cash in "this or that".
Yeah, I am talking to YOU, bitcoin/crypto-currency gamblers (COIN)! A bunch of you have made some great profits buying into the craze at various points, and thankfully many are cashing out and taking their gains, which is SMART in my opinion, and I am not trying to bash that sector, but it isn't for me, that's for sure!
Now you have a bunch of cash, what will you do with it? According to lots of sources, you won't do anything with it aside from buying cars, or watches, or other aspirational products; in other words, SQUANDERING IT.
Take a look at just the savings rate here in the US: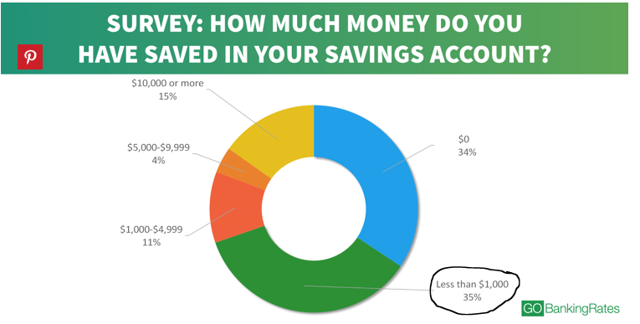 A survey from GOBanking asserts this:
Not only has the percentage of people with little money in savings accounts grown, but so has the percentage with absolutely nothing in a savings account. In last year's survey, 28 percent of respondents said they have $0 saved. Now, 34 percent say they have no savings.

"I am not at all surprised that one-third of Americans have nothing at all in their savings account," said Michael Hardy, a certified financial planner with Mollot & Hardy in Amherst, N.Y. "Most people have not saved nearly enough in their emergency or reserve account. "One of the big reasons people aren't saving more is likely because they are living beyond their means.

"It doesn't matter if they are making $30,000 per year or $300,000 — people don't seem to know how to spend less than they make," said Hardy.
If there is ONE thing I can never mention enough is that if you want to have a secure financial future, YOU need to save as much as you can, as soon as you can for as long as you can. Along with that, is to spend LESS than you have coming in, forever. Even if you do not invest a dime in the markets, you will do better than nearly 70% of our population!
Now look at this survey done by "Get Rich Slowly":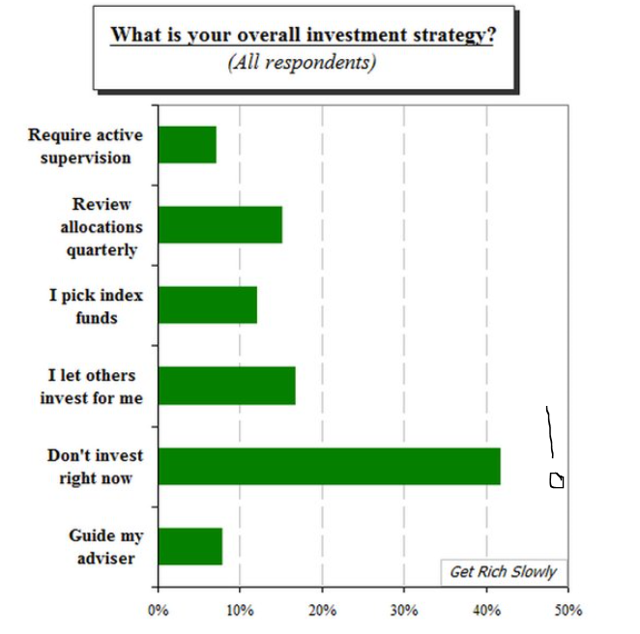 Get Rich Slowly conducted the above online survey of about 2,000 randomly selected individuals on the subject of investing recently, and the insights from the results are quite interesting as noted by this article from Business Insider:
Some of the highlights of the findings of the survey are:

1. Over 40% of all respondents do not invest at all at the present moment.

2. Despite investing being more advantageous to the young, the highest proportion of respondents not investing were also the youngest. (Author Emphasis Added)

3. Using index funds is not a primary investing strategy by any age group.

4. The older people get, the more active they become in their investments. (Author Emphasis Added)
Since I am one of the "old folks" why not at least think about what I have been ranting about for the last 7 years here on Seeking Alpha!
If you have a time horizon of greater than 10-20 years or more, these are MY simple rules, so listen up Millennials and Generation Z'ers:
Start saving as much as you can for as long as you can, right NOW!
STOP spending more than you have coming in, FOREVER.
Set up an investment plan that does not use the stock market as a CASINO. Use it to exponentially compound the money you invest for the long term.
I am not so sure that many folks realize the amazing power of compounding! So, let's look at it:
The Magic Of Compounding
When you put your money to work by investing in dividend paying growth stocks, and reinvest those dividends all the time for the long term (1, 2 decades or more), you WILL grow your wealth and it will grow by itself as well. That is compounding, but this article says it better than I do:
The best way to ensure your future financial success is to start saving today, even if all you have seems like a paltry sum. "The amount of capital you start with is not nearly as important as getting started early," writes Burton Malkiel in The Random Walk Guide to Investing. "Procrastination is the natural assassin of opportunity. Every year you put off investing makes your ultimate retirement goals more difficult to achieve."

The miracle of compound interest is the secret to getting rich slowly. Even modest returns can generate real wealth given enough time and dedication, mainly time.

On its surface, compounding is innocuous, even boring. "So what if my money earns less than 3 percent in a high-yield savings account?" you may ask. "What does it matter if it averages 8 percent annual growth in a mutual fund? Why is it important to start investing now?"

In the short-term, it doesn't make a huge difference — but don't let that fool you. On the slow, sure path to wealth, we need to keep focused on long-term goals. Short-term results are not as important as what will happen over the course of 20 or 30 years.
Here are a few charts from the same article: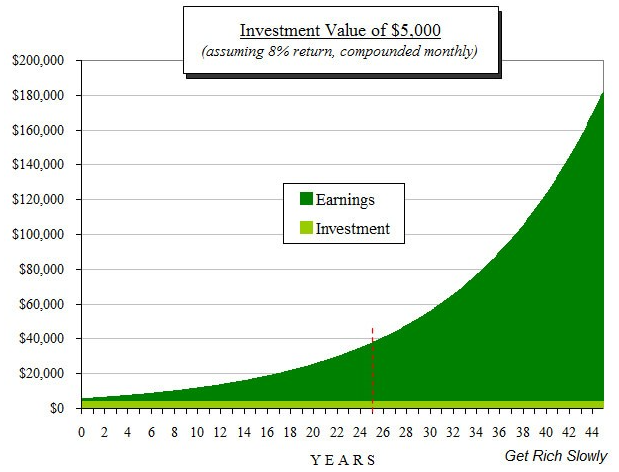 The above chart is from ONE single $5,000 investment with an 8% overall return after various periods of time... JUST A ONE-TIME INVESTMENT!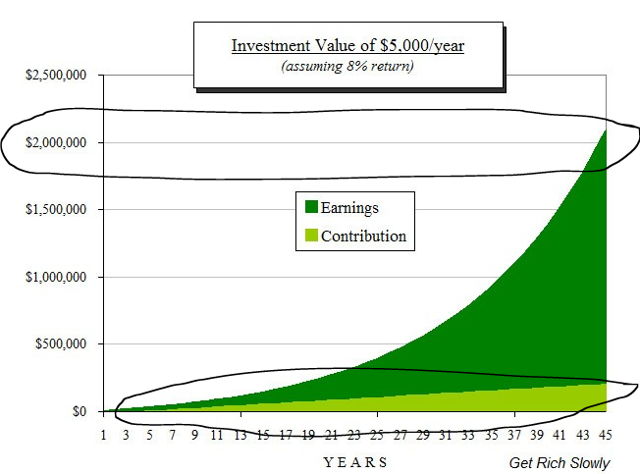 Now, look at the chart above at what happens when just $5,000 per year is invested in the same way, over time! THAT is the magic of compounding.
My Simple Approach Is Dividend Growth Investing
I am not saying to do what I might do, but it does NOT hurt to at least look into it and decide for yourselves, if this is right for you. I am currently using the Dividend King Retirement Portfolio as the model for DGI investing in todays frothy market. These stocks have paid and raised their dividends for a MINIMUM of 50 consecutive years. As was stated in my last article from Simply Safe Dividends:
Dividend kings have survived periods of inflation, oil booms, technology busts, rising interest rates, economic recessions, terrorist attacks, market crashes, evolving consumer tastes, major technology advancements, and more. Any business that has made it through every environment imaginable while maintaining regular dividend increases is worth analyzing.
The model Dividend King Retirement Portfolio currently consists of Coca-Cola (NYSE:KO), Procter & Gamble (NYSE:PG), Johnson & Johnson (NYSE:JNJ), 3M (NYSE:MMM), Emerson Electric (NYSE:EMR), Cincinnati Financial (NASDAQ:CINF), Lowe's (NYSE:LOW), Hormel (NYSE:HRL), Colgate-Palmolive (NYSE:CL), Dover (NYSE:DOV), and AT&T (T).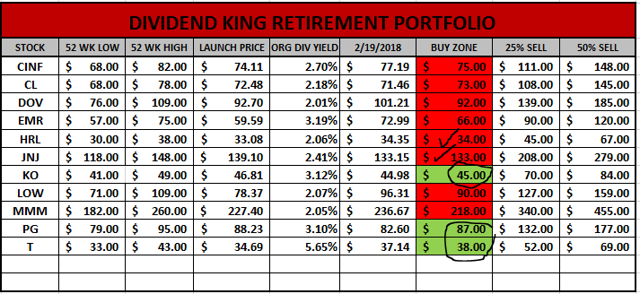 The buy zone is my alert that the share price is now at, or below the mid-point of the 52-week high and low. For Dividend Aristocrats and Kings, it is my buy signal, and for all other stocks, it alerts me to do further research.
The yields are based on the original price.
The buy zone is highlighted in green or red to easily identify the stocks that are within my zone.
The current share price can easily be compared to the original share price to see how a stock is performing. Keep in mind that it is all about income anyway for me, so the ups and downs of the share prices are not important unless there is a fundamental change in the company.
The "sell" pricing is not mandatory. It is my own suggestion if an investor wants to take profits, and at what price. The percentages reflect a 50% increase (sell 25% of shares held) and a 100% increase (sell 50% of shares held).
Keep in mind that my personal approach is to never sell a Dividend Aristocrat or King unless the dividends are cut or stopped. I will use fundamental analysis to decide if any other stock should be sold (or purchased), regardless of the dividend or the share price. A breakdown of a company will be on the chopping block, and if it reaches a price low enough to become a value, it is eligible to be purchased.
Reliable income over the long term is my goal, and managing the portfolios will focus on achieving that goal.
The dollar value of these mock portfolios is not important. Each investor has their own amount that they feel comfortable investing. I have chosen not to have dollar values, just share prices and dividend yields, so that you can plug in any amount you choose to and purchase as many shares as you want.
For myself personally, I do not allocate more that 8-12% of investable funds in any one stock. For higher-risk stocks, I allocate no more than 3-5%. I have left that out of the charts because every investor has their own risk tolerance and should know what that is when determining how much to invest and allocate.
I myself will only automatically purchase Dividend Aristocrats and Kings with this strategy. Those stocks have a strong history of always going up over time, and of course, the dividends are reliable. I believe the risk level is reasonable enough for me to use this approach.
It does NOT have to be "brain surgery", but it does take a different mindset. Stop thinking about the markets as a casino to HOPEFULLY make some fast cash. Begin USING the markets to put YOUR cash to work over the long term so YOU could hopefully have a much more secure financial future.
The Bottom Line
This is YOUR wake up call "Bud Fox". You can choose to research further, or just tell me I am an old guy who has lost his mind, and ignore it. The choices are yours alone.
Not To Bore You, But...
Knowledge is power, and many folks shy away from the investing world because that very world makes it more confusing each and every day in an effort to sell you something: stock picks, technical strategies, books, videos, subscriptions with "secret ideas," gadgets, and even snake oil.
My promise to you is that my work here will remain free to all of my followers, with the hope of giving to you some of the things that took years for me to learn myself. That being said, let me reach out to you with my usual ending:
*A Special Note About My Free Articles:
Seeking Alpha is a business, and believe it or not, they do need to make a few bucks to keep bringing you all of its amazing content at virtually no charge! To that end, Seeking Alpha will be charging some fees to access older (and remarkable) content from its extraordinary library of information, not just from me, but from all authors.
All of my articles will remain free until they are placed behind the paywall after a minimum of 10 days. Only ticker-specific articles will be placed behind a paywall, not articles such as this one! If you are a real time follower you will be notified immediately of any of my new (and free) articles, just as you have received in the past!
**One final note: The only favor I ask is that you click the "Follow" button so I can grow my Seeking Alpha friendships. That is my personal blessing in doing this and how I can offer my experiences to as many regular folks as possible, who might not otherwise receive it.
Disclaimer: The opinions and the strategies of the author are not intended to ever be a recommendation to buy or sell a security. The strategy the author uses has worked for him, and it is for you to decide if it could benefit your financial future. Please remember to do your own research and know your risk tolerance. The long positions held are based upon what the model portfolio holds, and I personally could have held all of the stocks noted at one time or another.