Note: This article was originally published on January 29th on Value Investor's Edge, a Seeking Alpha subscription service.
Overview
My recent copper outlook highlighted structural reasons why the price should be heading higher. Now it's time to examine another base metal with similar prospects going forward.
Zinc is currently the fourth most widely consumed metal in the world after iron, aluminum, and copper. It has strong anti-corrosive properties and bonds well with other metals.
According to the International Zinc Association, 60% of this is used for galvanizing to protect steel from corrosion thus prolonging the service life of steel products significantly. Approximately 15% goes into the production of zinc base alloys, mainly to supply the die casting industry. About 14% goes into the production of brass and bronze and with other metals to form materials that are used in automobiles, electrical components, and household fixtures. Around 8% goes into the production of compounds including zinc oxide and zinc sulfate. The remainder is zinc alloys, mainly rolled, utilized in semi-manufactured applications including coinage and architectural applications.
These first-use suppliers then convert zinc into in a broad range of products. By far the largest application area is construction, with 45% of all first-use zinc products used in this area. The transportation sector consumes 25% of global zinc supply, and consumer goods – including electrical and electronic appliances – account for 23%. The remaining 7% is used for the manufacture of industrial machinery.
Starting in 2016, zinc entered a bull market that has seen prices more than double over the past two years.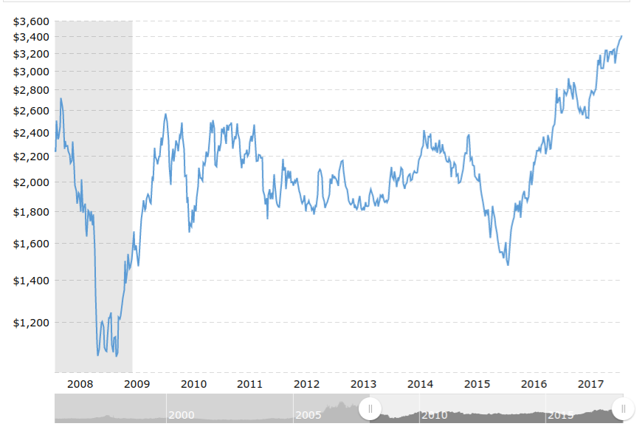 Source: Macrotrends
Supply side shifts seemed to pave the way for this reversal, so let's spend most of our time there.
Supply
This history of zinc supply is important to gain some context.
Following the global recession, zinc supply outpaced demand for several years leading to depressed prices but also a building of global inventories. In fact, zinc surpluses exceeded 2.5 million tons from 2009-2011 leading to a massive build in stockpiles.
A necessary precursor for any sort of correction, ideally, would be zinc demand to begin outpacing supply. This started in 2012 when consumption outpaced both mine supply and refined product supply.
Deficits continued for the next few years which then began to take their toll on global inventories starting in 2013.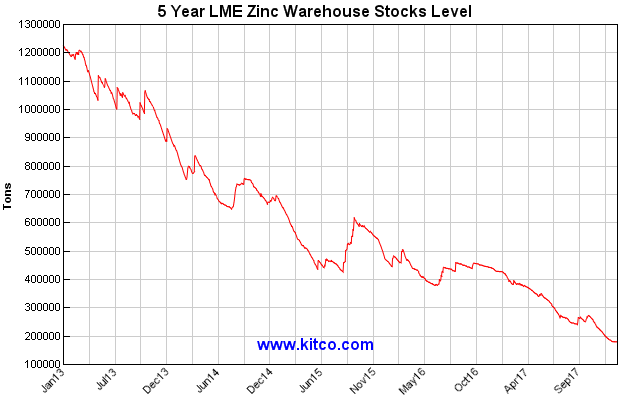 Source: Kitco
The drawdown of global inventories is another precursor for a market correction and not only has this trend persisted but it now appears to be approaching severely depleted levels.
In fact, there are widespread forecasts that inventory levels will be insufficient to address a looming deficit.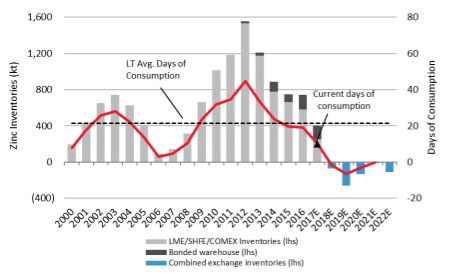 Source: Arizona Mining
Notice there is a direct correlation between both price and inventory levels suggesting that as the deficit persists with shrinking stockpiles able compensate, increasing prices appear to be likely.

Source: Teck
One important point that helped bring the market back into balance was the closure of several mines in 2015 due to a renewed wave of price pressure through a combination of low consumption growth environment of just 0.9% coupled with a robust 3.6% growth of refined zinc production that year.
For example, on October 9, 2015, while the zinc market was gripped by the worst prices since the recession, Glencore announced that they would curtail mine production by 500K, or a third of its annual zinc metal production, across its operations in Australia, South America, and Kazakhstan.
Glencore said the decision was an effort to "preserve the value of Glencore's reserves in the ground at a time of low zinc and lead prices, which do not correctly value the scarce nature of our resources."
Several other closures contributed to total mine output dropping by 801k tons, representing 6.1%, in 2016 as global consumption rose 2.2% resulting in a significant deficit of 510k tons. This large deficit was a critical factor in leading to the price reversal. Furthering this new bullish trend was another significant deficit recorded in 2017, approximately 940k tons.
The point about capacity closures is important as restarting closed mines as prices move higher is a likely outcome and should be considered going forward.
But, Glencore said during a December 12th call that they will add just 100,000 tons of zinc in 2018, via the restart at Lady Loretta. Following that, it will subsequently ramp up another 60,000 tons. Lady Loretta's production will start feeding into a tight zinc concentrates market only around the middle of next year.
This shows a measured effort to introduce supply and this restraint could be key in allowing the market to remain healthy, a strategy that wasn't expected by most analysts where the return of Glencore's capacity was assumed to come mostly in 2018. This paced reintroduction comes as a fair amount of new capacity is projected to come online.
We'll get to that new capacity in a bit, but first a detour to China. It is noteworthy that from 2005-2016 China dominated world mine production growth accounting for more than half of global new capacity openings. Currently they are seeing a contraction of supply which is feeding into this deficit.
After 10 years of increases, mining investment and capacity have been declining since 2014.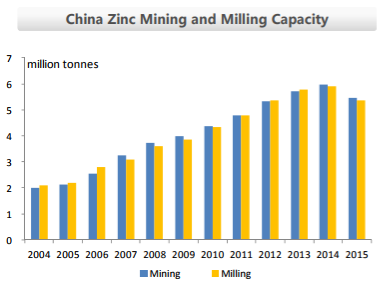 Source: Lead and Zinc Market Overview and Outlook in China
In 2017 China recorded a 5% drop in output and produced approximately 36.4% of total annual global output. New projects in China will be unable to compensate for this reduction as lower grades from existing projects coupled with environmental restrictions on mining operations will outweigh any sort of volume brought on by new capacity.
It will be up to the rest of the world to continue to provide for demand growth as well as compensate for China's projected output decline. But outside of China only a handful of major projects are set to contribute to global zinc supply growth.
Demand
Of course, the predictions of a deficit rest not only on the supply outlook but demand side trends as well.
Currently we are seeing very supportive global trends for zinc demand. We examined some of these trends in the copper macro outlook which include strengthening global manufacturing PMI since early 2016, robust trade flows of finished products evidenced by global port throughput, consumer confidence levels in key economies, and lower unemployment rates in those same economies, all of which indicate an improving business climate.
Historically, zinc demand increased by 2.7% per year on average between 2005 and 2016. Most of the projections I reviewed assume anywhere from 2% - 3% global zinc demand growth in the coming years. These projections actually take into account a bit of a slowdown in China.
Let's take a minute to focus on China since it has been responsible for the vast majority of zinc demand growth over that time.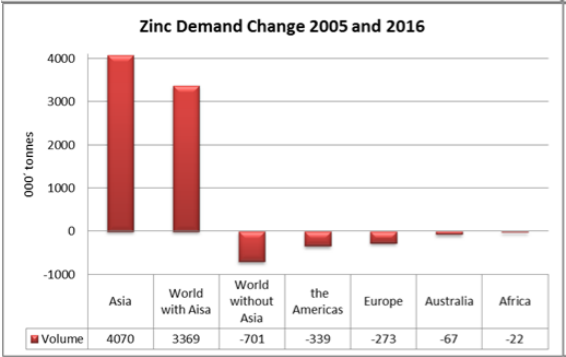 Source: Brief on Internal Report of Market for Zinc
China utilizes zinc in the following manner.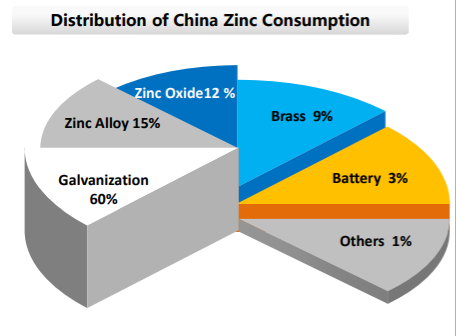 Source: Xia Cong
Since galvanization makes up the largest percentage let's dive in a bit closer there since that could be the only area where we may see a bit of risk going forward.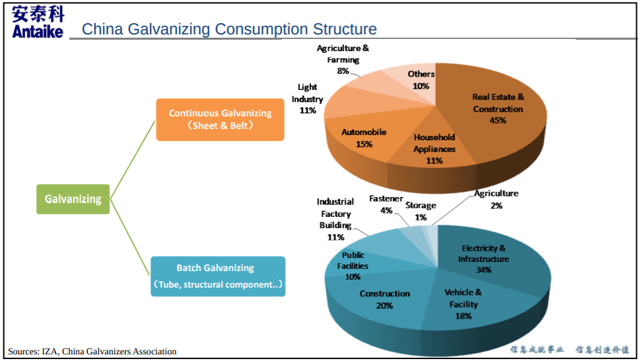 Source: Xia Cong
The main concern here should be the real estate market.
The government's controls on home purchases and permits for developers' to sell apartments were expected to have a significant impact on the real-estate industry. But recent numbers seem to suggest that those in the Chinese real estate market are still sanguine.
Caixin reports:
New-home starts rose by 10.5% last year, up from 8.7% in 2016, although the January-December growth rate slipped from 10.8% in the January-November period, and land purchases by developers jumped 15.8% by area, reversing a fall of 3.4% the previous year. A real-estate climate index compiled by the NBS rose in December to its highest level in 2017, suggesting builders are becoming more optimistic.
Now there is talk of property taxes taking hold in China which might cool the market. But as of right now the biggest risk to zinc demand hasn't quite played out.
Optimism about Chinese demand was boosted by an unexpected December rise in manufacturing and a pick up in new orders. This also coincided with strong export numbers signaling that global demand remains robust.
China's ambitious Belt and Road initiative has the potential to substantially lift steel demand with the $1 trillion price tag. A majority of the spending has yet to take place but the infrastructure intensive project could prove to be a long-term catalyst that will help to support prices.
While much of China's economic data is debated the flow of commodities into the nation are often a reliable indicator of strength or weakness. China's zinc imports jumped to above 573,000 tons in the first 11 months of last year, up 43% from the same period of the previous year. Additionally, zinc inventories monitored by the Shanghai Futures Exchange at 77,383 tons are down 60% since March last year.
Finally, let's not ignore the fact that prices are also getting support from a weakening dollar, which is making metals cheaper for major consumers outside the U.S., such as China.
2018 And Beyond
In 2017 we saw estimated gross global mine production of 12,763k tons with refined production of 13,488k tons and total consumption of 14,429k tons indicating a 941k ton deficit between refined production and total consumption, according to a January 8, 2018 Arizona Mining presentation.
Going forward we should look at that same formula in order to determine the potential and degree of future deficits.
For 2018, breaking down anticipated mine closures of an expected 130k tons, expected production out of China at 4,869k tons, restarts of idled capacity of 222k tons, production increases from new and existing mines at 1,482 tons, and existing output of 6,771 tons puts total mine production for 2018 at 13,344k tons. Refined production is expected to be 13,909k tons, while global consumption is anticipated to come in at 14,680k tons. This implies a 771k ton deficit for 2018.
Now, admittedly this estimate is on the higher side of projections but almost all analysts agree that a deficit in the range of 200k to 800k is expected in 2018.
In fact, deficits are expected to continue into 2019 with some suggesting that peak mine production will occur in 2020, further exacerbating the shortfall if demand remains healthy.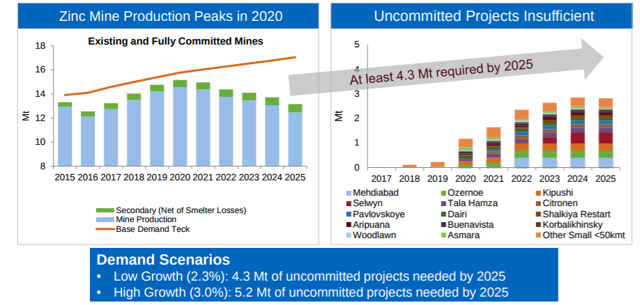 Source: Teck
Of course, if prices keep rising that could inspire greater investment in exploration and development but that can take time.
A quicker route to production may be acquiring closed mines and reopening them, and there has already been some action on that front.
Another route that majors might be considering is purchasing junior miners in late development stages as a way to capitalize off an improving environment without upsetting the foundation for the bullish market.
Turning to the much longer term let's take another look at China. As noted earlier China is responsible for approximately 36.4% of global mine output. In 2016, China had 40 million tons zinc reserves which accounted for 18% of the world. With output of 4.4 million tons those reserves amount to just under 9 years.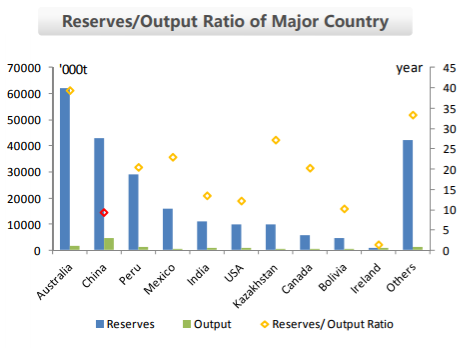 Source: Xia Cong
This situation presents the probability that Chinese production has peaked and is set for a steady decline as investment remains subdued and the Central Government continues to look unfavorably on new mining projects of many different varieties.
Risks
First, to reiterate, the main risk going forward is weakness out of China, specifically the real estate construction market. But that risk seems relatively low and given stronger numbers elsewhere and the trillion dollar One Belt One Road any weakness from the real estate construction market will likely be mitigated. Additionally, analysts have been predicting a collapse in one way or another out of China for many years now and that has proven to be a fool's errand. I will not be engaging in such speculation but I will be watching the data and if things change I will readily revise my outlook.
Another area to watch is potential substitution as zinc prices continue to climb. Zinc has been benefiting from increasing production of electric vehicles but as prices continue to climb a growing number of electric vehicle makers are experimenting with aluminum alloys due to their lighter weight and fuel-saving properties.
Metalbulletin reports:
Substitution out of zinc is likeliest in the alloys sector estimating that up to 3-5% of usage of metal at current levels could be at risk - albeit over a matter of years rather than in the immediate term.
Mine restarts need to be watched over the course of the next year as well. Already we have seen the planned reopening of the Century zinc mine in Queensland, which was the third largest zinc mine in the world prior to its closure in 2016. But these restarts will take some time since it's not as simple as flipping a switch. Workers need to be hired and trained, equipment brought back online, and the site needs to be inspected for safety. If tunnels are involved it could require some refurbishing on that front before production is allowed to commence. Let's also not forget that it's not just miners that need to be hired, other jobs include mechanics, electricians, millwrights, engineers, geologists, and heavy-equipment operators. Even a small mine can take six months or more to begin producing again once financing is in place but likely timelines for meaningful production are much further out. As Nyrstar said about the reopening of the Myra Falls mine near Campbell River, it will "take about four years to bring the mine back into full production." These announced projects have already been accounted for in my estimates, but I expect we will see more.
In the longer term there is the likely prospect that miners will respond to an improving environment with increased exploration and production leading to another oversupply cycle. However, this comes much further down the road.
Finally, the pace of restarts will be key. But I have a bit of confidence that miners realize a controlled reintroduction in their own best interest unless they want to snuff out this rally.
Conclusion
The zinc market has been heating up for a while but the future looks even hotter. Yes, we are a couple years into this rally but several factors look to keep this bull market humming right along.
2018 will see a continuation of deficits as stockpiles dwindle even further. New supply and restarts over the next few years are unlikely to keep pace with expected demand.
Global demand for zinc should remain robust in key economies with the only potential downside being a real estate construction slowdown in China.
As majors attempt to capitalize on an improving market junior miners with proven resources and near term production schedules become likely takeover candidates.
Finally, the world may be unprepared to cope with a potentially rapid curtailment of Chinese output. China's significant production of zinc over the past two decades, which led to much of the oversupply problem, is set to reverse course. Exploration and development have waned and little is being done to extend the life of China's reserves. The environmental crackdown underway, with one focus being mining operations, looks to be furthering this situation.
Thank you for reading, and I welcome all questions/comments.
If you would like to stay up to date on my latest analysis, I invite you to follow me on Seeking Alpha (click the "Follow" button next to my profile picture at the top) as I continue to cover all aspects of maritime trade.
Value Investor's Edge
Value Investor's Edge is a top-rated research service dedicated to offering actionable trades and strategic income opportunities. We now cover a variety of deep value and income-driven sectors, while maintaining our focus and very profitable record of shipping industry coverage. Members receive exclusive access to over a dozen reports per month, including regular shipping and commodity macro analysis from James Catlin, exclusive content by top-tier deep value analyst J. Mintzmyer, industrial and MLP ideas from Micheal Boyd and international insights from Ian Bezek. This winning team has developed a dedicated following of highly knowledgeable investors and industry professionals who also share their own thoughts and ideas. For more information on Value Investor's Edge, simply click the link.
Disclosure: I/we have no positions in any stocks mentioned, and no plans to initiate any positions within the next 72 hours.
I wrote this article myself, and it expresses my own opinions. I am not receiving compensation for it (other than from Seeking Alpha). I have no business relationship with any company whose stock is mentioned in this article.