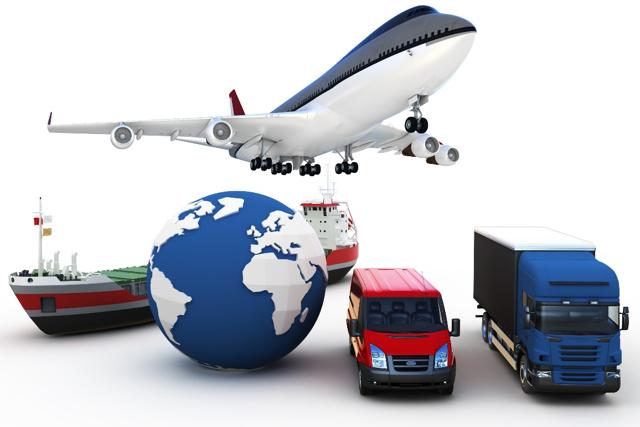 Source: Google Images
First off, I would like to thank all of my followers, subscribers, and readers regarding these weekly updates. I have good and bad news. The good news is that I will be taking a new job working intently in one of the largest freight gateways in the U.S. The bad news is that my availability for providing transports information will substantially be reduced, and this weekly update serves as the final one.
I will continue to be accessible for all via future articles, direct message, and Transports in Focus subscribers. I am devoted to transports and the management of long-term investment portfolios - I look forward to the future, and wish all of you the best!
For the eighth week of 2018, on February 23rd, broader market indices have again started to outperform transports. Volatility has continued to wane but is no time to become complacent. The market tends to provide some better granularity on pricing differences within transports during declines, but there are still misconceptions within industries. Long-term investors need to rely on core market drivers affecting industries and companies. Keeping an active management style is valuable in mitigating the uncertainties surrounding volatility.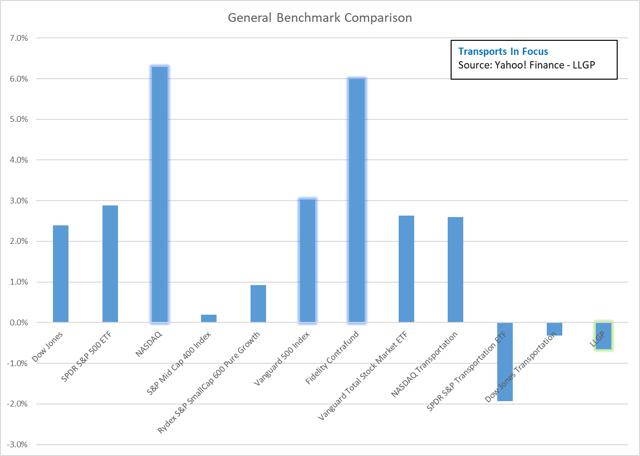 I manage the Lean Long-Term Growth Portfolio (LLGP). To date, performance stood at -0.6 percent, as highlighted in green. Market volatility has remained, but most broader market indices have recovered. Exceptions have been mid and small caps, as well as transports.
The three top performers remain the Fidelity Contrafund (FCNTX) and NASDAQ (IXIC) and the Vanguard 500 Index (VFINX). Most other major indices have performed above the 2 percent level. It is pretty impressive that technology continues to strongly outperform other sectors, especially as some are calling for inflation to shift market sentiments towards commodities and value.
YTD 2017 SPY Vs. XTN Index Prices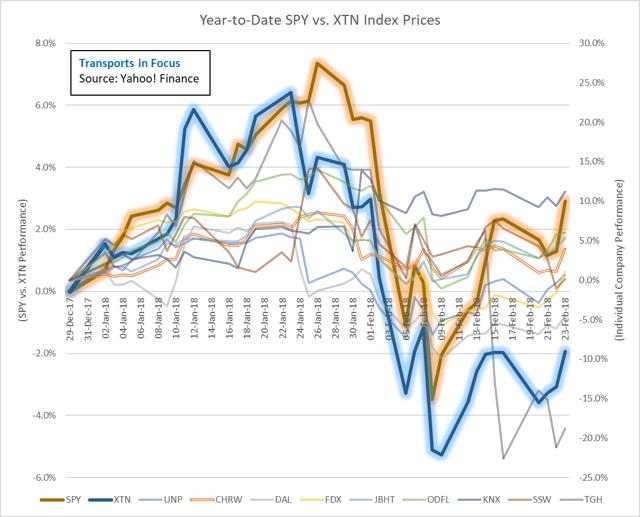 For the eighth week of 2018, the spread between the SPDR S&P 500 ETF (SPY) and the SPDR S&P Transportation ETF (XTN) increased to 4.8 percentage points, with the SPY lead widening. The SPY improved by 60 basis points (bps) to 2.9 percent, while the S&P Transportation ETF improved by 10 bps to -1.9 percent for 2018.
So far, in 2018, the February 8th/9th dates remain as the low point. At this level, markets had witnessed an approximately 10 percent correction from the January peak. There is a reoccurring theme with transports, whereas volatility typically has led to underperformance over the past couple of years. This presents strong buying opportunities, assuming that by year-end, everything will be positive, or better from low points.
Rail Operators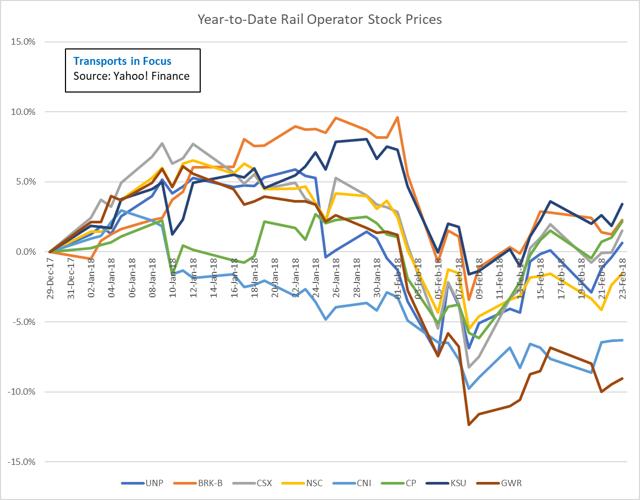 Rail operator performance was mostly down for the week, with exceptions being Union Pacific (UNP) and Canadian Class Is. Assuming the U.S. economy remains favorable, and rail stocks will likely rally further from today's level. There are definitely mixed impacts regarding commodity performance, but pricing appears to be positive despite some volume weakness. My top pick for 2018 continues to hold up the best, as Kansas City Southern (KSU) was up just below 3.5 percent.
The seventh week of 2018 saw a return to positive growth YoY (evenly split to start the year). The rate of growth improved from the previous week to 0.9 percent from last year. The most recent monthly Class I rail traffic report can be found here.
Railcar Manufacturers And Lessors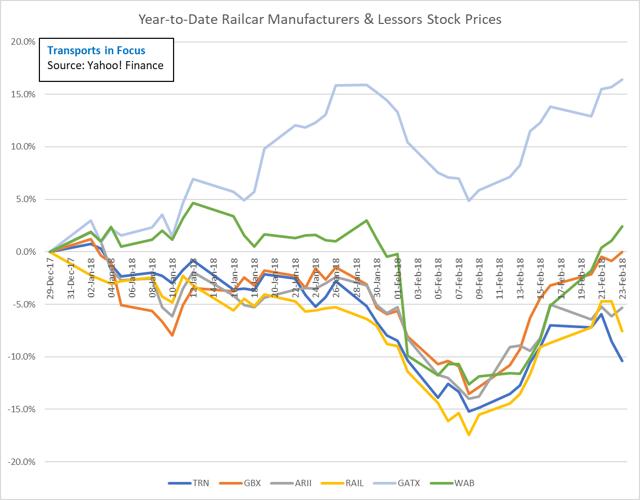 Railcar manufacturers and lessors were mostly up for the week, with exceptions being Trinity Industries (TRN) and American Railcar Industries (ARII). Trinity Industries reported earnings this past week, and the market's response was to sell. The sentiment was not across the board, as both Greenbrier Companies (GBX) and FreightCar America (RAIL) saw improvement for the week. Greenbrier was the only positive performer this past Friday, however.
The divergence in performance for this peer group is interesting. On the one hand, you have GATX Corporation (GATX) leading the way with very strong results in 2018. GATX has uniquely outperformed other lessor companies. While Greenbrier and Westinghouse Air Brake Technology (WAB) have also been doing better. I continue to believe that there are better investments within each peer group. However, the sheep mentality of the short-term market performance has begged to differ; maybe we are beginning to see this change.
Truckload Carriers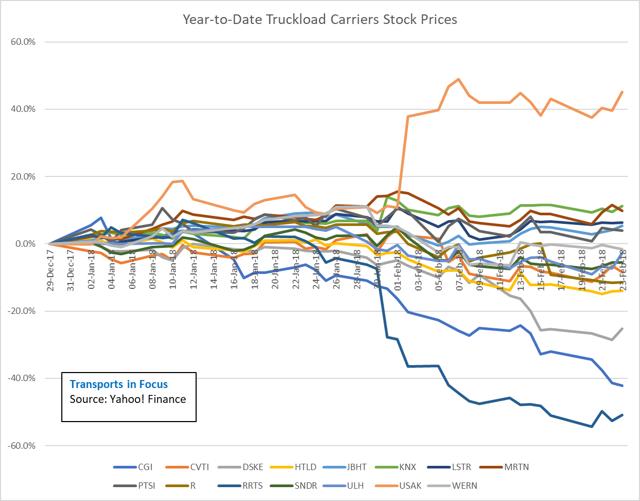 Truckload carriers were mostly worse or flat this past week. Smaller peers continued to see more volatility and weaker performance. Similar to my sentiments expressed for railcar manufacturers and lessors, I do see significant differences between trucking companies for long-term investors. Some companies on this list are not worth investing in, based upon an inability to generate organic growth. USA Truck (USAK) continues to be a Wall Street favorite. It has no business leading this group in performance.
Most other small peers remain out of favor with investors to date. The irony is that if transports begin to pick up steam as they did last year, I'm sure that smaller plays will again become speculate opportunities leading to strong returns from lower levels. This is a perpetual cycle, until the next recession, fortunate acquisition from a larger peer, or bankruptcy. I would not be holding my breath for a deal.
Less-Than-Truckload Carriers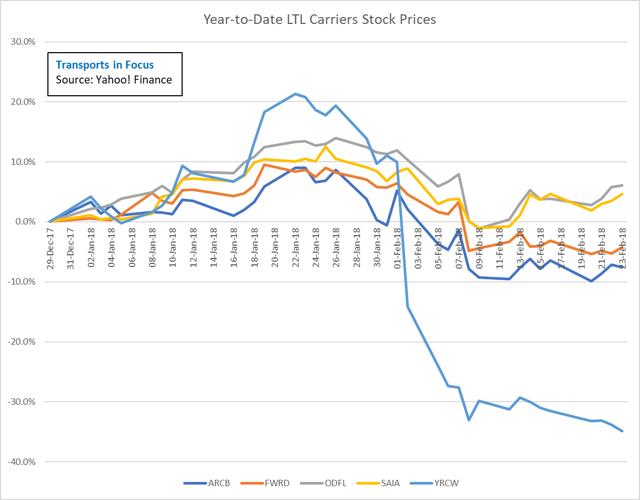 Less-than-truckload (LTL) carriers were all down for the week, with the exception being Old Dominion Freight Line (ODFL). Basically, what has been a theme for truckload peers, has also played in the LTL group. The difference is that Saia (SAIA) has been an example of a smaller peer turning its business around and generating organic growth over the past couple of years. It is not impossible to do this. It just takes a shift in growth strategy away from an acquisition focus.
I will continue to recommend that investors consider larger diversified peers such as FedEx Corporation (FDX), United Parcel Service (UPS), or XPO Logistics (XPO) in addition to pure plays. These companies provide better diversification and are formidable investment options for long-term growth success. Amazon (AMZN) who?
Air Freight, Package, And Delivery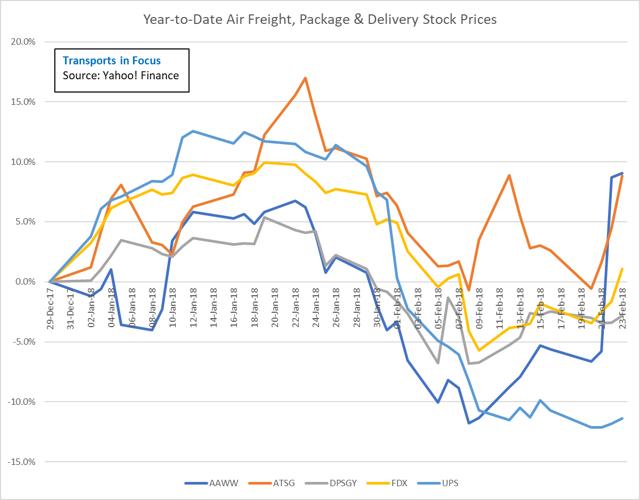 Air freight, package, and delivery companies were mostly up for the week, with exceptions being Deutsche Post DHL Group (OTCPK:DPSGY) and UPS. Air cargo lessors spiked higher on the tailwinds of the Atlas Air Worldwide (AAWW) earnings report. Both companies continue to be volatile as valuation levels and other factors, including unionized labor and leverage, have weighed on stock prices. Positive reports remain the catalyst for huge price swings when market sentiments are lower.
UPS received some negative analyst comments this past week, weighing on the stock price. FedEx has beaten the company by getting ahead on the capex front, and UPS has now recognized that it will need to invest more into the business. On the Europe front, I am beginning to think that a major player will inevitably make a U.S. acquisition in the near term, DHL Group could be a player.
Contract Logistics, Forwarding, And Brokerage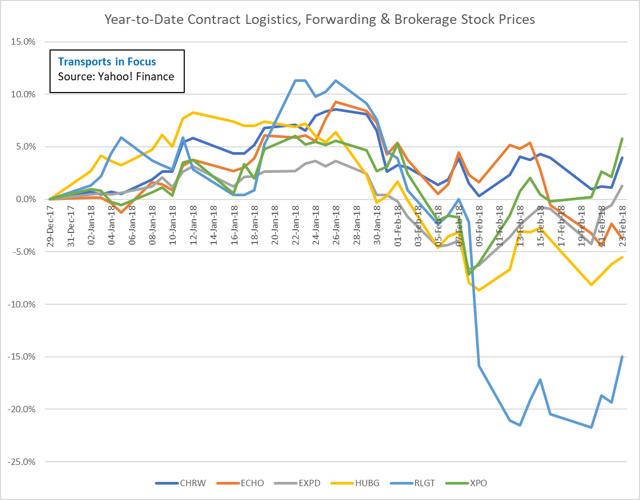 Contract logistics companies were mixed, with positive performers being Expeditors International (EXPD), Radiant Logistics (RLGT), and XPO Logistics. This group is interesting from a consolidation perspective. I do not view either XPO of C.H. Robinson Worldwide (CHRW) as being acquisition targets, but with the information out from Home Depot (HD), who knows. Expeditors is very intriguing because the company is entrenched in ocean and air cargo. These areas have been opposites with air cargo pushing to all-time highs, while ocean freight continues to see mixed performance as pricing remains volatile.
From what I am seeing, European companies, including A.P. Moller - Maersk (OTCPK:AMKBY) and DSV (OTCPK:DSDVF) are actively considering acquisition opportunities. Assuming focus begins to shift towards the U.S., I would not be surprised to see DHL Group's interests peaked as well. On the U.S. front, XPO is expected to potentially make a deal or two this year; FedEx and UPS could even jump in. I continue to see Hub Group (HUBG) as the most lucrative opportunity based on price, even when considering a premium (which is going to have to be paid).
Container Shipping Lines, Charter Owners, And Container Lessors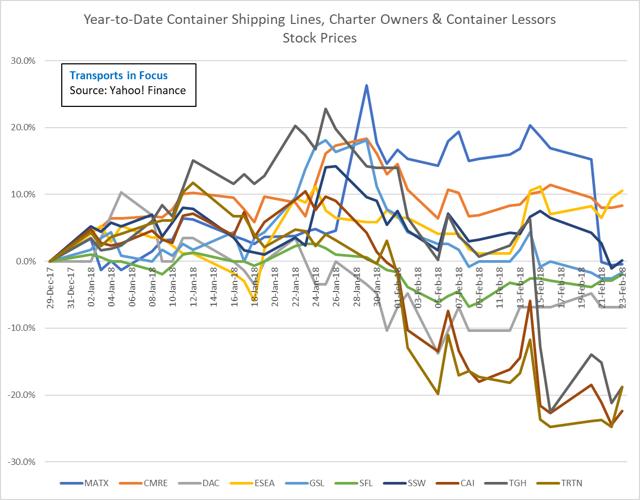 For the container shipping industry, last week's performance was most lower, with exceptions being some charter owners and managers and container lessors. The two earnings reports I was interested in were for Matson (MATX) and Triton International (TRTN). Each one offered distinctly opposite market reactions. Matson's results missed estimates, and after guidance was digested, the stock was punished - inappropriately, I might add. Triton, on the other hand, had been beaten down and, after results, saw a strong rally.
The divergence for equipment lessors remains, as GATX and air cargo lessors are in favor, while trucking, vessel charter operators, and container lessors are not. I see the strongest disconnect with container lessors, and therefore, the biggest opportunity for 2018 investors. I have increased by positions in both Matson and Triton, with Triton now up to a 2 percent weighting in my portfolio and expect strong results moving forward.
Airlines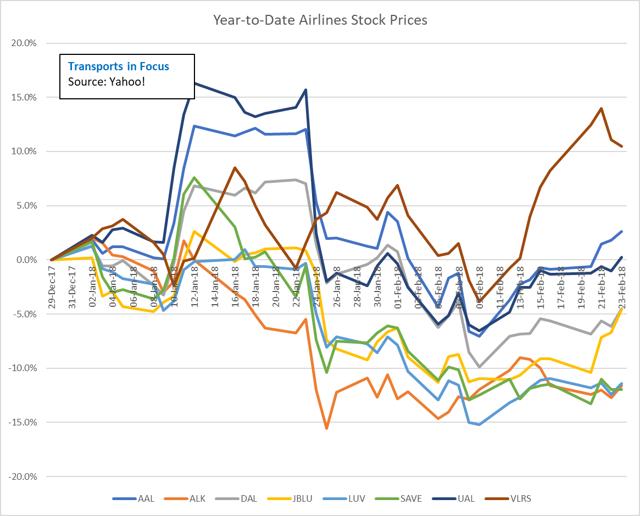 Airline stock performance was mostly up for the week. This peer group has now broken out into four general performing areas. The laggards, including Spirit Airlines (SAVE), Alaska Air Group (ALK), and Southwest Airlines (LUV). The improvers, including JetBlue Airways (JBLU) and Delta Air Lines (DAL). The modest performers, including American Airlines Group (AAL) and United Continental Holdings (UAL). Lastly, the leader, including only Controladora Vuela Compania de Aviacion (VLRS).
For me, this list is flipped upside down as I remain focused on both Alaska Air and Southwest. The majors have had a rough go of it as both smaller companies have dominated customer service and a variety of airline industry metrics for decades. It must feel nice to see these stronger brands suffer in the short term, the tables will turn.
Demand Trends
Key demand-based indicators that are monitored include Class I rail traffic, trucking industry tonnage, shipments, and loads, air cargo tonnage, container shipping line 20-foot equivalent units, TEUs, North America seaport TEUs, shipping lane port calls, North America cross-border trade, and freight rates for most of these indicators.
U.S. And Canada Class I Rail Traffic - Carloads And Intermodal Units Carried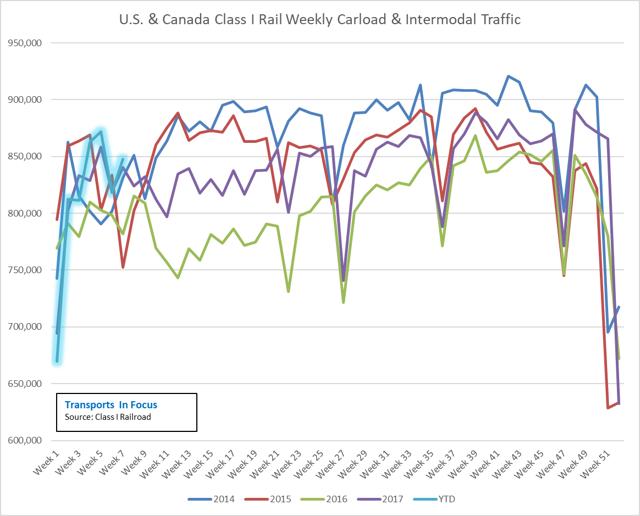 Through the seventh week of 2018, total traffic was up 0.3 percent with carload traffic down -2.7 percent, a 10 bps decline; and intermodal traffic up 3.8 percent, a 40 bps increase. Week seven performance improved from the previous week to 0.9 percent, YoY.
These numbers continue to not be far off from the total traffic originated results of 0.5 percent for the seventh week of 2018 for North America rail traffic, published by the Association of American Railroads (AAR) data. Investors should remember that total traffic carried includes both originated and received carloads and intermodal units. Additionally, U.S. traffic was up 0.7 percent, and Canadian traffic was up 0.1 percent, closely tracking the carried rail traffic when combined. Mexico traffic was down -1.1 percent.
Container traffic was up 3.3 percent, a 30 bps increase. Domestic intermodal pricing for both eastbound and westbound averages has remained strong of late (accelerating very robustly the past couple of weeks), with the former up over 40 percent and the latter up 13 percent YoY. Fuel surcharges will continue to be an added catalyst as oil prices remain higher. Pricing increases have correlated to tight truck capacity.
The seventh week of 2018 witnessed weekly coal carload traffic at 107,000 carloads carried. This reflected a -5.6 percent decline versus last year, the third consecutive weekly decline. Grain performance was down, at -10.1 percent versus last year. Similar to coal, weekly growth from this point forward will be choppier; the negative trend has seen 16 out of the previous 17 being down.
Motor vehicles and equipment carload traffic performance was down at -4.1 percent versus last year; the eighth consecutive weekly decline YoY. Chemicals were up at 2 percent, petroleum products were up 5.4 percent for the fifth consecutive week, and crushed stone, gravel and sand, was up 6.3 percent.
Trucking Industry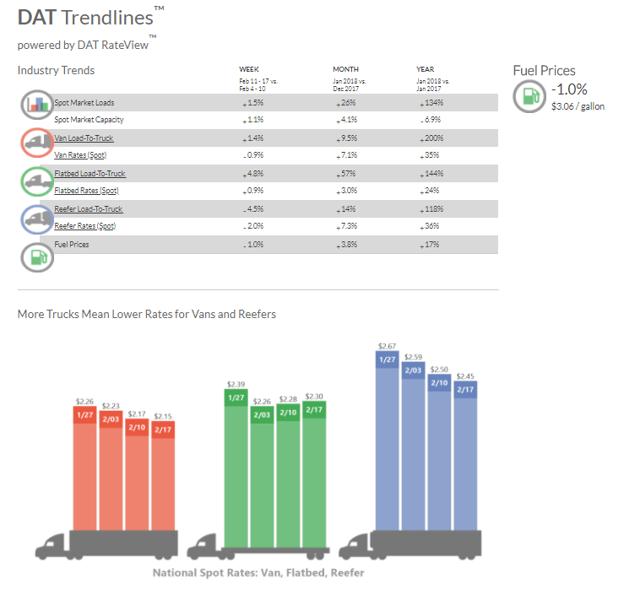 Source: DAT Solutions, DAT Trendlines
Diesel prices were up 17.7 percent for the eighth week of 2018, reflecting a 170-bps decline from the previous week. Spot market loads were up 1.5 percent from the previous week, while capacity also increased by 1.1 percent. Dry van, flatbed and reefer rates were marginally lower from the previous week. Despite recent weekly modest declines, rates remain up from the low 14 to 30 percent from last year.
The two core pressures over the next couple of years will remain intact for the trucking industry - driver shortages and the ELD (electronic logging device) mandate. Trucking industry capacity remains tight. This is evidenced by the domestic intermodal pricing above, as well as from shipper comments from earnings reports and interviews. As equipment becomes harder to come by, we may be in a two-year cycle where pricing will be higher.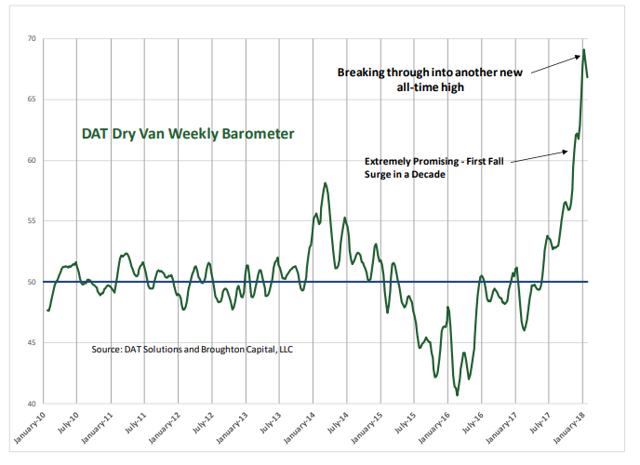 Source: Cass Freight Index
To get an appreciation of what is happening, we need to take a longer past look at pricing. Just considering dry van weekly information, it is clear that what has occurred over the past year, has been amazing. With things set up to only intensify, this is why I remain highly bullish on companies exposed to these dynamics, namely larger trucking peers, and intermodal companies.
Air Cargo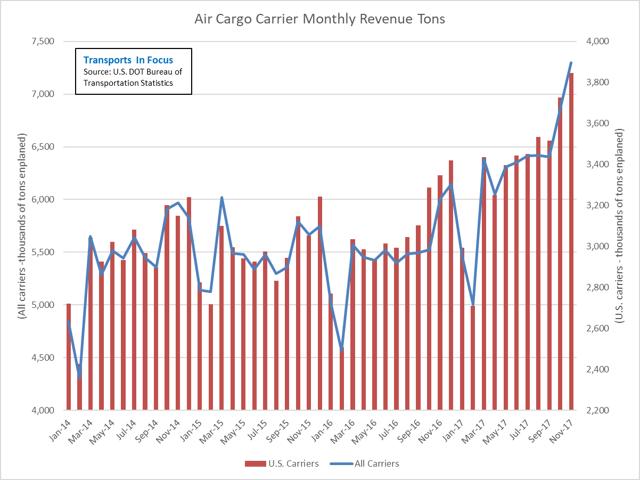 As I have been highlighting, we all know how air cargo demand and pricing have risen in unison. We also know through the results of companies like DHL Group and FedEx, that air cargo has been one of the top performing modes. Recently, information was provided related to a shortage for reefer container equipment. As would be the case, this is an extra boon for air cargo demand.
In addition to tight capacity from other modes, leading to potential air cargo shifts, traditional high-value cargo such as crabs are finding it more difficult to find air cargo space. Certain time-sensitive commodities rely heavily on belly cargo shipments via international passenger flights, as it is conventionally cheaper than using pure cargo air freighters. However, with the current environment, and recent late starts for the season, requests are being turned down. What this all boils down to is higher costs for shippers.
Container Shipping Lines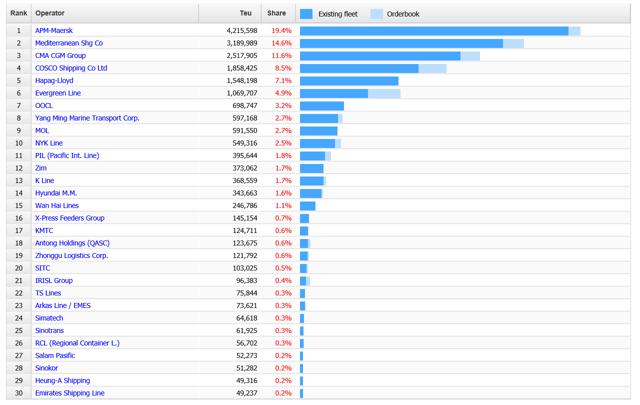 Source: Alphaliner - Top 100 Operated Fleets
Pricing for spot market container rates ended 2017 down for most east-west trade lanes, per the Shanghai Containerized Freight Index (SCFI); exceptions being the Trans-Atlantic. Early in 2018, rates continue to display improvement with some lanes now turning positive YoY.
For the eighth week of 2018, Trans-Pacific freight rates have improved to being down by 14 and 11 percent for shipments from Shanghai to the West and East coasts, respectively; rates to Asia have varied. Asia to Europe rates have turned lower down 0.5 and 10 percent for North Europe and the Mediterranean, respectively; rates to Asia have been mostly positive. Trans-Atlantic rates have remained fairly stable for both eastbound and westbound services from last year, while Europe to South America have improved substantially.
The big news that came out recently was Maersk's plans to further transition the company to a global container integrator. As part of this strategy, the company will look to create a one-stop shop through its container shipping liner, terminal operator, freight forwarding and supply chain management businesses. Not all global container shipping liners have taken a similar stance as Hapag Lloyd was recently quoted as saying that it did not agree with an ownership strategy for terminals across the globe. Both companies have looked to grow through major acquisitions of late, but Hapag Lloyd has questioned any ability to gain cost synergies, based on less flexibility for port calls.
North America Seaports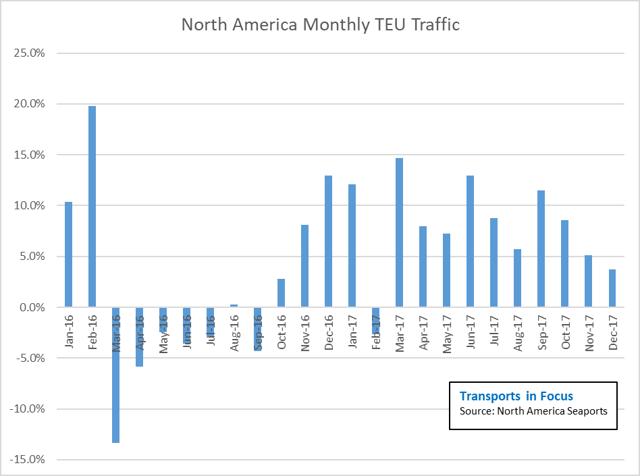 A continued theme based on need for seaports across the U.S. is focused on improving truck turn times. The Port of New York/New Jersey is looking to meet these objectives through its new state of the art gate system. The new system is hoping to decrease turn times by one quarter, eliminating two of the three stops trucks typically make on average through the current process. Combined with other improvements, including the elevation of the Bayonne Bridge, the port is under the hook to be prepared for increased demand.
In other news, the Prince Rupert Port Authority has been struggling with congestion at its terminals due to increased pre-Chinese New Year shipments and severe snow storms. The port is expecting an improvement in fluidity next month. This should be a positive for Canadian Class I rails as there should be a short surge in volume as flows return to normal. The most recent monthly North America seaport TEU report is located here.
North America Cross-Border Trade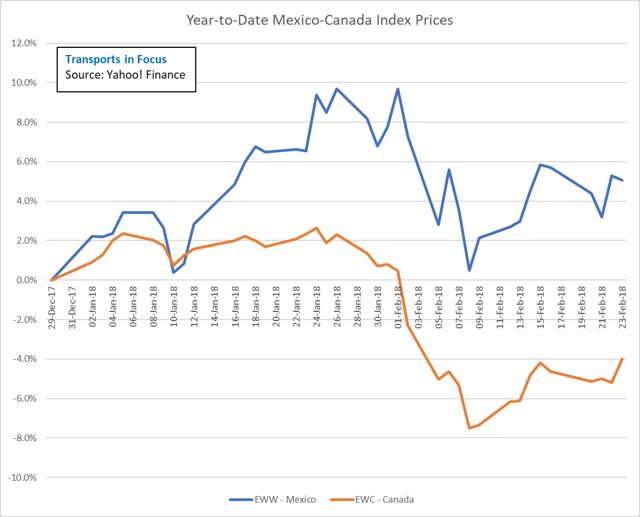 The iShares MSCI Mexico Capped (EWW) was down 60-bps for the week. The index is leading the iShares MSCI Canada ETF (EWC). The Mexico index is up 5.1 percent for the year versus the -4 percent result for the Canadian index; which reflected a 60-bps increase.
Round seven of the North America Free Trade Agreement (NAFTA) negotiations have just kicked off. While it has been speculated that the U.S. would be accommodating to Mexico's upcoming presidential election process, tension remains as Mexico's current president again declined to meet with the U.S. as contentions over the wall remain. Viewpoints remain highly speculative as some contend that Mexico may withdraw based on the wall, while others think that the U.S. will pull out. Things are not looking well.
Summary
Volatility has declined further as the CBOE volatility index (VIX) has dropped back below 17. This does not mean that we will not see further volatility ahead. Interestingly, broader markets have once again strengthened, while transports have lagged. This has been the pattern over the past couple of years.
Smaller transport peers have dropped back toward extreme lows, and all the signs are pointing for a repeat of 2017, where transports rally later in the year. I am not going to make a specific assumption that markets will still return double digits, but I am bullish on transports as market fundamentals remain strong, and capacity issues for multiple modes are likely to persist over the near term.
Disclosure: I am/we are long ALK, CNI, DPSGY, FDX, HUBG, JBHT, KSU, MATX, SNDR, TRTN, XPO. I wrote this article myself, and it expresses my own opinions. I am not receiving compensation for it (other than from Seeking Alpha). I have no business relationship with any company whose stock is mentioned in this article.
Editor's Note: This article covers one or more microcap stocks. Please be aware of the risks associated with these stocks.