Tesla's (NASDAQ:TSLA) 2017 Annual Report (10-K) arrived last week. As always, it was fascinating to read, both for what it said and what it omitted.
There's far too much to cover in one article. I'll be back with another on a topic that interests me greatly: The phenomenal growth in Tesla's contractual commitments (from $16.5 billion last year to $31.4 billion this year).
Also, I don't have to cover everything here, as others will no doubt do their part. Indeed, Investor Gator already has chipped in with a terrific piece on the absence of any "going concern" qualification. Gator looks at the numbers and concludes that even if Tesla and its auditors managed to brush the issue aside, investors might want to make their own analysis.
I. Survivor Type
As Gator noted, a principal basis for Tesla's assertion that it has adequate liquidity to last out at least another year is "$2.04 billion of unused committed amounts under our credit facilities and financing funds."
Well, yes and no. At year end, Tesla had used $1.58 billion of its $1.825 billion revolving loan facility (including $138 million for letters of credit). That leaves $580 million. Add another $175 million for the "Incremental Commitments" and you have $755 million of additional secured borrowing capacity (at, as Bill Maurer has pointed out, escalating LIBO rates).
Note 13 of the 10-K shows the amount as $730 million rather than the $755 million I calculate. Close enough for our purposes because, either way, we need to scrape together another $1.25 billion. So, where does that $1.25 billion come from?
It comes (per Note 13) either from loan facilities that require pledging further collateral or (per Note 18) from VIE arrangements.
The VIE arrangements remind me of a Stephen King short story called Survivor Type, written as the diary of a disgraced surgeon who finds himself marooned on a tiny island with only his heroin supply for sustenance. Determined to hang on until rescue, he begins consuming himself, starting with his foot after a broken ankle necessitates its amputation. It doesn't end well.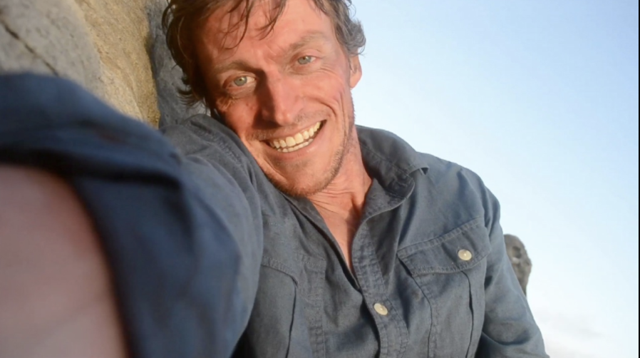 (As I was surprised to discover when I wrote this article, the King short story was made into a movie in 2012.)
Why is Tesla with its VIE arrangements like the character in the King story? Because, in effect, each time Tesla enters into one of those VIE arrangements, it is selling off its future cash flow. Bill Cunningham likens those arrangements to a hand grenade whose pin has been pulled.
There's a good bit of detail in the 10-K that vindicates Bill's analyses of cash flow, capitalized interest, and the curious case of the SolarCity acquisition accounting.
I anticipate Bill will write about these issues, and so leave that heavy lifting to him. (And, let me say again, if you're not reading Bill's pieces, you are missing some of the best and most original Tesla financial analysis out there).
I'm also hoping we hear from Alberto Zaragoza Comendador, because the 10-K seems to (further) vindicate his thesis about Tesla's escalating warranty costs.
II. The $35,000 "Variant"
When Tesla announced its Model 3 pricing last July, I wrote an article called, Farewell to Tesla's Phony Mass-Market Story.
In it, I pointed out that most of the full federal income tax credits would go to those buying versions of the car costing $50k+ (that is, the wealthiest car buyers). I questioned Tesla's claim that the car was truly "in production." And I wrote:
Tesla has already spec'd out the Model 3 to be very unattractive in its base version, and, just to be certain, Tesla will not offer any base versions for sale for many months to come. And that was a wise business decision, because Tesla will bleed heavily each time it sells a Model 3 for $35,000.
Naturally, for saying all these things, I was much derided in the comments section. So it goes.
Now, in the 10-K, here's how Tesla describes the Model 3:
Model 3 is our third generation electric vehicle. We began deliveries in July 2017. Model 3 is produced at the Tesla Factory in Fremont, California, and at Gigafactory 1. We will offer a variant of this vehicle at a starting price of $35,000 and expect to produce Model 3 vehicles at far higher volumes than our Model S or Model X vehicles.
Got that? The $35,000 Model 3 is no longer the mass-market raison d'être for the car, but has become merely a "variant" of the vehicle.
By the way, I think Tesla did the right thing by choosing this language. It helps blunt the force of later arguments that Tesla's claim about a $35k Model 3 was misleading. But, of course, there will always be this image from the 2016 unveiling of the prototype: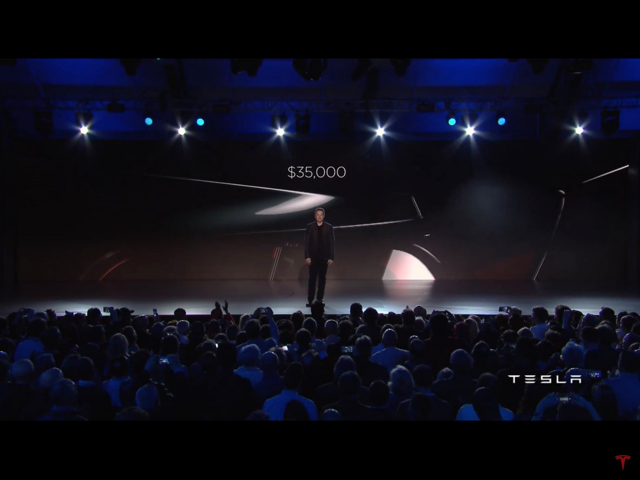 As W.C. Fields once said of a Hollywood starlet who had become rather self righteous as her fame grew, "I knew her before she became a virgin."
Yes, the Model 3's price matters. It matters a lot.
The addressable market for a car costing more than $50,000 is tiny compared to the addressable market for a car costing less than $30,000 (which is the price many who made deposits in 2016 thought they would get, assuming the federal income tax credit would still be available).
III. Tesla's Newfound Modesty
Inevitably, for any large business enterprise, there will be significant changes from year to year in its business outlook, and some of those changes will be evident in the language of a thoughtfully written Annual Report.
This year, there are a number of changes in the Tesla 10-K. Taken individually, perhaps no one of them is particularly significant.
The three that struck me most forcefully reflected a new modesty by Tesla regarding its "Autopilot" and energy storage products.
A. "Autopilot Systems" Have Become "Self-Driving Development"
Tesla now uses the topic heading "Self-Driving Development" rather than "Autopilot Systems."
And, it has dropped this claim:
In October 2014, we began equipping all Model S vehicles with hardware to allow for the incremental introduction of autopilot technology.
The change from "Autopilot Systems" to Self-Driving Development is, I think, significant, and reflects Tesla's recognition that its Autopilot claims have opened the door to litigation. And, including the word "Development" suggests that Self-Driving is a work-in-progress.
Similarly, dropping the claim about Model S vehicles being equipped with sufficient hardware for "autopilot" seems prudent, to say the least.
I'm no expert in the field of autonomous driving, but most of the experts who write about it believe it is at least five years away from being achieved, and doubt Tesla's existing cars (without LIDAR, and with underpowered processors) will be able to achieve it once it finally arrives.
B. Tesla Energy Products - No Longer "Superior"
The 2016 10-K boasted:
We believe that the superior specifications of our products, our strong brand, and the modular, scalable nature of our Powerpack 2 product give us a competitive advantage when marketing our products.
The word "superior" disappeared this year. Good for you, Tesla. If your product specifications are not in any objective way superior relative to those of your competitors, then it is wrong to tell your investors you have some market edge based on those specifications.
C. Have Battery Pack Costs Stopped "Improving?"
In describing its battery pack, Tesla used to say:
Our engineering and manufacturing efforts have been performed with a longer-term goal of building a foundation for further development. For instance, we have designed our battery pack to permit flexibility with respect to battery cell chemistry and form factor. In so doing, we can leverage the substantial investments and advancements being made globally by battery cell manufacturers to continue to improve cost.
In its 2017 10-K, Tesla omitted the italicized language.
Again, I find this omission laudable. If pressed (in, say, a court of law) to show how it has leveraged the work of cell manufacturers (note the plural) to reduce costs or otherwise, could Tesla do so? Likely not, so it was wise to cease making the claim.
IV. New Warnings
There are some warnings in this year's 10-K that, so far as I can tell, have never appeared before in a Tesla annual report. At the very least, those merit close attention by investors.
A. Useful Life of Production Equipment
This is new:
If we update our manufacturing equipment more quickly than expected, we may have to shorten the useful lives of any equipment to be retired as a result of any such update, and the resulting acceleration in our depreciation could negatively affect our financial results.
Just as a note, Tesla depreciates its tooling on a "units of production" basis. It assumes its tooling for the Models S and X will be good for 250,000 cars, and its tooling for the Model 3 will be good for a cool one million cars. Other manufacturing equipment is depreciated over a period ranging between 2 to 12 years, depending on the particular item.
If Tesla were to conclude any production equipment would need to be replaced before reaching such limits, the consequence would be a large jolt of depreciation expense (and cash needed to purchase new equipment).
B. Phase-down of the Federal Income Tax Credit
Tesla announced in this report that it expects to reach cumulative production of 200,000 U.S. cars at some point this year. The consequences of reaching that threshold have been much discussed.
Unlike other automakers, Tesla does not divulge to the U.S. Treasury (and hence, the U.S. Treasury does not publish on its web site) exactly where Tesla stands with the credit.
All other things being equal (and, of course, they never are), it benefits an EV manufacturer to hit the threshold number very early in a calendar quarter. During most of last year, many expected Tesla to reach the 200,000 threshold in the first quarter of this year.
Late last year, the consensus changed to Q2. Now, some are speculating Tesla will divert Model 3 deliveries to Canada and/or Mexico in order to hit the threshold number in early Q3.
My sense is that, as this year progresses, potential customers will call upon Tesla to divulge exactly where it stands.
C. The New Tax Legislation
The 10-K includes this disclosure:
Additionally, the enactment of the Tax Cuts and Jobs Act in the U.S. could potentially increase the cost, and decrease the availability, of renewable energy financing, by reducing the value of depreciation benefits associated with, and the overall investor tax capacity needed to monetize, renewable energy projects. Such changes could lower the overall investment willingness and capacity for such projects available in the market.
This seems to me a prudent disclosure, even if it is not yet possible to tell what effect if any the new tax law will have on Tesla's energy projects.
V. Things We Used To Tell You, But Won't Any Longer…
It's always disappointing when Tesla stops reporting data it used to report. For instance, in the quarterly delivery reports, we no longer get a breakdown between Model S and Model X deliveries.
The 2017 10-K has two significant disappearing acts.
A. How Many Service Centers?
Tesla used to detail how many service centers it operates (in the 2016 10-K, it listed the number as 135). It no longer does so. Rather, it lumps the service centers in with stores and galleries.
Why? Perhaps because Tesla was behind in its promises about building new service centers. Those service centers (along with other infrastructure) are desperately needed to support Tesla's promised ramp of the Model 3. You simply can't keep slashing the capital expenditures budget without consequences.
B. How Are Those SolarCity Synergies Working Out?
Similarly, Tesla has now made it impossible to separate the results of SolarCity operations from its own results. I guess we'll never be able to tote up all those synergies.
C'mon, Tesla. We all know that both Tesla Energy and SolarCity are big losers. Go ahead and break it out.
Disclosure: I am/we are short TSLA. I wrote this article myself, and it expresses my own opinions. I am not receiving compensation for it (other than from Seeking Alpha). I have no business relationship with any company whose stock is mentioned in this article.
Additional disclosure: I am short TSLA via long-dated options