Coca-Cola (NYSE:KO)'s net operating revenues declined $7.5 billion for the 4th quarter, just under 20% YOY. The company realized a one-time net charge of $3.6 billion on $4.6 billion in foreign earnings due to the passage of the Tax Cut and Jobs Act (TCJA) on the 22nd of December, sending the company's tax liability for the year to a staggering 82.5%. The charge was partially offset by a deferred tax benefit of $1 billion also realized during the quarter. For the year, net operating income came to $35.410 billion, down just over 15% YOY. Diluted EPS as a result of TCJA careened to $0.27/share, down 82% YOY.
Truth be told, declining net operating revenue has been a recurrent theme of the past half-decade. In 2015, net operating revenues came in at $44.294 billion only to drop to $41.863 billion through the end of 2016. In 2013, net operating revenues came to $46.854 billion, dropping to $45.998 billion as the books closed for 2014. In fact, the last time net operating revenues grew YOY in a single tax year was back in 2012 with a post of $46.542 billion in 2011 growing to $48.017 billion in 2012 for a 3.36% gain. After peaking in 2012, net operating revenue has fallen 26% through the end of 2017.
Figure 1: Coca Cola, SPDR Consumer Discretionary Index and the S&P 500, 2017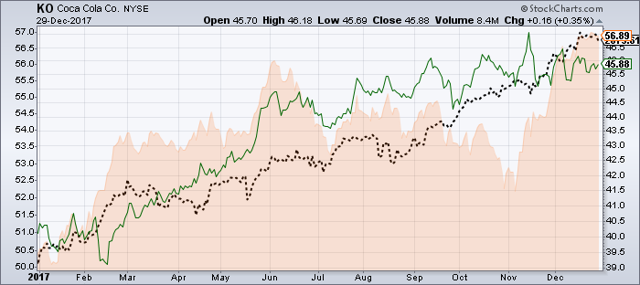 In overall market performance for the year, KO (green line) was up just shy of 10% on the year, striking a rough even keel with the consumer staple benchmark XLP (orange area) while underperforming the S&P 500 (black dotted line) by more than half (see Figure 1, above).
Generally speaking, operating revenues are higher in KO's finished product lines than in concentrate operations, according to company statements. The reverse is true for gross profit margins: concentrate sales produce higher gross profit margins than those generated by finished products. On the surface, the statement makes sense. Finished products require a heavier dependence on the volatile commodity markets for packaging materials-from aluminum for cans to crude oil prices that determine the cost of plastic bottles to sundry other material costs that are expended in bringing the company's products to retail shelves and vending machines around the world. To date, however, gross profit margins have yet to respond. In 2017, gross profit margins came to $22.154 billion, down almost 13% YOY from $25.398 through the end of 2016. In 2015, gross profit margins came in at $26.812, down almost 5% YOY from $28.109 billion in 2014. From the period 2013 through the end of 2017, gross profit margins have fallen just over 22%.
Overall, concentrate sales are now 51% of total operating revenue through the end of 2017, up from 37% in 2015. Overall finished products fell to 49% from 63% over the same period. Total worldwide unit case volume from concentrate operations comes to 78% through the end of 2017, up from 73% in 2015. Similarly, finished product sales as a percent of operating revenue continues to shrink settling at 22% for the year, down from 27% through the end of 2015. The company is clearly making this switch in business modeling as the finished product end of the business transitions to authorized, non-company bottlers. The company's bottling operation fell to 30% of total operating revenues for the year, down from 52% through the end of 2015 when the refranchising program began. The company has now sold off its bottling operations in China, the US and all but 15% of its bottling holdings in Japan. In North America for example, bottlers are granted exclusive territory rights for the distribution, promotion, marketing and sale of company owned and licensed products, usually for a period of 10-years with renewable options. Under the contract, the concentrate model sells syrups to bottlers who combines the product with sweeteners, still and/or sparkling water to produce finished beverages. Those finished beverages are then packaged using company authorized containers with either company or licensed trademarks and sold to wholesalers, retailers or distributors. In addition, the model sells concentrate directly to fountain retailers, such as restaurants and convenience stores.
In 2017, the company sold 29.2 billion unit cases of product worldwide, down slightly from the 29.3 billion unit cases sold worldwide in 2016 and unchanged from the 20.2 billion unit cases sold in 2015. Carbonated soft drinks represented 69% of worldwide unit case volume sales in 2017, unchanged YOY and 70% in 2015. The US accounted for 62% of carbonated soft drink sales and Coca-Cola represented 43% of total US carbonated soft drink sales. Internationally, Mexico, China, Brazil and Japan accounted for 31% of the company's worldwide unit case volume with 71% of that total being carbonated soft drinks sales. Coca-Cola comprised 45% of all non-US unit case volume sales.
KO is organized like most international CPG companies, into geographic regions that span the globe. And it is here where these revenue dynamics play out. North America is the largest region contributing just over 30% of total revenue or $10.6 billion in sales through the end of 2017, an increase of 4% on the year. Europe, the Middle East and Africa region ranks second with 20% of total revenue or $7.4 billion in sales, an increase of 1% for the year. Asia/Pacific occupies the third spot in the ranking with 15% of revenue or $5.2 billion in sales, a decline of 2% for the year. Latin America brought in about 11% of total sales or just over $4 billion, an increase of 5% on the year.
The two company product growth centers for 2017 were Latin America and North America. Latin America the company's biggest growth center for the year at 5% YOY. Unit case volume decreased 2% for the year with sparkling soft drinks declining 3%. Water, enhance water and sports drinks declined 1% over the period. In 2016, the region was down 6% for the year and down 13% on 2014 and down 6% on 2013. Since 2013, the region has returned a negative 18% for the period.
The company's North American operations grew at an annualized rate of 4% through the end of 2017. The region has been the most consistent money maker for the company since the end of 2014 with positive-though single-digit-growth over the entire period. Since the bottling refranchising program began in 2015, the region has registered cumulative growth of just over 8% for the period. Unit case volume was largely flat overall, reflecting 4% growth in Sprite and 5% growth in Fanta, offset by a 5% drop in sales of diet Coke.
Europe, Middle East and Africa region grew by 1% while Asia/Pacific region dropped 2% for the year. Asia/Pacific growth since 2013 has contracted by 12%. Europe, Middle East and Africa was restructured at the beginning of 2016. Unit case volume grew by 1% in the region, driven mostly by an 8% increase in licensed tea and coffee sales and a 5% increase in water, enhanced water and sports drink product sales. This growth was largely offset by declines in juice, dairy and plant-based beverage sales throughout the region for the period. Asia/Pacific unit case volume increased 2%, which included a 2% increase in Coke, water, teas and coffee. This growth was largely offset by a 4% decline in Sprite and juice sales.
Figure 2: Coca Cola, SPDR Consumer Staples Index and the S&P 500 Buyback Index (SPYB)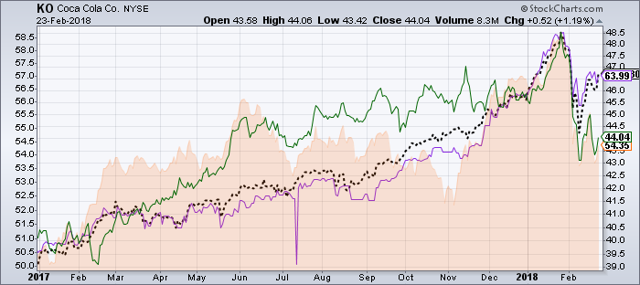 The company paid out $6.04 billion in dividends in 2016 while at the same time retiring 86 million of its outstanding shares at an average per share price of $43.62. In 2015, the company retired 86 million shares at an average per share price of $41.33. Dividend spending came to $5.7 billion during the year. And for 2018, the company's board authorized a 5% increase in dividend yield to $0.39/share per quarter. The last time net operation revenues grew at an annual pace of 5% or better was in the 2011 when growth hit 33%. Meanwhile, dividends for 2017 rose just under 6% to $1.48/share with a total payout of $6.32 billion. The company's ongoing stock repurchase program netted 82 million shares for the year at an average price of $44.09/share. Cash generated from operations for the year was $7 billion. In other words, the entirety of the company's cash from operations for the year went toward shareholder enhancement programs. The company will likely repeat this feat in the current year's dividend payout.
That said, the S&P 500 Buyback Index (purple line) posted a 22% gain from a low of $57.37 in the closing days of August to its all-time high of $67.47, reached in the closing days of January. The issue has now pulled back for much of February, recovering last week for a net loss of 5.17%, while KO and XLP are down roughly 4% YTD (see Figure 2, above).
Figure 3: Coca-Cola and the Impact of TCJA
| | | | | | | | | | | |
| --- | --- | --- | --- | --- | --- | --- | --- | --- | --- | --- |
| | Current Tax Rate | % Point Reduction | Shares (M) | Current EPS | Projected EPS | % Increase EPS | Per Share Range | Annual Range | Current Yield | Debt (M) |
| KO | 24% | 3 | 4,260 | $0.27 | $1.11 | 311% | $298-$341 | $895-$1,022 | 3.36% | $32,181 |
At the end of 2016, KO's effective tax rate came to 24%. The company's tax rate one-off surge to 82.5% will be paid off over the course of the eight-year window allowed by TCJA. Given the company's income from operations before taxes has fallen an average of 11% since 2013, I computed the before tax income to be roughly $6 billion. Subtracting out a 21% tax liability and dividing outstanding shares, I come up with a projected EPS of $1.11 for the year. The per share range, using an estimated $0.07 to $0.08 range for the impact of TCJA, I come up with a per share range of $298 to $341. Annualized, the range is between $895 million to $1.0 billion in tax savings over the course of the year (see Figure 3, above). Historically, the company has used $2.93 of debt for every one dollar of equity to fund its ongoing operations.
US companies have bought back about $3.5 trillion of their own shares since 2010, according to data from Goldman Sachs. Throw in nearly $2 trillion of dividends payouts and the overall handout to shareholders has exceeded the Fed's entire LSAP program in all of its parts during the Great Recession of 2007. February's market turmoil most likely provided a good platform for finance directors of S&P 500 companies-particularly from CPG companies-to buy back shares for one of the busiest weeks of the year and likely played a role in reversing the recent market swoon. While government policy makers can hope that TCJA will stimulate a corporate investment spree, further job growth and wage increases for workers throughout the labor force, early signs of corporate thinking points in more traditional directions of reviving and/or expanding buybacks and dividends programs after July's dip (purple line in Figure 2, above). Already, S&P companies have announced $171 billion in buybacks for the year, according to Goldman Sachs data.
KO was quick to point out in last week's earnings report that 2018 marks the 56th consecutive year where the annual equivalent payout has increased. On an annual basis, the dividend is projected out at $1.56/share. The company will be repatriating $7 billion in foreign earnings during the year, earmarking the funds for reducing gross debt that currently tips the scales at $31.181 billion, or just over 88% of 2017 net operational revenues. Between dividends and its ongoing share buyback program, the company's available cash flow from operations will likely again be used in its entirety to fulfill the stated goals of both programs. Outstanding debt, already at about 88% of current operation revenues, will now begin to squeeze future margins even further as the cost of debt service in the greater economy moves higher. KO clearly needs to find added sources of sustainable operational growth.
CPG companies have been responding in a variety of ways to stagnant sales of flagship brands. Selling off underperforming operations, consolidating manufacturing facilities, further digitizing company logistics, cutting staff--as well as augmenting ongoing shareholder enhancement programs--quickly come to mind. General Mills announced last week its intention of buying Connecticut-based Blue Buffalo Pet products, the maker of natural pet foods and treats. The pet food and accessory market attracted $69 billion-over twice the annual economic output of North Korea-in discretionary consumer spending through the end of 2017. Closely held candy giant Mars candy paid $7.7 billion to buy the dog and day care company VCA in January of last year which brought under its Petcare operations 795 animal hospitals and 61 animal diagnostic laboratories in the US and Canada. In 2014, Mars had purchased Proctor & Gamble (PG)'s pet food operations. JM Smucker shelled out over $3 billion to buy Milk Bone from Big Heart while Nestlé purchased Purina for more than $10 billion back in 2001.
Will dogs and cats figure in KO's operational future?