REIT Rankings: Net Lease
In our REIT Rankings series, we analyze one of the 15 real estate sectors. We rank REITs within the sectors based on both common and unique valuation metrics, presenting investors with numerous options that fit their own investing style and risk/return objectives. We update these rankings every quarter with new developments.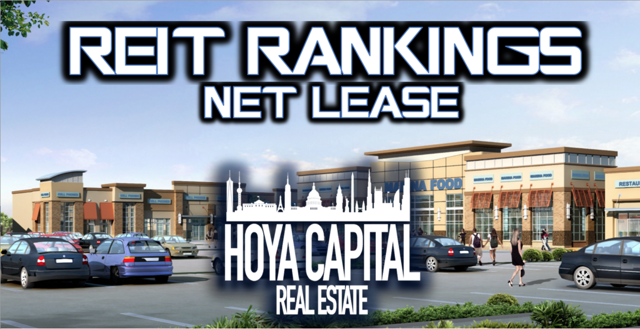 We encourage readers to follow our Seeking Alpha page (click "Follow" at the top) to continue to stay up to date on our REIT rankings, weekly recaps, and analysis on the REIT and broader real estate sector.
Net Lease Sector Overview
Net Lease REITs comprise roughly 6% of the REIT Indexes (VNQ and IYR). Within our Hoya Capital Net Lease Index, we track the six largest REITs within the sector, which account for roughly $40 billion in market value: National Retail (NNN), Realty Income (O), Spirit Realty (SRC), Store Capital (STOR), VEREIT (VER), and W.P. Carey (WPC).

Above we show the size, geographical focus, leverage, and quality focus of the six net lease REITs. Note that the "quality focus" is based on the credit quality of the tenants. High-quality tenants tend to be larger, more established companies with investment-grade credit ratings. Realty Income has the highest percentage of investment-grade tenants followed by National Retail. Spirit Realty and STORE Capital focus on non-investment grade tenants and thus acquire properties at higher cap rates.
Net lease REITs generally rent properties with long-term leases (10-25 years) to high credit-quality tenants, usually in the retail and restaurant spaces. "Net lease" refers to the triple-net lease structure, whereby tenants pay all expenses related to property management: property taxes, insurance, and maintenance. Like a ground lease, triple-net leases result in long-term, relatively predictable income streams. Similar to a bank, net lease REITs essentially capture the "spread" between the acquisition cap rate and their cost of capital. As we'll discuss throughout this report, changes in the cost of capital (higher interest rates and/or declining equity valuations) can have significant ramifications for the underlying business performance.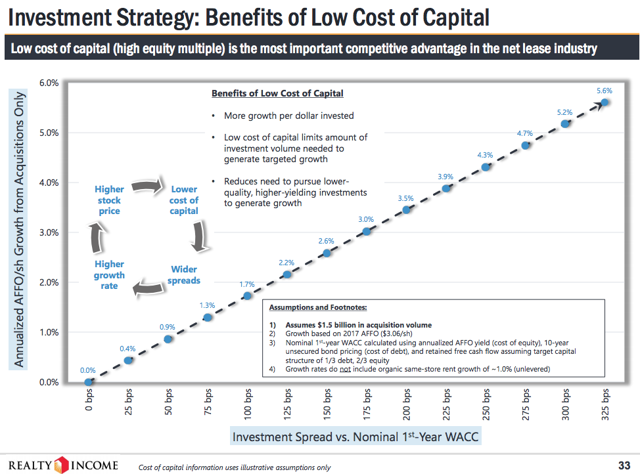 Average remaining durations of net lease REITs range from 10 to 15 years, and most leases have contractual rent bumps, often tied to the CPI index. Some REITs take on more inflation risk than others. By the nature of the portfolio compared to other REITs, net lease REITs typically function more like a financing company rather than an operating company. These companies hold the long-term, capital-intensive real estate assets that other companies prefer not to hold on their balance sheets. Assets are often acquired in sale-leaseback-type transactions through existing relationships.
Net lease REITs are quintessential bond alternatives and thus highly sensitive to interest rates, and less sensitive to fluctuations in economic growth expectations. In many ways, these companies can be viewed as an inflation-hedged, long-duration corporate bond that has additional elements relating to leverage and potential for external growth. For most net lease REITs, the underlying "credit" relates to the health of the retail industry. As a result, valuations are sensitive to movements in risk-free yields, credit spreads, and the health of the retail sector.
Recent Performance
Net Lease REITs had a disappointing year in 2017 considering the relatively benign economic environment that should have been a perfect backdrop for outperformance. Despite the Goldilocks conditions of strong economic growth, low inflation, and low interest rates, the sector slightly underperformed the broader REIT average. On a total return basis, net lease REITs returned roughly 4% compared to the 5% total return for the broader REIT index.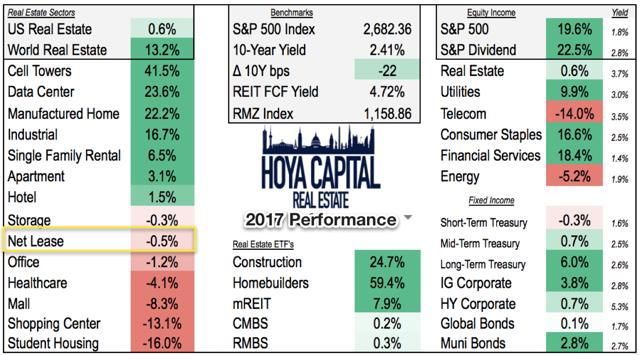 Whether it is fundamentally justified or not, the entire REIT sector has traded as a de-facto bond proxy since the passage of tax reform last December. We continue to note that, over the long-term, REITs have historically exhibited near-zero correlation with interest rates, but that this correlation tends to spike during periods of heightened interest-rate uncertainty. The REIT index has dipped 14% since tax reform passed Congress amid rapidly rising inflation expectations, which has dragged the 10-year yield to three-year highs. As we'll discuss in more detail below, net lease REITs are the most interest-rate-sensitive REIT sector.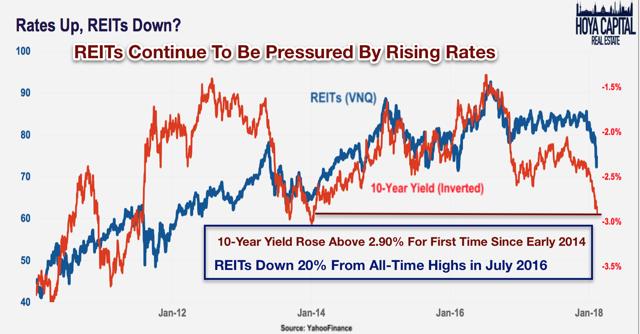 So far in 2018, net lease REITs have dipped nearly 13% compared to an 11% drop on the broader REIT index. Store Capital has been the strongest performer while Realty Income has been the weakest.

Quarterly Performance
A strong performance this earnings season could have changed the negative narrative surrounding the sector. 4Q17 results, however, were fairly disappointing as three of the six REITs came in shy of AFFO targets. Only Store Capital and WP Carey beat estimates and prior guidance. While underlying property fundamentals continue to be strong with occupancy rising to 98% and same-store rent growth accelerating modestly, investment spreads on the acquisition pipeline have compressed as interest rates have ticked higher and NAV premiums have dissipated.

Net Lease REITs have historically relied on equity issued at a NAV premium to accretively fuel their acquisition pipeline. On the positive, 2018 guidance was slightly more favorable than expected with Store Capital and WPC boosting estimates. Despite a less favorable cost of capital, most REITs plan to scale back their external growth plans only modestly. These six REITs acquired nearly $5 billion in properties in 2017 at an average cap rate of 6.9% and sold nearly $2 billion.
Full-year 2017 AFFO grew just 2.3% across the sector, the slowest rate of the post-recession period. Performance is expected to improve to 3.0% AFFO growth in 2018 led by improvement from Store Capital and VEREIT. Dividends rose 3.5% led by solid bumps from Store, Realty Income, and National Retail. Same-store rents rose 1.0% which is roughly on-par with the past several years. As we'll discuss shortly, REITs with rents tied to CPI should see a modest boost from higher inflation expected in 2018.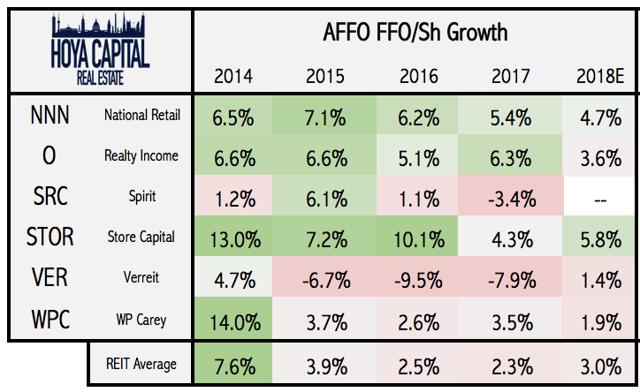 Recent Developments & Emerging Themes
Over the past quarter and during earnings calls, several key themes and recent developments are being discussed. In general, the tone of earnings calls could be best characterized as "frustrated but optimistic." Executives expressed confidence that the underlying business metrics remain as strong as ever and that the recent interest-rate-driven selloff has created temporary market dislocations that simply need to be "waited-out." We analyzed all six earnings calls and present the highlights.
1) Inflation Becomes A Hot Topic
One topic that has not gotten enough nearly enough discussion over recent years is the impact of inflation on operating metrics, specifically same-store rental rates. We scanned several years of past earnings calls and found that inflation was rarely discussed, which is surprising considering that one of the most appealing investment characteristics of these REITs is their status as a pseudo-inflation-linked bond. More than 90% of all tenant leases include a contractual rent increase, but the size and calculation method of these rent increases varies significantly across these six REITs. We had assumed that the majority of leases were tied to in some way to CPI, but were surprised to find that several REITs have only a minimal amount of leases tied to inflation.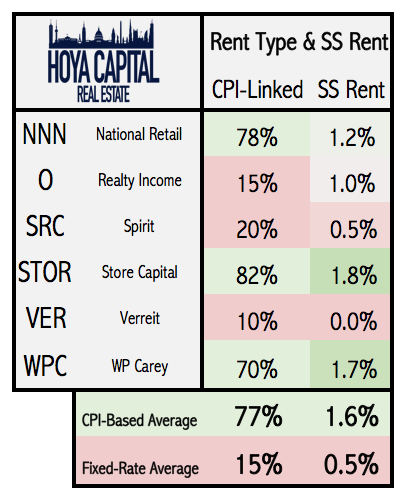 Realty Income, Spirit, and VEREIT each have less than 20% of their leases tied to changes in inflation, which has served them quite well during the post-recession period of low inflation, but may become an issue if inflation indeed picks up in 2018. Meanwhile, National Retail, Store Capital, and WP Carey each have more than 70% of their leases linked to CPI. Same-store rent growth has been significantly higher in recent years for these firms that use CPI-based escalators and the magnitude of this differential should increase if inflation picks up. In theory, these CPI-linked REITs should be less sensitive to changes in interest rates to the effect that they are caused by rising inflation, which has been the case for this recent rise in interest rates. These CPI-linked REITs should assume investment characteristics similar to inflation-linked bonds that increase their payouts on par with inflation while the REITs that use fixed increases should be more bond-like with more static payouts. We expect to see more discussion about this in future quarters. From the WP Carey earnings call:
"During 2017, inflation picked up in both the U.S. and Europe, which was reflected in our same-store rent growth of 1.7% on a constant currency basis, up from 1.1% for 2016… We have a very high percentage of our leases that are indexed to inflation. So we think we are going to outperform on a same-store growth rate relative to our peers, especially as inflation rises. And I think really that's one of the big drivers of interest rates. And then we also can generate a lot of growth internally apart from just the inflation-based increases."
2) Selloff Creates Uncertainty in Acquisition Strategy
More than any other REIT sector, share price valuations play an important role in the underlying operating fundamentals of the business. Later in this report, we'll discuss in greater detail the implications eroding NAV premiums. In short, as a result of lower share prices, these REITs are having more difficulty funding acquisitions with the same accretive spreads as in the past. Cost of capital is everything for these REITs, and while these REITs provided guidance that shows only a moderate slowdown in acquisition activity plans for 2018, there is an expectation that if share prices remain depressed, these REITs are likely to miss those targets. From the Realty Income call:
"Our capital cost has increased recently… While we could fund growth in today's share price and have it to be accretive it something we prefer not to do."
As highlighted above, net acquisition activity is actually expected to remain fairly constant in 2017 based on company guidance. Out of the six net lease REITs, only Spirit is expected to be a net seller. WP Carey, which was a net seller in 2017, expects to be a buyer in 2018. We will be watching closely for indications in coming quarters that these plans may be scaled back if share prices remain at these levels. REIT executives hinted at this in earnings calls this quarter. From the WP Carey earnings call:
"We know over the last couple of years cap rates on our investments have averaged over 7%. So we don't necessarily need to issue equity at high multiples to generate accretion, but we are certainly cognitive on where our equity is trading now and we will be very cautious about anything with regards to issuing new equity."
3) Private Valuations Remain Firm Despite Interest Rate Rise
Private real estate markets are notoriously slow to adjust to downward movement in valuations. Despite rising interest rates and negative signals from the public REIT markets, executives note that private market valuations of net lease assets remain roughly unchanged, but there are early signs that cap rates may tick higher in 2018 if current conditions persist. From the Realty Income call:
"Our cap rates were pretty much unchanged in the fourth quarter of last year and the discussions we're having with the sellers today, there is more of a willingness to entertain negotiations and transactions at cap rates that are higher than where they would have been in 2017. So perhaps we're seeing in the beginning of that movement and we would expect to see it occurring throughout the year, if capital costs were to remain elevated."
Consistent with the sentiment expressed in earnings calls, we believe that the "higher quality" assets that trade at low cap rates would see the more significant decline in value from rising rates. On the other hand, "lower quality' assets with more credit risk should see more modest reductions in valuation from rising rates as the negative impact should be offset in-part by strengthening tenant credit quality from a stronger economy. From the National Retail earnings call:
As it relates to cap rates, from our vantage point, we are not seeing them tick upward yet. I think, if you were a buyer of lower cap rate properties, you are going to start to see those trend up sooner. But at the high sixes rate, we are not seeing any movement yet."
4) Tax Reform Expected to Be Net Positive
During the last update, we warned that the tax overhaul could catch the 1031 "Like-Kind Exchange" in its net. The 1031 allows property owners to sell their asset to the REIT in exchange for REIT shares rather than cash, allowing the owner to defer taxes on the sale. 1031 Exchange deals are especially common in the net lease sector, and particularly on smaller transactions. The final version of the tax reform legislation did not eliminate the 1031. In fact, we have continued to discuss that tax reform was as close to a "perfect" outcome for REITs as anyone could have been hoped. Net Lease REITs see the potential for more sale-leaseback transactions from changes to interest deductibility. From the WP Carey earnings call:
"We also view the recent U.S. tax reforms, a supportive of corporate sale leaseback activity, which often competes with debt financing given the limitations placed on the deductibility of interest compared to the full deductibility of rental expense."
On a macro-level, besides the obvious positive effect on consumer spending, tax reform is expected to improve tenant operating performance through the reduction in the corporate rate. From the National Retail earnings call:
"Just generally, we think it's going to be helpful. A lot of retailers pay a pretty reasonably high tax rate. So, I think they'll benefit from that theoretically. Their customers, consumers will have a few more dollars in their pocket. And so, some of that may end up in the retailer stores. And so, definitely a positive to the retailing environment from tax reform. I mean, we're not putting a lot of stock on how much it will be but it's the right direction anyway."
2 Reasons to Be Bullish on Net Lease REITs
1) Strong Economy & Tax Reform Provides Tailwind to Tenants
Despite the headwinds from interest rates, the selloff appears overdone as there are also strong tailwinds associated with a stronger economy, tax reform, and temporary dislocations in the private market. Unless we enter a period a stagflation, it is reasonable to assume that rising interest rates would be the direct result of stronger economic growth. Retailers, perhaps the most cyclical of all economic sectors, have already been feeling the positive effects of the strong economy and tax reform should provide an extra boost in 2018.
Net lease investors sometimes overlook the significant retail-related risk of these REITs, and the negative narrative surrounding the retail space may be affecting valuations. Perception doesn't match with reality, however, and we are certainly not seeing the "retail apocalypse" that the media loves to discuss. Our Hoya Capital Brick & Mortar Index based on data from the Census Bureau showed an average 4.3% rise in spending in the holiday 2017. The strong holiday season was welcome news after a soft spring and summer. For the full year, brick and mortar sales grew 2.7%, slowing from the 2.9% growth in 2016.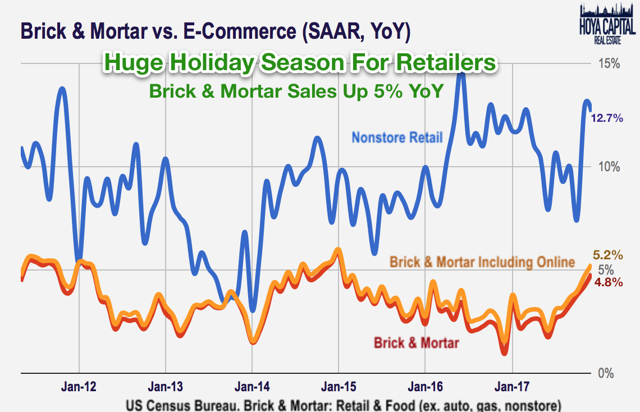 While e-commerce remains a significant concern for the entire retail industry, net lease REITs are typically more sheltered from the most at-risk categories. From the National Retail earnings call:
"Not all retail is toxic. Our tenants typically operate large, regional and national businesses that focus on customer services, customer experiences, and ecommerce resistant consumer necessities. We had very little exposure to a payroll or other retail concepts that are struggling with ecommerce and getting negative headlines. The primary lines of trade that make up our tenant mix are expanding and adding stores, and our major tenants are playing offense in their respective businesses."
2) REITs Will Retain Competitive Advantage Over Private Market
Historically, the advantages of the REIT structure (liquidity, reliable dividends, ability to diversify, good corporate governance) have allowed these REITs to command favorable costs of equity capital relative to their private market peers. Regardless of the direction of interest rates, the net lease financing model isn't going away anytime soon. Some REIT executives believe that the effects of rising rates will, in fact, hurt private competitors more than REITs. Effectively, this would improve the competitive positioning of REITs and could be a long-term net positive for the sector. From the Store Capital earnings call:
"So where we are trading today is almost like a bank is trading less than book, which makes absolutely zero sense to us. I think it makes no sense that a private market is not liquid and not diverse would somehow trade at a better valuation in the marketplace, where it is liquid and is diverse and is BBB rated and does have access to different and more efficient cost of capital."
2 Reasons to Be Bearish on Net Lease REITs
1) Realty Income Addresses Short Thesis
Last month, Spruce Point Capital Management published a much-discussed short thesis on Realty Income that sparked passionate discussion on the Seeking Alpha platform. While the firm does raise some legitimate points relating to the negative feedback cycle of NAV discounts (which we affirm throughout this piece), their primary arguments relating to "deceptive" same-store sales use faulty analysis techniques. The crux of the argument is that Realty Income improperly inflates same-store sales metrics by removing properties that are vacated during the period. The firm then argues that once investors "realize" that same-store sales were actually declining, it would directly lead to a "40-50% decline when investors revalue the REIT." Spruce Point correctly points out that this practice is fairly unusual compared to other retail REITs: most REITs don't remove vacated properties from the same-store pool. This would be an issue if Realty Income also added "re-leased properties after vacancy" during the period to the same-store pool, which Realty Income does not. In other words, Realty Income removes both " good and bad" from the metric, and this reporting methodology makes sense to us as it better reflects the rent growth of individual net leased properties.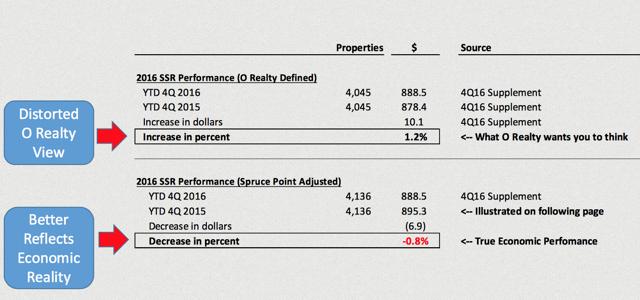 The net result is that Realty Income's presentation of same-store sales is not materially different than a traditional retail REIT's presentation methodology. More importantly, we certainly don't believe that it is intended to be deceptive. Appearing to be in direct response to this report, Realty Income actually published the actual "adjusted" same-store rent metrics, which were identical to the metrics reported using their traditional method: same-store rental revenue increased by 1.0% using both methods. While we applaud Spruce Point for sparking a discussion about same-store reporting methodology (which is an issue with some REITs) and we think that the market needs more participants willing to publish a short thesis (and their analysis should be considered and respected, when accurate), we think this particular gripe with Realty Income is invalid.

2) NAV Premium is Critical to the Business Model
At their core, net lease REITs are in the financing business and, like a bank, capture a relatively modest spread between the investment yield and the cost of capital. Net lease REITs have historically commanded a cost of capital advantage over private market competitors (and other financing institutions) because of their ability to utilize public equity markets to raise "cheap" equity capital. Net Lease REITs have been crushed by rising interest rates. Since interest rates bottomed in 2016, the sector has dipped more than 30%. Valuations are the cheapest of this recovery.
The positive feedback loop that fueled the stellar performance of these REITs over the past decade may be reversing. Without the external growth pipeline, these REITs become even more bond-like. In their short-thesis of Realty Income, Spruce Point correctly highlights how the feedback loop has the potential to reverse when the stock price declines.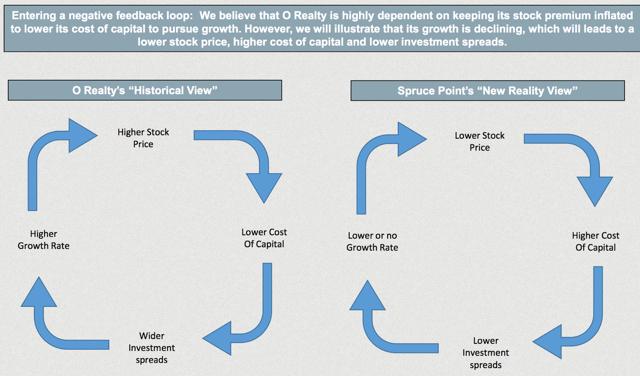 (Spruce Point Capital Management)
While we disagree with the underlying conclusions of the Spruce Point thesis, we do believe that this "feedback loop" phenomenon is perhaps the most significant concern for net lease REITs.
Valuation of Net Lease REITs
Amid the recent selloff, net lease REITs are now the "cheapest" REIT sector based on Free Cash Flow (aka AFFO, FAD, CAD). Trading at a 14x FCF multiple, the sector trades at a wide discount to the 19x REIT average. When we factor in the below-average growth expectations, however, net lease REITs look expensive based on FCF/G. Importantly, we estimate that the sector still trades at a 10% premium to NAV.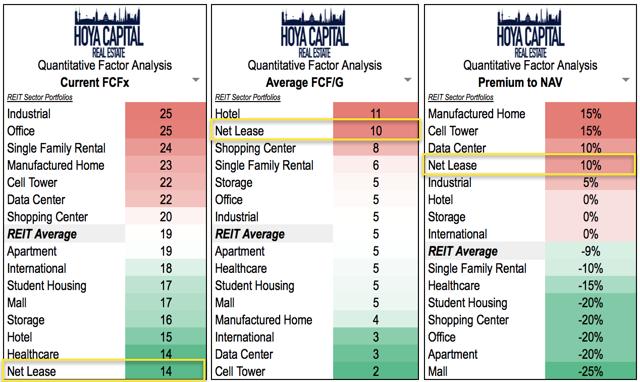 Within the sector, we see some significant differences in valuations. Investors continue to place a premium on the "big 3" net lease REITs (O, NNN, STOR) which still trade at modest NAV premiums. We note that investors do not appear to place a sizable premium on inflation protection, which we believe is mispriced in the market. We believe that the REITs that use CPI-linked rent escalators should be trading at higher relative multiples.

Sensitivities to Equities and Interest Rates
Net lease REITs are the most interest-rate-sensitive sector and one of the least sensitive to broader equity market movements. High interest rate sensitivity is a result of longer-than-average lease terms and high dividend yields. Net Lease REITs are nearly twice as sensitive to movement in the 10-year yield than the broader REIT index.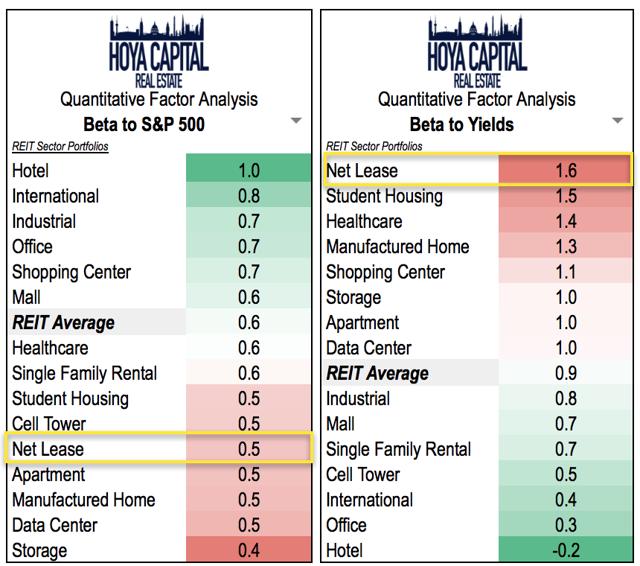 We separate REITs into three categories: Yield REITs, Growth REITs and Hybrid REITs (Click on each link to read more information about our methodology). As a sector, net lease REITs fall into the Yield REIT category.

All six names in the space are Yield REITs and should be used by investors seeking immediate income and are willing to assume a high degree of interest rate risk.

Dividend Yield and Payout Ratio
Based on dividend yield, net lease REITs rank towards the top, paying an average yield of 6.2%. Net lease REITs payout 81% of their available cash flow, which leaves enough cash for acquisition-fueled growth.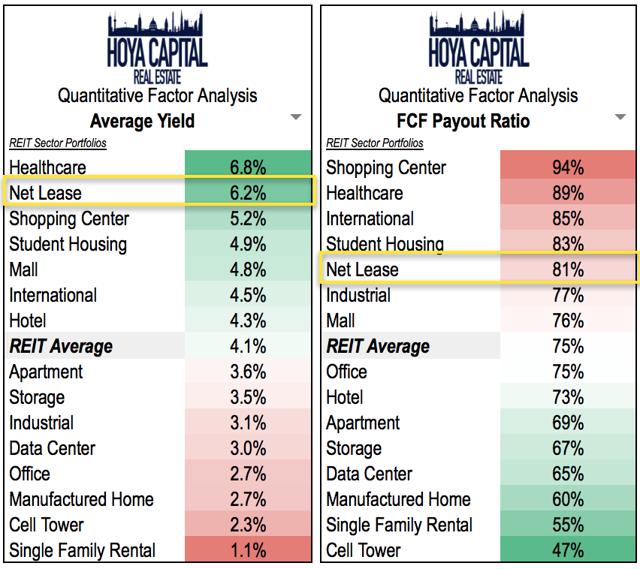 Within the sector, we see the yields and payouts of the six names. Spirit Realty tops the list at nearly 10% but pays out nearly all of their available cash flow. Store Capital and National Retail pay the lowest yields but have the largest buffer for future dividend increases and external growth.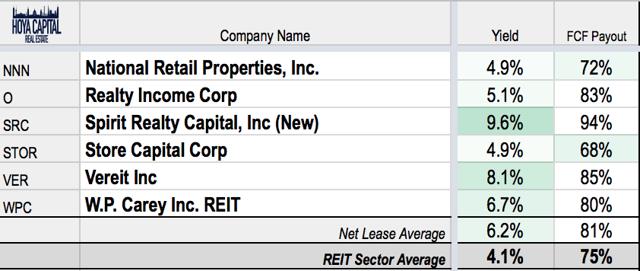 Bottom Line
Net Lease REITs have been crushed by rising interest rates. Since interest rates bottomed in 2016, the sector has dipped more than 30%. Valuations are the cheapest of this recovery. Low valuations, however, can become a problem for the business model. Net Lease REITs have historically relied on equity issued at a NAV premium to accretively fuel their acquisition pipeline.
The positive feedback loop that fueled the stellar performance of these REITs over the past decade may be reversing. Without the external growth pipeline, these REITs become even more bond-like. Several net lease REITs are better-positioned to weather the storm if interest rates and inflation continue to rise in 2018. We favor the REITs that utilize CPI inflation-linked rent escalators. Despite the headwinds from interest rates, the selloff appears overdone as there are also strong tailwinds associated with a stronger economy, tax reform, and temporary dislocations in the private market.
We aggregate our rankings into a single metric below, the Hoya Capital REIT Rank. We assume that the investor is seeking to maximize total return (rather than income yield) and has a medium- to long-term time horizon. Valuation, growth, NAV discounts/premiums, leverage, and long-term operating performance are all considered within the ranking.

As we mentioned above, we believe that the three net lease REIT that utilize a higher percentage of CPI-linked rent escalators- Store Capital, WP Carey, and National Retail, are better positioned to weather the storm if we are indeed entering a new economic regime of higher inflation and higher growth. We also think the market is not awarding these REITs with the premium valuation that they deserve.
Please add your comments if you have additional insight or opinions. Again, we encourage readers to follow our Seeking Alpha page (click "Follow" at the top) to continue to stay up to date on our REIT rankings, weekly recaps, and analysis on the REIT and broader real estate sector.