Consolidation in the semiconductor metrology/inspection market has reduced the number of competitors from 37 in 2002 to 20 in 2017. In these past 15 years, this consolidation has moved just five companies to market dominance.
According to The Information Network's report "Metrology, Inspection, and Process Control in VLSI Manufacturing" (www.theinformationnet.com), the top five metrology/inspection suppliers were KLA-Tencor (KLAC), Applied Materials (AMAT), Hitachi High Tech, Nanometrics (NANO), and Rudolph Technologies (RTEC). These five companies increased their collective share of the overall global market to 87.0% in 2017, up from 82.4% in 2016. In 2002, the top five companies held a 75.3% share among 37 companies.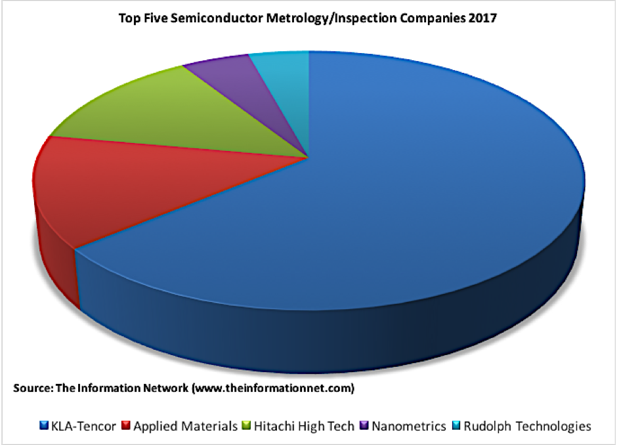 The report, which covers 27 different sectors and subsectors, reports that
KLA-Tencor, a pure-play metrology/inspection company, led most of the sectors and subsectors.
Applied Materials, a diversified company selling equipment to numerous other semiconductor equipment sectors as well as display, led the Defect Review Sector.
Hitachi High Tech, which also sells semiconductor etch equipment, led the CD Inspection Sector
Nanometrics, a pure-play metrology/inspection company, held a large share of the Thin Film Metrology Sector
Rudolph Technology, which also sells advanced packaging lithography, display lithography, and fab automation software, led the Back-End Inspection market.
Note that in the chart above, I've eliminated revenue from other sectors and include only metrology/inspection equipment. Also, I've eliminated service and spare parts revenues.
Driving Forces for Future Growth
China and memory (DRAM and 3D NAND) are currently driving demand for the global wafer fab equipment market.
Rick Wallace, president and CEO of KLAC, reported at the company's Q2 2018 earnings call, that:
"Orders for KLA-Tencor equipment from native Chinese customers nearly tripled in 2017 and this strong momentum is expected to continue into 2018.

Memory was 71% of shipments. Demand was roughly evenly split between DRAM and NAND."
Michael Plisinski, CEO of RTEC, in the company's 4Q2017 earnings call reported that
"China continues to be a strong focus for Rudolph Technologies. Revenue from China has more than doubled in the last two years. Rudolph's revenue from advanced memory applications in both three DRAM and 3D NAND grew by 80% year-over-year as customers in Korea increased capacity to meet growing global demand for advanced memory used in cloud computing and mobile applications."
Investor Takeaway
I've discussed three critical factors that investors and traders need understand in making profitable decisions in this metrology/inspection market: China, Memory, Market Share. Let's take a look at each.
China
I discussed in a February 21, 2017 Seeking Alpha article entitled "China's Semiconductor Surge: What Investors Need To Know," that:
"Massive investments in Mainland China are finally showing benefits as the ratio of integrated circuits made in China versus those imported into China increased from 27.0% in 2015 to 29.1% in 2016, according to The Information Network's report entitled "Mainland China's Semiconductor and Equipment Markets: A Complete Analysis of the Technical, Economic, and Political Issues."

China produced 130.3 billion ICs in 2016, up from 113.2 billion ICs in 2015, up from 102.0 billion in 2014. China's imported ICs were 317.7 billion ICs in 2016, up from 305.5 billion ICs in 2015, up from 285.7 billion pieces in 2014."
DRAM and NAND
According to The Semiconductor Industry Association (SIA), memory was the largest semiconductor category by sales with $124.0 billion in 2017, and the fastest growing, with sales increasing 61.5%. Within the memory category, sales of DRAM products increased 76.8% and sales of NAND flash products increased 47.5%.
In 2018, the memory sector is forecast to grow another 9.3%, ahead of all sectors. Because of supply-demand dynamics, new fabs are being built in 2018 to increase supply, thereby enhancing semiconductor equipment purchases over 2017.
In addition to traditional DRAM and NAND manufacturers, which will build or expand their memory capacity, three new fabs being built in China, and construction scheduling is accelerating. Fijian's Jinhua Integrated Circuit plant is slated to finish the construction of its key plant structure in October this year. Wuhan-based YMTC is investing a total of US$24 billion in building three large-sized 3D NAND flash manufacturing plants. Its No. 1 plant is set for an official run in 2018, with a monthly production capacity of 300,000 wafers. Finally, Hefei-based Rui-Li IC is actively placing orders with suppliers for a variety of DRAM manufacturing equipment and is expected to take delivery of the first batch of advanced lithography machines by the end of 2017 with the majority in 2018.
Market Share
2017 was a record-breaking year for semiconductor and semiconductor equipment sales, so a rising tide raised all boats. This year, revenues are forecast to grow, but at a less torrid pace. According to the SIA, semiconductor revenues increased 21.6% compared to 2016. However, for 2018 semiconductors are forecast to grow only 7.0%.
So why are market shares important? I noted in a January 4, 2018 Seeking Alpha article entitled "The Meteoric Rise In Semiconductor Equipment Stocks Should Moderate In 2018," that
"Semiconductor companies purchase what's called "best-of-breed" equipment because of price/performance. These machines cost many millions of dollars each and many are purchased in a fab to equalize the throughput of wafers per hour. But there are several nuances involved in a purchase. If it is to increase capacity, a semiconductor company will invariably buy more of the same equipment it is already using.

However, if it is a technology purchase, such as moving to a smaller linewidth node, then an intense internal evaluation begins within the chipmaker to find the best equipment to do the job. Not all equipment in a fab is replaced, just equipment to process the critical changes at smaller feature sizes for the updated chip.

Ultimately these technology purchases will become capacity purchases as the semiconductor manufacturer ramps up production. When that happens, more of each type of equipment is purchased. Thus, an equipment company with a technologically-advanced processing tool will further increase market share through the production lifetime of the new node at the chipmaker. This historically would happen every 2-3 years as the chipmakers followed Moore's Law."