In our previous commentary on the Australian dollar, we wrote that the ongoing bull market looks precarious despite benign global economic conditions. In particular, the currency is vulnerable thanks to high levels of household debt, limited consumer spending and the Reserve Bank of Australia's neutral monetary policies. Following a significant sell-off in global equities and commodities earlier this month, the outlook for the Australian dollar is even weaker. As the bull market runs out of momentum, we downgraded our short-term outlook on the Australian dollar to neutral on February 7. The currency has traded sideways since that time. If current trends continue, we also expect to downgrade our medium-term outlook to neutral over the coming weeks. Today, we argue that global conditions are starting to move against AUD, while domestic conditions continue to weigh on the currency.
Global economic conditions turning less supportive
As a commodity currency, the Australian dollar is highly correlated with commodity prices. While global commodity indices such as the Dow Jones Commodity Index (DJCI) are a good way of looking at the sector as a whole, the RBA's Index of Commodity Prices is a better measure of Australian commodity prices. Given the country's unique geography, the RBA's index includes a much heavier weighting for bulk commodities (51%), rural commodities (15%) and LNG (10%). An overview of the RBA's Index of Commodity Prices is shown below. Note that the figures are expressed in rate-of-change terms.
Commodity boom in the rear view mirror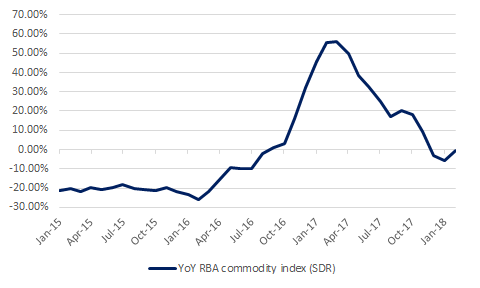 Source: Reserve Bank of Australia
As can be seen above, year-over-year changes in the RBA's Index of Commodity prices have recently turned negative. While commodity prices shot up following a significant Chinese stimulus program at the outset of 2016, recent figures have been underwhelming. Historically, the Australian dollar has rallied alongside accelerating commodity prices. As upcoming figures for 2018 are likely to remain negative (primarily due to base effects), it is clear that the best days of bull market are in the rear view mirror.
Australia's largest customer is set to slow down
Historically, China's infrastructure needs have driven huge demand for Australian commodities such as coal, iron ore, and copper. This explains why the Australian dollar tends to rally when the Chinese economy is accelerating and why AUD weakens during downturns. Since 2016, indicators for the Chinese economy (such as national house prices and manufacturing sentiment surveys), have indicated that the country's economy has been expanding. The upturn in China's economy occurred shortly after the government launched a significant economic stimulus program. More recently, this trend appears to be reversing and the country is more likely to be heading into a downturn. This is shown below:
Chinese expansion comes to an end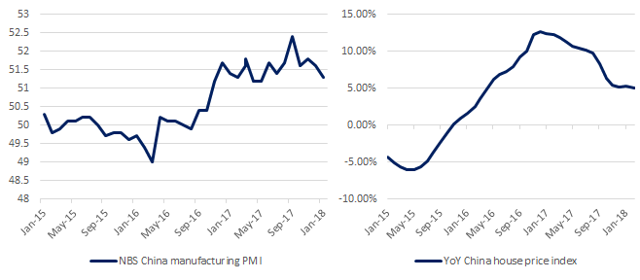 Source: China National Bureau of Statistics
As can be seen above, manufacturing sentiment and growth in house prices both peaked last year. Since that time, both indicators are trending downwards as the effects from the 2016 stimulus war off. As Chinese growth begins decelerating, falling demand for commodities will start to weigh on the Australian dollar.
Little help from domestic conditions
As we pointed out in our previous commentary, domestic conditions have not provided much help for the currency. GDP growth continues to underperform developed country peers, while high frequency economic data (such as retail sales and wage growth), also point to a weak pace of future growth. Wage growth (a recent focus of the Reserve Bank of Australia) and retail sales growth is shown below:
Domestic conditions remain mediocre

Source: Australian Bureau of Statistics
As can be seen above, wage growth and retail sales growth have failed to match the pace of previous upturns. While retail sales grew at 4%+ in the past, recent figures have peaked around 2.5% last year. Similarly, wage growth grew at 2.5%+ in the previous period of expansion, but is tracking just above 2% today. Thanks to fairly mediocre growth, the Reserve Bank of Australia has few incentives to consider raising interest rates.
Australian dollar outlook: from bullish to neutral
While our previous commentaries on the Australian dollar have been more bullish, momentum has been waning while international and domestic economic conditions continue to worsen. As the data has continued to worsen, a bullish stance is no longer warranted. Over the coming weeks, we expect to downgrade our medium-term outlook on the currency to neutral as a result.