GW Pharma Set To Win Race For Treatment Of Childhood Epilepsy
Summary
"Epidiolex" approval by FDA is key for the company stock price in the short term.
GW Pharma should be first to market with key drug for childhood epilepsies, but it is not a certainty.
Recent disappointing testing of GWP42006 a setback but maybe less so than first thought.
Increasing evidence of the beneficial properties of medical marijuana for epilepsy conditions.
GW Pharmaceuticals (NASDAQ:NASDAQ:GWPH) is in pole position to attain FDA approval for cannabinoid medication for childhood epilepsies. My article in December gave details on the process for this. Recent developments have emphasized the lead their "epidiolex" drug has over competitors' products. However nothing is certain in the arena of drug approval medication as recent disappointing results in testing on GWP42006 show. The negative effect on GW Pharma's stock price of that trial may be seen as a buying opportunity though.
"Epidiolex" for Childhood
Epilepsies
The test situation for Lennox-Gastaut syndrome (LGS) and Dravet Syndrome was detailed here.
An illustrative showing of this from the company website is as follows: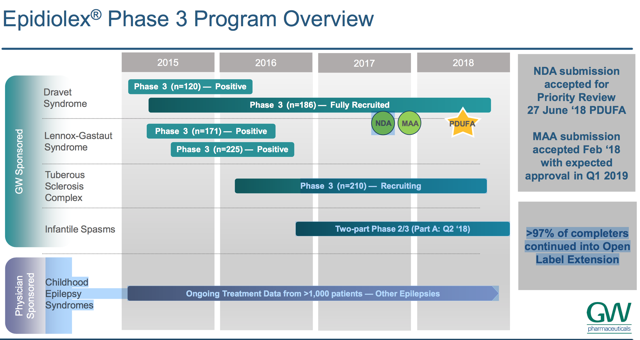 My previous article looked at the strong orphan status and commercial exclusivity for GW Pharma. The company's strong patent protection situation was detailed. Now it is a matter of waiting for the approval process from the FDA and subsequently from the Drug Enforcement Agency. As my earlier article pointed out, there are potential political barriers to any cannabinoid medicine, especially from Attorney General Jeff Sessions. He seems to have a personal crusade against marijuana without differentiating between its recreational and medical use.
The key advantage for GW Pharma is that it is much further down the line in testing than its competitors. These include Zogenix (NASDAQ:ZGNX), Zynerba (NASDAQ:ZYNE) and Nemus Bioscience (OTCQB:OTCQB:NMUS). My article here gave some details of where they have gone in the testing process. There seems to be particular promise in the range of CBD extracts from Nemus. They work in cooperation with the University of Mississippi Medical Center for the treatment of epileptic seizures in children. However these are still a long way down the line. Nemus has recently secured new funding to allow its research to continue.
Zynerba has a program for various Phase 2 studies for its ZYN 001 and ZYN 002 drugs during 2018, as detailed here.
Zogenix are preparing for Phase 3 studies for its drug for treatment of LGS, as detailed here.
Another positive indicator is the fact that all these companies share the view that cannabinoids can have positive outcomes for epilepsy conditions.
In the US there are 2.2 million people who suffer from epilepsy, of whom 470,000 are children. There are about 20 epilepsy drugs approved for children, but none are very satisfactory. Various drug treatments on the market are provided in various formulations and combinations. For instance Eisai Co has a monotherapy drug approved last year called "fycompa" (perampanel). This is approved for treatment of adults and for children as long as they are over 12 years of age.
The results of all the drugs are especially unsatisfactory for the more severe childhood epilepsies of Lennox-Gastaut Syndrome and Dravet Syndrome. So the quest for a satisfactory treatment is quite a holy grail. This is especially so as successful FDA approval also could lead to facilitating approval for the much larger adult epilepsy market. The full impressive details of the "epidiolex" testing can be read here.
A further positive development was reported in January with a landmark study published in the U.K. medical journal "The Lancet." This showed very positive reactions to a Phase 3 test. It moved Philip Gattone, CEO of the Epilepsy Foundation, to comment:
"This randomised controlled clinical study provides positive evidence of the potential role of cannabidiol in reducing seizures and we are excited about the possibility of a new treatment option for LGS."
In a further positive development in late February, the EMA (European Medicines Agency) awarded GW Pharma orphan drug designation for the use of "epidiolex" in the treatment of tuberous sclerosis. This follows a similar earlier approval by the FDA. There are thought to be about 52,000 people suffering from tuberous sclerosis in the EU.
Justin Gover stated:
"Tuberous sclerosis represents a near term opportunity to expand the potential indications for 'epidiolex.'"
"Epidiolex's" development for conditions other than childhood epilepsy is summarized below in the chart from the company website: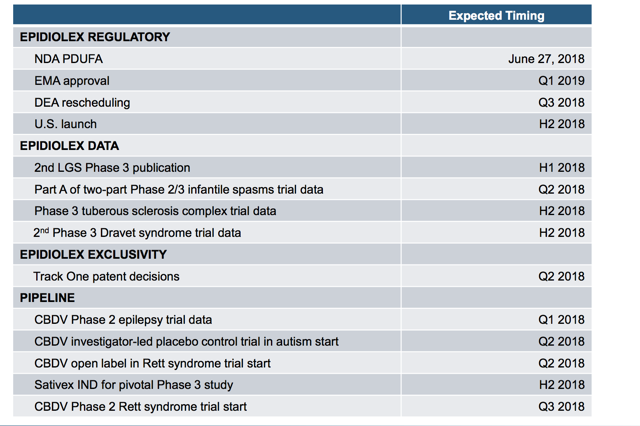 GWP 42006.
GW Pharma's share value dropped by US$200 million overnight in mid-February following disappointing results for this CBDV (cannabidivorin) drug in phase IIA testing. It soon recovered somewhat as the one-month chart from Charles Schwab (subscription required) below shows: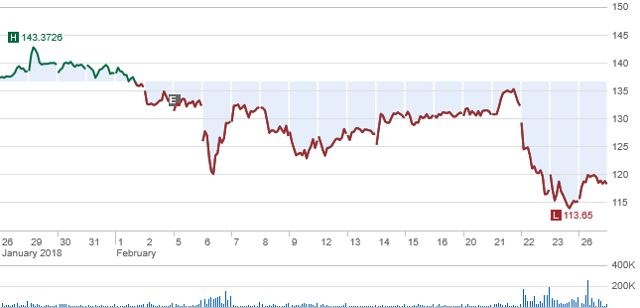 As the company affirmed, it did not reach its primary endpoint target. They emphasized that this was only what is termed a "proof of concept" study. What was unusual about the testing was that there was a 40% improvement, but so there was from the placebo as well. The next testing procedure will be over a larger sample size.
This drug also is targeted at both autism spectrum disorder and Reit Syndrome. These were always more of a target than for its epilepsy efficacy. In a statement the company reiterated it was positive about the drug's potential for all three conditions. Further testing would be proceeding this year.
Marijuana and Epilepsy
There seems little doubt that there is some efficacy of cannabis compounds in treating epilepsy. One key element is whether "epidiolex" (and other drugs in the GW Pharma pipeline) can prove more efficacious than natural marijuana. In most countries approved drugs will have the advantage of being legal. Long-term legalisation of cannabis in most countries seems inevitable, but it is a slow process. The attack on marijuana by Sessions may in fact be of benefit to GW Pharma.
There have been a couple of interesting recent cases in regard to natural cannabis and epilepsy.
In Texas, the State Board gave approval in February for a cannabis oil to be provided to a six-year old girl suffering from severe epileptic fits. This was a special formulation low in THC (tetrahydrocannabinol, the psychoactive constituent of cannabis) and high in CBD (cannabidiol). There are three pharmacies in the state who have in principle approval to supply medical marijuana for epilepsy in special cases. This is mandated under the 2016 Compassionate Use Act. There are approximately 150,000 Texans who suffer from intractable epilepsy. At present there are 15 doctors who have the right to prescribe medical marijuana.
In another case last year in Texas one patient responded well to treatment from cannabis oil. She was a four-year old suffering from Dravet Syndrome who had been suffering a horrifying experience of up to 400 seizures a day. Her condition is said to have improved greatly. When one hears of such cases in the US, it is hard to understand the motives of those such as Sessions who want to oppose medical marijuana at all costs. Fortunately for such patients in many cases state law can trump federal law.
In the United Kingdom a controversy has recently erupted over a six-year old boy with a rare and severe type of epilepsy. He was treated in The Netherlands with cannabis oil with some success in seizure reduction. Cannabis is legal for both recreational and medical use in that country. Upon his return to the U.K. though the law forbids him to have the treatment. The U.K. Home Office is sticking to its position that as cannabis is a Schedule 1 drug under U.K. law then no exception can be made. It has re-confirmed that only a tested drug would be allowed. So, cruel as it is, this is where the opportunity lies for GW Pharma with its "epidiolex" product.
Testing under the European Medicines Agency is scheduled to complete by January 2019. The company estimates the revenue potential in Europe to be about one-third that in the US.
Prospects for 2018
The Q1 results covering the period ending 31/12/2017 were most important for investors in terms of the cash position. Cash and cash equivalents were at a very healthy £414.8 million (US$559.2 million). This was an increase from the previous quarter where they had stood at £241.2 million (US$325 million). This followed a successful stock offering of approximately US$300 million. It means the company is very comfortably placed to proceed with its testing, marketing and sales program in place.
As CEO Justin Cover said at the analyst call:
"The funds raised in this offering are primarily intended to ensure that we are investing appropriately in the "epidiolex" launches in the U.S.and Europe as well as continuing to expand manufacturing capacity and advance the pipeline."
Both Sales, General and Administration expenses and R & D spending not surprisingly showed substantial increases in the quarter.
The other really important outcome from the results was the long list of products under testing, which can be seen in a summarized format here.
A visual representation from the company website is reproduced here of some of the testing: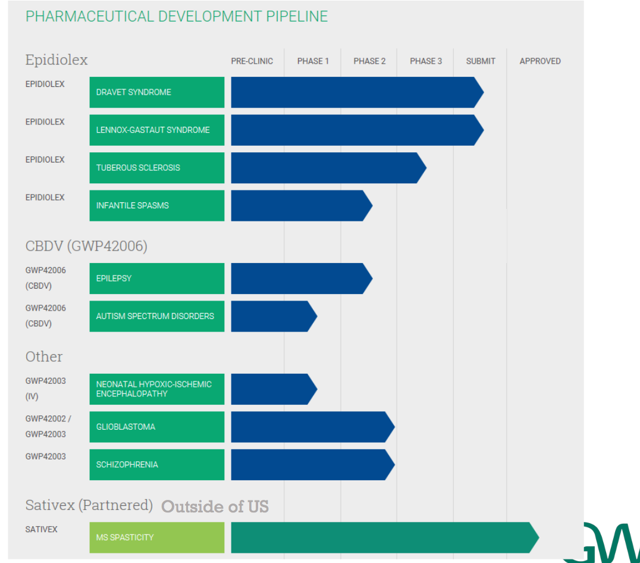 As Justin Gover stated in his usual cautious style:
"Beyond 'epidiolex" we expect to progress a number of important pipeline programs during 2018 that have the potential to offer additional value." Long-term GW Pharma, and others, are guardedly optimistic about the prospects for cannabinoids in various oncology treatments. That would of course have very substantial revenue implications.
The company's "sativex" drug for treatment of multiple sclerosis spasms also is expected to show better performance in the coming year. It is licensed in 28 countries but not in the US. On the analyst call Gover confirmed actions are under way to license the product in the US.
Conclusion
All going well, FDA approval would come in late June, and DEA approval by end-September. At that point "epidiolex" sales could begin. Competitors' commercial marketing would be some way off still.
EvaluatePharma has marked "epidiolex" down as its 10th highest potential drug for approval this year. They have a target of it producing US$1 billion in annual revenue by 2022. Different analysts and studies have very differing revenue forecasts for the drug.
GW Pharma has the advantages over rivals of a major drug closer to approval, a healthy bank balance, and a long pipeline going forward. Its short-term and long-term prospects make it, for me, still a positive buy despite the stock price increase in recent years.
This article was written by
Nick Cox is a long-time entrepreneur and investor,currently living in Singapore.He has lived and worked in the Asia-Pacifci region for many years.He is a graduate in modern history and economics from University College,London University. His investment strategy is centred around finding long-term growth companies in the region based on inspiring Management and businesses at the cutting edge of new growth areas. Asia is the leading driver of worldwide economic growth today and for the medium term.
Analyst's Disclosure: I am/we are long GWPH. I wrote this article myself, and it expresses my own opinions. I am not receiving compensation for it (other than from Seeking Alpha). I have no business relationship with any company whose stock is mentioned in this article.
Seeking Alpha's Disclosure: Past performance is no guarantee of future results. No recommendation or advice is being given as to whether any investment is suitable for a particular investor. Any views or opinions expressed above may not reflect those of Seeking Alpha as a whole. Seeking Alpha is not a licensed securities dealer, broker or US investment adviser or investment bank. Our analysts are third party authors that include both professional investors and individual investors who may not be licensed or certified by any institute or regulatory body.