Monthly Waste Recap February: Global Waste Symposium, Annual Reports, And General Industry News
Summary
We take a look at the political, corporate, and financial changes that have occurred in the past month.
We investigate with a focus on the implications for investors.
We look at the events happening in March, a relatively quiet month.
A month ago, in my January waste recap, I projected that February would be one of the most important and eventful months for 2018. The prediction came true, and in this edition of our monthly waste recap, we will explore exactly why this month held such importance in the industry. As always, we will prioritize news that have a direct effect on investors. The edition is in no manner a fully comprehensive view of the enormous (500 billion) waste sector but an excerpt of the news I found most relevant for investors, along with perspective through my personal commentary as an investor.
A lot of events happened this month, but we will specifically focus on the annual reports, the global waste symposium predictions, M&A, the infrastructure plan, sustainability & recycling events, what the month of March brings and some industry news ranging from c-suite changes to business transformations. As usual, we also cover the stock performance of the waste industry for the past month.
Price Performance:
February was a rough month for the markets in general with the S&P 500 down ~3.03%.
The big three outperformed slightly with mean returns of -2.79%. Waste Management (NYSE:WM) was down -3.48%, Republic Services (NYSE:RSG) down 3.33%, and Waste Connections (NYSE:WCN) down -1.56%.
The broader American waste market did slightly better returning -2.68% on average. The global waste returns approximated -2.94%.
The biggest movers were Advanced Disposal (NYSE:ADSW) down -9.14% and Casella Waste Systems (NASDAQ:CWST) up 4.10%.
The Annual Reports
All the major waste companies reported annual results and updated guidance. I covered the in-depth quantitative facts in my article "Waste Management, Republic Services And Waste Connections: Comparing Results, Guidance, And What It Means For Casella Waste Systems And Advanced Disposal Services".
Almost every waste company reported strong numbers for 2017, but some had weaker guidance. Expectations were very high on certain companies and not all performed in line, but the major waste companies all outperformed the market on a post-5 day basis on earnings.
In general, the companies posted above-GDP growth and expect the same in 2018. 2017 had a lot of special waste so comps will be difficult on revenue, but tax reform has led to a broad expectation of FCF appreciation in the ~15% range.
WM's Retiring COO
It was verbally confirmed (An 8-k had been issued in 2017) on the conference call of Waste Management that James E. Trevathan, COO & EVP, would retire at the end of 2018. James has been in his current role from 2012 but has been with WM for over 39 years. Tenure is incredibly important in a business where the trucks look alike, but the tactics and strategy serve as the differentiating factor. It will be interesting to comment on the new COO at the start of 2019.
Meridian Waste
Meridian Waste (OTCQB:MRDN) announced its official retirement from the waste business by selling all its assets for 87 million of debt assumption and 3 million in cash. I cover it in-depth in my article, "Meridian Waste Solutions: Huge Transformation, No Longer A Waste Company ".
I will be removing the company from my list and no longer report on it in the monthly waste recap as the company still handles refuse but is no longer representative of the broader waste market. (It is also, most likely, getting de-listed).
The take-out implies that private equity buyers will continue to participate in significant acquisition activity. Increased auction competition never bodes well for M&A prices, but integrated and exclusive markets should be less impacted (Advanced Disposal Services and Waste Connections).
Sustainability Growing In Importance
Sustainability is becoming increasingly important for consumers and investors alike. For investors, Yahoo Finance has recently implemented a sustainability tab. The governance tab reports on environmental, social, and corporate governance issues and ranks the companies in comparison to peers.
Here are the sustainability scores for the big three, WM, RSG, and WCN with Waste Management performing the best.
In related news, Republic Services received the award as one of the 100 most ethical companies in the world by the Ethisphere Institute. The obvious, but interesting, comment is that it quantitatively ranks below WM in the Yahoo Finance rankings. The example just serves to underscore that anticipating sustainable investing flows can be difficult due to the simple fact that "what you measure" determines your results.
Imagine a gun manufacturer that decides to abandon semi-automatic manufacturing for social and political reasons. Investors might buy expecting fund inflows from sustainable investing indexes, but the company is still selling arms, resulting in a lack of inclusion in the burgeoning sustainable index industry. Whether rankings are based on marginal improvement versus absolute social cost is a difficult choice to anticipate.
The above anecdotes outline why (I believe) sustainability in the waste industry is a net financial negative. Decreased landfill utilization implies increasing commoditization and lower margins. My personal/social views (being Danish) obviously differ from this standpoint, but it should be remembered by investors that events commonly cited as "good" can have devastating financial consequences for many companies. While implementing CSR measures regarding sustainability might attract new funds from sustainability-focused investors, it can be incredibly hard to forecast which measures those companies are picked by.
In other recycling and sustainability news, SWANA (The Solid Waste Association of North America) has announced a recycling task force to combat the lack of recycling capacity that the US is currently struggling with in wake of the Chinese National Sword Act. The program is specifically aimed at dealing with the challenges imposed by the Chinese sanctions.
A recurring topic in sustainability is food waste. Food is still a major source of landfill revenues, and the focus from most recycling-oriented thinkers and stakeholders continues to highlight the vulnerability of the revenues considering the ease of diversion. A recent study, completed this month, from Louisville underscores these facts. To quote from the article:
"Recycling and yard-waste composting could have saved more than one-third of materials from the landfill in 2015, while food scrap composting would have saved another 20 percent, and donations a further 10 percent, the study said."
We have discussed the effects of organic landfill diversion in the last edition, and I will continue to warn all waste investors that landfill diversion is most definitely a threat that should be carefully monitored. February brought more evidence to consider when estimating the risk to future cash flows from landfills.
The Global Waste Symposium
Global Waste Symposium occurred and had plenty of action over the two days. Full-length coverage of the event can be found at Waste360 (day 1, day 2).
The majority of the speeches had no investment relevance that did not cover ground we haven't already explored published in previous articles. There was, however, one extremely interesting highlight I want to focus on: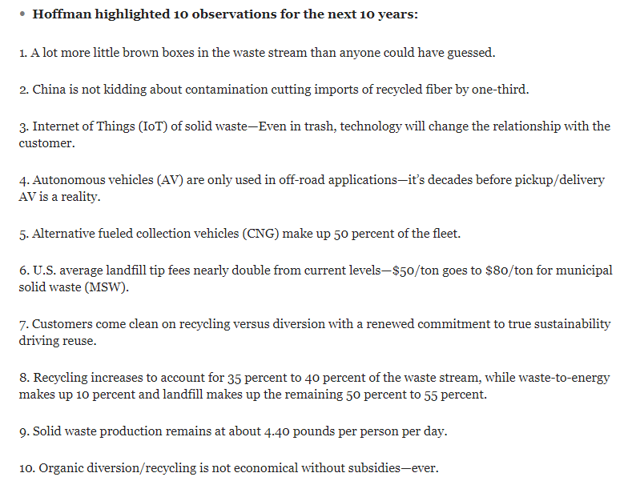 Source: Waste Symposium day 1.
To go through the interesting points and provide some perspective.
A lot more little brown boxes in the waste stream than anyone could have guessed.
I strongly agree with the assertion that brown boxes will constitute a strong majority of marginal waste creation at this point. (I've even written an overview on investing in sustainable packaging, "Sustainable Packaging: The Next Recycling Trend And How To Profit From It.") The fact that boxes become uniform and "homogenous" in the waste stream is actually slightly negative, in my opinion. The easier it is to handle waste, the lower the barriers to entry. As expertise is devalued the remaining barriers are financial, that is to say "more easily breached".
2, 3. China and Technology.
I've covered these two subjects in-depth, but the interesting observation is that the industry is aware of the changes themselves. Unlike certain industries (taxi companies?), the industry is braced for technological change and is adapting to macro changes. There has been a lot of "talk" on conference calls that China would quit its National Sword Act a few months in, but it is positive to see the industry bracing and preparing for a continuation of the regulatory burdens imposed by foreign governments (instead of dismissing them out of hand).
4. Autonomous vehicles (AV) are only used in off-road applications - it's decades before pickup/delivery AV is a reality.
Another topic I've commented on in a few previous articles. My predictions were the same regarding implementation chronology, but I disagree that AV technology cannot be implemented partially before a few decades. The idea of AV trucks will be materially less culturally troubling once a significant amount of the population has access to personal autonomous transport vehicles. When technology meets culture history generally reaffirms that technology prevails and cultures change. Look at the treatment of GMOs, stem-cell research, or personal letters.
5. Alternative fueled collection vehicles (CNG) make up 50 percent of the fleet.
Many waste companies are already implementing CNG vehicles. Advanced Disposal Services recently outlined the economics of CNG:
"So on the operation efficiency [...] continued conversion to compress natural gas instead of diesel around our trucks. [..] we've moved from about 5% of our fleet to 18%. We see that moving up to about 20%. Even with the loss of the tax effect that we lost this year [...] . It's about a $1.56 of diesel a gallon equivalent for CNG versus about $2.30, $2.35 at the pump. It's about a $30,000 capital expense per truck more from the CNG engine. But that, coupled with the filling station, gives us about a 4.5- to 5-year pay back on that truck. So you'll get 7, 8 years of life. So it still makes sense even without the tax credit." - Q4-18 CC, Advanced Disposals Richard Burke, CEO & Chairman.
I have no in-depth views on the rest of the comments, except that I disagree on the assumption that the economic viability of a disposal method can be predicted this many years ahead.
Infrastructure Plan
President Trump unveiled an infrastructure plan that was ~50% larger than anticipated at 1.5$ trillion.
The infrastructure plan has two effects on the waste industry.
It lowers the cost of transportation. I see this as a net negative. Waste Management works due to landfills and economics of density. A waste company needs route density and integrated transfer + disposal services in a limited area due to the large cost of transportation. These facts make waste a legally-classified natural monopoly. Ease of access and cheaper transportation decrease the local economies of scale and make bidding for contracts easier for less integrated companies in non-exclusive markets.
The other effect is a large positive, specifically the generation of construction & demolition waste (C&D). C&D waste is a fairly large proportion of the general waste stream and this infrastructure plan will create a massive demand for related services. I cover the waste companies most likely to succeed in the article: "Construction Boom! Which Waste Company Stands To Benefit The Most?"
M&A:
There was limited M&A committed in February, but the companies all reported expected acquisition amounts for 2018. Ranked in order of size:
Waste Management: 100-200 million, 2017 was 200 million. Mid-range = 1% of LTM revenues.
Republic Services: 150 million, down from 437m last year. Equal to 1.49% of revenues.
Waste Connections: No direct guidance, given to my knowledge, but it looks as if they expect to acquire for around 90 million seeing as CapEx is listed at 10.4% of revenues and maintenance should be around 8-8.5%. Heavily down from 400+ million due to the progressive acquisition. Around 1.5-2% of revenues in expected acquisition activity.
Advanced Disposal Services: 30-50 million, lower than this year. Mid-range = 2.6% of LTM revenue.
Casella Waste: As part of its 2021 plan, Casella will continue to invest 20-40 million a year which an increase from the last 4 years. The mid-range is equal to ~5% of LTM revenues.
Tangential points:
An incredibly useful resource was posted in the middle of February, more specifically the "Price and Volume Trends in the Solid Waste Sector". Going through them all would take an article in and of itself, but I highly encourage any waste-investors to take an in-depth look at the link provided.
My favorite chart was: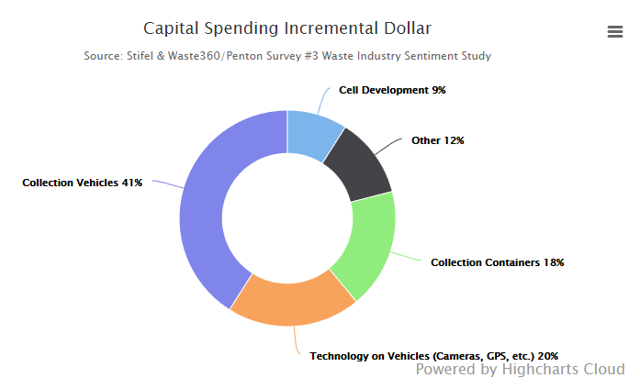 Which clearly highlights the capital intensity differences between business activities (collection versus disposal).
Looking Forwards, What Does March bring?
Casella Waste reports on the 1st of March.
There are a plethora of conferences (as usual).
The Federal Reserve meets again in March. Consensus implies a federal rate hike which would impact the waste companies with variable rate debt (Republic Services, Advanced Disposal) and temper inflation (bad for all waste contracts based on CPI).
The event calendar is otherwise quite peaceful to the best of my knowledge (please do comment if you have knowledge of any events occurring in the coming month).
I hope to see you all for another round next month. The next edition will most likely be a more quiet one, but with more time for dwelling and diving into the few events that do transpire.
This article was written by
"I came, I saw, I bought" - - - - - - - - - - - - -Currently inactive due to work and other responsibilities.
Analyst's Disclosure: I/we have no positions in any stocks mentioned, and no plans to initiate any positions within the next 72 hours. I wrote this article myself, and it expresses my own opinions. I am not receiving compensation for it (other than from Seeking Alpha). I have no business relationship with any company whose stock is mentioned in this article.
Seeking Alpha's Disclosure: Past performance is no guarantee of future results. No recommendation or advice is being given as to whether any investment is suitable for a particular investor. Any views or opinions expressed above may not reflect those of Seeking Alpha as a whole. Seeking Alpha is not a licensed securities dealer, broker or US investment adviser or investment bank. Our analysts are third party authors that include both professional investors and individual investors who may not be licensed or certified by any institute or regulatory body.