The Dashboard List is a list of 80 stocks (occasionally less) in the S&P 1500 index, updated every month using a simple quantitative methodology described below. 80 stocks are too big a set for an individual investor's portfolio. The Dashboard List may be used in a top-down approach as an entry point providing a positive statistical bias for further due diligence.
Methodology
Step 1: In every sector, I list all stocks cheaper than their respective industries simultaneously for 3 factors: Price/Earnings, Price/Sales and Price/Free Cash Flow. An exception in Utilities: the Price/Free Cash Flow is not taken into account. Some sectors are grouped together: Energy with Materials, Telecom with Technology, Real Estate with Financials. It results in 8 groups.
Step 2: In every group, the 10 companies with the highest Return on Equity are kept in the list. If less than 10 stocks pass Step 1 in a group, they all stay in the final selection. All stocks are considered in equal weight for performance calculation.
Step 3: Rinse and repeat every month. Most stocks stay in the list from one month to the next one. The average monthly turnover is about 20%.
The Dashboard List backtest shows an annualized total return about 15% since 1999. The broad stock market (VTI) has an annualized total return of 6.9% on the same period. I have been publishing the Dashboard List every month on Seeking Alpha since December 2015, first in free-access articles, then in my private service, Quantitative Risk & Value. I still publish parts of the Dashboard List in free-access articles with a delay of a few days or weeks.
Results
I don't use the Dashboard List as a portfolio, so I have not tracked the exact performance based on tradable prices of every holding on publication dates. I will just show out-of-sample simulations of the model since it has been published, based on a 4-week periodicity for holding reconstitution and rebalancing.
The chart below plots in red the simulated equity curve of the Dashboard List from 1/1/2016 to 2/27/2018 (2 years and 2 months), compared with its benchmark in blue (S&P 1500):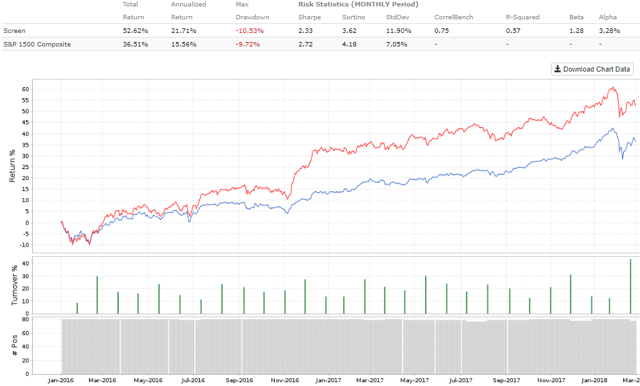 We have seen that the Dashboard List contains 8 sub-models in various sectors. Below are their simulations in red compared with their benchmarks in blue (S&P 1500 sectors).
Energy and Materials sub-model (10 stocks):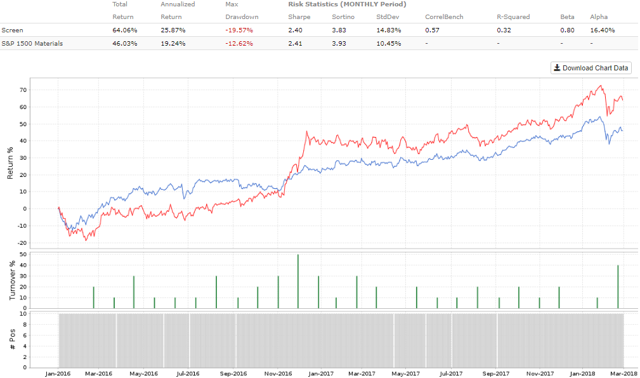 Industrials sub-model (10 stocks):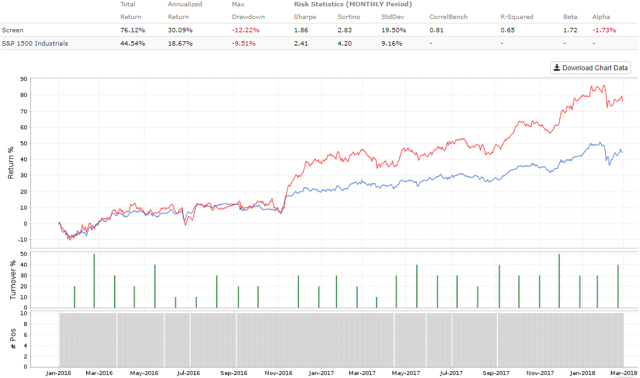 Consumer Discretionary sub-model (10 stocks):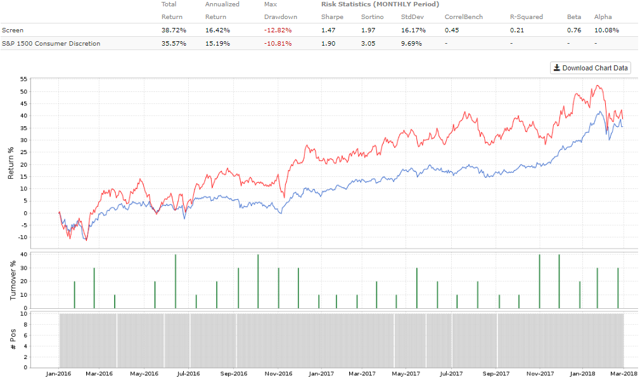 Consumer Staples sub-model (10 stocks):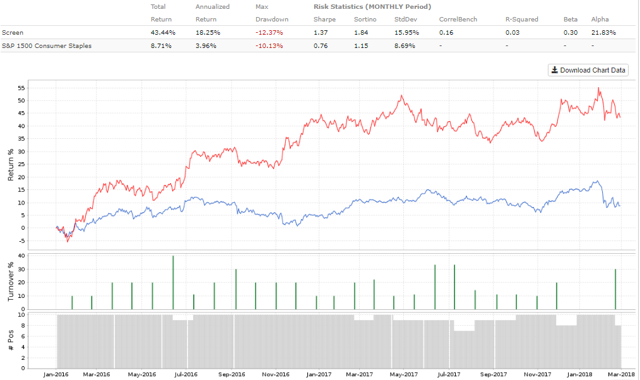 Healthcare sub-model (10 stocks):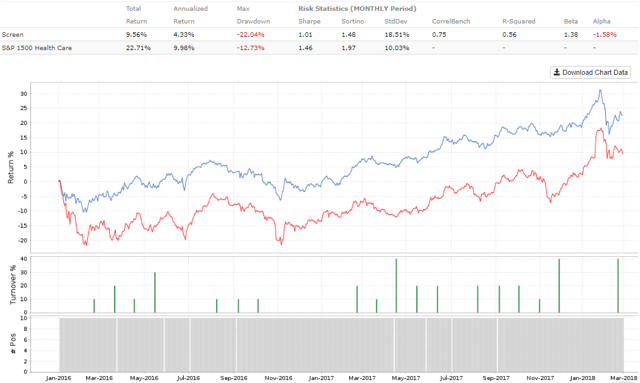 Financials and Real Estate sub-model (10 stocks):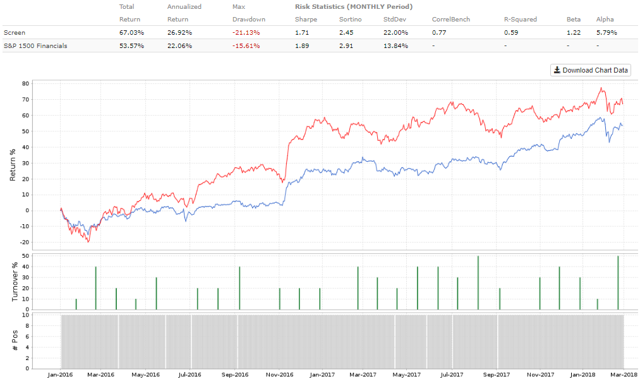 Technology and Telecom sub-model (10 stocks):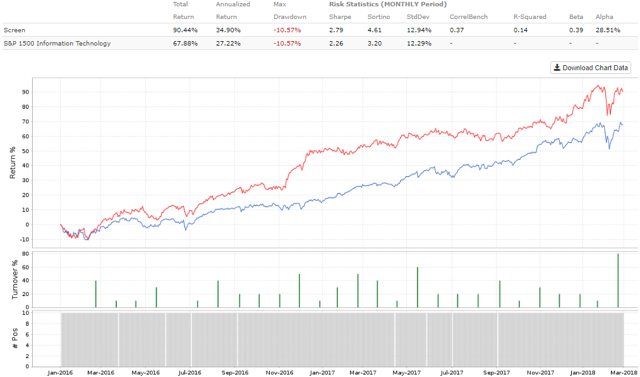 Utilities sub-model (10 stocks):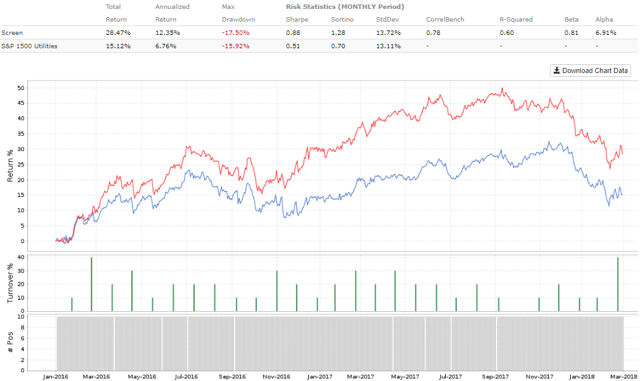 Conclusion
All sub-models except Healthcare beat their sector benchmarks on the period. Past performance, real or simulated, is not a guarantee of future returns. My only conclusion is that investing on relative value following the 3 simple steps described at the beginning has worked quite well since 2016. If you are interested in the concept of Dashboard List, you can either try to execute the 3 steps yourself or get a partial, delayed update for free by clicking "Follow" at the top of this article, or subscribe here for a free trial of my private service, including a full and timely monthly update.
Data and charts provided by portfolio123 (this is a partner link giving you an extended period of free trial. I may receive a fee if you buy later a paid subscription, at no additional cost to you).
Disclosure: I/we have no positions in any stocks mentioned, and no plans to initiate any positions within the next 72 hours. I wrote this article myself, and it expresses my own opinions. I am not receiving compensation for it (other than from Seeking Alpha). I have no business relationship with any company whose stock is mentioned in this article.