We knew that higher average selling prices of GPUs helped Advanced Micro Devices (NASDAQ:AMD) post a 60% year-over-year Q4 2017 sales performance ($600 million to $958 million) from its Computing and Graphics segment. We should now appreciate that Jon Peddie Research's Q4 global add-in board report confirmed AMD notably increased its market share in discrete GPUs and in overall graphics chip shipments. AMD took sizeable market share from its GPU rival Nvidia (NVDA) in Q4 2017.
AMD increased its quarterly graphics chip shipments in Q4 by 8.1% quarter over quarter. Intel's (INTC) market share decreased by -2% and Nvidia by -6%. The growing graphics chip business obviously helped AMD offset the -37% Q/Q in revenue from its Enterprise, Semi-custom and Embedded business segment.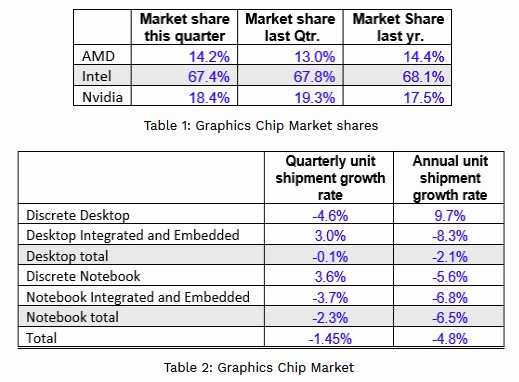 (Source: Jon Peddie Research)
On the more important discrete GPUs or add-in board category, Jon Peddie Research stated that AMD was the primary beneficiary of the 3 million GPUs (worth $776 million) sold to cryptocurrency miners in Q4 2017. We could therefore conclude that cryptocurrency miners greatly contributed to the $958 million fourth quarter revenue of AMD's Computer and Graphics division.
AMD's 33.7% global in Q4 discrete GPU shipments is notably higher than Q4 2016's 29.5% and Q3 2017's 27.2%. AMD's gain last quarter was Nvidia's loss. Nvidia saw its discrete GPU share decline from 72.8% to 66.3% in Q4.

(Source: Jon Peddie Research)
Why AMD Gained Market Share
This turn of events can be partly explained by Nvidia's January 2018 recommendation for retailers to put players above cryptocurrency miners. The insatiable demand for GPUs from Ethereum miners pushed Nvidia's Pascal GPUs to sell well above their suggested retail prices. The scarcity and ultra-high retail prices of Nvidia's GTX 1070/1080 GPU will continuously compel cryptocurrency miners and gamers to just buy Radeon Vega and Polaris GPUs.
It also helps AMD that the old Polaris graphics cards are still excellent for Ethereum-mining purposes. AMD is likely to remain the primary beneficiary of the cryptocurrency mining this year because it offers more affordable Ethereum-friendly GPUs. I was forced to use RX 470 GPUs for my solar power-based Ethereum mining rig last year because it was impossible to find reasonably-priced Nvidia's GTX 1070 products here in the Philippines.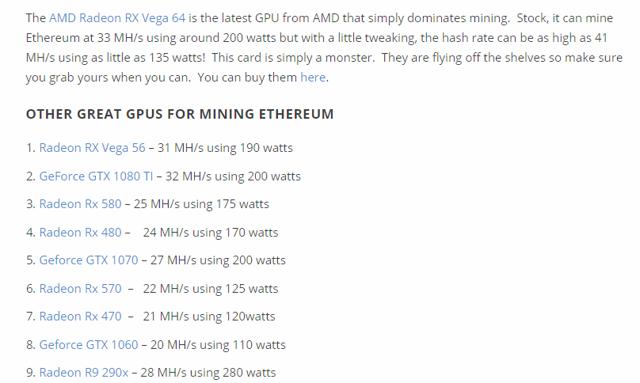 (Source: Cryptos R Us)
My Takeaway
Ethereum is considered as more stable/resilient than Bitcoin. AMD will therefore continue to benefit from the high price of Ether. Nvidia reportedly expects discrete GPU prices to skyrocket until Q3 2018. Ether's price still hovers above $850. Last year it was trading for less than $15. Like what happened in 2017, gamers will endure intense competition for available discrete video cards from Ethereum miners this year. Ether's high market value is very addictive.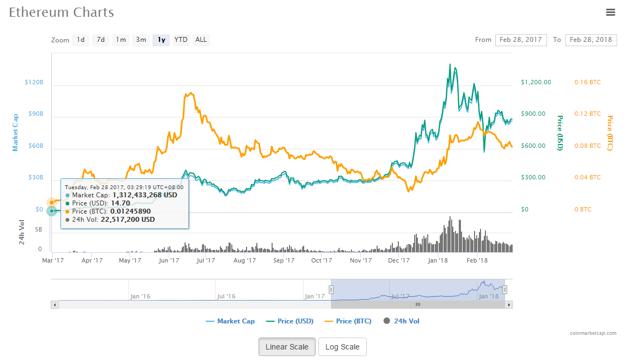 (Source
I'm expecting AMD's Computing and Graphics segment to again post a double-digit year-over-year growth in Q1 to Q3 2018. The Q1 2017 revenue of Computing and Graphics was $593 million. I expect Computing and Graphics to again achieve $900 million-plus this Q1 2018. Aside from cryptocurrency miners' insatiable appetite for GPUs, Intel is now also buying Radeon M Vega GPUs for its 8th-gen Core x86 processors.
Lastly, AMD's launch of two budget Ryzen APUs (Accelerated Processing Units) with Vega graphics could boost its market share against Nvidia this quarter. I expect Jon Peddie Research to report AMD posting quarter-over-growth in overall graphics chip shipments for Q1 2018. The cost savings from buying $169 Ryzen 6 2500G and $99 Ryzen 3 2200G APUs could attract the attention of PC manufacturers and casual PC gamers.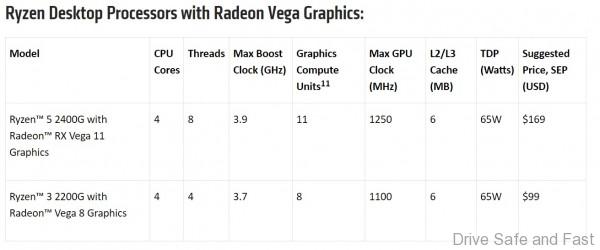 (Source: AMD)
Based on the tests of PC Perspective, the AMD Ryzen 5 2400G handily outperformed Intel's $179 Core i5-8400 (uses the UHD 630 GPU) on GPGPU (general purpose GPU) benchmark scores.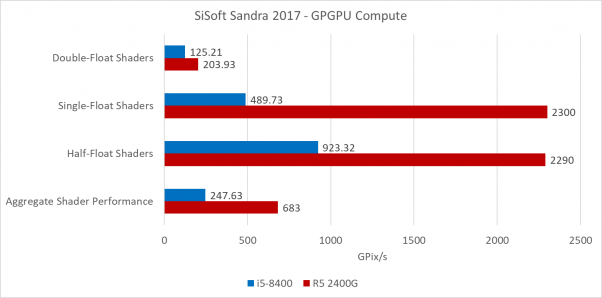 The gaming performance of the Ryzen 5 2400G APU is also much better than Core i5-8400.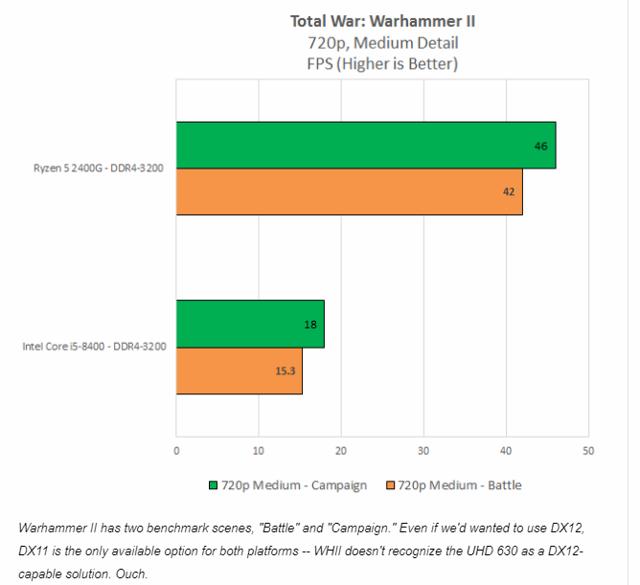 (Source: ExtremeTech)