Summary
Cryptocurrencies have defenders and detractors even at the highest level of financial institutions.
While China and South Korea have banned ICOs, Switzerland seems to prefer to be ahead of the situation by dominating as much as possible the exaggerations of new currency launches.
There is every reason to believe that cryptocurrencies are a form of financial evolution that can not be stopped, but must be seriously regulated.
The well-known Switzerland of the all-powerful banks, numbered bank accounts and sacred Swiss Franc, intends to join the club of cryptocoin supporters. More than this, the country intends to become a main player considering it wishes to be the crypto-nation, something that only the Swiss pragmatism could accept.
After the authentic madness of the super appreciation by way over a thousand percent of many cryptocurrencies we fear the possibility of a huge developing bubble. We see that the phenomenon has not slowed down and that the harsh criticism has had no effect. Is this a necessary path to a future in which virtual currencies will add value to the financial world?
Speaking about Bitcoin at the annual meeting for Daily Journal in Los Angeles, Charlie Munger stated a few days ago that he "never considered for one second having anything to do with it." In a two-hour Q&A he also stated that "Bitcoin is noxious poison."
It is curious to note that among the major critics of these new currencies are the most prominent investors and academics such as Warren Buffett, Ben Bernanke, Joseph Stiglitz and Paul Krugman. In a quite different position, Stefan Ingves, Governor of the central bank of Sweden, said in a Bloomberg TV interview (video link) that cryptocurrencies "are not really currencies at all." He does not fail to point that "one should really be careful and mindful of the fact that this is more like participating in a lottery or going to the casino. This is not banking as we know it." Nevertheless, financial life runs its course and Sweden itself may be the first bank to have its own cryptocurrency (e-Krona) within the next few years. We will have to think that virtual currencies have already gained their own place and that the problem will be all about regulation, oversight and tight supervision.
Nevertheless, there are supporters and personalities who also accept the possibility that some of these new virtual coins may have an important role to play in the future. In this group we will find, for example, Bill Gates, Christine Lagarde and Richard Branson alongside many others whose position is more cautious.
But let's go back to the unexpected news about Switzerland. The cryptocurrency craze does not seem to scare this country. In fact, it is being treated there as a fait accompli that has simply to be supervised. Problems of credibility, volatility and security don't worry too much Switzerland that claims to be the home of ICOs (initial coin offerings). In fact, the country has announced an ICO working group to study regulation and supervisory practices. Like Silicon Valley there is a Crypto Valley in Zug, near Zurich. But this is not a smart designation, it exists in reality. The Crypto Valley Association is an independent, government-supported association established to build the world's leading blockchain and cryptographic technologies ecosystem. Initiated by Johann Gevers, Crypto Valley has grown as planned and institutions and regulators like the Swiss Financial Market Supervisory Authority (Finma) give support to this professional organization with dozens of leading cryptographic companies based there.
While China and South Korea have banned ICOs, Switzerland seems to prefer to be ahead of the situation by dominating as much as possible the exaggerations of new currency launches. In a way it is understandable given that all this concerns a banking activity of which Switzerland is the exponent. On the other hand, technologically this country is prepared for this evolution and its innovative side pleases the country authorities.
This whole framework is a way of giving credibility and a potentially important role in the future for virtual currencies. Even more so when after a phase of super crazy rises they corrected strongly at the same time of the weakness of the market last month. Soon after they recovered somehow firmly to levels that many would not think possible again. Ironically, it would even appear that those crazy prices of cryptocoins belong to the past, but nothing is sure in that regard. However, it is clear that prices are still very exaggerated, but it will take a bigger market correction to see what can really happen.
A month ago I wrote an article on virtual currencies and it is interesting to compare the most salient data.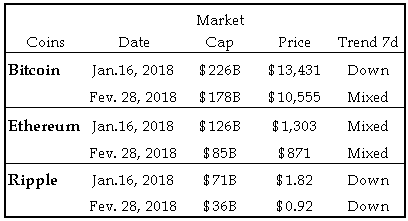 Source: coinmarketcap.com
The top 3 combined correspond to more than 65% of the current value of the entire cryptocurrency market ($448B). A month ago, top 3 represented more than 60% of a total market cap of $689B. There seems to be a natural tendency for larger currencies to become more and more important not leaving much room for those that are weaker or meaningless. This conclusion has to be coupled with the fact that the launch of new cryptocoins through ICOs is still maintained. At present there are 1,523 cryptocoins registered and in the middle of this vast amount there are those that aim to improve the performance of the previous ones.
Conclusion
There is every reason to believe that cryptocurrencies are a form of financial evolution that can not be stopped. Of course, a common sense decision will be to regulate ICOs and avoid money laundering and other accessory problems. This seems to be the path of some countries, such as Switzerland, that prefer - as soon as possible - to follow or even lead the bumbling walk of virtual currencies in the financial markets.
Disclaimer: The author of this article is not an investment adviser and gives only his personal view and opinion, never making any investment advice or recommendation to buy or sell specific securities. Investors in financial assets must do so at their own responsibility and with due caution as they involve a significant degree of risk. Before investing in financial assets, investors should do their own research and consult a professional investment adviser.
This article was written by
Graduated in Finance specialized in company valuation and business recovery. In the management of portfolios the author has always taken into consideration different degrees of risk corresponding to distinct types of assessment. The author has been an investor and trader for a couple of decades and Portfolio Manager on several situations.
Analyst's Disclosure: I/we have no positions in any stocks mentioned, and no plans to initiate any positions within the next 72 hours. I wrote this article myself, and it expresses my own opinions. I am not receiving compensation for it (other than from Seeking Alpha). I have no business relationship with any company whose stock is mentioned in this article.
Seeking Alpha's Disclosure: Past performance is no guarantee of future results. No recommendation or advice is being given as to whether any investment is suitable for a particular investor. Any views or opinions expressed above may not reflect those of Seeking Alpha as a whole. Seeking Alpha is not a licensed securities dealer, broker or US investment adviser or investment bank. Our analysts are third party authors that include both professional investors and individual investors who may not be licensed or certified by any institute or regulatory body.