Pending Home Sales Stumble In January
By Jill Mislinski
Wednesday morning, the National Association of Realtors released the January data for its Pending Home Sales Index. Here is an excerpt from the latest press release:
Lawrence Yun, NAR chief economist, says pending sales took a noticeable step back to start 2018. "The economy is in great shape, most local job markets are very strong and incomes are slowly rising, but there's little doubt last month's retreat in contract signings occurred because of woefully low supply levels and the sudden increase in mortgage rates," said Yun. "The lower end of the market continues to feel the brunt of these supply and affordability impediments. With the cost of buying a home getting more expensive and not enough inventory, some prospective buyers are either waiting until listings increase come spring or now having to delay their search entirely to save up for a larger down payment."

Added Yun, "Even though contract signings were down, Realtors® indicated that buyer traffic in most areas was up January compared to a year ago1. The exception was likely in the Northeast, where the frigid cold snap the first two weeks of the month may have contributed some to the region's large decline." (more here).
The chart below gives us a snapshot of the index since 2001. The MoM came in at -4.7%, down from no change last month. Investing.com had a forecast of 0.4%.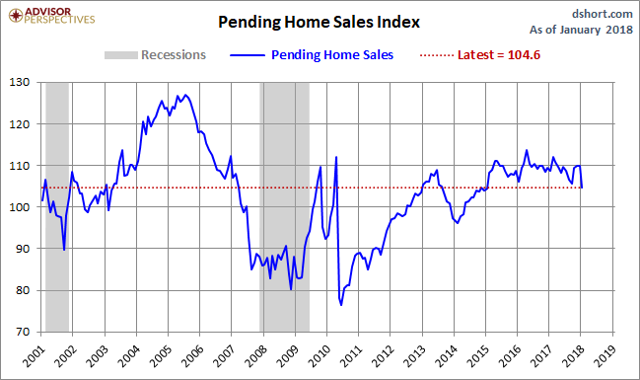 Over this time frame, the US population has grown by 15.2%. For a better look at the underlying trend, here is an overlay with the nominal index and the population-adjusted variant. The focus is pending home sales growth since 2001.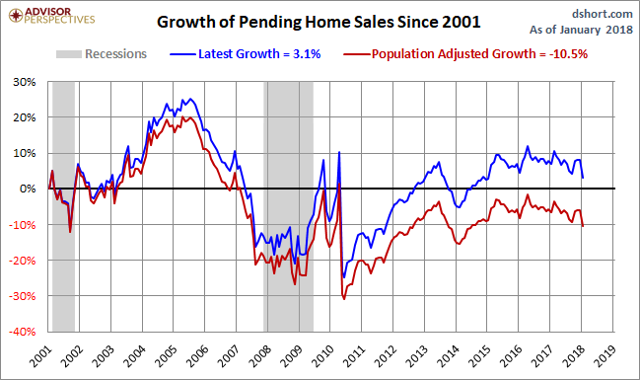 The index for the most recent month is 18% below its all-time high in 2005. The population-adjusted index is 26% off its 2005 high.
Pending versus Existing Home

Sales
The NAR explains that "because a home goes under contract a month or two before it is sold, the Pending Home Sales Index generally leads Existing Home Sales by a month or two." Here is a growth overlay of the two series. The general correlation, as expected, is close. And a close look at the numbers supports the NAR's assessment that its pending sales series is a leading index.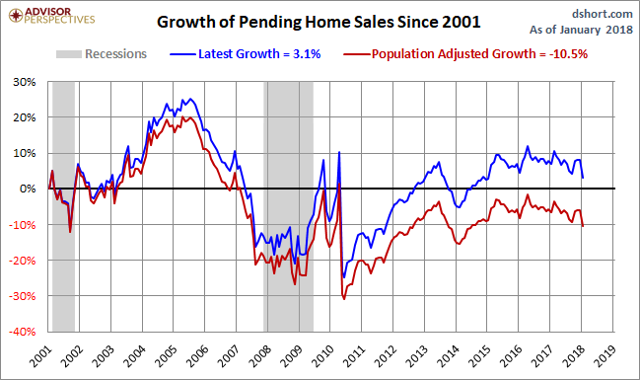 This article was written by
Advisor Perspectives is a leading interactive publisher for Registered Investment Advisors. Our AP Charts & Analysis portion of our website analyzes economic and market trends.