Richmond Fed Manufacturing: Robust Growth In February
By Jill Mislinski
Tuesday, the Richmond Fed Manufacturing Composite Index was at 28 for the month of February, up from last month's 14. Investing.com had forecast 15. Because of the highly volatile nature of this index, we include a 3-month moving average to facilitate the identification of trends, now at 20.7, which indicates expansion. The complete data series behind Tuesday's Richmond Fed manufacturing report, which dates from November 1993, is available here.
Here is a snapshot of the complete Richmond Fed Manufacturing Composite series.
Here is the latest Richmond Fed manufacturing overview.
Fifth District manufacturing firms saw robust growth in February, according to the results from the latest survey by the Federal Reserve Bank of Richmond. The composite manufacturing index jumped from 14 in January to 28 in February, the second highest value on record, driven by increases in shipments, orders, and employment. The wages index remained in positive territory at 23, while the available skills metric dropped from −10 in January to −17 in February. Despite greater difficulty finding skilled workers, District manufacturing firms saw strong growth in employment and the average workweek in February. Survey results show that manufacturers expect to see continued growth in the coming months.

Manufacturing firms saw growth accelerate for both prices paid and prices received, with each increasing at the highest rate since April 2017. Firms expect prices to continue to grow at a faster rate in the near future. Link to Report
Here is a somewhat closer look at the index since the turn of the century.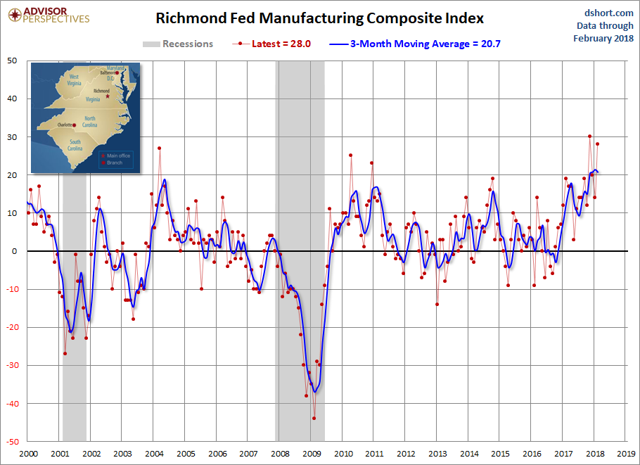 Is today's Richmond composite a clue of what to expect in the next PMI composite? We'll find out when the next ISM Manufacturing survey is released (below).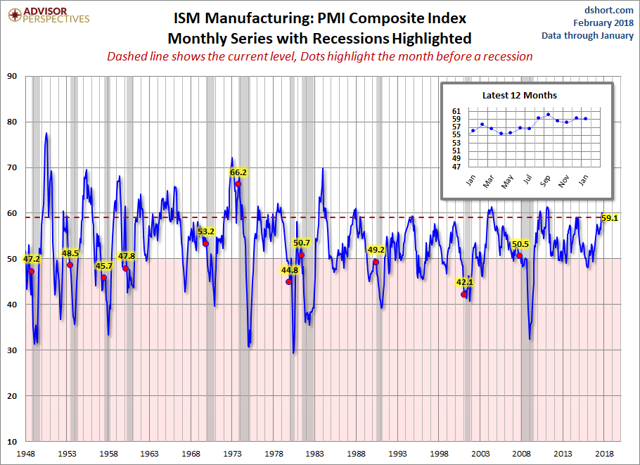 Let's compare all five Regional Manufacturing indicators. Here is a three-month moving average overlay of each since 2001 (for those with data).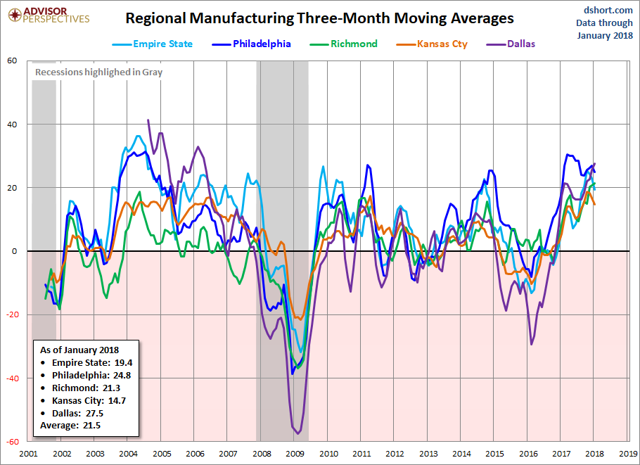 Here is the same chart including the average of the five.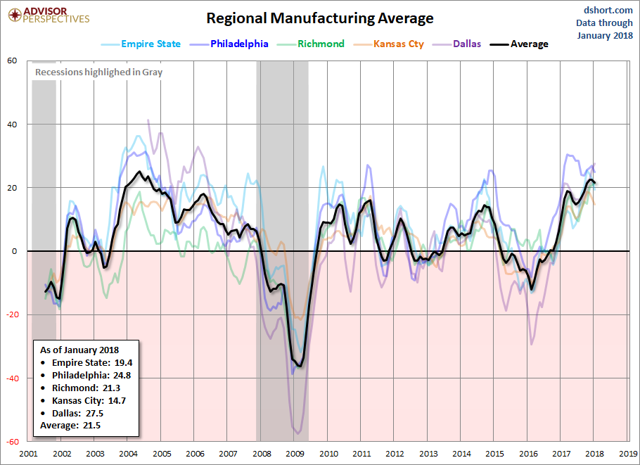 This article was written by
Advisor Perspectives is a leading interactive publisher for Registered Investment Advisors. Our AP Charts & Analysis portion of our website analyzes economic and market trends.