The Dividend Aristocrats are S&P 500 index constituents that have increased their dividend payouts for 25 consecutive years or more. Enbridge (NYSE:ENB) is a Canadian based company dual listed on NYSE and the TSX. ENB is not a member of the S&P 500 and has not increased its dividends for 25 consecutive years...yet. But it has guided towards that and based on the current numbers, that goal looks highly achievable. But you would never have guessed that by looking at its chart.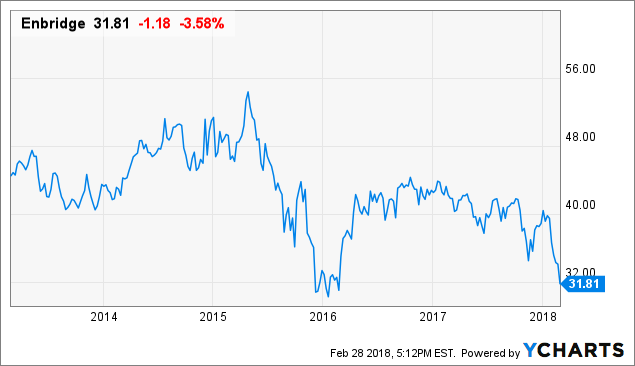 ENB currently sits close to a 5 year low, a price matched in recent times only at the depths of oil price decline in 2016. Is something wrong with the fundamental picture or is the market just having a tantrum you should take advantage of?
2017 results and 2018 guidance
2017 started off slow as the acquisition of Spectra Energy (SE) drained on the distributable cash flow (DCF) per share. However, Q4-2017 was an extremely strong finish and the annualized run rate exceeded the 2016 overall DCF.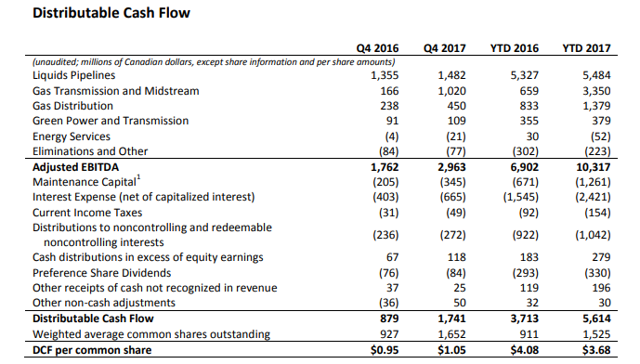 Source: ENB Q4-2017 supplemental information
2018 guidance was a bit lighter than we expected though with the range projected as $4.15 - $4.45/share CAD. We had earlier estimated $4.35 CAD, which does fall in this range, but thought stronger market conditions since then would have merited a boost from ENB. ENB also confirmed that at a corporate level, the new tax rate would be immaterial to cash flow in 2018 but would benefit the company down the line.
Dividend
ENB guided for strong dividend growth through the next 3 years.
"Increased the dividend by 15% in 2017, increased the dividend by another 10% for 2018 and guided to 10% compound annual dividend per share growth through 2020."
The current dividend for 2017 is projected to be 2.68 CAD which translates into approximately 2.10 USD based on the current exchange rates. That makes the current yield a rather high 6.6%. How does that compare to the official Aristocrats list?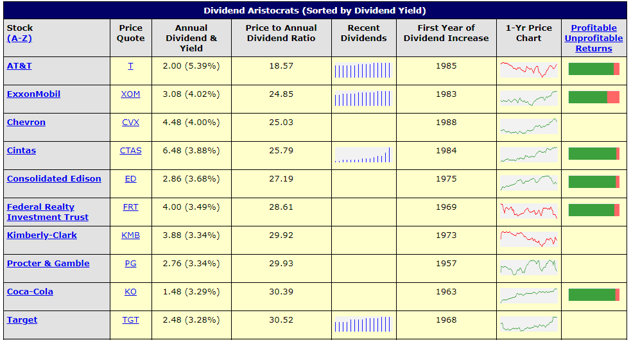 Source: BuyUpside.Com
Of the top 10, only 1 comes remotely close with a yield of 5.39%. None of them have guided for 10% compounded growth for the next two years. That guidance if realized would put the yield on current cost at 8% - a pretty mind-blowing number for a company that has paid dividends for 65 consecutive years, increased it for 23 consecutive years and increased it a 11.7% compounded rate for 20 years.

While Y-charts has still not incorporated the forward data, even the trailing 12 month yield for ENB is pretty much in uncharted territory even including the global financial crisis.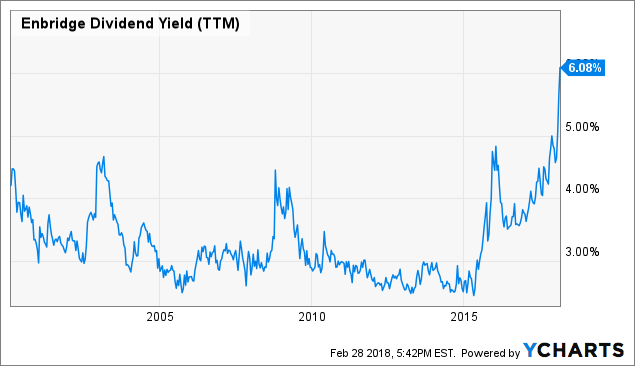 Debt worries
ENB's debt to EBITDA did spike in 2015 and stayed high as it completed the acquisition of SEP. Currently the forecast is for a 5X multiple on the 2018 numbers.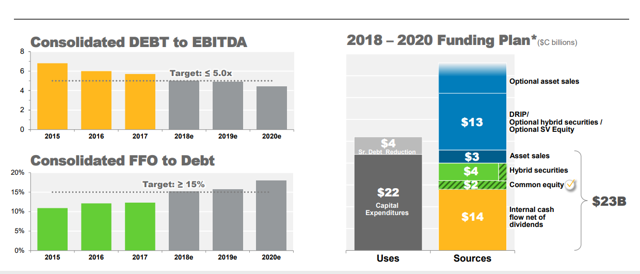 Source: ENB Q4-2017 presentation
This may bother some people, but we think this is an acceptable level of leverage for this stage of the commodity cycle. A very large percentage of ENB's cash flow is utility-like or fixed. Adding the hedges and the predominantly fixed nature of its debt (85% fixed), ENB has about 3% of its cash flow exposed to market risk over the next 12 months.

We do think ENB will shrink this leverage over time, but by the time it does, likely the stock will be much higher. The credit agencies see very little risk as well and all 4 view the outlook as stable for ENB's investment grade rating.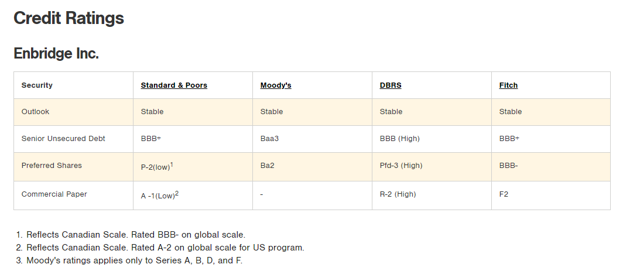 Conclusion
It is hard in this environment to buy anything for its yield when day after day most such stocks go lower. But it is precisely in such times that longer term buying opportunities arise. ENB trades at about 9X 2018 DCF. There is no law that says it should not trade lower and it certainly might. But for longer term investors who can tune out the day to day fluctuations, we believe the current price presents a good buying opportunity. Even the 2020 projected dividend would have been covered by the 2017 DCF and there are significant growth projects and built-in increases between now and then. We feel it is highly likely that the dividend will reach its target and at the minimum ENB will have increased its dividend for 25 consecutive years, albeit in Canadian dollars. We added this morning by selling half position of another high yielder which seemed to be immune to the current market woes and will certainly DRIP all dividends for the foreseeable future.
Disclaimer: Please note that this is not financial advice. It may seem like it, sound like it, but surprisingly, it is not. Investors are expected to do their own due diligence and consult with a professional who knows their objectives and constraints.
Seeking Alpha has changed its policies. Previously "following" someone required a ritualistic commitment and an offering of not less than 4 oxen or 3 breeding horses. Now, all it takes is one click! If you enjoyed this article, please scroll up and click on the "Follow" button next to my name to not miss my future articles. If you did not like this article, please read it again, change your mind and then click on the "Follow" button next to my name to not miss my future articles.