By VW Staff
From Whitney Tilson's latest email to investors:
1) I have invested my children's college accounts in 50% Berkshire (BRK.A, BRK.B), 25% Howard Hughes Corp. (HHC), and 25% split evenly among Amazon (AMZN), Alphabet (GOOGL), and Facebook (FB). Attached are my latest, updated slide presentations on BRK and GOOGL.
2) Buffett released his annual letter on Saturday, which you can access here. The company continues to be a compounding machine and is producing mountains of cash, which is piling up because Buffett, Combs, and Weschler haven't been putting it to work due to high valuations. I applaud their discipline. (I also applaud the dumping of IBM, which I've been saying for years is a melting ice cube and value trap.)
I was quoted twice in this WaPo article about the letter: "Buffett says $29 billion tax cut windfall boosts Berkshire Hathaway."
Excerpt:
"My main takeaways are the underlying businesses continue to do extremely well, the cash continues to pile up, an additional $30 billion in the last year alone," to a total of $116 billion, said Whitney Tilson, a Berkshire shareholder for more than two decades and a close follower of Buffett, 87, and his longtime business partner and sidekick, Charlie Munger, 94.

... "I'm glad to see Buffett and Munger are being disciplined and not putting [the cash hoard] to work in a richly valued market," Tilson said.

Tilson said it was significant that Buffett pointed out in the letter that two longtime Berkshire executives - Ajit Jain and Gregory Abel - had been elevated to vice chairs on the board of directors of the $500 billion conglomerate.

"It's old news, but the fact that he mentioned them in the annual letter is an indication that one or both of them will likely be his successor," Tilson said.
3) I just came across one of the best analyses I've ever read of Berkshire in the Semper Augustus 2017 annual letter (a link to all of their client letters is here). The part on Berkshire starts on page 45. They peg intrinsic value, using five different methodologies, at ~$375,000/share (our estimate is $349,000, making it a 90% dollar today).
The Semper Augustus letter also had two interesting charts. This one is data on market peaks and troughs since 1929. Looking at this, it's hard not to conclude that we're somewhere near a peak: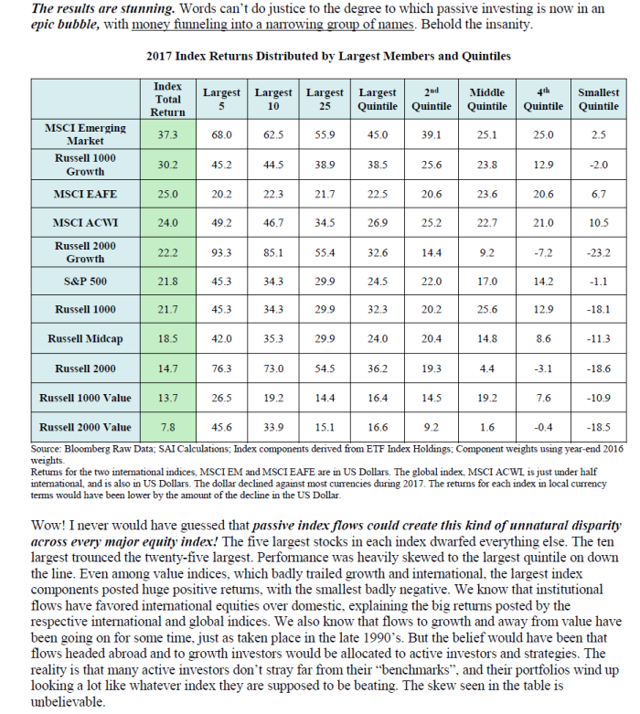 And this chart shows how the return of every major market index is being driven by a handful of the largest companies, thanks to indexing: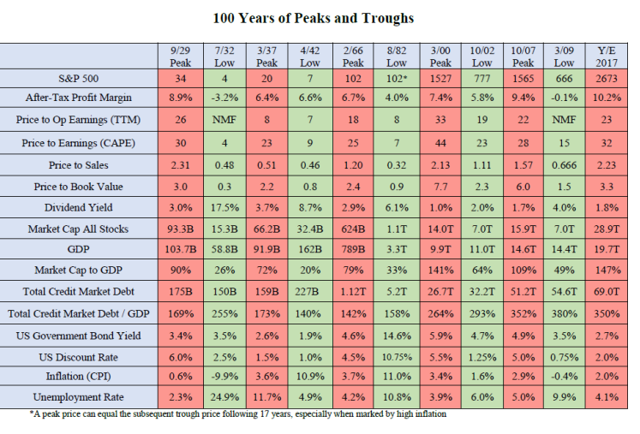 4) 538.com with what may prove to be a prescient warning: "The Economy Is Soaring, And Now So Is The Deficit. That's A Bad Combination."
Excerpt:
Between costly tax cuts and last week's hefty spending bill, Congress is generating deficits that aren't just large, they're also unprecedented and potentially ominous. And even with some optimistic assumptions, President Trump's latest budget proposal wouldn't eliminate these deficits - in fact, the president is still angling to add a potentially costly infrastructure plan on top of current spending. But when the economy is this strong, deficits are usually small and shrinking, not ballooning back toward $1 trillion.

We are following a path that the country hasn't traveled since World War II, with green economic pastures alongside rivers of red deficit ink. And that combination carries unique risks - not because the numbers are especially large (during the early years of the Obama administration, the deficit regularly exceeded $1 trillion) but because these deficits provide unneeded stimulus, which can overheat an economy already operating near full capacity. And in the process, they drain away funding that might be better reserved for fighting off the next recession.
The hypocrisy of Republicans on the issue of deficits/debt boggles my mind. They spent the entire Obama administration screaming bloody murder about how deficits and debt were going to sink us (at a time, at least in his first term, when the economy was extremely weak and desperately needed stimulus), but the moment they took power, they passed the mother of all budget busting bills - and, worse yet, at a time when the economy is quite strong.
5) Too little too late, but good to see nevertheless: "SEC Launches Cryptocurrency Probe."
Excerpt:
The Securities and Exchange Commission has issued scores of subpoenas and information requests to technology companies and advisers involved in the red-hot market for digital tokens, according to people familiar with the matter.

The sweeping probe significantly ratchets up the regulatory pressure on the multibillion-dollar U.S. market for raising funds in cryptocurrencies. It follows a series of warning shots from the top U.S. securities regulator suggesting that many token sales, or initial coin offerings, may be violating securities laws.

The ongoing wave of subpoenas includes demands for information about the structure for sales and pre-sales of the ICOs, which aren't bound by the same rigorous rules that govern public offerings, according to the people familiar with the matter. Companies use coin offerings to raise money for everything from file-sharing technology to pet passports.
6) What a disaster GE has been! Here's an insightful WSJ article: "How Jeffrey Immelt's 'Success Theater' Masked the Rot at GE."
Excerpt:
GE's precipitous fall, following years of treading water while the overall economy grew, was exacerbated, some insiders say, by what they call "success theater." Mr. Immelt and his top deputies projected an optimism about GE's business and its future that didn't always match the reality of its operations or its markets, according to more than a dozen current and former executives, investors and people close to the company.

This culture of confidence trickled down the ranks and even affected how those gunning to succeed Mr. Immelt ran their business units, some of these people said, with consequences that included unreachable financial targets, mistimed bets on markets and sometimes poor decisions on how to deploy cash.

"The history of GE is to selectively only provide positive information," said Deutsche Bank analyst John Inch, who has a "sell" rating on the stock. "There is a credibility gap between what they say and the reality of what is to come."

Said Sandra Davis, who knows several GE executives as the founder of MDA Leadership Consulting: "GE itself has never been a culture where people can say, 'I can't.' "

Within weeks of the May meeting, Mr. Immelt announced his retirement. By year-end, GE under a new leader had cut its dividend in half and triggered a restructuring that is expected to eliminate thousands of jobs and cast off more than $20 billion worth of assets. Today, federal regulators are examining GE's accounting for certain transactions, and new CEO John Flannery is considering breaking up the 125-year-old company.
7) I really enjoyed David Einhorn's talk at Oxford, especially starting at minute 36.
David Einhorn At Oxford: If You Look At The problems From The Financial Crisis... We Solved None Of Them
David Einhorn spoke at the Oxford Union in November 2017. The video of the talk, which features a wide range of topics from his early days of the fund to one of his favorite shows, was posted online on December 15, 2017. Readers can find the video as well as a transcript of the talk below.
8) The investing lost a legend earlier this month with the passing of Ian Cumming. His obituary is here. Excerpt:
In 1979, Ian and his HBS classmate, Joe Steinberg, took control of a troubled financial services company, James Talcott, and transformed it into Leucadia National Corporation (LUK). Their partnership was one of the most successful conglomerates in U.S. history - posting a total career average annual return to investors of nearly 20%.
9) In my last email, I sent around Adam Blum's notes from the Munger meeting. If you want to listen to the entire two hours, here's the audio.
10) A funny 1-min ad for 23andme, with Buffett doing the voiceover.