Biogen, Neurotrope, Anavex And The Future Of Alzheimer's Treatments
Summary
Various red flags raise doubts that Biogen's aducanumab - an amyloid antibody - will be effective in treating Alzheimer's disease.
At the highest concentrations, Anavex 2-73 - an antioxidant drug - led to sustained improvements in cognition in most early stage Alzheimer's patients for two years.
Neurtrope which is a protein kinase C activator led to improvements in advanced Alzheimer's patients who were not taking Namenda.
Advice mostly based on the science: sell shares in Biogen, buy shares in Anavex, and hold shares in Neurotrope.
There are basically two approaches to Alzheimer's research: the traditional and the non-traditional. The traditional approach focuses on preventing the formation or removing misfolded proteins: amyloid and tau. The non-traditional approach focuses on ameliorating other aspects of Alzheimer's disease such as oxidative stress, inflammation, and mitochondrial dysfunction. The former approach currently dominates clinical trial research but has not shown any success. The latter has been tried much less frequently even though some initial results have been positive. As an investor, banking on the traditional approach is risky because of the track record of failure. On the other hand, banking on the non-traditional approach is risky because it is being undertaken by small biopharmaceutical companies that may not have any large-scale results to present for several years.
Biogen (BIB) is now seen by many as the last hope for the amyloid approach to Alzheimer's disease. Its drug - aducanumab - removes both amyloid plaques and oligomers (the latter of which may be the "toxic species"). But red flags keep popping up for the company. First, its three and ten milligram doses appeared to significantly slow down the progression of Alzheimer's disease but not its six milligram dose. Second, the large number of dropouts due to adverse effects in the 10 milligram group mostly included individuals with the Apoe4 gene who progress more rapidly during the early stages of the disease. These dropouts made it appear that the higher dose was more effective in slowing down the progression of the disease than it actually was. And perhaps, most important, the company appears not to be seeing much variation in results for current trial participants so it is increasing the number of enrollees.
Biogen has a large drug portfolio (including a tau antibody for Alzheimer's disease) and has been acquiring other drug candidates, but its stock price is also very high. How much that price would drop if aducanumab failed to treat Alzheimer's disease is hard to determine. Large pharmaceutical companies have been able to rebound from Alzheimer's drug failures, but none were anywhere near the value of Biogen. I would at least recommend selling some shares of the stock.
Which brings us to two companies pursuing non-traditional approaches: Anavex (AVXL) and Neurotrope (NTRP). Anavex 2-73 works in part by inhibiting calcium release and scavenging peroxynitrite (ONOO-) - one of the principal oxidants in Alzheimer's disease. Inhibiting intracellular calcium reduces oxidative stress by limiting protein kinase C activation and NMDA receptor activation (see chart below).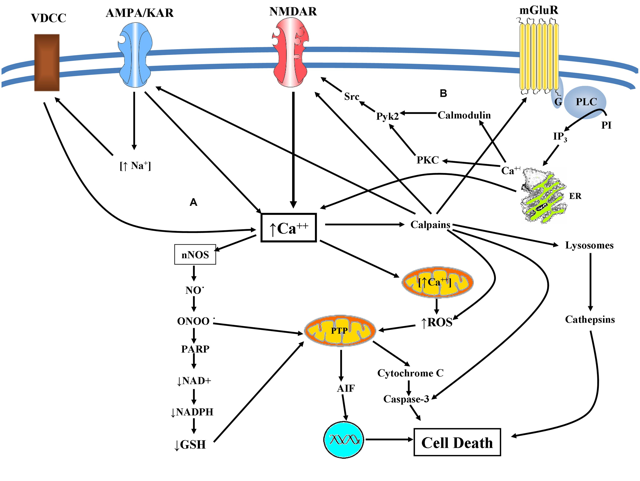 At 109 weeks, Anavex 2-73 at the highest concentrations led to improvements in cognition and in activities of daily living that were sustained for two years in four out of five patients with mild Alzheimer's disease (see slide on page 29). The three year data points may be available near the end of this year or early next year.
As other treatments with larger numbers of patients indicate, if you are able to both limit the production of oxidants and scavenge oxidants, Alzheimer's disease can be stabilized for two years (clinical trial) (retrospective study) and potentially for the rest of a person's life (case study). Anavex 2-73 represents an advance over current Alzheimer's drugs such as Aricept and Namenda which only limit oxidative stress.
The company may however be getting a little side-tracked by trying to use genetic markers to choose patients who may do better in a larger trial. This tack has delayed the beginning of a new trial and may not be necessary. For genetic and non-genetic reasons, there are indeed variations in the progression of Alzheimer's disease. It is best, however, to see variations between high and low responders to a drug and to try to determine the reasons for these variations after the trial has been completed. The results may not look as good but they are less subject to criticism.
If a person has the ability to wait for distant results, a long approach is advised. As no other Alzheimer's drug to date has shown the ability to stabilize Alzheimer's disease for two years.
One of the mechanisms of action of Anavex 2-73 is to inhibit the activation of protein kinase C. That protein kinase C activation is a critical factor in the progression of early Alzheimer's disease is demonstrated by the following finding:
Malinow's team found that when mice are missing the PKC alpha gene, neurons functioned normally, even when amyloid beta was present. Then when they restored PKC alpha, amyloid once again impaired neuronal function. In other words, amyloid beta does not inhibit brain function unless PKC alpha is present (source of quote).
In mice designed to have an Alzheimer's-like disease amyloid beta is the cause of PKC alpha activation, but in humans many other factors can contribute to PKC alpha activation including a diet high in sugar and carbohydrates, environmental toxins, and psychological stress. Thus amyloid alone does not cause as many cognitive deficits in mice as in human beings with Alzheimer's disease and more importantly removing or preventing the formation of amyloid does not "reverse" Alzheimer's disease in humans as it does in mice.
This brings us to the second non-traditional approach worth keeping an eye on: Neurotropoe's byrostatin-1. Bryostatin-1 is a protein kinase C epsilon and to a lesser extent protein kinase C alpha activator. This by itself would seem to disqualify the drug as a treatment for Alzheimer's disease if the above analysis is correct. However, protein kinase C activation via src and calcium influx through NMDA receptors contributes to memory and learning by stimulating the phosphatidylinositol 3-kinase/Akt pathway (pathway in memory and learning). If that function can be increased without significantly increasing oxidative stress then the drug may be somewhat effective at a certain stage.
Mild Alzheimer's disease does not appear to be that stage. A single dose of bryostatin-1 in an early stage Alzheimer's group (6 patients) did appear to lead to significant improvements in cognition on the Mini-mental state examination but other tests "were either hampered by incomplete data or showed no statistically significant change in cognitive level" (source of quote). Whether any of this would have changed with larger numbers or repeated dosing (either in a positive or negative direction) is difficult to say as the company moved on to advanced Alzheimer's patients when it began to see improvements in some of these patients. Sub-analysis indicated that there were significant improvement in Severe Impairment Battery scores (which measures such skills as the ability to remember and to write one's name) in patients who were not taking Namenda - a NMDA receptor antagonist. As Alzheimer's progresses, protein kinase C activity declines as a result of nitration and perhaps NMDA receptor hypofunction follows a period of hyperfunction. Maybe at this point, protein Kinase C activation with low doses of byrostatin-1 produces some improvement in memory without additional oxidative stress.
From my perspective, Anavex is now undervalued and worth holding on to or consider buying (at this low level). I would recommend holding on to Neurotrope, too. At its current level, though, one might hesitate to buy, as one would expect the stock to eventually start dropping without further data.
Once the pathways that cause the onset and progression of Alzheimer's disease are understood (as outlined in the chart above), then the chances for developing effective treatments improve dramatically. Anavex is on the right path and at least for advanced Alzheimer's disease, Neurotrope may be on the right path as well.
Editor's Note: This article covers one or more microcap stocks. Please be aware of the risks associated with these stocks.
This article was written by
Retired history instructor. Alzheimer's disease researcher for the past decade.My goal is to give investors solid advice based on the mechanisms of action of Alzheimer's drugs.  This advice is informed by  a background in biology (conservation, ecology, evolution, environmental science, and biochemistry) and seventeen years of a very in depth review of the research on Alzheimer's disease.
Analyst's Disclosure: I/we have no positions in any stocks mentioned, and no plans to initiate any positions within the next 72 hours. I wrote this article myself, and it expresses my own opinions. I am not receiving compensation for it (other than from Seeking Alpha). I have no business relationship with any company whose stock is mentioned in this article.
Seeking Alpha's Disclosure: Past performance is no guarantee of future results. No recommendation or advice is being given as to whether any investment is suitable for a particular investor. Any views or opinions expressed above may not reflect those of Seeking Alpha as a whole. Seeking Alpha is not a licensed securities dealer, broker or US investment adviser or investment bank. Our analysts are third party authors that include both professional investors and individual investors who may not be licensed or certified by any institute or regulatory body.