The 1st quarter Senior Loan Officer Survey shows a continuation of demand and lending standards moving in opposite directions. On one side lenders with full loan books are pushing harder on the breaks while want for new loans fades. Banks will benefit from lower taxes this year, but mean reversion points to slowing loan growth and higher interest expenses - two large items that will more likely than not start to challenge valuations.
I don't remember mentioning the Senior Loan Officer Survey in any of my company-specific articles, but it's a helpful tool that can be used to measure sentiment and directional changes in lending. It's hard to find a report not weighted towards what the larger financials are doing, but this is one that gives us a glimpse into markets for each of the main loan types. The charts for this data can be added to and manipulated (can change from values to YOY average, CAGRs, etc.) on the Federal Reserve website, and below I've put together a review of my favorite combinations (if you have a different one that you are willing to share please leave a comment below).
Spreads
After a pullback, the number of firms (all size) reporting narrowing spreads declined but still outnumbered those reporting improved profitabilities.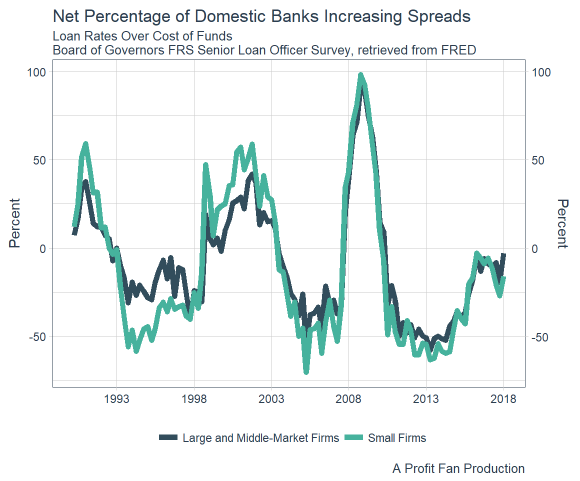 Commercial and Industrial Lending
In the 1st quarter, the net percentage of Large and Middle-Market Firms reporting weaker lending standards for C&I loans increased (to -10%), while Small Firms indicated no change (0%) after falling in the 4th quarter of 2017 (-8.8%). It wasn't by a large percentage (2.9%), but more Large and Middle-Market Firms reported an increase in demand for the first time since the 3rd quarter of 2016. Small Firms also reported increasing demand (6%) for the first time since the 1st quarter of 2017.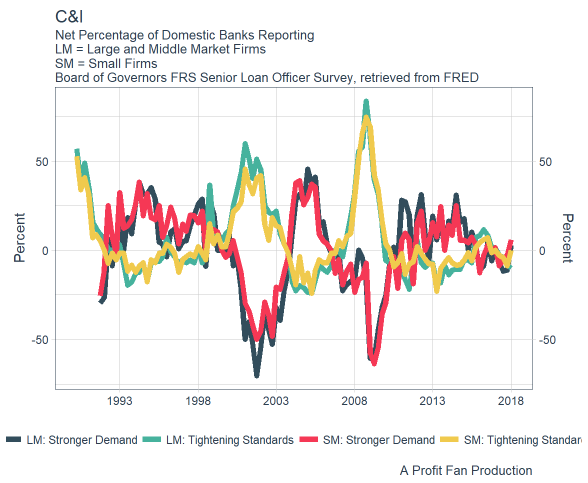 Commercial Real Estate
Reports for all CRE categories indicated tightening lending standards, but at a lower rate of change than was reported at the end of 2016. Demand is still down in multifamily and construction & development, but traditional non-farm nonresidential turned positive for the first time since the beginning of 2017.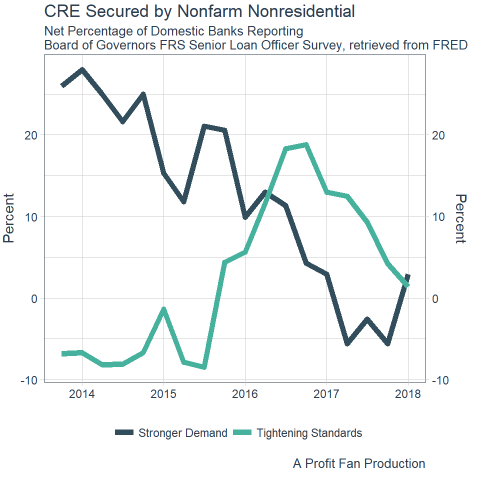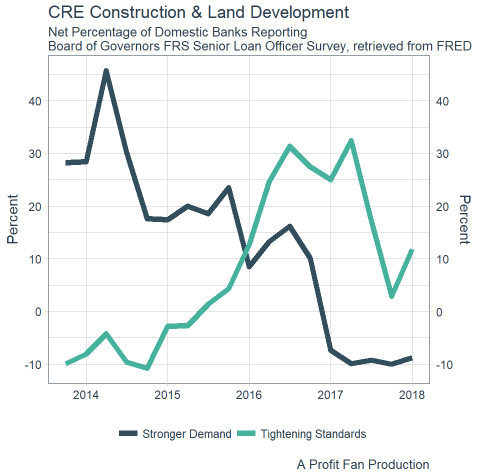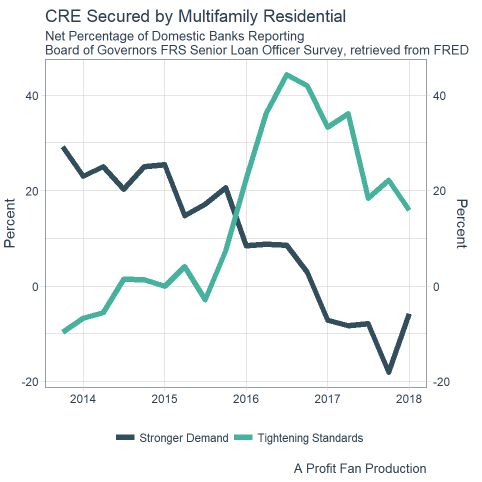 Residential Mortgages
Demand for Government Mortgages and GSE-Eligible loans are approaching 3-year lows.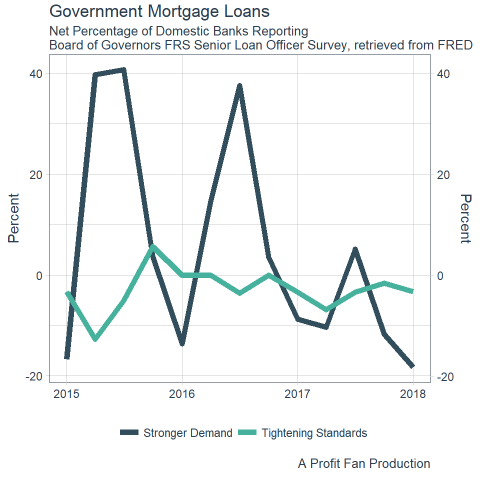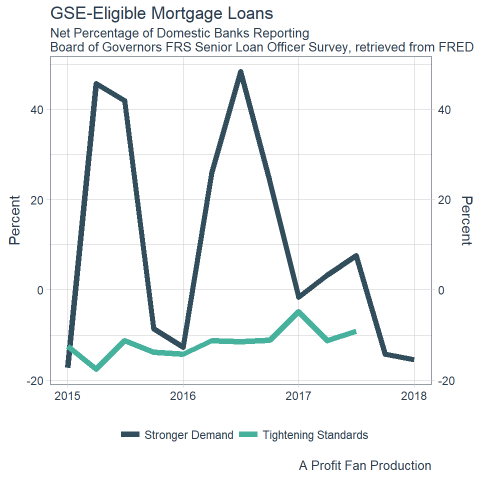 The same can be said for all jumbo loan categories: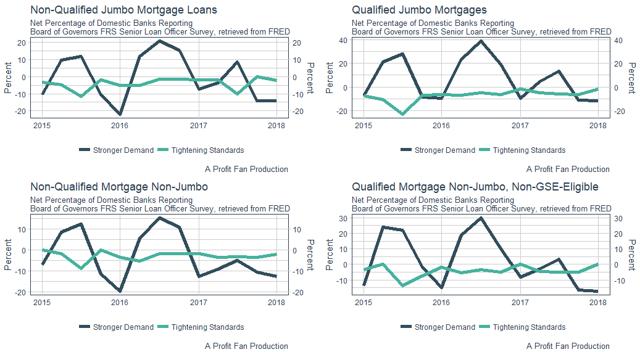 Consumer Loans
Always a hot topic, demand for auto loans is falling as standards continue to tighten.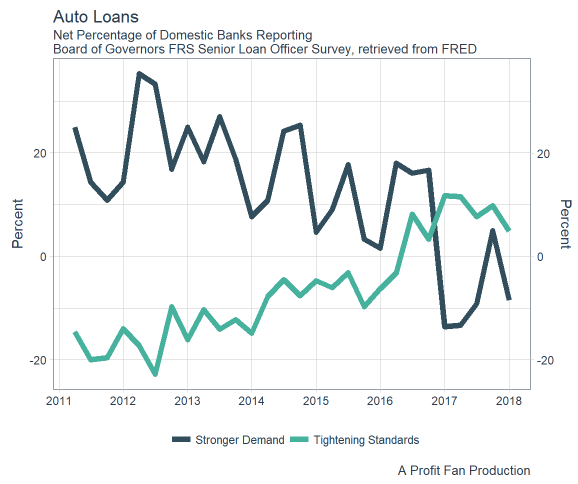 The same can be said for credit cards.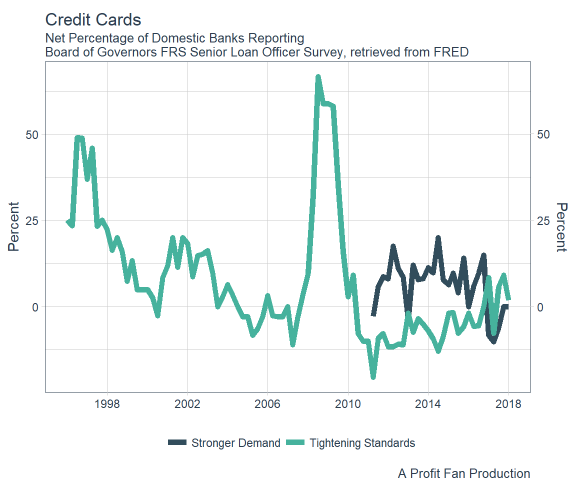 And, also for non-Credit Card non-Auto consumer loans.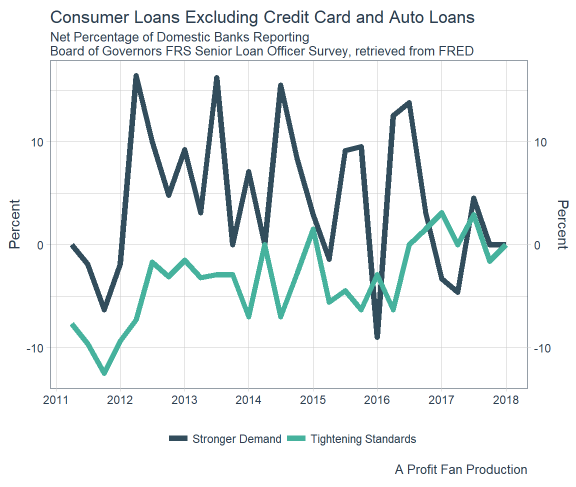 Takeaway
Everything in the 1st quarter report points to weak demand and a higher bar set for new debtors. These are large headwinds, and if credit quality starts to move from historic lows last year's fastest-growing banks will find it hard to maintain current levels of earnings. A wave of one-time negative adjustments to deferred tax assets in the 4th quarter sets-up most companies for an easy YOY beat (for reported or unadjusted earnings), but stocks were mostly flat after the announcements, suggesting that lower taxes were completely priced-in.
The tables above provide a good assessment of last quarter's lending environment, but as you will see below, this number has traditionally been out in front of (leading indicator) future loan balances. This survey isn't a perfect indicator of the business cycle, but tightening standards have in the past very consistently lead growth rates for certain types of bank assets.
Odd Man Out: C&I Requirements Continued to Fall
Note that when standards tighten or increase, loan growth falls, and vice versa.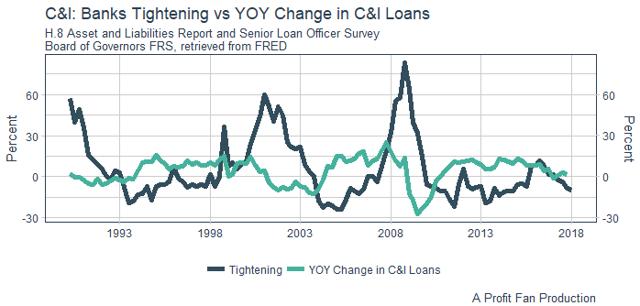 Last quarter's tightening doesn't appear to be helping to add C&I loans as fast as it has in the past. Incremental growth is getting much harder to find, and it looks like banks are rotating from CRE to C&I.
Disclosure: I/we have no positions in any stocks mentioned, and no plans to initiate any positions within the next 72 hours. I wrote this article myself, and it expresses my own opinions. I am not receiving compensation for it (other than from Seeking Alpha). I have no business relationship with any company whose stock is mentioned in this article.