By George Kaplan
Brazil
Brazil had a fairly uneventful 2017 for C&C production. Overall production was up 4.5% at 957 mmbbls (114 kbpd average), but the December exit rate was down 4.5%, or 124 kbpd, at 2612 kbpd. There were only two new platforms with significant ramp-ups, and one of those went off line for a couple of months late in the year. The Libra (now Mero) extended test FPSO came on line in November but had achieved only 11 kbpd.
Pre-salt production exceeded 50% for the first time. It was 1356 kbpd, or 52%, in December compared to 1262, or 46%, for December 2016. There were 85 pre-salt wells up from 68, but average production for each had fallen from 19 kbpd to 16, which is as expected as they were drilled mostly on producing platforms.
Petrobras (PBR) owned 94% of December production, with Statoil (STO) at 2.4% (63 kbpd) and Shell (RDS.A) (RDS.B), from their BG purchase at 2.1% (57 kbpd); for 2016, the numbers were 94%, 2.1% and 2.0%.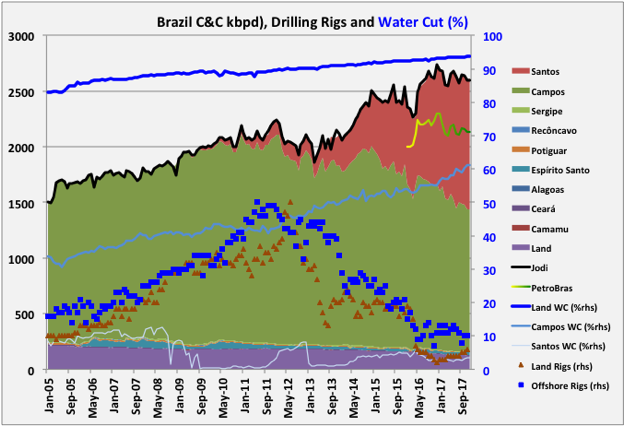 (Note that December water data wasn't available at the time of writing so the water cut values have been assumed to be the same as November for the chart.)
Santos platforms increased overall, but some of the older ones may be showing signs of coming off plateau. Campos platforms declined and the rate may be increasing as the water cut growth is accelerating.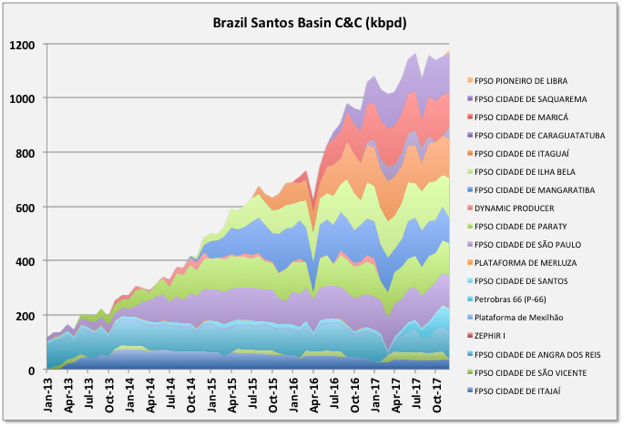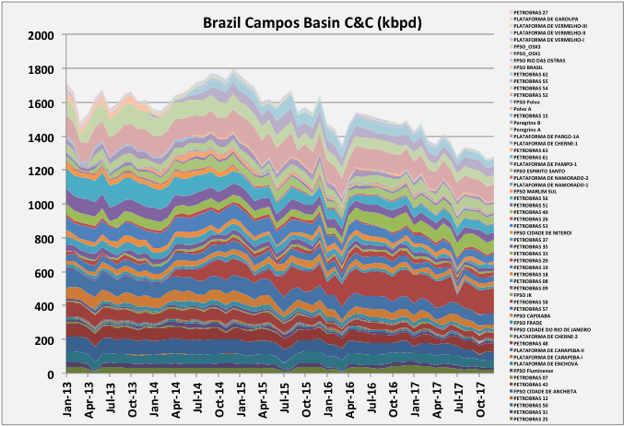 This year will be a bit different as over 1 mmbpd of nameplate capacity is due to come on line, but it will be interesting to see how efficiently that amount of work is handled, and how far the ramp-up times might be limited by drill rig availability. If they add only another 20 odd wells then there is likely to be less than 400 kbpd new production. In addition, reserve numbers for 2017 will come out in early April and the estimated Mero numbers will be important.
In 2016, Brazil had switched to a net exporter of petroleum in overall value as crude production grew; but in the second half of 2017, it looks like demand growth has taken over again and they are back to being a net importer.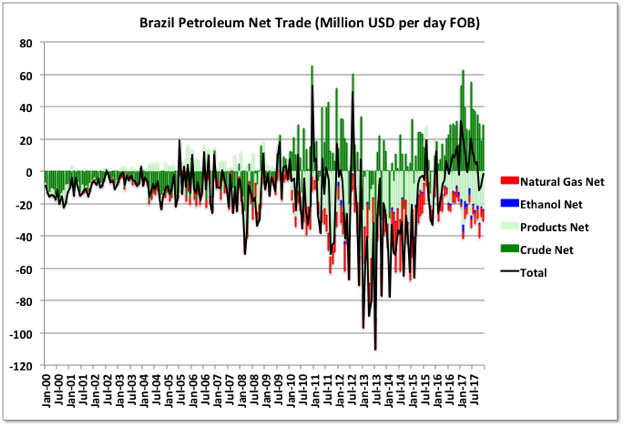 Mexico
On the one hand, over the past five or ten years, Mexico has been the prime exemplar for what post peak oil decline looks like after in-fill drilling and secondary and tertiary recovery options have all been used to accelerate production of available reserves, and discoveries dry up. On the other hand, last year it was one of the few countries with significant new discoveries.
For 2017, overall C&C production dropped 18 mmbbls to 80 mmbbls (10% or 218 kbpd) and exit rate for December dropped 178 kbpd to 1890 (8.7%). Using the same average annual percentage drops would give a fall of 196 kbpd for next year, but I think that KMZ field will accelerate decline, maybe by 10%, and Pemex might be due for another major lost time incident or maintenance outage, so a drop of 250 to 300 kbpd is more likely.
The January 2018 data has been issued but only for major regions rather than individual fields, so the charts below only show to December. However, January was a good month with a 56 kbpd increase, split between the two maritime regions.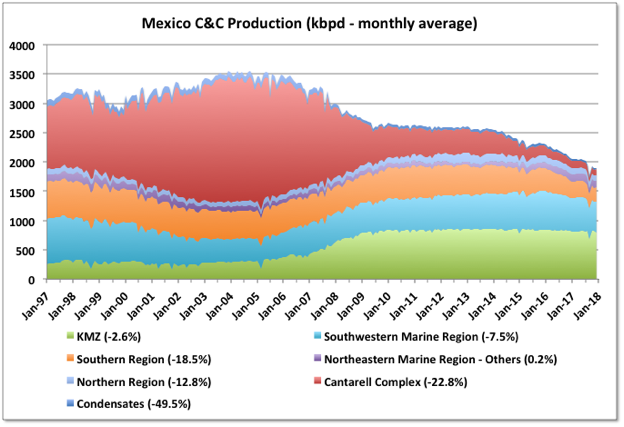 Really only the Northeastern Marine Region, which includes KMZ and Cantarell (with its dominant field being Akal), has been holding a modest decline rate, and that is likely to change this year as KMZ comes off plateau. The green lines in the chart show Pemex forecast for production from 2012, which hasn't worked out too well overall - they were relying on significant new discoveries and rising production from Chicontepec, neither of which happened - but the predicted decline for Cantarell was quite close and that for KMZ looks like it is being followed now.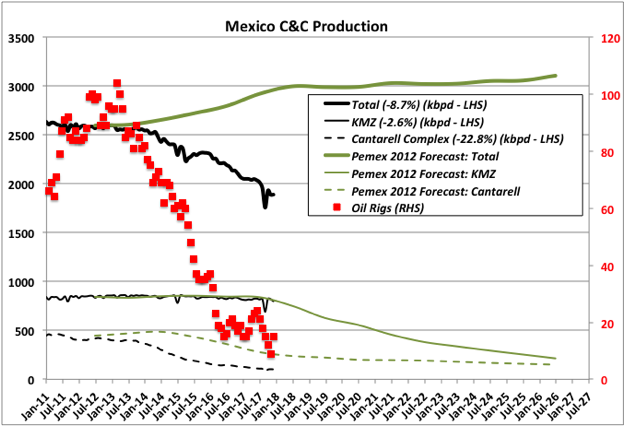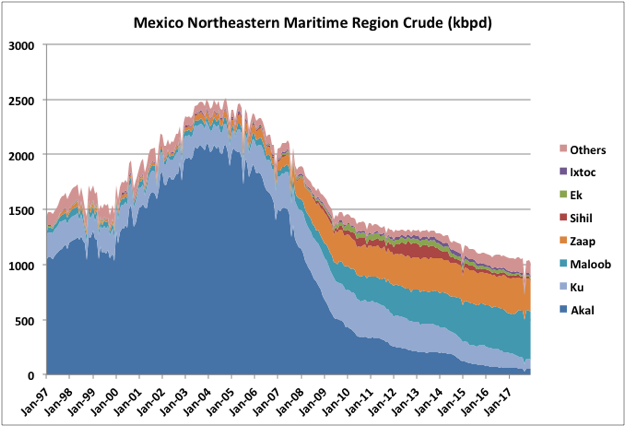 The two onshore regions and the Southwestern Marine Region are in steep decline and it seems unlikely this is going to slow down this year, though Abkatun has been offline because the previous platform was destroyed a couple of years ago, and a replacement is due in 2019.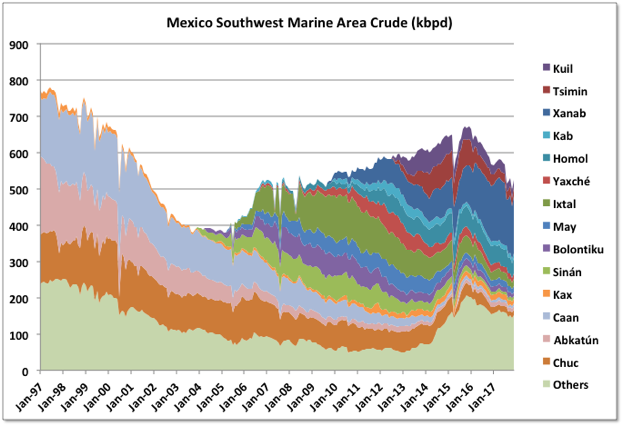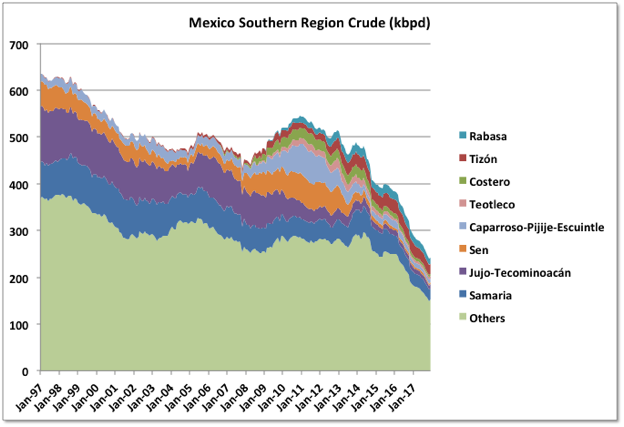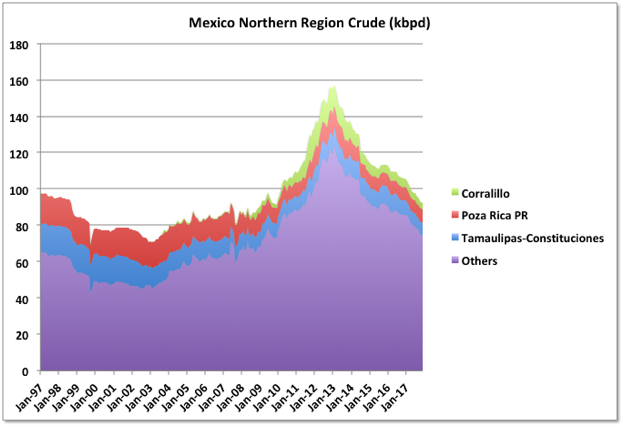 Most of Mexico's production is heavy oil. The light and extra light (and more so condensate though it is a small stream and I have not shown it) are declining faster than the average. Recently, exports of light oil ceased completely and they may soon need to start importing some to blend for the refineries.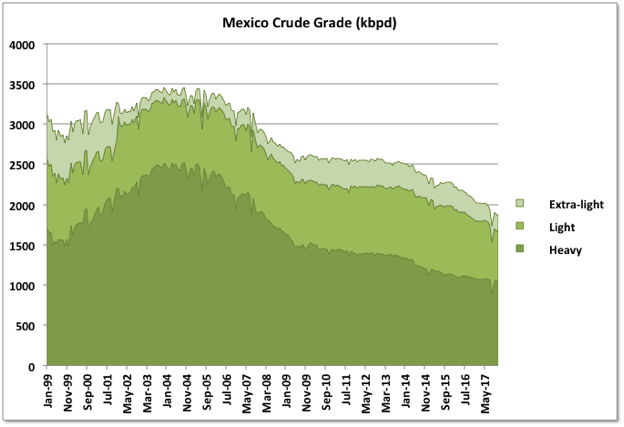 Mexico 2P reserves are declining slightly faster than their production. The four biggest fields in ultimate recovery are Ku-Maloob-Zaap and Akal (in Cantarell). These contribute almost half of production but now are down to about 30% of total reserves. KMZ overall has an R/P factor of about eight years, implying about a 12% decline rate should be expected going forward, almost all their reserves are shown as proven, so there is little upside potential.
Akal is a strange field now: it has almost 2,000 mmbbls of reserves despite being at the end of a severe decline period, and with more probable than proven. The R/P is 85 years, which seems to imply a large portion of the total Mexico reserve is unavailable for faster recovery. There must also be some question on how long the existing infrastructure of wells and platforms can keep on producing before requiring extensive and expensive replacement, and whether this has been factored into the reserve estimates.
Their 2018 reserve estimates (for end of 2017) are due in April. Note that they label the reserves against the year of issue rather than the year for which the analysis is made, unlike most other regulators, so 2017 numbers are for end of 2016.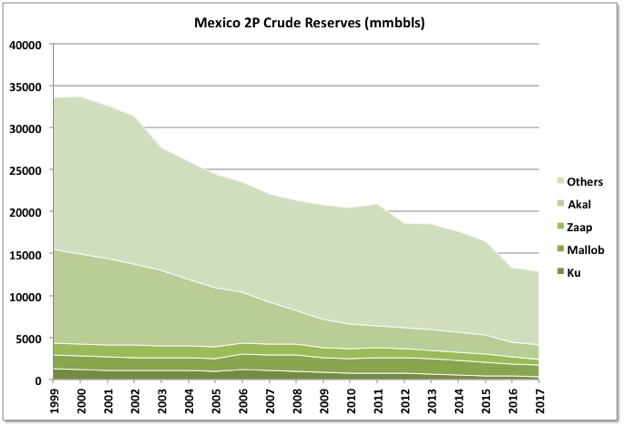 Mexico switched from a net petroleum exporter to importer a couple of years ago. Recently, it has reduced its internal demand, and hence its import bill despite falling production.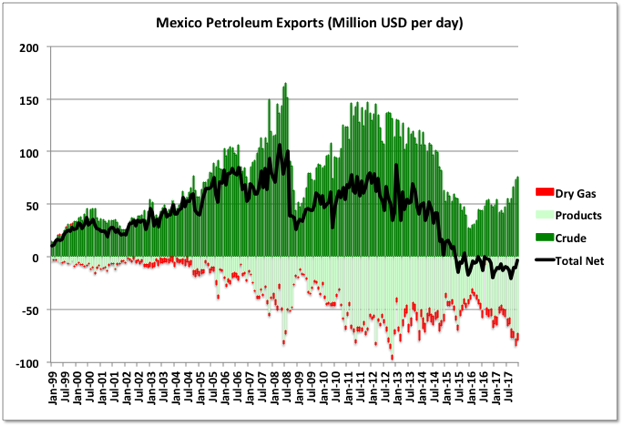 Off-topic finish
I am a fan of cricket and cricket writers; I think, like baseball, it is a game that invites fine writing. I buy the Times, in spite of some of the awful political columnists, partly because it has Mike Atherton as its main cricket reporter. He was one of England's finest players and possibly a better writer. Today, March 1st, he had a column concerning world cricket's "slow awakening" to climate change; it and golf are probably the two summer sports most in tune with the elements.
As usual a good read (and as usual the standard tedious, trite and logically-flawed denier comment rapidly followed), but I think it missed the point: "slow" is not really good enough anymore. 30% of clubs in England are prone to flooding now, some that have been badly affected have been given grants to recover - what exactly is the point of that when they face growing risk as climate change accelerates?
We have gone from denial that it's happening to denial that it can possibly get any worse (maybe a bit of progress there). What is happening in the Arctic and Antarctic, especially as you can actually see the ice disappearing through satellite images, should surely wake people up. The fact that scientists predicted the consequential weather changes and extreme events before they happened should surely mean growing credence; but no and no.
In these circumstances analysis of oil production trends, along with a lot of other things we'd consider business as usual but that require a broadly stable and predictable environment to make sense, become small, irrelevant bits of noise on the overall signal; any future predictions are unlikely to be at all valid or really of much use. I starting to look at some of this stuff because the gushing, everything-is-awesome and often error prone reports from the MSM and the industry cheerleaders didn't always make a lot of sense. I guess I'll continue, but overall, there are much bigger issues looming, and much faster than most people expected.
Nevertheless, despite the gathering clouds, the new English cricket season is only a few weeks away, and I'm looking forward to it like every year, so my deep-rooted denial is probably not much different to anyone else.