With continued volatility in the market, individual investors are increasingly becoming leery of equities without turning outright bearish. In the latest weekly survey of investor sentiment from AAII, bullish sentiment dropped from 44.65% down to 37.28%. That's the second lowest weekly reading of the year behind only the 37.03% level we saw right at the lows in early February.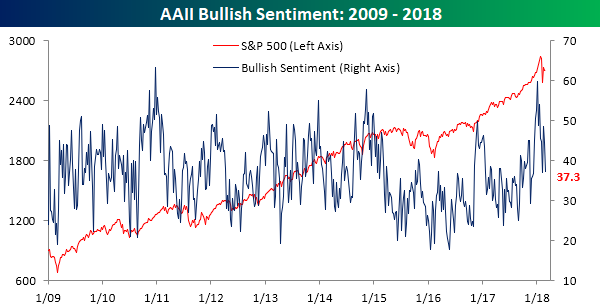 While bullish sentiment saw a pretty sizable decline in just the last week and is off its highs in early January, bearish sentiment hasn't seen much of an uptick. In this week's survey, bearish sentiment came in at just 23.41%.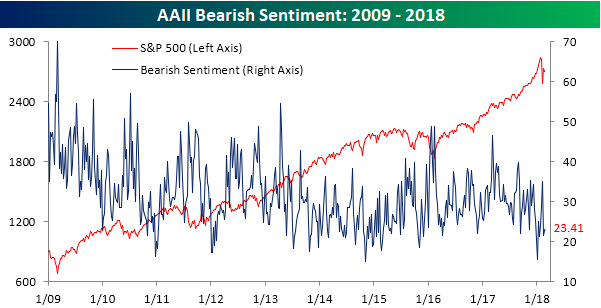 Neutral sentiment, on the other hand, has surged in recent weeks. This week's level of 39.3% is the highest since last July, indicating that while investors have become more skittish of the market, they haven't been completely shaken out.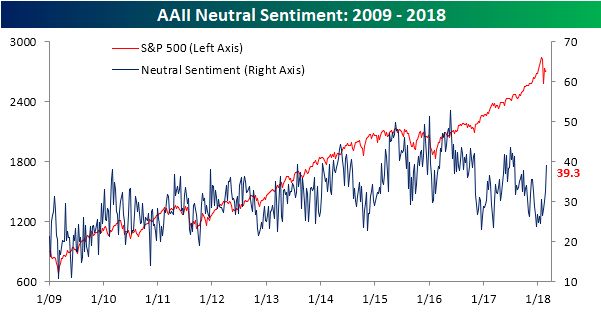 This article was written by
Bespoke Investment Group provides some of the most original content and intuitive thinking on the Street. Founded by Paul Hickey and Justin Walters, formerly of Birinyi Associates and creators of the acclaimed TickerSense blog, Bespoke offers multiple products that allow anyone, from institutions to the most modest investor, to gain the data and knowledge necessary to make intelligent and profitable investment decisions. Along with running their Think B.I.G. finance blog, Bespoke provides timely investment ideas through its Bespoke Premium (http://bespokepremium.com/) subscription service and also manages money (http://bespokepremium.com/mm) for high net worth individuals. Visit: Bespoke Investment Group (http://bespokeinvest.com/)