Back in 1995, on a crisp fall September night, Cal Ripken Jr. did the previously unthinkable and broke one of the most enduring streaks in baseball history when his 2,131st straight game became official in the top of the fifth. That game surpassed the previous record of 2,130 straight games that was held by "The Iron Horse" Lou Gehrig and stood for over a half-century.
Ripken's streak continued another 501 games until 9/19/98 when he voluntarily sat out of what would have been his 2,633rd straight game. Because of the way the game is now played and how players are rested on a somewhat regular basis, there is widespread agreement that Ripken's streak could stand forever.
For the US equity market, there is another almost as impressive streak of consistency that could have set a record had we just managed to post a gain in February. February marked the first down month for the S&P 500 since March 2017 (ten straight months of gains). On a total return basis, though, the streak of gains was even more impressive at 15 straight months heading into February (right side column in the table below).
The last time the index had a down month on a total return basis before February, Hillary Clinton was a shoe-in to be the next President. Just like President Clinton was on hand to watch as Ripken broke Gehrig's streak, President Trump was likely watching this streak just as closely!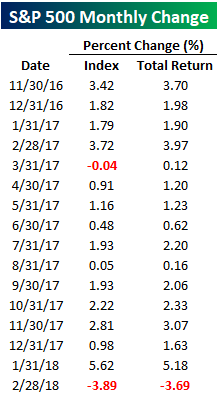 As mentioned above, the 15-month streak of consecutive monthly gains for the S&P 500 is quite an impressive one. Throughout history, there have only been a handful of prior streaks that even reached the double-digit range. In a B.I.G. Tips report we just published this morning, we looked at prior periods when similarly long streaks came to an end to see how the market tended to react. What we found was a clear trend in how equities performed going forward, and depending on your perspective, you'll either love it or hate it.
This article was written by
Bespoke Investment Group provides some of the most original content and intuitive thinking on the Street. Founded by Paul Hickey and Justin Walters, formerly of Birinyi Associates and creators of the acclaimed TickerSense blog, Bespoke offers multiple products that allow anyone, from institutions to the most modest investor, to gain the data and knowledge necessary to make intelligent and profitable investment decisions. Along with running their Think B.I.G. finance blog, Bespoke provides timely investment ideas through its Bespoke Premium (http://bespokepremium.com/) subscription service and also manages money (http://bespokepremium.com/mm) for high net worth individuals. Visit: Bespoke Investment Group (http://bespokeinvest.com/)