Tesla Poised To Post Massive Q1 Loss
Summary
CoverDrive isn't perfect. Far from it. But he's better than any other Tesla forecaster.
He has penciled in some preliminary numbers for Q1. He sees $855 million in GAAP losses, which shatters Q4's staggering record of $675 million.
CoverDrive lays it all out here, explaining his assumptions and confessing where he's guessing.
Tesla Charts is back with some more excellent graphics, including his take on the Bloomberg Model 3 tracker.
We'll make amends for a few misses in our last article, and end with a look at a recent Reddit post about another Model 3 production problem.
We're a month away from the end of a calendar quarter, and that means it's time to check in with CoverDrive about his Tesla (NASDAQ:TSLA) earnings forecast.
His effort one month out always incorporates an unavoidable element of "SWAG" (scientific wild-ass guess). There is no sense pretending to be certain about the number of deliveries or the size of the regulatory credit variables. They bounce around from quarter to quarter, and so one must make an educated guess.
That said, I make no apologies for offering the preliminary forecast, as CoverDrive has been close to the target in the past.
Has he been perfect? Of course, not.
Has he been closer than the contemporaneous analyst consensus? Indeed he has. Just as Mohammed in the end determined the mountain would not come to him, and so he must go to the mountain, so too do the analysts inevitably work their way toward CoverDrive's numbers rather than vice versa.
I. CoverDrive Speaks
Enough throat clearing. Without further ado, I give you CoverDrive. What follows is his missive, delivered on the evening of Feb. 28.
Deliveries:
As always, I begin with estimating car deliveries. Let's look at Model 3 first. Being a new model, there's plenty of forum discussion upon which to draw.
The most surprising thing is that for the last 10 days of February, new VIN assignments dried up almost completely. My take is that the automated battery line will arrive soon, and pending the arrival Tesla has concluded it doesn't make sense to continue cranking the batteries out on the manual line.
In any case, Tesla is running out of time to schedule, build, and deliver more cars this quarter. I'll join my friend Adam Jonas and predict 8,000 Model 3 deliveries this quarter.
For the Model S and Model X, this time it's not as simple as counting VINs. Weekly VIN assignments are running at about 1,500 for Model S and 950 for Model X. That's a very healthy rate of 27,000 for the quarter.
However, in Q4, Tesla drained the inventory and cars-in-transit. Some of this will need to be replenished. I'm going to say 24,000 delivered - 13,000 Model S and 11,000 Model X.
So overall, that adds up to 32,000 - a new record and undoubtedly the headline item of the upcoming Q1 Quarterly Update Letter.
Revenue:
Without taking time to parse out direct sales vs. leases, I expect automotive revenue will be slightly lower than last quarter due to the absence of ZEV credits. On the other hand, I expect non-automotive revenue will recover back to Q3 levels.
So, in the end, Tesla's overall Q1 revenue should be almost identical to Q4.
ZEV Credits:
Because of the change in corporate tax rates, I believe everyone who needed ZEV credits bought them last quarter. I predict only mouse nuts this quarter.
COGS and Gross Margins:
Since this is the first SWAG, I'm just making a common-sense SWAG.
Gross margin will be pulled down by the Model 3, which now represents about 25% of sales. Gross margin for the two luxury cars should be improved now that Tesla is not dumping inventory. In aggregate, I expect a 2% improvement in non-ZEV gross margin.
Ah yes, those "lumpy" ZEV credits. My model shows that without those record credits of last quarter, automotive GM will be down a whopping 5% in Q1 (from 18.9% to 13.8%).
Can that be right? It sounds impossibly low, but I've been reading a fascinating interchange between xonkd, Bill Cunningham, and doggydogworld, and it's given me the courage of my convictions. (Montana Skeptic tells me he'll write about it soon).
Tesla Energy and Services and Other:
Not enough change to tip the needle.
Overall Gross Profit:
Assuming gross margins of 13.8% for Automotive (up 0.6%), 10% for Energy (up 4.5%), and -25% for Services (up 6%), gross profit calculates out at $319 million. That's down about $120 million over Q4.
Operating Expenses:
At this point in Q4, I was projecting very modest growth of operating expenses in 2018. However, Q4 had a surprise increase (5.3%) and the 10-K suggests even more:
We expect operating expenses to grow in 2018 as compared to 2017, although operating expenses should decrease significantly as a percentage of revenue due to the significant increase in expected revenue in 2018 and as we focus on increasing operational efficiency. The growth in operating expense will mainly be driven by engineering, design and testing of new products or changes to existing products and higher sales and service costs associated with expanding our worldwide geographic presence. In addition, we expect operating expenses to increase as a result of increased selling, general and administrative expenses incurred by our energy generation and storage business.
For those of us who use calculators, I'll translate that statement into "3% growth per quarter." Bottom line: $1.068B Op-Ex in Q1.
Operating Income:
Gross Profit - Op-Ex = $750 million loss. That's a new record by $150 million. Just a guess, but I'll go out on a limb and predict Tesla won't highlight that in the Quarterly Update.
Interest and Other:
I'll guess about $175 million based on 2017 data.
GAAP EPS:
Subtract interest and other, and add $70 million for the noncontrolling interest adjustment, and we get a net GAAP loss of $855 million. Yes, another Tesla record.
That's very close to $5.00 per share loss, or a dollar per share worse than last quarter.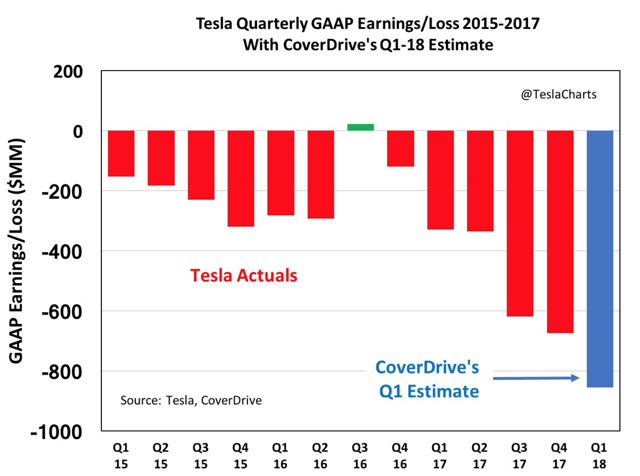 (Q1 GAAP loss of $855 million would shatter Q4's record of $675 million. Chart courtesy of Tesla Charts)
Non-GAAP EPS:
Because non-GAAP is preferred by Tesla and analysts alike, we can improve the EPS by $1.00 for them. There, now, that feels much better, right? We're down to an EPS of ($4.00).
Analysts' Estimates:
Well, there you have it. My preliminary forecast is lower than the lowest of the analysts. I'm very much surprised with the result, but I suspect it's mostly in the ZEV credit expectations.
II. Tesla Charts Improves on Bloomberg's Tracker
It's me again, the Montana fellow, to say, thank you, CoverDrive, and to promise that once Tesla announces its Q1 delivery numbers, CoverDrive will be back with an updated "earnings" forecast.
Also, my sincere thanks to Tesla Charts for the splendid graph that illustrates CoverDrive's Q1 forecast.
Tesla Charts continues to do some splendid work at Twitter, and if you are a member there, you'll have a great deal of fun looking at his admirably clear charts and his amusing posts.
Like many of us, he has been fascinated by Bloomberg's Model 3 Tracker. Based on the Bloomberg graphics, he has made his own chart, which I regard as even better than that of Bloomberg. Here's the latest (8:11 a.m. 3/1/18) version: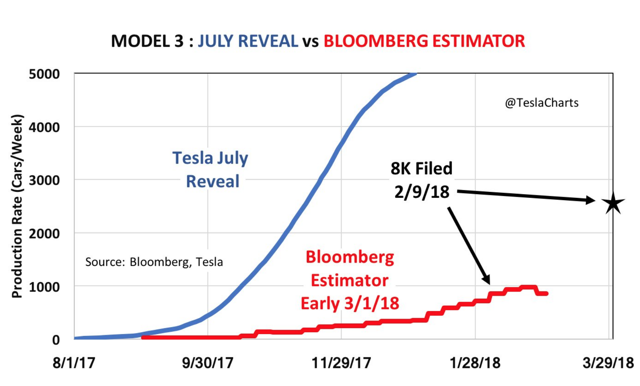 What's that note about the 2/9/18 8K? Tesla Charts draws out the implications of the most odd post-conference call correction in two tweets, here and here. If you're on Twitter, Tesla Charts is most certainly an excellent person to follow.
III. Things I Missed in the 10-K
In my recent article on the 2017 Annual Report, I mentioned some items that had appeared in earlier 10-Ks but were absent this time around, and some disclosures that had changed.
As my alert readers pointed out, my list of omissions was incomplete and I missed the significance of a few changes.
A. The Evil ICE Vehicle Manufacturers
CoverDrive noted that this is new:
In addition, California implemented regulations phasing out a $2,500 cash rebate on qualified electric vehicles for high-income consumers, which became effective in March 2016. In certain circumstances, there is pressure from the oil and gas lobby or related special interests to bring about such developments, which could have some negative impact on demand for our vehicles.
How rich it is that this whining should come from America's all-time corporate welfare queen?
Can you imagine the temerity of those right-wing California legislators, deciding that people with average incomes of $320,000 should not be subsidized by the middle class?
B. Regulatory Credit Opacity
CoverDrive also noticed that whereas Tesla used to break down the amount of ZEV credits and overall regulatory credits, it no longer does.
C. Total Cars Produced
Yet another CoverDrive discovery: Tesla no longer details the total number of cars it produced during the year.
D. The "Battery Pack Flexibility" Omission
I noticed Tesla had deleted this language:
In so doing (designing our battery pack to permit flexibility in cell chemistry and form factor), we can leverage the substantial investments and advancements being made globally by battery cell manufacturers to continue to improve cost.
But I whiffed on the obvious reason why. TheDoktor graciously helped me out, explaining it was to cover for Tesla's admission that it was not going to redesign the battery packs for the Models S or X to accommodate the new, and supposedly superior, 2170 cell.
Once he pointed it out, it was blindingly obvious. Thanks, Dok, you've restored my vision.
E. The Sneaky Omission
Finally, as doggydogworld pointed out, Tesla's earnings release "specifically spoke of changing the Model S and X mix to maximize margins but omitted any similar statement for the Model 3, though they obviously knew they were delaying the low margin base Model."
Yeah, not a good look, Tesla.
IV. What Happens When You Shortcut A Car's Development Process?
In my short thesis, I included this as Item 6:
6. The Model 3 Shortcuts

Tesla took huge risks in abbreviating the production parts approval process, production line validation, and professional beta testing for the Model 3. The car already has been plagued with quality issues, and while those eventually will be corrected, it's likely more will emerge. It's a ticking time bomb.
As I sat down to write this, two of my favorites on Twitter, @MinskysC and @librab103, called to my attention a Reddit post made this evening (February 28) about a Model 3 service center visit.
Let's pick up at the point where the poster's five problems had been addressed and the service center people were just about to roll out his car:
Then they are about to close out my service visit in the computer when they get an urgent alert that my VIN (306*) has been flagged for a Drive Selector Replacement. The issue is the current drive selector could fail and not go into park. So they then explained to me that I could not have my car back and they are waiting on the replacement part from the factory. Here is the kicker... They say it may take weeks to have a new park because it has to be completely redesigned and shipped to SC. There could be a massive recall alert coming...
I doubt Tesla will announce any recall. The problem probably will be handled much more quietly than that.
But the drive selector problem is not the first Model 3 problem and it won't be the last one. Not by a long shot. I'm standing by Item 6 in my thesis (and the other 22 items as well).
This article was written by
I have a J.D. degree from Yale Law School, practiced for 30 years as a trial lawyer in commercial cases, and in the decade that followed managed a $1B+ portfolio for a family office. I have recently retired and am free to write about whatever I want. And so I will.The fellow in my icon is Galileo Galilei, who famously said: Eppur si muove.I say, less famously: Time is the only reliable solvent of folly.
Analyst's Disclosure: I am/we are short TSLA. I wrote this article myself, and it expresses my own opinions. I am not receiving compensation for it (other than from Seeking Alpha). I have no business relationship with any company whose stock is mentioned in this article.

I am short TSLA via long-dated options.
Seeking Alpha's Disclosure: Past performance is no guarantee of future results. No recommendation or advice is being given as to whether any investment is suitable for a particular investor. Any views or opinions expressed above may not reflect those of Seeking Alpha as a whole. Seeking Alpha is not a licensed securities dealer, broker or US investment adviser or investment bank. Our analysts are third party authors that include both professional investors and individual investors who may not be licensed or certified by any institute or regulatory body.