Failing Thursday - Hedging For The Next 10% Correction
Mar. 01, 2018 11:24 AM ET
SPY, QQQ, DIA, SH, IWM, TZA, SSO, TNA, VOO, SDS, IVV, SPXU, TQQQ, UPRO, PSQ, SPXL, UWM, RSP, SPXS, SQQQ, QID, DOG, QLD, DXD, UDOW, RWL-OLD, SDOW, VFINX, URTY, EPS, TWM, SCHX, VV, RWM, DDM, SRTY, VTWO, QQEW, QQQE, FEX, ILCB, SPLX, EEH, EQL, SFLA-OLD, QQXT, SPUU, IWL, FWDD, SYE, SBUS, SMLL, SPXE, PPLC, PPSC, UDPIX, JHML, OTPIX, RYARX, SPXN, USSD, HUSV, RYRSX, SCAP, SPDN, SPXT, SPXV, USWD
89 Comments
Summary
Our hedges are paying off, up $6,620 yesterday.
Are we hedged enough if this market turns REALLY ugly?
Do investors still have nowhere else to go but equities?

This is getting to be fun, right? We shorted the Nasdaq at 7,000 on Tuesday morning and, we strategized shorting the Dow at 25,500, which paid $2,500 per contract and the S&P at 2,750, which also paid $2,500 per contract. Now we'll see if the rest of our prophesy plays out:
"...if the S&P can't hold that 2,750 line - next stop is 2,735 and below that is DOOM!!!"
DOOM!!! in this case is the 200-day moving average, all the way down at 2,557 but there should be interim support at 2,640, which is the 20% line on the Big Chart so we'll take short profits there and look for a bounce. We're certainly not going to be bullish again until those 50-day moving averages are retaken and keep that in mind for next time when we urge caution.

As we expected, our Short-Term Portfolio, which was $116,777.50 yesterday morning, jumped to $123,397.50 for a gain of $6,620 as our DIA June $255 puts moved back into the money and SQQQ climbed back over $15. But those trades "only" provide $100,000 and $40,000 worth of protection, respectively, so it's time to consider the next layer of hedges - just in case this drop doesn't stop at the previous lows.
One thing we can do with DIA that doesn't cost much is to add a more speculative spread. Our June $255 puts were at the money when we bought them and we sold 1/2 as many June $230 puts, capping our gains a bit but what if we added the Sept. $240 ($8.50)/225 ($5.50) bear put spread for $3? 20 more of those is just $6,000 and gives us $60,000 worth of protection if the Dow drops 20% and, more importantly, it lets us take a profit on the $255 puts off the table (when we decide to) and then becomes a cover for the short June $230 puts in case we're wrong and the Dow continues lower.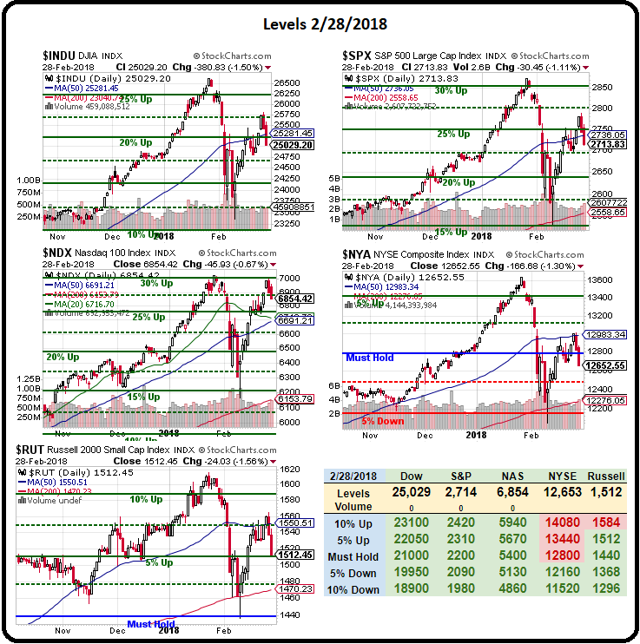 That's how we layer our hedges. We plan in advance to dismantle our original hedge so we can take advantage of a change in direction - like we did last month when we flipped bullish on the 10% drop. This time, we may not be as quick to flip though.

We already added 40 naked long Nasdaq Ultra-Short (SQQQ) Sept. $15 calls as the Nasdaq blasted higher two weeks ago and they are now slightly in the money at $3.65, and we should be able to sell the $20 calls for $3 today and that will free up $12,000 we can use for another hedge while still giving us $20,000 worth of additional protection and, as a bonus, with the Jan. spread acting as a hedge, we'll be able to take profits on the Sept. $15 calls when we need to and leave the new short $20s covered by the Jan. $20/30 spread. That's how one little change can flip our whole portfolio from bearish to bullish any time!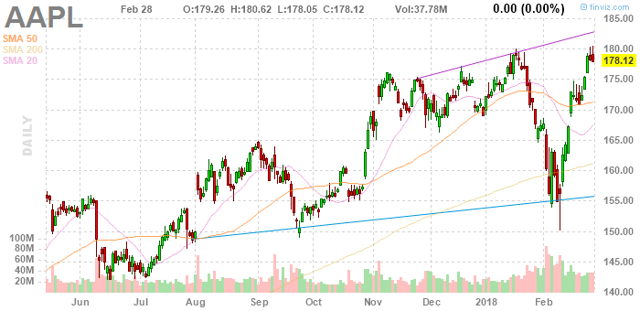 The Nasdaq is still our most overbought index, led back to highs by Apple's (AAPL) 16% run over the past two weeks. AAPL is about 17% of the Nasdaq by weight so, by itself, it accounted for almost 3% of the Nasdaq's 11% recovery. Now, we think AAPL deserves every penny of that $180 valuation but not so much Amazon (AMZN) at $1,512, Netflix (NFLX) at $291 and certainly not Tesla (TSLA) at $350 - those are some examples of Nasdaq stocks that could drop 20% and still take 100 years or more to pay back the money they are asking you to put into a share of their stock!
As I've been saying for years now: Money, like Richard Gere, has nowhere else to go, so it's been forced into equities - pushing valuations up to extreme levels. That doesn't mean, as the pundits like to say, that equities are the best place to be - just like standing outside your college dorm in the snow in your PJs isn't the best place to be when someone pulls the fire alarm at 2am - it's simply that you just have nowhere else to go - so you go there!
Lost in the shuffle last week, Goldman Sachs (GS) said stocks could drop 25% if rates rose to 4.5%. My comments on this?
"Good morning!

Not sure what the markets are excited about. Powell's written testimony seems to keep the Fed on a tightening path and NO ONE is talking about Goldman's call that the market will drop 25% when rates hit 4.5% but I bet GS's HNW clients are looking to lighten up as we test the highs again.

Notice on the Big Chart the Nas is about 3.75% ahead of the Dow, RUT and S&P in recovering so watch out for any weakness on them to cause the rubber band that connects them to snap the Nas back down."
The 10-year note is at 3% now and the Fed is expected to roll out four 1/4-point rate hikes in 2018 so maybe 4% by the end of the year - if there are no outside factors that force our rate higher - like a loss of appetite for U.S. T-Bills just as we're ramping up our borrowing to insane levels. Not too far-fetched, is it?
Around the world, yields on unstable US government debt are at the highest levels in four years and that drives up the cost of insuring U.S. government debt, which then makes buying our bonds much less attractive to foreign investors (and it's also a sign that people are using faith in our ability to repay the loans, of course). In fact, yields on two-year T-Bills are 275 basis points (15%) higher than they are on two-year German notes (still -0.52%) but the German notes are still a better deal as it costs 300 more basis points (3%) to insure the US debt against default.
So rates are not entirely under the Fed's control and its move to push rates to 3.75-4% in 2018 are simply a starting point for where we might end up if the dollar gets weaker or our government looks more unstable (just a tweet away!). Already, the data from fund-tracker EPFR Global showed that average weekly purchases of U.S. bonds by non-U.S. investors have dwindled by nearly a third to $9Bn so far this month compared with more than $13Bn last year.
As we expected, PCE came in at 0.4% this morning, and personal income kept pace, also bumping up 0.4%, while personal spending remained calm at 0.2%. This is inflationary in a stagnant spending environment - what used to be called stagflation - back when we had such things as naturally-moving markets. Durable goods were down 3.7% on Tuesday and pending home sales were down 4.7% yesterday - and people wonder why the market dipped?
Be careful out there!
This article was written by
Philip R. Davis is a highly respected options trader, entrepreneur, and founder of philstockworld.com, one of the most influential stock and options trading sites on the web. With over 20 years of experience in the financial industry, Mr. Davis has earned a reputation as a trusted authority on options trading, equities, and macroeconomic trends. As the creator of Phil's Stock World, Mr. Davis has built a vibrant community of traders and investors of all levels, providing them with unparalleled insights, analysis, and trading ideas. Whether you're a beginner or a seasoned pro, Phil's Stock World offers valuable resources that can help you navigate the complexities of the financial markets and achieve your investment goals. With a unique approach to teaching the art of options trading, Mr. Davis and his team of expert contributors including Optrader, Sabrient, Income Trader, Trend Trader, and Warren the Trader AI provide members with live chat sessions during trading hours, real-time trade alerts, and in-depth technical and fundamental analysis of hundreds of stocks. In addition to his role as an options trader and financial guru, Mr. Davis is a serial entrepreneur and founder of several successful companies, including Accu-Title, a real estate title insurance software solution, and Personality Plus, a precursor to eHarmony.com. He is also the President of Delphi Consulting Corp., an M&A consulting firm that helps companies of all sizes obtain funding and close deals. With his unique blend of wit, humor, and financial acumen, Mr. Davis is a sought-after speaker on options trading and financial markets. His writing style is both entertaining and informative, providing readers with specific and actionable trade ideas, as well as deep insights into the macroeconomic forces that drive market trends. In short, if you're looking for a trusted and experienced options trader and financial expert, Philip R. Davis is the real deal. Join the growing community of traders and investors at Phil's Stock World, and start profiting from his insights and analysis today.
Analyst's Disclosure: I am/we are long SQQQ, AAPL, TZA, SDS, DXD, LQMT, FTR.

Positions as indicated but subject to RAPIDLY change (currently mainly cash and an otherwise slightly bearish mix of long and short positions - see previous posts for other trade ideas).
Seeking Alpha's Disclosure: Past performance is no guarantee of future results. No recommendation or advice is being given as to whether any investment is suitable for a particular investor. Any views or opinions expressed above may not reflect those of Seeking Alpha as a whole. Seeking Alpha is not a licensed securities dealer, broker or US investment adviser or investment bank. Our analysts are third party authors that include both professional investors and individual investors who may not be licensed or certified by any institute or regulatory body.