It Is Finally Time To Get Into Adamis Pharmaceuticals
Summary
Adamis is one of the winners of the firestorm surrounding unjustified price hikes of Mylan's EpiPen since it provides a lower cost alternative.
Company's recent update brings the hope back that there is really a co-promotion deal being worked out for Symjepi's launch.
U.S. application seeking approval to expand the indicated population to include pediatric patients weighing 33-65 pounds has been submitted.
Even with competition and competitor drugs, Adamis' current market capitalization is too low considering the opportunity it provides.
If Adamis can gain 5-10% of the 1.1 billion EpiPen market, it will be a major boost for its share price.
This video summarizes this article and provide a strategy for how to trade the stock.
Introduction
This is how the company describes itself in its website,
"Adamis Pharmaceuticals Corporation is a specialty biopharmaceutical company focused on developing and commercializing products in the therapeutic areas of respiratory disease and allergy. The Company has an FDA approved product, Symjepi, which is an Epinephrine Injection pre-filled syringe product for use in the emergency treatment of anaphylaxis."
Adamis (NASDAQ:ADMP) uses already approved products and compounds, reformulates them, or makes generic versions of them, which it them to utilize 505(B)(2) regulatory route which permits it to skip the pre-clinical and Phase 1 clinical study phase of the drug development. This makes the path to market much shorter and cheaper. It uses new platform Taper Dry Powder Inhaler (DPI) technology that it acquired from 3M (MMM).
The Journey After Symjepi's Approval
It has been a very painful ride for the ADMP stockholders. Its NDA for a SymjepiTM, which is a generic version of EpiPen, was approved in June of last year. The company had announced that it would look for a co-promotion with a big player and had no intention to launch the product by itself. The wait for the announcement of its co-promotion deal has been long and frustrating. The delay caused a major drop in the stock price until the recent update from the company. The company just announced that it is working with two potential companies, and the next press release will be about the final deal. Let's hope this happens soon and does not take another eight months.
I thought the co-promoters were waiting for Adamis' supplement NDA which will expand the population to include pediatric patients weighing 33-65 pounds to get approved before signing a deal, but it seems like that's not the case. After all, these kids are providing a big market opportunity.
Symjepi has a huge market potential. About 15% of the ~$1.1 billion EpiPen market is the professional sector consisting of hospitals and other medical facilities. I expect Adamis to focus on this market first and rapidly gain market share here.
The other 85% of the market is on the consumer side. Symjepi has several advantages besides cost over the EpiPen. One is, it is half the size, and it is also easier to use.
If Adamis can gain 5-10% of the EpiPen market, then the current company valuation of 120 million seems very low. With a right deal (with the emphasis on the "right"), the stock could easily multiply in the coming years.
The investment firm Maxim has announced that if Adamis were to achieve just a 5-10% share of this likely billion-dollar market, it could translate into $50-100 million in revenues and could be a significant value driver for the stock.
The company has poor investor relationship and has been very quiet about what is happening with the co-promotion deal for a long time (the link to company press release shows no news about this co-promotion deal in the past eight months). This silence has hurt the stock price and the confidence of the Wall Street in the management. Wall Street does not like uncertainty, and the silence about the co-promotion deal may be interpreted by some investors that the management can't find or can't close a deal so they stay on the sideline until they get clarity.
Recently, Maxim lowered its price target to $5. Analyst comments:
"We have not had any recent news on the launch and other developments associated with Symjepi. As a result, we are increasing our therapeutics risk cut to 30%, from 25%, in our Epinephrine Pre-Filled syringe model, commercial assumptions. In addition, we are also pushing-out our timing back for the other pipeline products models which include APC-1000, APC-2000 and APC-5000 inhalers. The result of these changes is our price target falls to $5, from $14."
What is remarkable with the Maxim Group report is that it is the lack of recent news and updates on the launch that has caused it to revise its price target downward. Now, with the latest update about the co-promotion deal, I wonder Maxim analysis is obsolete since it addresses Maxim's major issue.
Valuation
While $5 target proposed by Maxim is still well over where Adamis is trading now, it represents a significant cut in expectations. Maxim has a probability-based price target model, which is problematic for a biotech company. With the right deal, the price will go far higher than $5.
In my calculation, $50-100 million in sales translates to $250-500 million market cap as 5 times sales is a usual formula for calculating market cap for companies. Consequently, a $250-500 million market cap translates to a $7.5-15 stock price. So, ADMP could a multi-bagger if things go right.
Competition
There a lot of wolves out there who want a piece of the cake of the EpiPen market. AUVI-Q from Kaléo and Adrenaclick from Impax Laboratories (IPXL) offer competitive prices, deals for patients, insurers, and healthcare providers. Adamis Pharmaceuticals will need to move on production cost efficiencies, pricing, marketing, negotiating with retailers like CVS (CVS), and keeping its own balance sheet in line without compromising its APC products.
But it should be noted that the competition has had major issues with launching its products. Pharmaceutical company Kaléo - already under fire for raising the price of an overdose antidote - now plans to put an alternative to the EpiPen on the market for more than seven times the cost of the leading $608 drug. Kaléo's epinephrine injector, used to stop severe allergic reactions, will go on sale for $4,500 for a pack of two, beginning on 14 February. The auto-injector's innovative audio instructions walk caregivers through administering less than $5 worth of epinephrine. Remarkably, because of a system of coupons and discounts, Kaléo's epinephrine injector Auvi-Q may have the lowest out-of-pocket costs for patients, a strategy some critics say may help some customers but leads insurance companies to redistribute the cost of the drug through insurance fees to remain profitable.
This bodes well for Adamis since it seems that the price for generic EpiPen versions is much higher than expected. Adamis is dealing with a competitive market but still has a good chance of getting a piece of the big pie if it can price the product right.
Pipeline
Following is the information from company's website about its pipeline. With the money earned from Symjepi, Adamis can start to continue with the clinical development of its pipeline and create further value for the shareholders.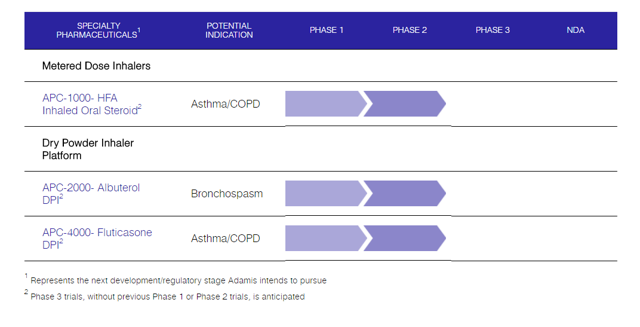 APC-1000 - HFA Inhaled Oral Steroid
If approved, the APC-1000 by Adamis will be a hydrofluoroalkane (HFA) inhalable oral steroid for the treatment of asthma and COPD. APC-1000 uses a well-known and accepted steroid combined with an HFA propellant that makes this product a pulmonary-metered dose inhaler (pMDI) with global potential. The company believes that product development risks for this product are low due to the widely accepted and documented clinical trial path to approval.
APC-2000 - Albuterol DPI
If approved, the APC-2000 will be a Taper Dry Powder Inhalation (DPI) short-acting β2-adrenergic receptor agonist for the treatment of bronchospasms. For this product, Adamis is using albuterol (salbutamol) and combining it with a DPI propellant to relieve the symptoms of asthma.
APC-4000 - Fluticasone DPI
If approved, APC-4000 will deliver Fluticasone as a dry powder for inhalation for the potential treatment of asthma. APC-4000 will be the first product by Adamis to use the Taper Dry Powder Inhalation technology acquired from 3M Drug Delivery Systems. The Taper DPI is a patented pre-metered device that Adamis expects will have a number of potentially advantageous features, including:
Greater efficiency
Less dependence on the individual's aspiratory flow rate (due to the aerosolization energy inherent in the device)
Eliminated need for excipients in most formulations
Capability of delivering up to 120 doses (a two-month supply)
Moisture protection
Ease of use
Design that reduces the likelihood of delivering a double dose
Financial Situation
Per company's lasted 10-Q (quarterly report), it had $23 million in net cash by September 2017. Its cash burn was around 8 million in the third quarter of 2017, so by end of March, it should have only $7 million left. Hence, a deal and an upfront payment are needed by end of Q2 in order to avoid a secondary offering. Therefore, a deal should be finalized in the coming months or the stock will tank even more due to concern for a secondary offering. The company has not filed an S-3 form, so it seems like it doesn't think it needs to raise cash soon.
Stock Performance
Below is the six-month chart for Adamis. As you see, the stock tanked recently due to lack of news and update from the management regarding the co-promotion deal. But it had a big spike with more than 7 times its average volume the other day, after the company provided an update about the progress of its co-promotion deal. I expect the stock to settle after this big run. If the stock settles above $3 in the coming days, I think it is right time to get into the stock with the anticipation of the news regarding the co-promotion deal in the coming weeks which will be a huge catalyst for the shares.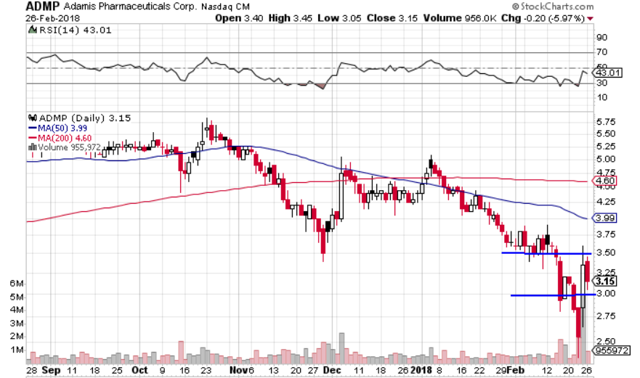 Risks
The other thing to consider is Symjepi's fixed dose. It is supposed to be kept away from patients weighing under 66 lbs. without special medical supervision. The pending supplemental NDA will take care of this issue since it will introduce a product for patient weighing between 33 and 65 pounds.
Dilution (secondary offering) is a risk as time passes with no co-promotion deal. As Adamis burns cash, it will be harder for it to negotiate from a position of strength. The one benefit for shareholders is the fact that insiders own a substantial piece of Adamis stock. A dilution at or near the current share price would be crippling.
This article was written by
The opinions are mine and are not intended to be used as a personalized investment recommendation. Please note I am NOT a certified financial adviser."
Analyst's Disclosure: I am/we are long ADMP. I wrote this article myself, and it expresses my own opinions. I am not receiving compensation for it. I have no business relationship with any company whose stock is mentioned in this article.
Seeking Alpha's Disclosure: Past performance is no guarantee of future results. No recommendation or advice is being given as to whether any investment is suitable for a particular investor. Any views or opinions expressed above may not reflect those of Seeking Alpha as a whole. Seeking Alpha is not a licensed securities dealer, broker or US investment adviser or investment bank. Our analysts are third party authors that include both professional investors and individual investors who may not be licensed or certified by any institute or regulatory body.