Mallinckrodt: Can The Upside Trump This Pertinent Risk?
Summary
We recently featured Mallinckrodt in Alpha Intelligence with a buy recommendation.
Multiple catalysts suggested that the stock is a stellar buy.
Nevertheless, a key signal in the balance sheet (as keenly spotted by President of Business Development Abelardo Fraga) prompted us to stay neutral on Mallinckrodt.
"Never promote someone who hasn't made some bad mistakes, because if you do, you are promoting someone who has never done anything." - The Father of Growth Investing (Philip Fisher)
Subsequent to the post-earnings appreciation, shares of Mallinckrodt Pharmaceuticals (NYSE:NYSE:MNK) tumbled over 10% to trade $1.98 lower at $16.68. In our recent Alpha Intelligence, we elucidated a bull thesis on the company by detailing various promising fundamental developments. In this article, we'll take the next step to reevaluate this thesis against a recent finding that our president of Business Development, Abelardo Fraga, has alerted us to.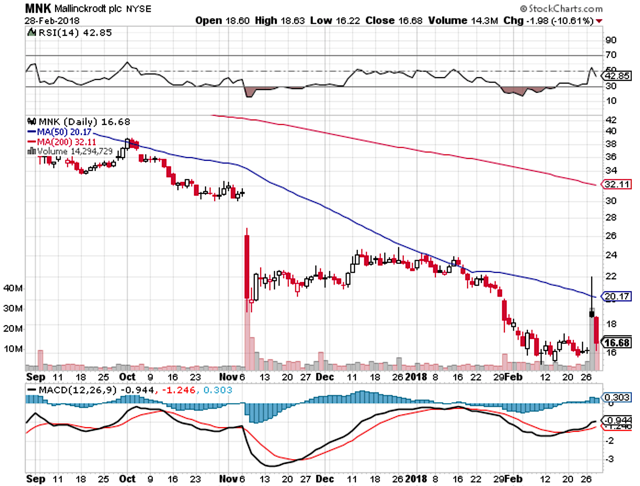 Figure 1: Mallinckrodt stock chart. (Source: StockCharts).
Fundamentals Analysis
As the 2013 spin-off from the giant medical device maker, Covidien (NYSE:COV), Mallinckrodt acquired Questor Pharmaceuticals (NASDAQ:QCOR) in 2014 to take ownership of its flagship product, Acthar Gel. As a repository corticotropin injection, Acthar Gel is approved to treat infantile spasm. What enabled the company to deliver increasing earnings in subsequent years is the premium pricing for its drug. Nevertheless, growth in sales is cooling down. Despite the company's efforts, it is not far from the truth that the ongoing downtrend for Acthar Gel is highly difficult to reverse.
In addition, the company is marketing a robust products portfolio as depicted in Figure 2. This includes nitric oxide gas (Innomax), acetaminophen injection (Ofirmev), Therakos photopheresis, fibrin sealant (Raplixa), surgical sealant (Preveleak), and topical thrombin (Recothrom).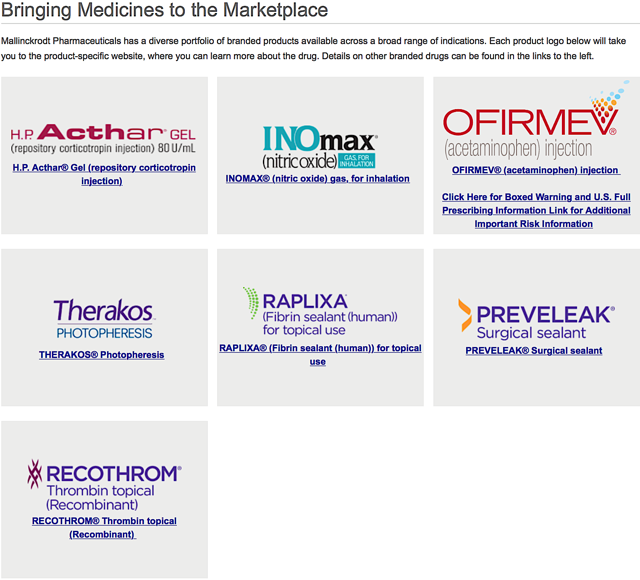 Figure 2: Branded products portfolio. (Source: Mallinckrodt).
Per Table 1 below, the sales of the aforementioned medicines are overall increasing robustly. We anticipated that the company will continue to procure significantly more profits for shareholders.
| | |
| --- | --- |
| Branded Therapeutics | Generics Segment |
| $582M net sales for Q4 2017 vs $603M for Q4 2016 (-3.7%) | $195.8M in Q4 2017 vs. $212.9M in Q4 2016 (-8.5%) |
| Acthar Gel: $295.2M vs $325.4M (-9.3%) net sales | |
| Inomax: $125.6M vs $118.2 (+6.1%) | |
| Ofirmev: $78.0M vs $72.5 (+7.6%) | |
| Therakos: $57.2M vs $47.4M (+20%) | |
Table 1: Quarterly figures for branded and generics segments (Source: Dr. Tran BioSci)
That aside, insiders have been purchasing shares aggressively and unanimously since 2016. We note Peter Lynch's wisdom that "insiders might sell their shares for any number of reasons, but they buy them for only one: they think the price will rise." Interestingly, the company also recently bought back over 10% of shares outstanding, which added up to 9.4M shares for $214M. Of note, Mallinckrodt announced on Dec. 26, 2017, that the firm will acquire Sucampo Pharmaceuticals (NASDAQ:SCMP) for $1.2B. With the deal set to be consummated in Q1 of this year, the buyout would enable the company to have ownership of a stellar approved-molecule to treat constipation, lubiprostone (Amitiza).
In the midst of what are seemingly favorable developments, we were notified to reassess the balance sheet by CEO Abelardo Fraga of AFDatalink, who recently transitioned to lead Integrated BioSci Investing as the president of business development. President Fraga keenly elucidated that the latest net intangible assets and goodwill are $8.54B and $3.45B, respectively. We conducted this calculation a step further and realized that the percentage of the intangible assets made up 58% of the total assets. This percentage is too excessive to absorb the $9.5B aggregate liability, thereby making this investment extremely risky.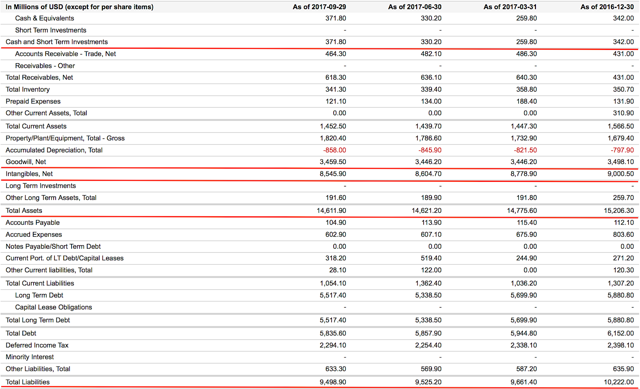 Figure 3: Key points in the balance sheet (Source: Google Finance)
Final Remarks
The company seemingly has strong overall fundamentals, and is heading in the right direction for becoming a successful turnaround story of 2018. Multiple powerful catalysts are brewing in the background and the corporate guidance for 2018 is also optimistic. Although the aforesaid developments were quite promising, we'll take CEO Abelardo's stance on Mallinckrodt in that the balance sheet indicates a key weakness that we overlooked in our prior analysis. While the firm can successfully turnaround to deliver multibagger profits, the reasons noted above are pertinent enough for us to be neutral on this company.
Finally, we come back to Fisher's quotes in that during our due diligence we'll make mistakes here and there. Be that as it may, we hope to maintain our accuracy and our success in order to outweigh the mistakes. Last but not least, we'll be transparent about our shortcomings with you, our partners.
Author's Notes: We're honored that you took the time to read our market intelligence. Founded by Dr. Hung Tran, MD, MS, CNPR, (in collaborations with Analyst Vu, and other PhDs), Integrated BioSci Investing ("IBI") is delivering stellar returns. To name a few, Nektar, Spectrum, Atara, and Kite procured over 359%, 180%, 785%, and 83% profits, respectively. Our secret sauce is extreme due diligence with expert data analysis. The service features a once-weekly exclusive Alpha-Intelligence article, daily analysis/consulting, and model portfolios. Subscribe to our marketplace now to lock in the legacy price and save money, as we're increasing our price soon.
This article was written by
The #1 Biotech Service for Growth Investing and Catalyst Power Trading
As an astute devotee of Warren Buffet, Ben Graham, Phillip Fisher, Sir John Templeton, and Peter Lynch, Dr. Harvey devoured any resources/books on these gurus to learn their craft for over two decades. In the process, he refined their investment approaches specifically to biotech and founded Integrated BioSci Investing: The Number #1 Biotech Service for Long-Term Growth Investing and Power Catalyst Trading. 

Since inception, our flagship portfolio has delivered over 31.23% annual average (i.e. 187.39% for roughly six years). As you can appreciate, we're adept at assisting and serving institutional/retail investors/traders who are looking for alpha. Dividend investors wanting to boost your return can also benefit greatly from our investment research. We currently have over 20 docs in our service for us to tap into their clinical insight for your gains.

Check out some of our binary event forecasts that lead to meteoric gain like the 359% single-day pop from Madrigal Pharmaceuticals (MDGL)'s NASH data release. During his training at the world-renown Columbia University, Harvey Tran, M.D., M.S., developed a passion/edge for analyzing the intricacies of various preclinical/clinical studies, biostatistics, and science/medicine. Importantly, it allowed the physician-scientist Harvey to realize the internal working of various therapeutic in-development that the market tends to overlook.

In recent years, Dr. Harvey founded and led two healthcare roll-up companies. The endeavor helped him gain deep insight into the inner working of a corporate board. His experience as a consultant to common/professional investors and institutions gave him a huge advantage in biotech analysis. The combination of elite training and a passion for biotech provided Dr. Harvey with an aptitude for delivering highly accurate clinical data forecasting that is crucial to picking winning biotech investments for you.

Follow us for the latest research. And, take our FREE 2-week trial to Integrated BioSci Investing to start your winning process now!

Check out Dr. Harvey's LinkTree for his complete experience. You can make your one good decision a year as Mr. Buffett recommended by checking out  Integrated BioSci Investing!
Analyst's Disclosure: I/we have no positions in any stocks mentioned, and no plans to initiate any positions within the next 72 hours. I wrote this article myself, and it expresses my own opinions. I am not receiving compensation for it (other than from Seeking Alpha). I have no business relationship with any company whose stock is mentioned in this article.
Seeking Alpha's Disclosure: Past performance is no guarantee of future results. No recommendation or advice is being given as to whether any investment is suitable for a particular investor. Any views or opinions expressed above may not reflect those of Seeking Alpha as a whole. Seeking Alpha is not a licensed securities dealer, broker or US investment adviser or investment bank. Our analysts are third party authors that include both professional investors and individual investors who may not be licensed or certified by any institute or regulatory body.