Time to talk about Veritone (NASDAQ: VERI). There has been a lot of hype surrounding the company. This comes to no surprise as investors watched its stock price jump over 615% in a month from late August to September. Since then the stock has fallen considerably back down. It should come to no surprise to say that a significant portion of this jump was due to fair-weather investors who saw the rapidly increasing price and jumped aboard as well as overhype around the company in general. Its inevitable fall also was coupled with large outlash from large investors and notable bears which accused the company of many things. From calling it a scam to saying the company is just plain terrible. But many do not actually understand what it does at all; and their claims and cries of fraud and foul-play should be your first clue at exactly how much is known about Veritone.

(Chart Courtesy of Yahoo Finance)
Luckily, it was this rise and then subsequent fall that sparked my interests in the company. Indeed I rode the roller coaster up but sold before some of the more absurd peaks. After this subsequent fall, I put on a position. Let me tell you why. As always, the most important thing to do is to try and see the forest through the trees. So let us dive deeper and look closely at exactly what the company does, what its potentials are, and why I think it is a great investment at the present price.
So what does Veritone do exactly? Veritone operates a proprietary platform which uses machine learning and cognitive computing to translate unstructured data into searchable structured data which can be utilized to create actionable intelligence. What does this mean? Well to simplify: the advent of computers brought to life the era of data collection. Computers have gotten unbelievably powerful and efficient of collected and storing data. The problem is that this data is generally largely unintelligible to them. They do not understand what they are storing, just that they are storing something. That is where Veritone comes into play. Using its platform, aiWARE, Veritone is able to take large volumes of unprocessed unstructured data and structure it to be actually useful without taking thousands of man-hours to incorporate or interpret this by hand.
A very common misconception surrounding the process is exactly what this all means. Many of the people I have talked to seem to say to me "Oh they said AI? Must be a scam… there is no such thing as AI right now. They are just staying buzz words". Now here is the deal. For better or for worse, people have made the term AI mean a variety of things. Yes it can be the HAL9000s and the Sonny's of the world (Get it? iRobot reference for the fans out there) but it can also be a larger field that encompasses machine learning and neural networks.
And as if I planned those two last buzzwords, let's dive into the science of what those two words mean and how they are very important and pretty much exactly what Veritone uses. So to answer the uninitiated: no, Veritone does not use or claim to use a sentient form of AI that is a digital human brain. But they do presumably use methods and processes that are very similar to machine learning and neural networks. So how do these methods work? Well machine learning involves building systems and code which is able to complete tasks without explicitly being programming to do so. While neural network involves programming a computer system which functions similar to a human brain in that it has nodes inside of it which collectively allow for more complex processing of tasks and information. The combination of both, again, fall under the umbrella term "AI" or "artificial intelligence".
So we now know what AI is and what popular methods Veritone uses to analyze the unstructured data. I am sorry to have nerded out or bored you all. So to make up for it, let's get to some more interesting things about the business and how they make money.
Veritone uses its proprietary cloud-based program aiWARE to process and analyze this unstructured data into structured data. According to Veritone's S-1 statement, this structured data is formatted as a "searchable, time-correlated database, creating a rich, online, searchable index of audio, video and structured data". The software is licensed to customers with a SaaS model. This will obviously be important when we look at comps later on.
So what can aiWARE do exactly? Well, according to filings and customer information, the answer is quite a bit. Below is a table directly from the company's website. aiWARE boasts 178 engines capable of some of the most commonly used engines below. Though the accuracy of the engine at present compared to reported human accuracy is lower with the use of some engines, the benefit comes with the cognition speed of the engine as well as the cost benefit of not needed human labor.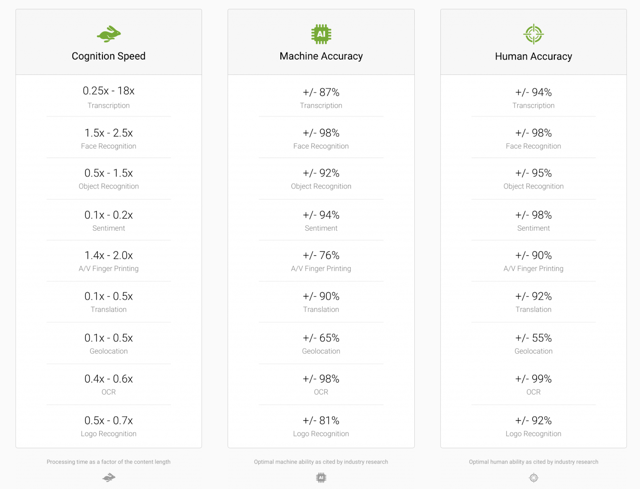 (Source: Veritone Website)
Let's talk about the most recent earnings call. Pre-earnings (day of), VERI was up 18% in anticipation of a beat and was subsequently down 14% after hours after the company missed EPS by $0.18. Per usually, this overshadowed the more positive elements of the company. But a deeper looks shows perhaps a different story.
The company's AI SaaS net revenue grew a staggering 189% YoY with monthly recurring revenue growing 276% to $173,000 per month. For the full year, gross profit has also increased 82% since last year. The growth in segments was significant across the board, however, the news wasn't all good. Operating expenses increased and on a non-GAAP EBITDA basis, the loss was $10.2 million compared for $7.2 million for 4Q16. On a full year basis the EBITDA loss was $10.2 million compared to $21.5 million respectively. This increase was directly attributed to new hirings for "software engineering, data science and sales and marketing". I think a number of investors do not fully understand the extent of these new hirings. For example, according the Q4 earnings call, the company doubled its AI sales team during 2017. The CFO commented that this hiring rate will substantially decrease in 2018.
The final take away albeit key performance metrics, is the credibility of management projections. For Q4, management hit or beat almost all of its goals: number of processes hours of video and audio and third-party cognitive engines on the platform; just to name a few.
Now this point is key, in my opinion. From a business strategy standpoint, we are seeing VERI take a similar approach to Amazon (NASDAQ: AMZN) in the early days. Veritone is running at a loss in the short-term (or a greater loss than necessary more accurately) in order to build momentum and increase future earnings potential. This is evident by their investment in sizably increasing headcount in key positions to accelerate the development and sale of their platform. Stock-based compensation also increased but this was a result of options granted at the time of the IPO. This seems to be more of a one-off expense than a recurring expense and should not be held as hard as it has been against the firm.
First up is key performance metrics for its AI platform. When looking at the growth of customer base on the platform, the company experienced a 217% increase for the quarter YoY. In addition to this, the number of accounts on the platform grew from 23 from 4Q16 to 467 in 4Q17. On third-party active cognitive engines on the platform, the number grew from 13 to 151, surpassing the company's goals of 150 by 2017.
The big metric here, however, is the number of hours of data processed. For Veritone's aiWARE in the fourth quarter, the company processed a staggering 1.36 million total hours of video and audio content. This brings the full year numbers to 2.87 million hours of video and audio content processed (over the 2.75 million management projection). Management also lined up projections for 1Q18 at 1.9 million hours of video and audio processed as well as commented on a number of very large accounts that the company is in talks with.
Management also commented that the second half of 2017 was very helpful in learning exactly what customers are interested in and how to adapt aiWARE to meet various company needs. For example, management commented on two different adaptations of aiWARE to work behind a company's firewall as well as a limited network version. This shows the management is willing to invest to provide companies exactly what they need. This quality stands as a proxy for how concrete these customers are and how sticky the demand side is. So far, from what I can tell, customers and users of aiWARE and VERI's services and platforms seem satisfied.
So what are the takeaways? Well while the stock gets hammered after a dramatic initial IPO, the company fundamentally only has shown positive signals. Investors seem to be reacting more emotionally as they chase short term gains similar to those that Veritone experienced in its initial meteoric rise. Though the likelihood of the same type of hype is very low (lightning rarely strikes twice), I believe in the mid to long-term we could very well see Veritone's valuation move upwards to justify its 52-week high price easily.
Veritone is a company on the cutting edge of technology with a strong management team that means goals. VERI has taken a "spend now to grow more later" approach which should being to payoff in the coming quarters. The company's product addresses a significant need in the market and will continue to soak up market share as the engines of their aiWARE platform continue to improve and expand. With all this said, Veritone appears to be a very attractive opportunity for investors with perhaps the potential to deliver substantial returns to shareholders in the long-run. There are two possible outcomes for this: either Veritone continues its momentum and gets acquired, or the company continues unobstructed and becomes a dominant player in its field with the lion's share of the market.
Disclosure: I am/we are long VERI. I wrote this article myself, and it expresses my own opinions. I am not receiving compensation for it (other than from Seeking Alpha). I have no business relationship with any company whose stock is mentioned in this article.