Allergan: Botox Biosimilar From Mylan And Revance Sounds Ominous
Summary
MYL and RVNC announced a collaboration to create a biosimilar to rival AGN's Botox.
RVNC's RT002 has shown promise in clinical trials. RVNC's product expertise and MYL's capital and regulatory expertise could be formidable.
It could hurt Botox's long-term growth prospects and cause investors to question AGN's 10x run-rate EBITDA multiple.
Sell AGN.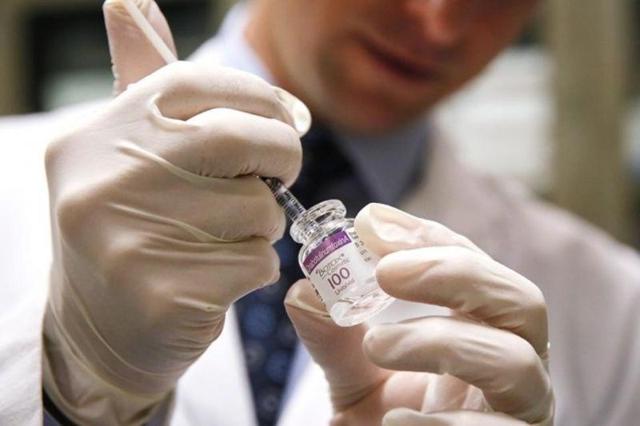 Source: Time Inc.
Mylan (MYL) and Revance Therapeutics (RVNC) announced a global collaboration and license agreement to develop and commercialize a biosimilar for Allergan's (NYSE:AGN) Botox:
Mylan N.V. (NASDAQ: MYL) and Revance Therapeutics, Inc. (RVNC) today announced a global collaboration and license agreement for the development and commercialization of a proposed biosimilar to BOTOX® (onabotulinumtoxinA). BOTOX is the market-leading neuromodulator approved for the treatment of multiple indications and usage in the United States with additional approvals globally ...

"This will be a significant opportunity for Mylan as we add another difficult-to-manufacture product to our pipeline. We have reviewed the work done to date by Revance and we are extremely excited and confident about our ability to bring this important product to market. Bringing an affordable biosimilar version of BOTOX to commercialization will offer patients a safe alternative to this popular and highly effective treatment," commented Mylan President Rajiv Malik.
Revance will receive $25 million upfront and milestones and royalties dependent upon net sales. Revance also will exclusively develop RT002 - its next-generation neuromodulator. A few months ago Revance reported two Phase 3 trials (SAKURA) for RT002 were positive pursuant to moderate-to-severe glabellar lines. If a longer-term safety trial is successful then Revance is expected to launch a Bilogics Licence Application next year. It hopes to launch RT002 in 2020 on approval.
Why The Mylan Revance Collaboration Matters
Clinical trials show that Revance's RT002 can potentially beat Botox in certain areas. For instance, SAKURA 1 and SAKURA demonstrated RT002 could last six months, where Botox loses efficacy around four months. That could mean fewer visits to the doctor for patients using R002 vis-a-vis Botox. In terms of efficacy Revance appears to have a very competitive product. The fact that Mylan wants to partner with the company appears to be a major vote of confidence for Revance's product expertise.
However, Revance is not well capitalized as it is still in start-up mode. Through the first nine months of 2017 Revance suffered operating losses of about $85 million and cash flow from operations of -$67 million. It had cash on hand of $153 million and may need to raise more capital to finish clinical trials for RT002. Not only does Mylan bring financial resources to the table, but it can share its scientific, regulatory and manufacturing capabilities and commercialization expertise with Revance.
Mylan and Allergan have gone head-to-head on patent disputes in the past. They have been locked in a patent battle over Allergan's blockbuster dry-eye drug Restatis. In October 2017 Judge William C. Bryson invalidated Restasis patents in federal court due to "obviousness." If Mylan wins an inter partes review ("IPR") pursuant to the drug it could potentially bring generic Restasis to market within months.
Mylan/Revance Partnership Could Hurt Botox's Revenue Growth
Allergan is one of the more diversified drug companies. Botox has traditionally represented anywhere from 19%-20% of its total revenues and is highly important to the company. It is also part of the U.S. Therapeutics segment which generates the lion's share of Allergan's revenue growth. While total Q4 2017 revenue grew by 12%, U.S. Therapeutics revenue was up 20%. As I pointed out in my previous article all of that growth was not organic:
Sans acquisitions of CoolSculpting and regenerative medicines, revenue growth from U.S. Therapeutics would have been 6% Y/Y; total revenue growth would also have been 6%.
If you take away the noise from acquisitions and add in the risk from the Mylan and Revance collaboration, long-term revenue growth from U.S. Therapeutics could be in the low single-digits. Allergan's total revenue growth could also be flat to low single-digits.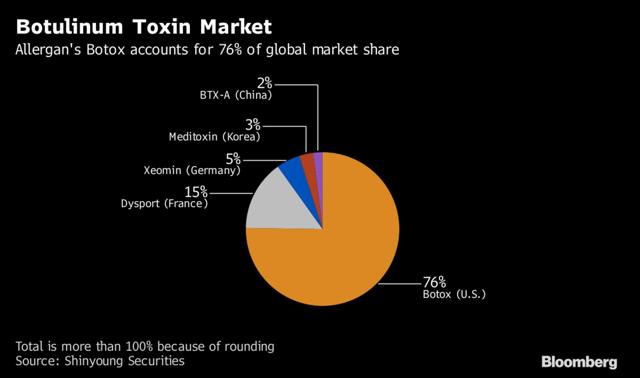 Botox has a very strong brand name and controls 90% of the medical-use market for neurotoxins in the U.S. and 76% globally. If the Mylan/Revance collaboration put up a competitive fight for new customers it could potentially stymie Botox's revenue growth.
Allergan's Valuation Could Come Under Scrutiny
Allergan currently trades at 10x run-rate EBITDA. AGN bulls imply the valuation is justified by U.S. Therapeutics' out-sized growth and the company's strong R&D pipeline. If U.S. Therapeutics' long-term revenue growth is in the single-digits then it might not be worth 10x EBITDA standalone. Secondly, FDA approval for Allergan's Esmya drug (uterine fibroids) could be delayed for potential links to liver injury. Outside of Esmya new launches from the pipeline might not materialize until 2019 or 2020.
The company has cut its R&D outlay to help protect its EBITDA margins. Q4 2017 R&D was a mere 9% of total revenues, down from around 17% in the previous year. It might have to cut R&D further due to loss of exclusivity ("LOE") or potential LOE for certain products like Restasis (9% of revenue) and Estrace (2% of revenue). Allergan has an enterprise value of about $75 million, of which net debt makes up $24 billion. That said, a hit to Allergan's EBITDA multiple could punish its share price.
Conclusion
The Mylan/Revance collaboration could cause investors to challenge Allergan's growth prospects and its valuation. Due to questions over the pipeline and exposures to LOE I do not see a reason to own AGN at these levels. AGN remains a sell.
This article was written by
The Shock Exchange has a B.A. in economics and MBA from a top 10 business school. He has over 10 years of M&A / corporate finance experience. Currently head the New York Shock Exchange, financial literacy program based in Brooklyn, NY.His book, "Shock Exchange: How Inner-City Kids From Brooklyn Predicted the Great Recession and the Pain Ahead", predicted pain ahead for the U.S. economy and financial markets.In 2014 the law firm of Kirby, McInerney, LLP brought a class action lawsuit against Molycorp, Inc. for "materially misleading statements" in its financial statements. Kirby, McInerney used investigative journalism from the Shock Exchange to buttress its case. That's the discipline the Shock Exchange brings to every situation he covers for SA.
Analyst's Disclosure: I am/we are short AGN.
Seeking Alpha's Disclosure: Past performance is no guarantee of future results. No recommendation or advice is being given as to whether any investment is suitable for a particular investor. Any views or opinions expressed above may not reflect those of Seeking Alpha as a whole. Seeking Alpha is not a licensed securities dealer, broker or US investment adviser or investment bank. Our analysts are third party authors that include both professional investors and individual investors who may not be licensed or certified by any institute or regulatory body.