EPR Properties: The Place To Look For Both Entertainment And Returns
Summary
EPR Properties just published its results for Q4/2017 as well as for FY 2017.
Some may see the results as somehow disappointing. We believe that this is a short-sighted view.
EPR has grown in 2017 (versus 2016) and is expected to grow at an even faster pace more in 2018.
We are assigning a BUY rating to this eREIT, especially if the market may wish to test the 52-week low area.
An Entertaining Night
It's been a busy night for me yesterday, full of all sorts of entertainment:
Issuing a public announcement regarding Trapping Value joining The Wheel of FORTUNE, the opening shot of our "March Madness" campaign (You can also see TV's blog post here). We view this partnership as purely professional but also, admittedly, as an entertaining collaboration.
Purim, aka "The Jewish Halloween", night. This is always a night filled with lots of fun, happiness, joy, and entertainment.
Entertainment Properties, a company we now own, published its Q4/2017 results.
Overall, lots of entertainment although when it comes to the last item some may not view the numbers as so entertaining, i.e. encouraging, as they may have wished those to be. However, we are here to try sort things up.
An Entertaining Company
EPR Properties (NYSE:EPR) - founded in August 1997 and headquartered in Kansas City, MO. - is a uniquely positioned triple net lease ("TNL") equity real estate investment trust ("eREIT"), specializing in highly enduring segments of the real estate industry.
EPR engages in the development, finance, and leasing of theaters, entertainment retail, and family entertainment centers. The company operates through the following four segments:
Entertainment: Megaplex theaters, entertainment retail centers, family entertainment centers, and other retail parcels.
Education: Public charter schools.
Recreation: Metro ski parks, water-parks, and golf entertainment complexes.
Other: Vineyards and wineries, land held for development.
An Entertaining Operations
Please note that all the below charts that are part of the "An Entertaining Operations" section are taken from the company's website.
While traditional eREITs usually offer either high degree of specialization or high level of diversification, EPR chooses to be somewhat in the middle.

Nonetheless, over the past five years, this hasn't necessarily proven to be better than how traditional eREITs have performed.
EPR hasn't outperformed (at least not conclusively) neither its peer eREITs group - e.g. National Retail Properties (NNN), Realty Income (O), W.P. Carey (WPC), Gaming and Leisure Properties (GLPI), Digital Realty Trust (DLR) - nor the benchmarks - Vanguard Real Estate ETF (VNQ). It certainly hasn't outperformed the market - SPDR S&P 500 ETF (SPY) - as a whole.
Here's how EPR performance (total return) looks over the past five years when compared to the above-mentioned securities: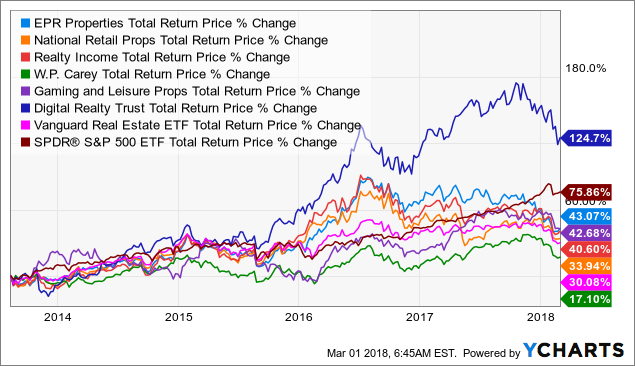 Nevertheless, EPR remains very focused on growth and it's hard to argue that it has done phenomenally well growing across its main three segments over the years.

This is also being reflected in the company's long-term performance:

Long-term is probably the key word here. We will get to it later on...
Please note that from now on, unless otherwise mentioned, all the below charts are taken from the slides that were part of the company's earnings call.
A Not-So-Entertaining (?) Earnings Report
The headline reads as if EPR missed on both top and bottom lines.
Although revenue for Q4/2017 came at $147.7M, a 12.9% growth Y/Y, the number missed analysts estimate by $5.39M or about 3.5% below expectations.
When it comes to FFO, the miss was much greater, as FFO for Q4/2017 came at $1.29 per share, $0.13 or about 9.15% below expectations.
Looks like a complete disappointment, isn't it? Well, not so much when you dive into the details...

First of all, revenue (of $147.7M) is up 13% over the $130.8M in Q4/2016.
Secondly, the AFFO of $95.9M (or $1.29 per share) is up 18.8% over the $80.7M (or $1.26 per share) in Q4/2016.
Thirdly, the company stated that the last quarter results were negatively impacted by a $9M write-off related to Children's Learning Adventure, a tenant who has filed for bankruptcy protection. This is a misfortune, yet a one-off item. If those $9M weren't written off, the FFO per share would have come about in-line with expectations.
Finally, the AFFO for 2017 was $360.5M or $5.02 per share, more than 17% above the $308M or $4.82 per share in 2016. Even on a per share basis, we are talking about a 4% Y/Y growth here.
Now let's dive deeper into some of the most interesting numbers.
Balance Sheet
In FY 2017 vs. FY 2016:
Total assets (net, not including the accumulated depreciation) grew 27.3%
Net Debt/Gross Assets fell slightly (by only 1%). Company took upon itself more debt (net debt rose by 21%), however, it invested more than in expansion as seen by the growth in the value of (gross or net) total assets.
Net debt/adjusted EBITDA fell slightly. However, this shows that more debt has been translated into more income, i.e. the more debt is being used properly to improve operational results.

Profitability/AFFO
The AFFO for Q4/2017 came in line with the market expectations. Very simply, this can be seen as follows: $1.29 (FFO per share) + $0.13 (the effect of the bankrupt tenant) = $1.42. Spot on!
Furthermore, look at the significant improvement in the AFFO payout ratio, coming in at 72%. This indicates a high level of dividend safety.
Tenants Concentration
This is an area where EPR has room for improvement.
Not only that the top-10 tenants account for 62% of the 2017 revenues (and 66% of the Q4/2017 revenues) but 3 tenants account for 10% or more of the company's revenues.
The 20% that AMC (AMC) theaters account for is naturally of greater concern and it would be wise by EPR to try and take this dependency to a much lower level.
We believe that 10% should be the maximum exposure to a single tenant and therefore, this is something we watch closely and find to be a reason for cautiousness when it comes to investing in EPR.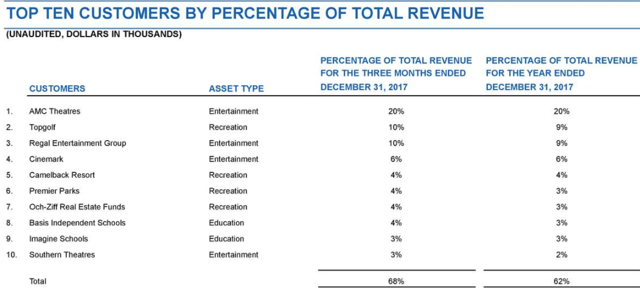 An Entertaining Guidance
When it comes to earnings reports, the most important is not how the company operated rather how it's going to operate, i.e. the forward guidance. This is where we are most optimistic when it comes to EPR future outlook and growth.
During the conference call, Greg Silvers - EPR's President and Chief Executive Officer - said the following:
We are reducing our 2018 FFO as adjusted per share guidance to a range of $5.23 to $5.38 from a range of $5.33 to $5.48. The midpoint of this range provides for approximately 6% in earnings growth."... "however, should we make the expected progress on CLA, there remains an opportunity to reach the high end of our guidance."
From a factual perspective, the company has lowered its previous guidance for 2018. That's indeed disappointing.
However, the midpoint of the new guidance, $5.305, is lower by less than 2% compared to the midpoint of the previous guidance, $5.405. In addition, if the company does reach the high end of guidance, i.e. $5.38 that would almost be the same as the midpoint of the previous guidance.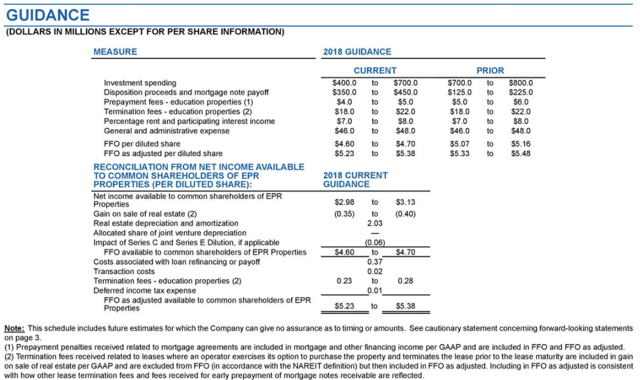 Think about this for a minute: The midpoint of the current guidance reflects about 6% growth in AFFO per share for 2018 over 2017. That's better than the 4% growth that was recorded in 2017 versus 2016!
I mean, how many TNL/retail-related eREITs do you know that guided for a 6% growth in 2018? We view this as an encouraging - and certainly far from a disappointing - number.
An Extremely Entertaining Dividend
From a dividend perspective, EPR is a dream come true: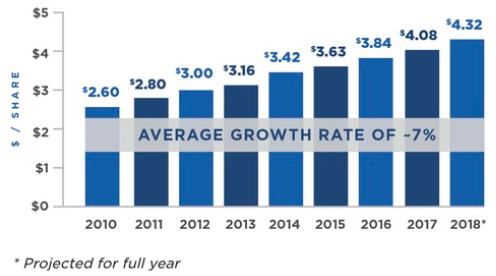 The company is paying monthly, and the dividend for 2018 already been hiked from $0.34 to $0.36, more or less in line with the expected 6% in AFFO.
With a payout ratio of 72% (versus the AFFO), the dividend seems safe and sound.
The current dividend yield (as of 2/28/2018) is exactly 7.5%. Looking back at EPR's peer group, you'll understand why EPR is a name we like better than other eREITs on that list: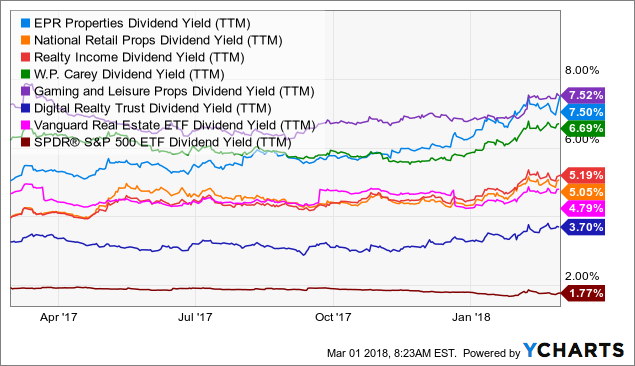 Bottom Line: It's Not Only Entertaining But Also Encouraging
If you look at the headline numbers, you might find EPR numbers for Q4/2017 disappointing.
Nonetheless, once digging a bit more into the data, it's clear (at least to us) that EPR is a very attractive eREIT that is about to grow more than its peer group as well as REIT-land in general.
In case that you have forgotten, EPR is carrying an investment-grade rating from all three major agencies:

A 7.5% safe dividend yield from an IG-rated eREIT during a time where the economy is on good footing seems like a good deal.
There are investors that mistakenly look at EPR in the same way that they look at (for example) O. While they are both TNL eREITs, the latter is exposed to brick and mortar retailers while the former is "retail" only due to the type of clients that its assets entertain/host.
It would be interesting to see how the market reacts to the numbers, but as far as I am concerned, if EPR share price will trade below the 52-week low (~$55) - we will be adding to our position. An 8% yield would be really nice...!
This is now a buying opportunity for an investor with a long-term investment horizon to get into a high income play that also offers price appreciation potential, as the expected growth going forward suggests.
The Wheel of FORTUNE is now offering a "March Madness" bargain deal that you don't want to miss out on! (See TV's blog post too).
Now that Trapping Value is part of The Wheel of FORTUNE you actually pay for one and gets two.
Both annual and monthly fees are going to rise on April 1st by 5% and 10%, respectively, so make sure you join before Fool's Day. Joining now ensures that you are grandfathering the current-lower fees.
In order to make it even easier and more worthy for you, the free trial is now on so you can take advantage of a two-week first-hand experience, free of charge before you commit to the service on a longer-term basis.
Make sure you read the reviews (124/125 possible stars) subscribers wrote about the service to gain a better understanding what you may expect out of it.
This article was written by
The Fortune Teller is a team of two analysts with over 30 years of market experience between them. One of the principles is a formerly licensed investment advisor with a background in asset management. They also hold BAs in Accounting & Economics and Computer Sciences, as well as MBAs, which they use to inform their stock selections
They lead the investing group
Wheel of Fortune
where they share actionable trading ideas across all asset-classes, sectors and industries. The goal of the service is to provide a one-stop-shop for investment and portfolio ideas, while educating the vibrant community of subscribers. Features of the service include: the Funds Macro Portfolio (only ETFs and CEFs) for less active investors, the Single Macro Portfolio (single equity focused) for more active investors, educational content, and a live chat room to openly discuss ideas with like-minded investors and The Fortune Teller.
Learn more.
Analyst's Disclosure: I am/we are long EPR, WPC. I wrote this article myself, and it expresses my own opinions. I am not receiving compensation for it (other than from Seeking Alpha). I have no business relationship with any company whose stock is mentioned in this article.

I am/We Are SHORT O I am/We Are SHORT O $50 PUT option
Seeking Alpha's Disclosure: Past performance is no guarantee of future results. No recommendation or advice is being given as to whether any investment is suitable for a particular investor. Any views or opinions expressed above may not reflect those of Seeking Alpha as a whole. Seeking Alpha is not a licensed securities dealer, broker or US investment adviser or investment bank. Our analysts are third party authors that include both professional investors and individual investors who may not be licensed or certified by any institute or regulatory body.