Reaves Utility Income Fund - Life After Rights Offering
Summary
UTG is a closed-end fund sponsored by Reaves, seeking a high level of income and capital appreciation.
The fund currently yields a 6.77% managed distribution and is trading at a discount of 8.90% to its Net Asset Value.
In-depth discussion and an update on the fund since our first look on 9/22/2017.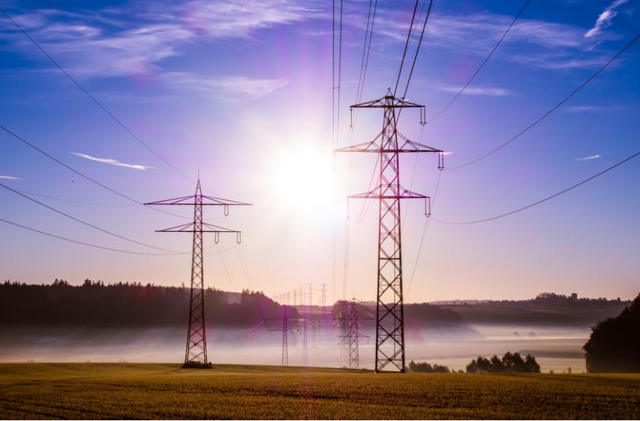 The Reaves Utility Income Fund (NYSE:UTG) has been a fund which I have followed for a number of years.
I initially mentioned it in the Summer of 2016 as a replacement for the BlackRock Utilities, Infrastructure, & Power Opportunities Trust (BUI) in the article "5 Utility Closed End Funds You Can Still Buy At A Discount" when BUI realized its significant discount to NAV.
A year later, we took a deep dive into the fund in the article "UTG: Good Trade, Issues As An Investment." Income Idea subscribers can read the article here: "UTG - Good Trade, Issues As An Investment (Income Idea)."
In that article, we arrived at a few conclusions,
First, the fund has been a well-performing closed-end fund which has yet to have a distribution decrease. Second, the current rights offering presents an interesting short-term trading opportunity.

Having stated that, there were a number of big warning signs flashing. Those signs include a currently negative UNII, a new line of credit with a higher spread above LIBOR, on top of the already higher LIBOR rates and a greater dependence on capital gains in order to maintain the distribution. There was also the looming rights offering which will be dilutive to existing shareholders and, of course, the potential end to the long-term money flowing into utilities.
Source: "It's About The Quality - UTG Dividend Case Study."
Even though Income Idea subscribers were quite receptive to the analysis, quite a few of the comments suggested that long-time investors did not want to hear it, and arguments often lead back to "but it always came back in the past."
For that reason, we took a deep dive into the fund's distribution history and did our first distribution primer in "It's About The Quality - UTG Dividend Case Study."
I concluded that article with a few more thoughts,
In the previous article's comments, I suggested that while I would not touch UTG with a 10-foot pole as an investment at this point, I would certainly consider taking advantage of the dilutive rights offering and purchase shares at a 5% discount to market price and likely 10% or more to NAV and then get out of it.

Having gone through this exercise, perhaps we have yet another reason for the offering - pay down the leverage while you can before the spread gets even thinner or completely upside down. Perhaps management believes that diluting the shareholders for 5% or more is the cheapest way to delever the fund, while increasing their asset base to generate more fees. Win win?
Source: "It's About The Quality - UTG Dividend Case Study"
Now that the dilutive rights offering has closed and five months have passed, let's take a look at how the fund has fared and what's changed.
For a complete look at the fund, please take a look at "UTG: Good Trade, Issues As An Investment."

Fund Basics - Essential Info
Sponsor: W.H. Reaves & Company, Inc. (dba Reaves Asset Management)
Managers: William A Ferer (2/25/2004)
AUM: $1.833 billion investment exposure, $1.513 billion common assets (up from $1.5 billion exposure and $1.2 billion in common assets due to rights offering)
Historical Style: Global Utilities
Investment Objectives: The fund seeks high current income with capital appreciation through investment in domestic and foreign utility companies and various money market instruments.
Number of Holdings: 61
Current Yield: 6.77% based on market price, Managed Monthly Distributions, up from 5.78%
Inception Date: 2/24/2004
Fees: 1.68% expense ratio. 1.20% base expenses + .48% interest expenses (as of 10/31/2016).
Discount to NAV: 8.90%, up from 5.44%
Sources: CEF Connect, UTG Website, and YCharts
Fund Updates
Starting with the top 10 holdings, we can see that as of 12/31/2017, they represented about 45% of the fund's assets.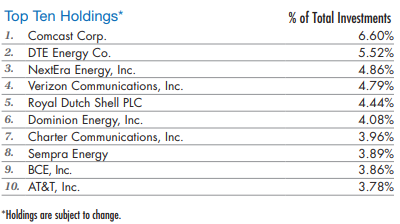 Source: UTF FactSheet 12/31/2017
One of the larger changes is that Comcast (CMCSA) and Verizon (VZ) are now larger constituents in the fund.
Another item of note is that since the last update, the fund's allocations have meaningfully changed with utilities making up less than 45% of the fund, down from the more than 62% they made up as of April 2017.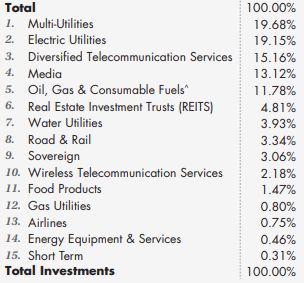 Source: UTF FactSheet 12/31/2017
As discussed previously, the fund did close its rights offering in October, and it was oversubscribed as expected.
The reason it was expected is that this specific rights offering represented two things. First, because it was extremely dilutive, any shareholders who did not want to take an unnecessary hit to their investments would have subscribed to the rights offering in order to cushion the blow.
Secondly, as I noted in my previous articles, even though, as of September, I would not want to be an investor in the fund, it would not hold me back from taking advantage of the exceptionally strong rights offering and to either trade the rights OR buy the rights at extremely low prices, subscribe for the offering and then dump the shares on the open market. I am sure quite a few people have done just that.
In any case, as a result of the fund's rights offering, the assets under manager increased meaningfully. The fund currently has about $1.833 billion in investment exposure and $1.513 billion of common assets.
This is up from a $1.5 billion exposure and $1.2 billion in common assets at the time of our previous article.
Fortunately, it seems at least as of 12/31/2017, the fund has done the right thing and used the rights offering to lower its overall leverage as I hoped it would.
Leverage
As stated in the initial article, the fund uses leverage.
The lending currently comes from a $330 million line of credit from Pershing LLC under a credit agreement effective December 8th, 2016.

The Interest rate is one month LIBOR plus 1.10%.

Source: UTG Semi-Annual Report

Key things here are... it is not overnight LIBOR, but 1 month LIBOR. Today that rate is 1.23% plus the 1.10% spread. The fund would be currently paying 2.33%.
Source: "UTG: Good Trade, Issues As An Investment"
One of the major headwinds facing closed-end funds and a fact I have been harping about over the past 8 months or so is the rising cost of leverage.
Interest rate increases impact borrowing costs and borrowing costs reduce the available net investment income. That directly affects the fund's ability to maintain its distribution.
Of course, closed-end funds are hesitant to cut distributions as it almost always leads to lower share prices, and as such, fund managers try to maintain their distributions through either taking on additional investment risk, additional leverage OR using up any built up UNII (Undistributed Net Investment Income). Of course, many CEFs with managed distributions simply end up returning capital.
Since our last report, LIBOR has increased from around 1.23% to the current 1.6%. This once again means the fund is now paying more in leverage costs.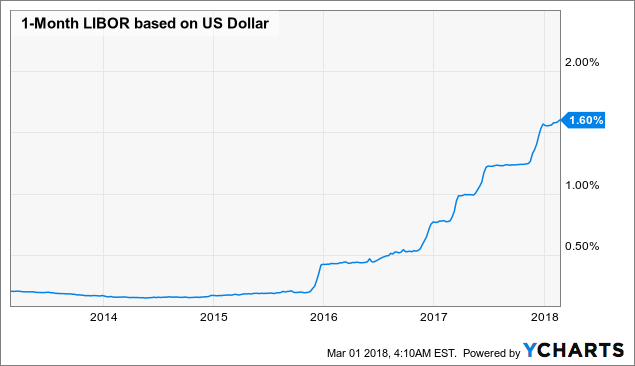 With the increase in LIBOR, the fund is now paying 2.7% on its $320 million credit facility, up from 2.33% when we last looked at the fund.
With the fund suffering from decreasing net investment income and rising costs of leverage, it was critical for management to do something. I am glad then that so far, the money has been used to delever rather than to simply increase the fund's exposure.
Because we do not yet have the fund's annual statements or an updated Form NQ, we do not know if it has increased the leverage of the fund since the latest publicly released information.
Performance
As of the initial article, the fund was distributing a managed 5.78% and was trading at a discount of 5.44% to its Net Asset Value. Today, the fund pays a distribution of 6.77% and is trading at a discount of 8.90% to its NAV.
Since our article on September 22nd, 2017, the fund's discount to NAV had opened up fairly significantly.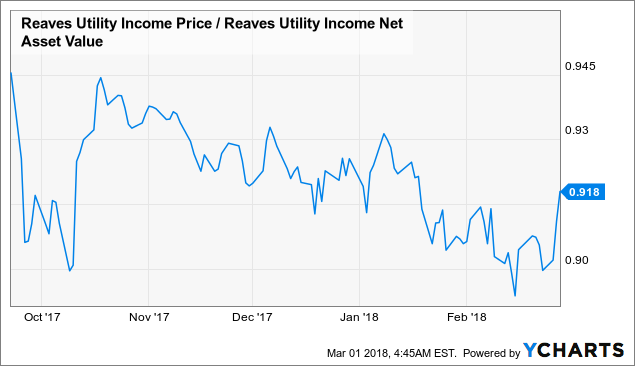 After opening up even more on the rights offering, the discount to NAV had rebounded somewhat. Since November, however, the fund continued to trade at a growing discount to NAV. If we remember, however, the fund has also traded at 5% premium to NAV over the past year! Simply put, the fund has not recovered since it announced the rights offering.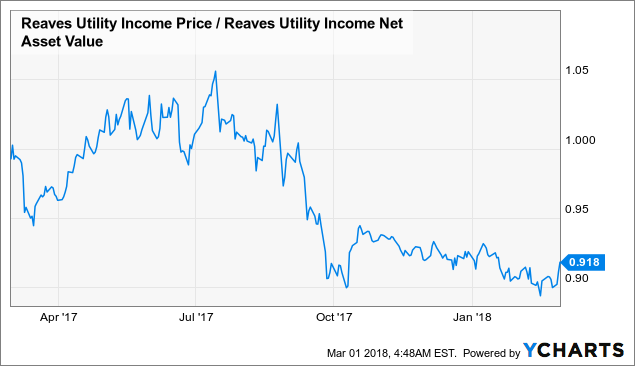 On the performance side, the fund is down 8.4% on a total return basis year to date. The price per share is down 8.92% while the NAV is down 8.17%. This tells us the discount to NAV opened up even more since the start of the year.
Since our first look at the fund in September, investors achieved a total loss of 11.9%. The price per share is down 14.3% while the NAV is down 11.8%, once again indicating a continuing expanding discount to NAV.
To compare the fund, let's look at the same benchmarks we had used in the past, including the BlackRock Utility & Infrastructure Fund (BUI), the Cohen & Steers Infrastructure (UTF), the Duff & Phelps Global Utility (DPG), and the Macquarie Global Infrastructure Fund (MGU). Let's also take a look at the SPDR Utilities ETF (XLU) as the dominant ETF in the pure utility space.
Keep in mind, the fund keeps it fairly loose with the "utility" description, and it considers mobile phone and internet providers to fit under that broad umbrella.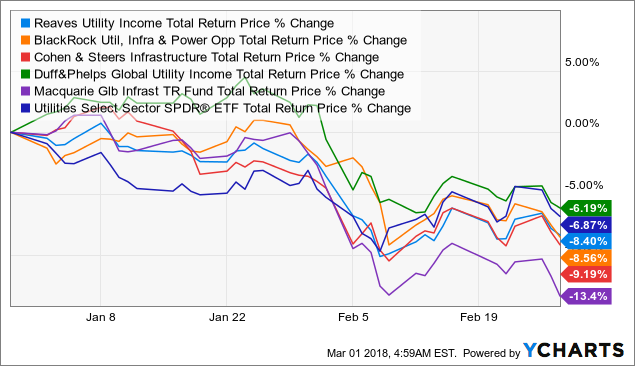 Year to date, on a total return basis, the fund comes in in the middle of the pack, coming in behind DPG and XLU which lost less.
Since September, however, the fund comes in at the bottom of the pack with MGU. The competing CEFs and the XLU ETF all lost significantly less on a total return basis.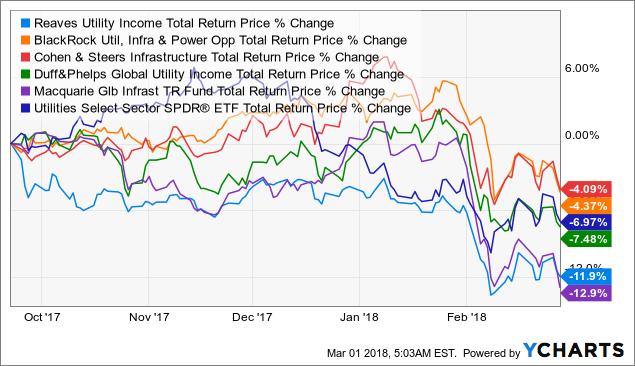 Bottom Line
Overall, I am glad the fund is no longer trading at an absurd premium, and as suspected, the fund has returned to normal with its near 10% discount to NAV. This is where the fund has been historically.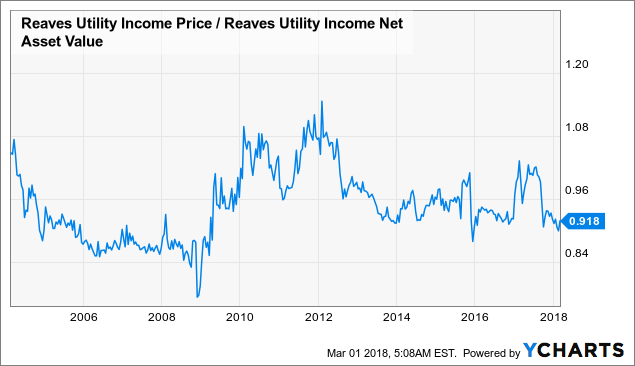 The discount to NAV, however, has been even steeper between 2004 and 2008, so it can always grow again.
Beyond the discount, I am glad the fund was able to lower its leverage.
The problem with this, however, is now with the lower leverage AND the lower allocation to utilities as of 12/31/2017, the fund is generating less income from the portfolio than it was before. This further puts pressure on the capital gains to sustain the distribution.
Is the fund planning on leveraging up even further?
I don't know, but it may if it wants to generate more income. This will likely only create more problems in the future when capital gains turn into capital losses during the next recession unless the fund lowers its distribution rate.
We don't, however, know the true health of the fund as the transparency and disclosures by the fund are not exactly timely.
One thing we do know, however, is that one of the sure winners here is the management team which is now charging its fees on an even larger capital base.
At some point, this fund will open up to discounts too cheap to pass up as a trade. However, as an investment, I would have issues entering a long position until we get a better read on the underlying metrics of the fund.
For some more reading on UTG's rights offering, please take a look at this fantastic article by Stanford Chemist, "Quick Thoughts On UTG's Concluded Rights Offering, Part 1: Impact On Fund"
For my previous UTG articles, please take a look at:
Please Note: Seeking Alpha has recently changed their policy and is now locking primary ticker articles (articles predominately around a specific investment) after 10 days for readers without a new Pro subscription. Income Idea subscribers however have full access to all of my articles and receive a more detailed analysis.
Income Idea subscribers received a more detailed distribution analysis for this fund.
This article was written by
Intrepid Leader at an RIA.  My firm and I simplify the lives of busy clients by providing ongoing financial planning and asset management. this is done by providing our clients customized, ongoing comprehensive financial planning, and customized investment advisory services tailored to the clients' needs. As a fiduciary, we have a legal obligation to put the needs and interests of our clients above our own. Specialties: fee based comprehensive financial planning, retirement planning, life insurance and protection planning.
Analyst's Disclosure: I/we have no positions in any stocks mentioned, and no plans to initiate any positions within the next 72 hours. I wrote this article myself, and it expresses my own opinions. I am not receiving compensation for it (other than from Seeking Alpha). I have no business relationship with any company whose stock is mentioned in this article.
Seeking Alpha's Disclosure: Past performance is no guarantee of future results. No recommendation or advice is being given as to whether any investment is suitable for a particular investor. Any views or opinions expressed above may not reflect those of Seeking Alpha as a whole. Seeking Alpha is not a licensed securities dealer, broker or US investment adviser or investment bank. Our analysts are third party authors that include both professional investors and individual investors who may not be licensed or certified by any institute or regulatory body.