EV Company News For The Month Of February 2018
Summary
Global electric car sales - January 2018 sales were up 94% on January 2017.
EV market news - Diesel cars can be banned from German cities, court rules. China launches world's first all-electric cargo ship.
EV company news - Tesla energy storage division gains 2 new large contracts. Nissan to invest $9 Billion in China in race for EV dominance.
Welcome to the February 2018 edition of Electric Vehicle [EV] company news. January is usually the slowest month of the year for EV sales, and January 2018 was slower than December but a good start to 2018. As far as company news, the past month has signaled what to expect in 2018. That is car makers and battery makers are looking to lock in their EV metal supply due to fears of shortages. Recent news in this area has seen three large companies make their move - The Toyota Tsusho lithium equity off-take deal with Orocobre (OTCPK:OROCF), the SK Innovation cobalt/nickel off-take and equity option deal with Australian Mines (OTCPK:AMSLF), and now the Posco lithium off-take and equity deal with Pilbara Minerals (OTCPK:PILBF). Next, we are waiting for BMW (OTCPK:BMWYY), VW (OTCPK:VLKAF), and others.
A quick recap on 2017
Last month, I reported on a booming 2017 which saw 2017 total year sales ended at a record 1,223,000, up 58% on 2016, and reaching ~1.4% market share. You can read more here. The following charts show the clear trend of EVs growing well.
Global electric cars sales grew 58% in 2017 - and H2 was very strong

Global electric car market share in 2017 - averaged ~1.4% and peaked at 2% in December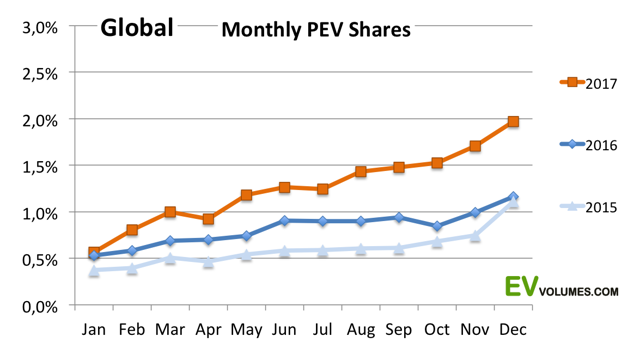 Source: EV-Volumes
Global electric car sales as of end January 2018
Global electric car sales finished January 2018 with ~82,000 sales for the month, up 94% on January 2017.
Of note, 56% of all global electric car sales so far in 2018 were pure electric, which should rise as the year goes on.
China electric car sales were ~35,000 in January 2018, up four-fold on January 2017 (noting January 2017 was a terrible result as subsidies were reduced and there was a licensing crackdown). Electric car market share in China for January 2018 was 1.4% market share.
Current subsidies in China were reduced by 20% in 2017 and will be reduced by 40% in 2019 and 100% by 2021. China's
Zero Emission Vehicle ((ZEV)) credit system
was announced on September 28, 2017, and will begin in 2019 with

10% of credits (12% in 2020) required from new energy vehicles (NEVs). That translates to 4-5% of EV sales as market share for 2019. We are also expecting an announcement at some stage as to when China will ban ICE vehicles, noting BYD Chairman Wang thinks by
2030
.
Europe electric car sales were almost 26,000 in January 2018, 36% higher than in January 2017. Europe's electric car market share was 2.0% in January 2018. Norway still leads the world with 40% market share of electric cars sold in January.
US electric car sales were 12,049 in January 2018.
Note: The above sales include light commercial vehicles.
Note: An acknowledgement to Jose Pontes of EV Sales and EV Volumes for his excellent work compiling all the electric car sales quoted above and below.
Global electric car sales by manufacturer for January 2018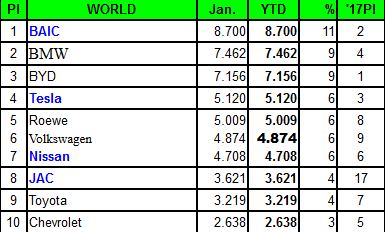 Source: EVSales
Annual global electric vehicle sales forecast to hit 24.4 million by 2030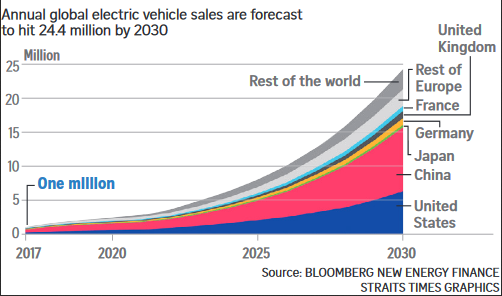 EV market news for February 2018
Some news I missed from December 2, Clean Technica reported,
"China launches world's first all-electric cargo ship, will use it to haul coal. China has launched the first all-electric cargo ship. According to China Daily, the 230 foot long vessel is equipped with a 2,400 kWh lithium-ion battery that stores enough electrical energy to transport 2200 tons of cargo a distance of 50 miles on a single charge at a top speed of about 8 miles per hour. Time to recharge the battery is given as 2 hours, which is approximately the time needed to unload the ship at its destination."As the ship is fully electric powered, it poses no threats to the environment. The technology will soon be likely … used in passenger or engineering ships," said Huang Jialin, chairman and general manager of Hangzhou Modern Ship Design & Research Co, which designed the electric cargo vessel. The new ship has two primary benefits. First, it will emit no carbon emissions while underway. Cargo vessels tend to be some of the biggest carbon pollution sources in the entire transportation sector. Second, it will lower the cost of transportation for bulk cargoes because the price of electricity is lower than the price of diesel fuel."
World's first fully electric cargo ship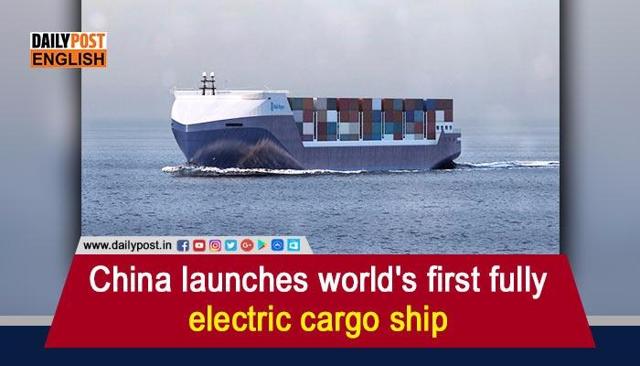 On February 1, Bloomberg wrote,
"Electric buses will take over half the world fleet by 2025. The number of electric buses will triple within seven years, and virtually all of them will be in China. Nearly half of the municipal buses on the road worldwide will be electric within seven years, with China expected to dominate the global market as it aims to cut urban pollution and support domestic manufacturers. The total number of electric buses in service is forecast to more than triple, from 386,000 last year to about 1.2 million in 2025, equal to about 47 percent of the worldwide city bus fleet, according to a report from Bloomberg New Energy Finance. "China will lead this market, due to strong domestic support and aggressive city-level targets," wrote Aleksandra O'Donovan, an analyst for BNEF and author of the study. By 2025, the report said, the country will account for 99 percent of the world's battery-powered buses. Earlier this week, mayors of some of California's largest cities, including Los Angeles and San Jose, urged the state's environmental regulator to introduce incentives and requirements to spur a shift toward electric buses from ones that use diesel or natural gas. Warren Buffett-backed BYD Co., China's largest seller of electric vehicles, is well-positioned to take advantage of this government push. Last year in China, BYD sold 100,183 new-energy vehicles-a category that includes full electric and hybrids), and the company's buses now operate in 200 cities around the globe.
On February 13, Bloomberg announced,
"China raises subsidies to reward longer range electric cars. Minimum subsidy benchmark elevated to 150km from 100km. Subsidies increased for EVs with more than 400km range."
Also,
"the Chinese government is leaning toward allowing provinces to continue with local subsidies for EVs to sustain the rising demand for new-energy automobiles in the country. The government also cut subsidies by as much as half for buses that qualify as new-energy vehicles, depending on the length and nature of the powertrain."
Local Government subsidies can be up to half the national subsidies. Clearly, the manufacturers of longer range electric cars are the winners.
On February 26, The South China Morning Post reported,
"Chinese electric vehicle makers told to sort tide of waste batteries. China will make manufacturers of electric vehicles responsible for setting up facilities to collect and recycle spent batteries as part of its efforts to tackle mounting waste in the sector, say new rules published on Monday."
On February 27, Reuters reported,
"Diesel cars can be banned from German cities, court rules. German cities can ban the most heavily polluting diesel cars from their streets, a court ruled on Tuesday, a move that could accelerate a shift away from the combustion engine and force manufacturers to pay to improve exhaust systems. Paris, Madrid, Mexico City and Athens have said they plan to ban diesel vehicles from city centers by 2025, while the mayor of Copenhagen wants to ban new diesel cars from entering the city as soon as next year. France and Britain will ban new petrol and diesel cars by 2040."
EV company news for February 2018
BYD Co. (OTCPK:BYDDY), (OTCPK:OTCPK:BYDDF) HK:1211
BYD is currently ranked number 2 in China with 21% market share and the number 3 globally, with 9% global market share.
On February 6, BYD announced, "BYD ADL partnership transforms 4th London bus route to pure electric."
On February 23, BYD announced, "BYD honored as a world's top 10 most innovative company in energy." BYD Co was ranked 2nd out of 1,500 companies. The company also recently won an award for energy storage.
Some of the BYD electric buses expanding in London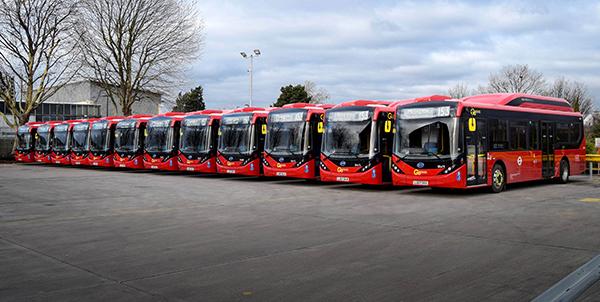 Beijing Automotive Group Co. (BAIC) (OTC:BCCMY, HK:1958), Shanghai Automotive Industry Corp. [SAIC] (CH:600104)
BAIC is currently ranked the number 1 selling electric car manufacturer in China with 25% market share, and the global number 1 with 11% market share.
On February 25, 4 Traders reported,
"Baic Motor Corporation and Daimler AG are planning to co-invest more than 11.9 billion yuan ($1.88 billion) to build a new local production base for their joint venture, Beijing Benz Automotive, Baic said on Sunday. In a statement to the Hong Kong stock exchange dated Feb. 23, Baic said the new factory would manufacture various Mercedes-Benz products in China including "new energy electric vehicles" equipped with "high quality premium automobile manufacturing system to further improve the overall production capacity of Beijing Benz."
Tesla Inc. (TSLA)
Tesla is currently ranked the number 1 electric car seller in the US, and the number 4 globally with 6% global market share.
On January 30, The Los Angeles Times reported,
"Edison and Tesla unveil giant energy storage system. Tesla Motors Inc. and Southern California Edison on Monday unveiled one of the world's largest energy storage facilities, part of a massive deployment of grid-connected batteries that regulators hail as key to helping keep Southern California's lights on and reducing fossil-fuel reliance. The facility at the utility's Mira Loma substation in Ontario contains nearly 400 Tesla PowerPack units on a 1.5-acre site, which can store enough energy to power 2,500 homes for a day or 15,000 homes for four hours."
On February 5, The Verge reported,
"Tesla is helping South Australia build what will be the world's largest virtual power plant. Installation is planned for 50,000 homes across the state over the next four years. In an initial trial, which has already commenced, a 5kW solar panel system and a 13.5kWh Tesla Powerwall 2 battery will be installed in 1,100 public housing properties for free, with the sale of electricity to cover costs. Following this, an additional 24,000 public houses will receive the systems. A wider rollout for private homes is planned in 2019, depending on the success of the trial phases."
On February 26, Teslarati reported,
"Tesla crosses $60B market cap amid upbeat Model 3 production sentiment. Michael Kramer, the founder of Mott Capital Management LLC noted that a recent initiative from Bloomberg, which tracks the VIN numbers of Model 3s on the road, seems to indicate that Tesla's pace in producing the mass market electric car is steadily improving. So far, Bloomberg's tracker, which has tallied 8,608 cars so far, estimates that Tesla is producing 1,052 Model 3 every week."
BMW
BMW is currently ranked the number 2 global electric car manufacturer with 9% global market share. BMW is number 1 in Europe with 17% market share.
Green Car Reports reported,
"2019 BMW i8: larger battery, more range, plus new Roadster priced from $164,295."
2019 BMW i8 Roadster at the 2017 Los Angeles Auto Show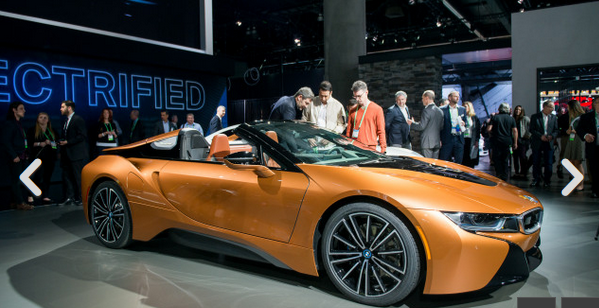 General Motors/Chevrolet (GM)
GM/Chevrolet is currently ranked the number 2 electric car seller in the US, and globally number 10 with 3% market share.

An article I missed from January by Green Car Reports reported,
"GM promises it can make money on all-electric cars by 2021. "The future is electric," said GM late last year, announcing a faster rollout pace for all-electric vehicles, with two entirely new models before 2020 to join the Bolt EV."
Renault (OTC:RNSDF)/Nissan (OTCPK:NSANY)/Mitsubishi (OTCPK:MSBHY, OTCPK:MMTOF)
Nissan is currently ranked number 7 for global electric car sales with 6% market share. Renault is ranked number 3 in Europe with 9% market share.
On February 5, Bloomberg reported,
"Nissan to invest $9 Billion in China in race for EV dominance. Carmaker targets 1 million-unit gain in annual vehicle sales. Plan includes introducing 20 electrified models by 2022. Nissan Motor Co. intends to spend 1 trillion yen ($9 billion) over five years in China as it vies to become the largest global electrified vehicle maker in the country. The Japanese carmaker aims to raise annual deliveries by 1 million units by 2022, with much of the growth coming from electrified models."
On February 21, Green Car Reports reported,
"2018 Renault Zoe electric car: more powerful motor to go with last year's bigger battery. the 2018 Zoe would be fitted with a new 80-kilowatt (107-horsepower) motor." The battery upgrade last year was to a 41kWh battery with a range to 300 to 400 kilometers (185 to 250 miles) on the European test cycle.
On February 26, Green Car Reports reported,
"2018 Nissan Leaf electric car: four-day winter road-trip review." It has an "EPA-rated at 151 miles of range."
The 2018 Renault Zoe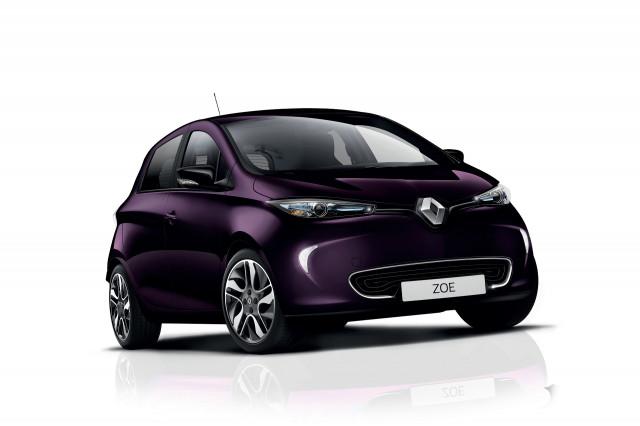 Toyota (TM)
Toyota is currently ranked the number 9 in the global electric car manufacturer's sales ranking, with 4% global market share.
On February 25, The Drive reported,
"Toyota develops magnet to curb EV cost. Toyota's new method completely eliminates the need for terbium and dysprosium. It has also replaced 20 percent of the neodymium with lanthanum and cerium, which are much less expensive rare-earth metals."
Volkswagen Group (OTCPK:VLKAY)/Audi (OTCPK:AUDVF)/Porsche (OTCPK:POAHF)
Volkswagen is currently ranked the number 6 top-selling global electric car manufacturer with 6% market share. In Europe, Volkswagen is the number 2 electric car seller with a 15% market share.
On February 5, The Verge announced,
"Porsche boosts its investment in electric cars. The automaker says it will invest more than $7.4 billion through 2022 on EVs, technology, and mobility services. A big chunk of the investment is going into the Mission E development, based on the 2015 concept car, which will be Porsche's first full EV. The company has already said it would go from 0-62 mph in less than 3.5 seconds and a range of 500 kilometers (310 miles) based on European measurements. Porsche is also devoting funds to creating a charging network, especially important since it stated again on Monday that the Mission E would be able to charge in as little as 15 minutes."
Porsche Mission E - due out in early 2019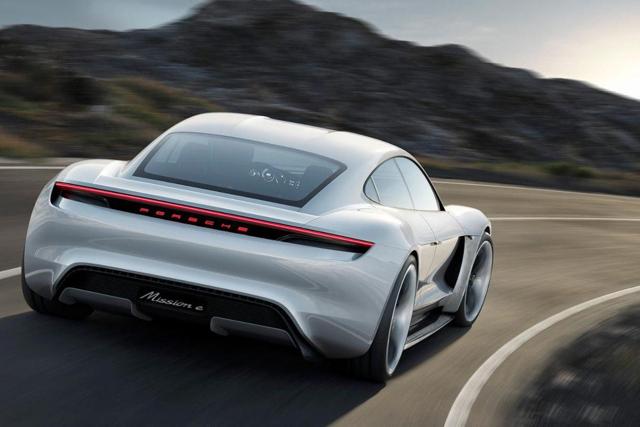 On February 19, The Verge reported,
"VW's new concept is a fully self-driving car with no steering wheel. Volkswagen is adding a fourth car to its futuristic I.D. lineup of concepts, and it will show it off in full at the upcoming Geneva Motor Show. Called the I.D. Vizzion, it's a long, low sedan with no steering wheel or pedals, and it's meant to exhibit how the company is thinking of a future where we all routinely step into a fully electric autonomous car that does the work for us. The Vizzion will be relatively powerful and quick. A 111kWh battery pack will help the car last for up to 665 kilometers (413 miles) on a single charge, according to VW. Equipped with dual electric motors, the car has a total power output of 225 kW (roughly 302 horsepower) and a top speed of 180 kilometers per hour (112 mph)."
VW's new concept fully autonomous I.D. Vizzion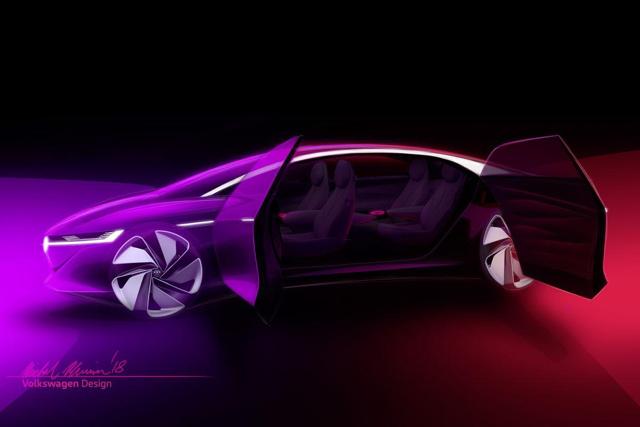 Zhi Dou Electric Vehicle Corporation (private)
On January 29, Clean Technica reported,
"What are the cheapest all-electric cars available? Comparisons & thoughts." Naturally the very popular Zhidou D2 EV was featured.
Geely Automobile Holdings Ltd (OTCPK:GELYY, HK:0175), Volvo Group (OTCPK:VOLVY), Kandi Technologies Group (NASDAQ:KNDI), Proton, Lotus
On February 8, The Shenzhen Daily reported,
"Geely buys shares in Germany's Daimler. Chinese carmaker Geely has bought shares in German car and truck maker Daimler AG, sources familiar with the matter said, as the Chinese owner of Volvo cars seeks to strike an alliance over electric cars technology. The size of the stake is unclear but likely to be below 3 percent, as a higher stake would require Geely to make a regulatory disclosure in Germany. It was also unclear whether Geely, which owns London taxi manufacturer LEVC as well as stakes in Volvo trucks and Lotus sports cars, had sought to buy more Daimler shares. People with knowledge of Geely's thinking have said the company is keen to access Daimler's electric car battery technology and wants to establish an electric car joint venture in Wuhan, the capital of China's Hubei Province."
Daimler-Mercedes (OTCPK:DDAIF, OTCPK:DDAIY) (Smart)
On February 17, The Verge reported:
"The Smart car goes electric before it plans its autonomous future. The brand went all-electric in the US and Canada for 2018 and by 2020, will do the same all over Europe, leaving China as its only major market where the tiny two seater is powered by an internal combustion engine. Despite many electrification claims by other automakers, Smart is on the forefront of abandoning gasoline and diesel engines." The two seat Smart Fortwo Electric Drive comes with a 17.6kW battery pack and a 58 mile range, so clearly a city car.
Below is a picture of Mercedes Smart Vision EQ fully autonomous concept car. You can view the video here.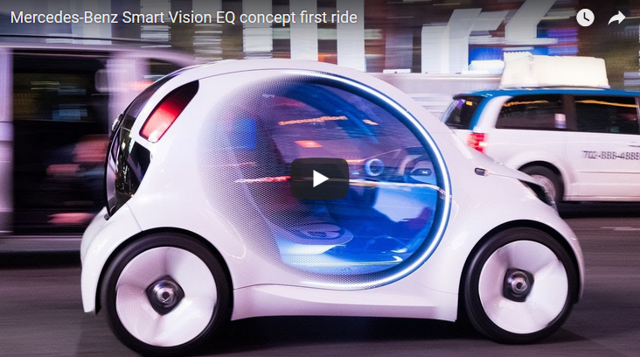 Ford (NYSE:F)
On February 27, Green Car Reports reported,
"XL Hybrids adds Ford F-250 hybrid to F-150 plug-in hybrid pickups; production to start in March. The idea of a Ford F-Series hybrid pickup truck has now been around since August 2011, but its maker now expects to launch such a truck sometime during 2020."
Fiat Chrysler (NYSE:FCAU)
On February 26, Green Car Reports reported,
"Fiat Chrysler to end diesel engines in cars by 2022 (but not trucks): report. The company owns the Alfa Romeo, Chrysler, Dodge, Fiat, Jeep, Maserati, and Ram brands."
Rivian (private)
On February 22, Green Car Reports reported:
"Electric pickup truck in 2020 to launch mysterious Rivian's "future mobility. The first of two electric vehicles it says it will launch will be a five-passenger pickup truck to launch in 2020, which the company says will offer "unmatched performance, refinement, storage capacity, and off-road capability in a unique all-electric package." It will be followed by a three-row, seven-seat SUV on the same underpinnings, which Rivian says will provide "an unrivaled combination of utility, performance and capability in a layout optimized for carrying people and gear. Both seem likely to emerge from the assembly plant in Normal, Illinois, that the company bought from Mitsubishi in January 2017, after the Japanese maker ended U.S. production. Rivian was founded in 2009, first as Mainstream Motors and then as Avera, by Robert (RJ) Scaringe." The article says their cars will be "fully connected, highly refined, [and] incredibly capable."
GreenPower Motor Company Inc. [TSXV:GPV] (OTCQX:GPVRF)
On February 26, GreenPower Motor Company reported:
"First North American sale of GreenPower all-electric double decker buses."
On February 26, GreenPower Motor reported,
"Cruise ship company shifting to all-electric double-decker buses for tourist transit."
Autonomous Driving/Car Play and IT connectivity
Currently, Alphabet Inc. (GOOG, GOOGL) and Tesla are leaders in autonomous vehicles. Note that the new Model 3 will come as standard with WiFi. Apple (AAPL) is doing well with on-board entertainment Apple Play, as is Google with Android Auto. Nvidia (NVDA) is a leader in supplying GPU chips for modern cars at various levels of autonomy and safety, and AMD (AMD) and Intel (INTC) are also involved in this area. Alibaba (BABA) has teamed up with SAIC to make an "internet car".
All the above should benefit from the switch to EVs and higher-tech vehicles.
On February 27, Teslarati reported,
"California gives full self-driving cars the green light to operate on public roads." A The Canadian Press (via 4-traders) report says - "The vehicles will no longer need to have drivers inside during tests, but people will still be in charge. Under the regulations, driverless cars being tested on public roads must have a remote operator monitoring at all times, ready to take over as needed. The remote operator must also be able to communicate with police as well as any passengers in the event of an accident."
Investors may like to read my article "Companies to benefit from the future smart car boom."
Other EV companies
Other EV companies I am following include Byton (private), Chery Automobile Co. Ltd. (private), Faraday Future, Fisker (private), Groupe PSA (owner of Peugeot), Hyundai (OTC:HYMTF), Honda (HMC, OTCPK:HNDAF), Kia (OTC:KIMTF), Lamborghini, Lucid Motors (formerly Atieva) (private), Mahindra & Mahindra (OTC:MAHDY), Mazda (OTCPK:MZDAY), Nio (formerly NextEV), Subaru (OTCPK:FUJHY), Tata Motors (TTM) group (Jaguar Land Rover), and WM Motor, Xiaopeng Motors.
The list of countries and cities banning (or soon to ban) petrol and diesel vehicles include at least - UK (2040), China, Germany, France (2040), Netherlands (2030), London, Paris (2030), Stuttgart, Mexico City, Madrid, and Athens. Added to this are countries pushing hard to become 100% EV - Norway and India.
KraneShares Electric Vehicles & Future Mobility ETF (KARS)
This ETF was launched last month. Their website states,
"KARS seeks to measure the performance of Solactive Electric Vehicles and Future Mobility Index. The Index is designed to track the performance of companies engaged in the production of electric vehicles and/or their components, or engaged in other initiatives that may change the future of mobility. The Index includes issuers engaged in the electric vehicle production, autonomous driving, shared mobility, lithium and/or copper production, lithium-ion/lead acid batteries, hydrogen fuel cell manufacturing and/or electric infrastructure businesses."
Conclusion
January 2018 sales were up 94% on January 2017. It is normal for January to be a slow start to the car sales year, but this past January has been quite strong.
My highlights for the month were:
China Daily - "China launches world's first all-electric cargo ship."
Bloomberg - "China raises subsidies to reward longer range electric cars."
The South China Morning Post - "Chinese electric vehicle makers told to sort tide of waste batteries"
Reuters - "Diesel cars can be banned from German cities, court rules."
The Los Angeles Times - "Edison and Tesla unveil giant energy storage system."
Bloomberg - "Nissan to invest $9 Billion in China in race for EV dominance. Plan includes introducing 20 electrified models by 2022."
The Verge - "Porsche will invest more than $7.4 billion through 2022 on EVs, technology, and mobility services."
Teslarati - "California gives full self-driving cars the green light to operate on public roads."
EV metals deals with Toyota Tsusho and Orocobre, SK Innovation and Australia Mines, and Posco with Pilbara Minerals.
As you can see from the highlights above, it has been another very successful month for the EV sector. The fundamentals just keep getting stronger.
As usual, all comments are welcome.
Editor's Note: This article covers one or more microcap stocks. Please be aware of the risks associated with these stocks.
Trend Investing
Thanks for reading this article. If you want to go to the next level, sign up for Trend Investing, my Marketplace service. I share my best investing ideas and latest articles on the latest trends that are going to change the business world. You will also get access to exclusive CEO interviews and chat room access to me, and to other sophisticated investors. I'd love to have you join our community as we look to take advantage of the hundreds of hours of work I've done to analyze the best opportunities in emerging industries, especially the electric vehicle and EV metals sector. You can learn more by reading "The Trend Investing Difference", or sign up here.
My latest related Trend Investing articles are:
This article was written by
The Trend Investing group includes qualified financial personnel with a Graduate Diploma in Applied Finance and Investment and well over 20 years of professional experience in financial markets. They search the globe for great investments with a focus on trending and emerging themes. Their current focus is on electric vehicles, the EV metals supply chain, stationary energy storage and AI.
They lead the investing group of the same brand name,
Learn more
.
Analyst's Disclosure: I am/we are long BYD CO., ALPHABET GOOGLE. I wrote this article myself, and it expresses my own opinions. I am not receiving compensation for it (other than from Seeking Alpha). I have no business relationship with any company whose stock is mentioned in this article.

The information in this article is general in nature and should not be relied upon as personal financial advice.
Seeking Alpha's Disclosure: Past performance is no guarantee of future results. No recommendation or advice is being given as to whether any investment is suitable for a particular investor. Any views or opinions expressed above may not reflect those of Seeking Alpha as a whole. Seeking Alpha is not a licensed securities dealer, broker or US investment adviser or investment bank. Our analysts are third party authors that include both professional investors and individual investors who may not be licensed or certified by any institute or regulatory body.