Summary
You may think you could love the stock market, but remember that you hardly know it. The stock market remains an unpredictable creature.
The days of persistently low stock market volatility appear to be over.
It's time for crimson and clover.  It may be worth adjusting your investment strategies accordingly.
"Oh
Now I don't hardly know her
But I think I could love her
Crimson and clover"

- Crimson and Clover, Tommy James and The Shondells, 1968
So, many investors hardly know today's stock market. They think they do, because it's been so pretty, happy, and nice to its many suitors for so long since that brief interruption known as the financial crisis ended a few years back. And many investors do think that they could really love the stock market this time around, never mind the fact that it has twice burned its past devotees by more than half over the last two decades. But not today's investors. The stock market really loves us back this time and will never let us down again. Right? For those that have fallen in love for so long now, get ready for the crimson and clover that lies ahead.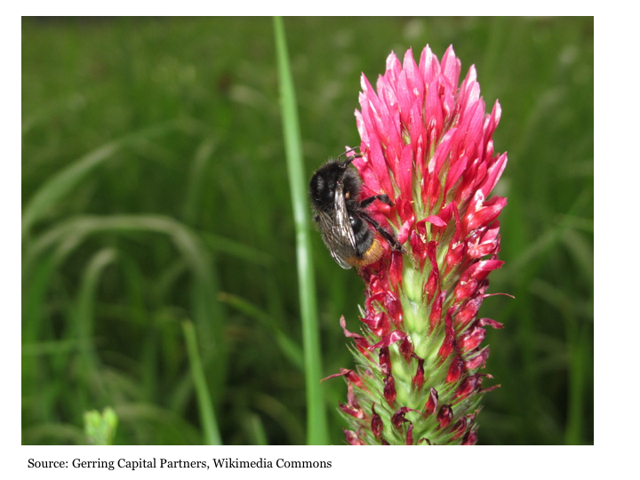 The Sting Of Spring
Beware getting stung by today's market. After so many years of record low volatility, investors have been understandably lulled into a false sense of complacency. Consider the following notions:
The stock market always goes up over long-term periods of time.
Indeed. And if you have a 90-year investment time horizon, this is an awesome fact. But most of us will not be living to the age of 150 or more, so we must consider the shorter time horizons that take place along the way that are more consistent with our own personal circumstances.
With this stocks for the long run notion in mind, ask the investor in places like Spain (EWP), Italy (EWI), and Japan (EWJ) how their stock investments from 20 to 30 years ago have worked out on a nominal basis through today. But we could never be like Spain, Italy, or Japan (DXJ), right!?! Don't be so sure. After all, ask the U.S. stock (DIA) investor that went long stocks in the late 1920s or mid 1960s about how long they had to wait to turn a real profit on their investments. Better yet, ask the notoriously confident speculator with his basket of dot.com stocks from the year 2000 how this basket is doing nearly two decades later today.
Thus, being successful with stocks is not simply about being fully long stocks all of the time. Instead, it's about evaluating your expected returns at any given point in time and adjusting accordingly. And it's also about proper stock selection at any given point in time. Put more simply, for your love of the stock market to be real and lasting, it's going require some hard work and sacrifice along the way. And if the love affair has felt so fun and easy to this point, don't worry, your relationship is gearing up to get put to the test.
But everything is going great today with the economy and corporate earnings
Oh, if only things were so simple. Granted, as long as corporate earnings are rising, the winds of the stock market will be at your back. But here is the problem. By the time you truly know that corporate earnings have peaked and turned the other direction, you are more likely than not already left broken-hearted by a stock market that has long ago descended into a full-blown bear phase. And with stock valuations already at their highest levels in history save the peak of the technology bubble, your margins for error are razor thin. And this includes being late to the exits.
What about the effects of the massive tax cut? This is absolutely good reason for optimism that the old gray bull market may still have a few years left in it. But here's what has me concerned on this front. First, GDP forecasts keep getting revised lower, not higher, as of late. And, those upward revisions in corporate earnings that so many were excited about? They are higher by about +12% to date, which is certainly impressive. But the pace of upward revisions is already showing signs of slowing, and the projected follow through to 2019 is, at least for now, unexciting at best. And a +12% upward revision in earnings estimates simply may not be enough to keep a stock market that is already trading at more than 25 times earnings flying much higher from here.
Then, there's that pesky yield curve. Not only is it not steepening like so many were predicting at the start of the year, it is back to its flattest levels during the post crisis period across much of the Treasury curve. An inflation storm may still be coming, but the still flattening yield curve continues to tell an entirely different story of persisting disinflation and a looming economic slowdown.
Getting To Know You
All of this brings us to an important point. We may think we know this stock market based off of what we have experienced over the last few years. But we must remember that it is still the tempestuous and mercurial companion that we have always known throughout its multi-century history despite its recent placidity over the last few years. In fact, it is often just after the stock market has kept its volatility bottled up for a period of time that it ends up breaking out and going completely wild. For those that think they can love the stock market today, be prepared for such a sudden change of face.
Moreover, if you are still unsure as an investor about exactly why stocks suddenly took you for a shocking and tumultuous ride to the downside just one month ago in early February 2018, let it serve as a brief glimpse reminder of the unpredictable wrath that the stock market can impose on its participants at any moment in time. Think it had anything to do with worries about inflation? Maybe. But then again, maybe not at all. What about forces emanating from China? Or perhaps something else that most of its participants still cannot even see? Put simply, early February was just the tip of a gigantic iceberg of which we have not witnessed for many years now. The stock market is a highly complex creature, and we should never overlook this fact when mingling with it at any point in time.
Crimson And Clover
"Crimson and clover, over and over
Crimson and clover, over and over
Crimson and clover, over and over
Crimson and clover, over and over
Crimson and clover, over and over
Crimson and clover, over and over"

- Crimson and Clover, Tommy James and The Shondells, 1968

So what should we expect going forward from this stock market that has loved us so well in recent years? Simple. Crimson and clover, over and over.
Stock market volatility has returned. And, it appears that it is not going to go away anytime soon. This is not only true from the recent and sudden termination of an asset class category in short volatility (SVXY) that had been artificially suppressing volatility for some time, but it is also a result of monetary policy makers that remain persistent in their resolve to tighten monetary policy despite any fleeting jitters in capital markets. As a result, such increased volatility should not only be expected over the course of any series of months, weeks, or days, it should also be increasingly anticipated across the hours, minutes, and seconds during any given trading day going forward.
Consider Thursday's trading action on the S&P 500 Index (SPY) as an example. The market opened lower by -14 points of crimson just before 10 AM ET, rallied sharply to be higher by as much as +16 points of clover just after 10:30 AM ET (ah yes, that mysterious and powerful buyer of stocks still roams the halls of the exchanges almost every morning around that time) before cascading lower to down -55 points of crimson through the afternoon as I write. And we still shouldn't be surprised if stocks closed higher by the end of the day (in fact, as I make my final edits to this article just after 3:15 PM ET, it has suddenly rallied by +30 from its lows). Nor should we be surprised if stocks ended lower by -100 or more on the S&P 500 Index (IVV) before the day is out.
Such is the market environment we are now operating in today and is likely to continue operating in for the foreseeable future – perhaps into the summer if not quite a bit longer. Just as you get comfortable sitting in front of a computer screen filled with the clover green of stocks racing higher at any given moment, no sooner do you turn away and back again to find that your portfolio display is awash in crimson as the market races to the downside. Then, the clover returns once more, followed again by more crimson...
Of course, crimson and clover markets are not necessarily bad. Instead, they are filled with opportunity for the deliberate and calculating investor. It requires patience, diligence, and hard work, but more volatile market environments bring with it greater opportunity to capitalize on its swings.
So, what crimson and clover should expect in the coming months? Volatility as measured by the VIX is no longer going back down. Instead, it has remained elevated and is now back on the rise. This implies that we likely have not seen the worst of it for stocks in the coming weeks and months.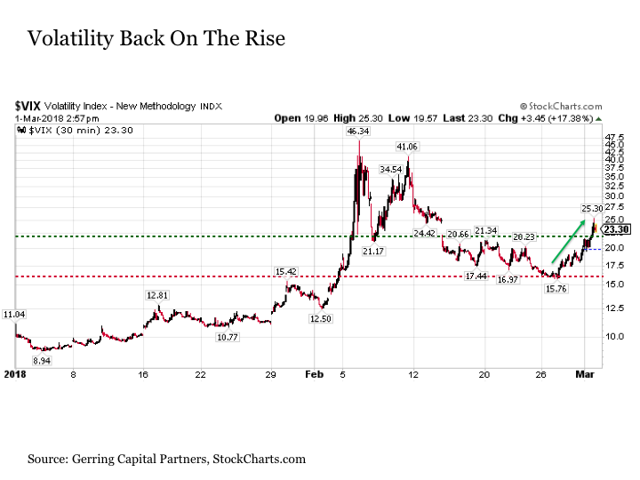 At minimum, we should be increasingly prepared for the stock market to revisit its February lows at 2,532.69 on the S&P 500 Index. In fact, we should not be at all surprised if it finds its way as far down as below 2,400 sometime before the end of March. But if it does fall as low or even lower, do not succumb to the thought that the stock market is simply going to continue going straight down from here.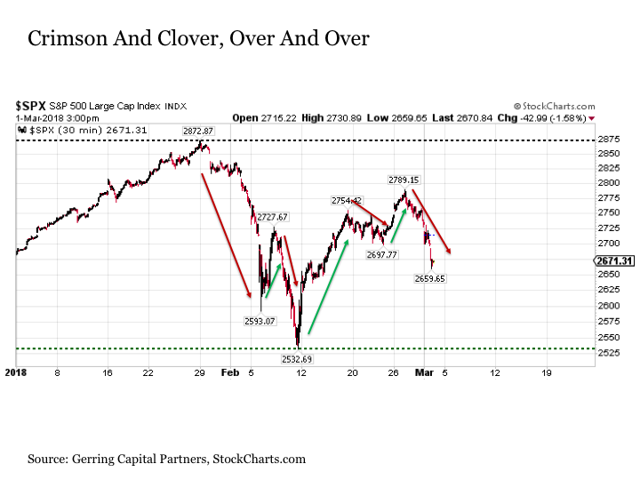 Remember: crimson and clover, over and over, crimson and clover, over and over. For when navigating these periods of higher volatility, just when it seems like the market is going to collapse, it suddenly reverses and rallies higher. And just when it seems like it is ready to race to new all-time highs, it suddenly reverses back to the downside. It is important to recognize that we have not even broken below the 400-day moving average much less the 200-day moving average in the current episode, so such wild swings crimson back and clover forth may very well persist for quite a while into 2018 and perhaps even longer.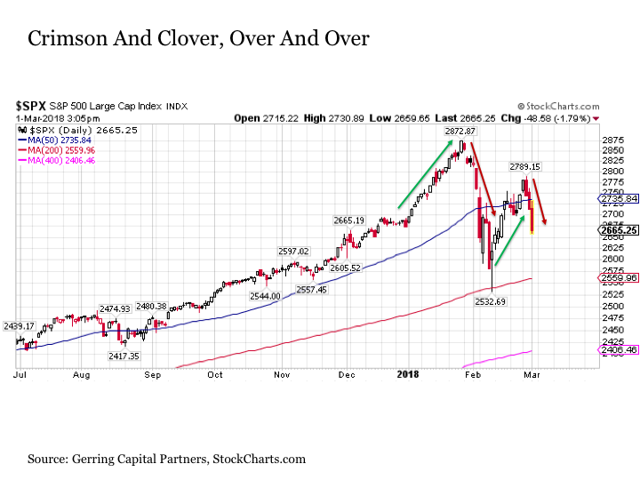 The Bottom Line
So what then is the investment strategy associated with such a crimson and clover market that is increasingly forming today? Maintain an eye toward taking profits on the margins of your portfolio strategy (in other words don't sell everything, instead perhaps take profits on a selected name or two) when stocks are surging to the upside. And watch for any potentially oversold high quality, sustainable earnings growth names trading at attractive valuations on any overly dramatic plunges to the downside to add on the portfolio margins (in other words, consider buying your absolute favorite high quality name at the right price on a pullback, not go all in by deploying all of your dry powder).
When it comes to managing both sides of this strategy, it may be worthwhile to be more assertive on the profit-taking side and much more selective on the dip buying side at this stage. Why? Because a nine-year bull market trading at more than 25 times earnings is simply not one that is going to last forever even in the best of times.
Disclosure: This article is for information purposes only. There are risks involved with investing including loss of principal. Gerring Capital Partners makes no explicit or implicit guarantee with respect to performance or the outcome of any investment or projections made. There is no guarantee that the goals of the strategies discussed by Gerring Capital Partners will be met.
Disclosure: I am/we are long SPLV,RSP. I wrote this article myself, and it expresses my own opinions. I am not receiving compensation for it (other than from Seeking Alpha). I have no business relationship with any company whose stock is mentioned in this article.