Weight Watchers: I Was The Lone Bull At $12 But Am Now Short At $70
Summary
I aggressively recommended shares of WTW, in January 2017, at $12. Recently, we got short shares in the low $70s.
Management's FY 2018 revenue and EBITDAS guidance looks half baked.
I am concerned that Freestyle and 200 foods with no points will led to higher churn and people not losing much weight.
Back in late December 2016 and January 2017, I was one of the only Weight Watchers bulls on the planet and was aggressively recommending readers buy shares at $12 (see my January 3, 2017 piece: Weight Watchers Has The Momentum As Oprah Leans In). As usual, we actually eat our own cooking and I am passionate about my ideas. Back then, we were long 2,000 shares at $12 and admittedly sold way too early. In fact, many of my avid followers, made a lot of money from my WTW pieces, as I received a handful of thank you emails about how much money people made being long WTW.
However, today, I write to share that, when WTW trading in the low $70s, we got short. Of course, I shared this with my Market Adventures readers first. Although Weight Watchers International (WTW) is now trading at $65, or down nearly 10% since I recommended, it remains one of my most compelling current short ideas.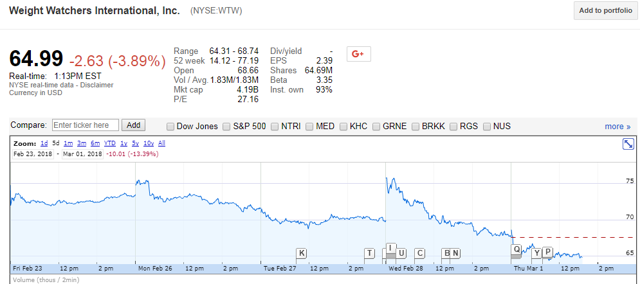 Source: Google Finance
The extraordinarily high valuation combined with rumblings that the new program, Freestyle, is at best unpopular and at worst, possibly not working is what underpins my bearish thesis.
If you take a step back, it is remarkable that from FY 2016 to FY 2017 WTW only grew revenue by $142 million (12.2%), yet experienced a magical $4.1 billion increase in market capitalization in a one year span (68 fully diluted shares x $60 points per share = $4.1 billion).

Source: Weight Watchers IR (2/27/18)
No question the subscriber data is up nicely, notably in the online segment. However, a short squeeze trigger by WTW management under promising and over delivering is the driver of the dramatic market capitalization increase.
Enclosed is my subscription data charts from FY 2014 - FY 2017.

Moreover, if you focus on the "weekly yield" data, which is simply revenue divided by paid weeks, you will see that pricing power shows signs of erosion, as the company has pushed volume to hit the numbers. There is nothing inherently wrong with this, per se, other than it hints that free trials and discounting is required to win new and incremental subscribers. Also, as far as I can tell, Weight Watchers doesn't reveal its churn data.
Note how average weekly pricing has declined every year from FY 2014 - FY 2017 for both meeting fees and online subscriptions.
Also, after two stagnant years, the increase in EBITDAS from FY 2016 $259 million to $337 million, in FY 2017, is nice, but again it is out of step with a $4 billion market cap. increase.

Yes, in November 2017, WTW successfully refinanced its debt, but they still have $1.9 billion in debt and FY 2018 interest expense will be roughly $133 million, which flows through the income statement.
In FY 2016, interest expense was $115 million, however, interest rate swaps increased the annual rate by 118 basis points. So pure interest expense would have been closer to $90 million.
Interest expense in fiscal 2016 decreased $6.7 million, or 5.5%, versus fiscal 2015. The decrease in interest expense was driven primarily by the decrease in our average debt outstanding, which decreased to $2.1 billion in fiscal 2016 from $2.3 billion in fiscal 2015. This decrease was primarily due to the payment in full in April 2016 of the principal amount of loans outstanding under the Tranche B-1 Term Facility and the previously disclosed debt prepayments in March and June of fiscal 2015. The effective interest rate on our debt, based on interest incurred (which includes amortization of our deferred financing costs) and our average borrowings during fiscal 2016 and fiscal 2015 and excluding the impact of our interest rate swap, increased to 4.38% per annum at fiscal 2016 year end compared to 4.34% per annum at fiscal 2015 year end. Including the impact of our interest rate swap, our effective interest rate on our debt, based on interest incurred (which includes amortization of our deferred financing costs) and our average borrowings during fiscal 2016 and fiscal 2015, increased to 5.56% per annum at fiscal 2016 year end from 5.45% per annum at fiscal 2015 year end. See "—Liquidity and Capital Resources—Long-Term Debt" for additional details regarding interest rates on our debt outstanding, the Revolving Facility and payments on our debt. For additional details on our interest rate swap, see "Item 7A. Quantitative and Qualitative Disclosures about Market Risk" in Part III of this Annual Report on Form 10-K.
Per the Q4 2017 conference call, management guided to FY 2018 EBITDAS of $450 million. I find that remarkable given that FY 2018 revenue is only forecasted to grow by $200 million.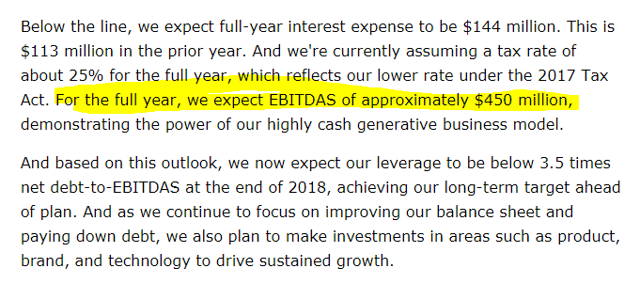 Source: WTW Q4 2017 conference call
Freestyle
Enough about financials and spreadsheet, let's turn to the source of my concerns, and reason for my bearishness, the new Freestyle program.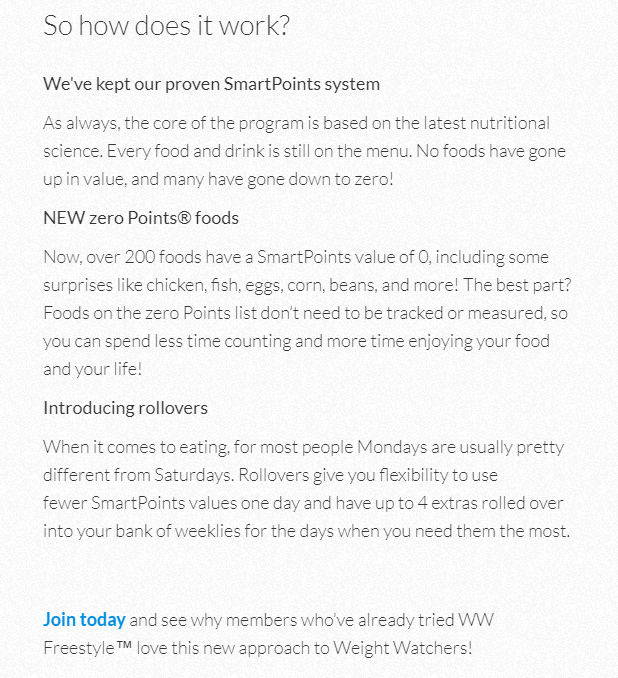 Last time I checked, the key to losing weight is eating better, fewer calories, and exercising. Moreover, eating more proteins, less sugars and carbs, avoiding highly fatty foods (deep fried, fast food, and desserts) is essential, but common sense.
Anecdotally, I heard that existing members say they were actually gaining, not losing weight on Freestyle. So I decided to do some google searching. Again, this is anecdotal, but having 200 foods with no points seems like an incredibly poorly designed program and a major oversight.
I would argue that this is a major fundamental shift and introduces a lot of execution risk and the prospect of higher churn rates.
Check out this blog post.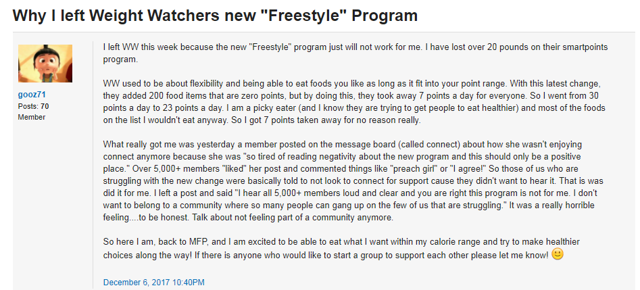 Here is another anecdotal post
I am hearing all sorts of complaints and joy over what is a major change for the program. The people that hate the new program have one thing in common: they were losing weight (or maintaining) on the old plan and now have been not as successful with Freestyle.
Although Weight Watchers, Nutrisystem (NTRI), and other weight management services have a large addressable market, people don't want to live their lives on a diet. This is often a short term behavior shift to achieve short term goals. Now Weight Watchers is selling a lifestyle or a healthier way eating, but given the inherent churn rates in this industry, competition is fierce.
See Nutrisytem's current marketing efforts.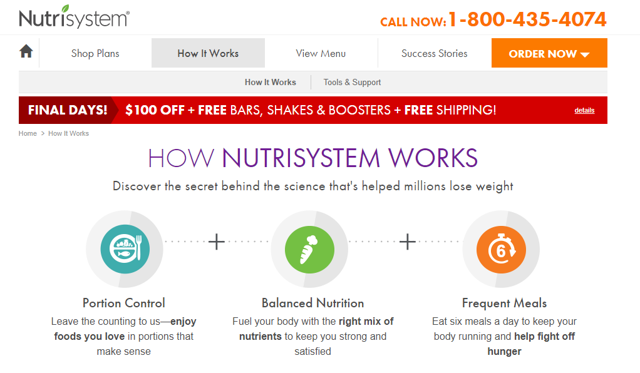 Note how Nutrisystem is aggressively attacking WTW's point system.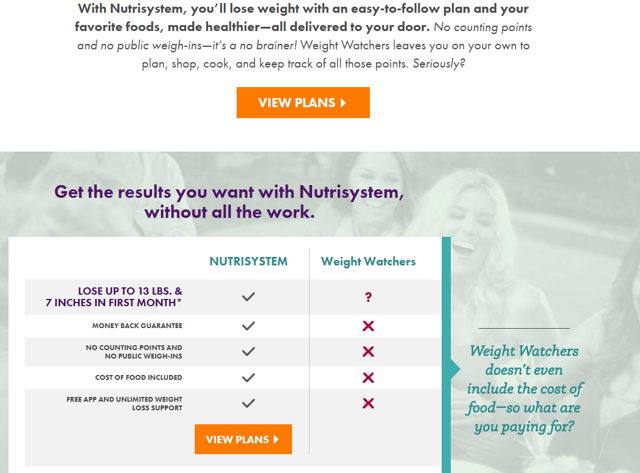 Finally, Oprah's well received Golden Globe speech created a lot of buzz and free PR. However, WTW is up $25 points since then or $1.7 billion in incremental market capitalization.

Takeaway
Although we shorted WTW when it was in the low $72s and, yesterday, on livechat, I said to watch for a reversal on the initial pop (as share traded in the mid $70s on February 28th), my price target for Weight Watchers is $40 to $50. Even if you believe management FY 2018 EBITDAS guidance of $450 million, and I don't, a market cap of $4.42 billion ($65 x 68 million fully diluted shares) plus $1.8 billion in net debt is an enterprise value of $6.22 billion. So WTW is sporting a EV/EBITAS of 13.8X. Plus, I am concerned that 200 point free foods will goose subscriber growth in the short term, but only to have lots of cancellations and churn due to people gaining weight on the program.
This stock is priced beyond perfection!
This article was written by
A career wanderer and journeyman, with a passion for deep value and contrarian investing. I spent five years on the buy side in investment grade bonds on a team that managed $50 billion of assets, 3.5 years as an energy credit analyst for an energy company, and had multiple stints in corporate finance, most recently as a strategic financial analyst. I have an undergraduate degree in Finance (UMass Amherst) and earned an MBA (Babson College).
I actively invest my own capital and for a few family members.

Favorite quotes:
"When you are inspired by some great purpose, some extraordinary project, all your thoughts break their bonds: Your mind transcends limitations, your consciousness expands in every direction, and you find yourself in a new, great and wonderful world. Dormant forces, faculties and talents become alive, and you discover yourself to be a greater person by far than you ever dreamed yourself to be." (Author - Patanjali)
"Tentative efforts lead to tentative outcomes. Therefore, give yourself fully to your endeavors. Decide to construct your character through excellent actions and determine to pay the price of a worthy goal. The trials you encounter will introduce you to your strengths. Remain steadfast...and one day you will build something that endures: something worthy of your potential." (Author - Epictetus)
"Hope sees the invisible, feels the intangible, and achieves the impossible." (Author - Unknown)
"When I stand before God at the end of my life, I would hope that I would not have a single bit of talent left, and could say, 'I used everything you gave me." (Author - Erma Bombeck)
Analyst's Disclosure: I am/we are short WTW. I wrote this article myself, and it expresses my own opinions. I am not receiving compensation for it (other than from Seeking Alpha). I have no business relationship with any company whose stock is mentioned in this article.
Seeking Alpha's Disclosure: Past performance is no guarantee of future results. No recommendation or advice is being given as to whether any investment is suitable for a particular investor. Any views or opinions expressed above may not reflect those of Seeking Alpha as a whole. Seeking Alpha is not a licensed securities dealer, broker or US investment adviser or investment bank. Our analysts are third party authors that include both professional investors and individual investors who may not be licensed or certified by any institute or regulatory body.