Markit Manufacturing PMI: 'PMI Close To 3-Year Peak'
By Jill Mislinski
The February US Manufacturing Purchasing Managers' Index conducted by Markit came in at 55.3, down from the 55.5 final January figure. Today's headline number was below the Investing.com forecast of 55.9. Markit's Manufacturing PMI is a diffusion index: a reading above 50 indicates expansion in the sector; below 50 indicates contraction.
Here is an excerpt from Chris Williamson, Chief Business Economist at IHS Markit in their latest press release:
"US factories are enjoying one of the best growth spells seen since 2014, boding well for the sector to make a solid contribution to GDP in the first quarter."

"The survey's output index readings for the first two months of 2018 are indicative of the sector growing at an annualised rate of just under 3%." [Press Release]
Here is a snapshot of the series since mid-2012.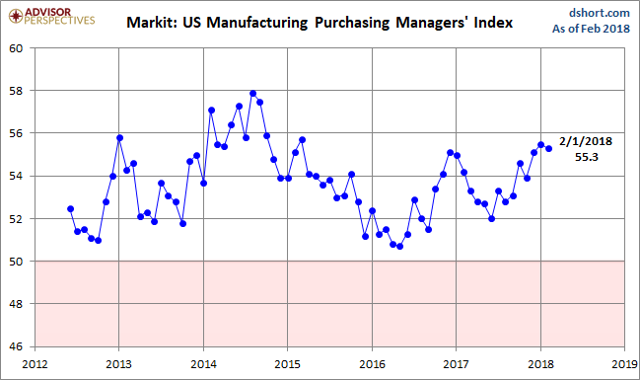 Here is an overlay with the equivalent PMI survey conducted by the Institute for Supply Management (see our full article on this series here).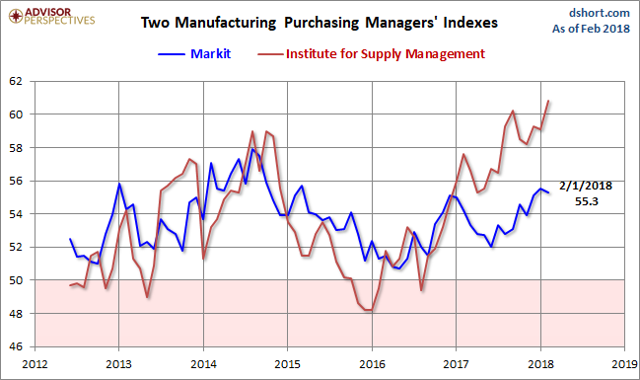 The next chart uses a three-month moving average of the two rather volatile series to facilitate our understanding of the current trend.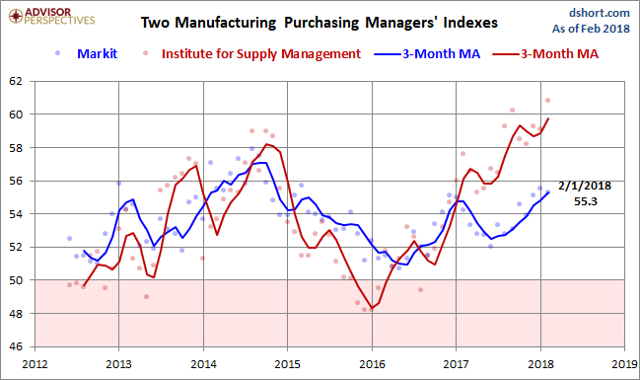 This article was written by
Advisor Perspectives is a leading interactive publisher for Registered Investment Advisors. Our AP Charts & Analysis portion of our website analyzes economic and market trends.