After Falling 23%, Has Box's Drop Boxed In Dropbox's Valuation?
Box (BOX) fell 23% on Thursday after giving weak revenue guidance for the coming year. Unless Dropbox's (DBX) enterprise product is taking market share, Box's decline should weigh on the IPO valuation Dropbox proposes.
In 2014, Dropbox was valued privately at $10 billion. Four years later, its sales have more than doubled to $1.1 billion, and yet it still may not be able to get a $10-billion valuation in public markets. Box grew sales by 27% to $506 million this past year, while Dropbox grew 31% to $1.1 billion. Box is now valued at 4.8x LTM sales; Dropbox would need a 9.0x LTM sales multiple to get to $10 billion.
While Dropbox should get a premium to Box to account for its larger scale and faster growth, IPO investors typically demand room for some initial upside, and Dropbox still reports massive operating losses ($114 million in 2017).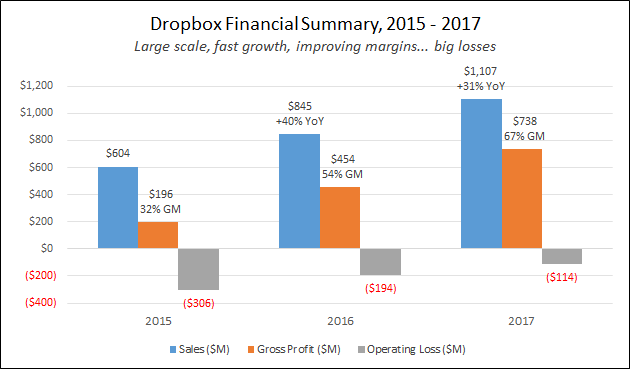 It's unclear how much Box's disappointing forecast will impact Dropbox. In addition to Google (GOOG) (GOOGL) and Amazon (AMZN), Dropbox states that it competes with Atlassian (TEAM), up 15% over the past three months.
Dropbox is one of several decacorns we expect to IPO in 2018, including Spotify (SPOT).
This article was written by
Renaissance Capital provides pre-IPO research to institutional investors and investment banks. The Firm manages two IPO-focused funds: The Renaissance IPO ETF (NYSE: IPO) and the Renaissance International IPO ETF (NYSE: IPOS). Individual investors can get a free overview of the IPO market on www.renaissancecapital.com, and try a free trial of our premium platform, IPO Pro (ipopro.renaissancecapital.com). Through Renaissance Capital's pre-IPO research service, institutional investors get an independent opinion, in-depth fundamental analysis, and customizable financial models on all IPOs.