Summary
Makan Delrahim recently quipped that there was "a reason that David beat Goliath" in reference to the Department of Justice case against AT&T over its Time Warner merger.
We question who "David" and who "Goliath" are in this case, and conclude that it depends on your perspective.
We see the merger as going through on the grounds of a vertical integration that does not limit competition, with Delrahim's own words likely to be used against him.
The worst-case scenario from our perspective is that the merger is conditional on asset sales and/or spinoffs.
AT&T is a buy with or without Time Warner.
For what feels like an eternity, but in reality has been about 18 months, we have been following the ongoing saga of the controversial AT&T (NYSE:T) and Time Warner (TWX) merger. Other than making some quips here and there in our last few articles about how we are operating under the assumption that the merger will NOT go through when making our 2018 projections for both companies, we are of the opinion that the merger WILL go through. In this column, we address the conundrum that is the "David versus Goliath" situation with AT&T versus the Department of Justice. We discuss reasons for and against the merger, and the fiscal implications of such a merger. It is our thesis that the worst case scenario is a merger that includes asset sales/spinoffs, but AT&T is a buy regardless of Time Warner.
Who is David, and Who is Goliath?
We are sure that readers are familiar with the fable of David and Goliath. There are various interpretations of the story, but we subscribe to the one that presents David as a confident and brave soul who battled against near impossible odds to take on the mighty warrior Goliath by outsmarting him and using the physics of stone throwing to ultimate claim victory. In the end, those who witnessed the feat were greatly encouraged by the massive underdog defeating a mighty warrior against all odds.
Source: Marsabitimes.com
So, why is this relevant to AT&T and the Department of Justice? Well, the Department of Justice Chief Makan Delrahim recently quipped that David beat Goliath for a reason when responding confidently about defeating AT&T in court. CNBC's David Faber took this quip as 'trash talking'. Delrahim went on to say:
"In the U.S. we now have thousands of vertical merger experts, who somehow think we haven't enforced anything in 50 years…we are 30 lawyers against 700…David beat Goliath for a reason."
Clearly Delrahim believes that the mighty U.S. government, whose power is seemingly unlimited in many regards, is somehow the massive underdog against the mighty Goliath that is AT&T. It is this author's opinion, that perhaps the converse is true. Perhaps AT&T is the David in this story, and Goliath is the government? Perhaps it is a blend of the two, depending on your viewpoint. Let us discuss what happens if there is a merger, if there is no merger, and what we think is the worst-case scenario.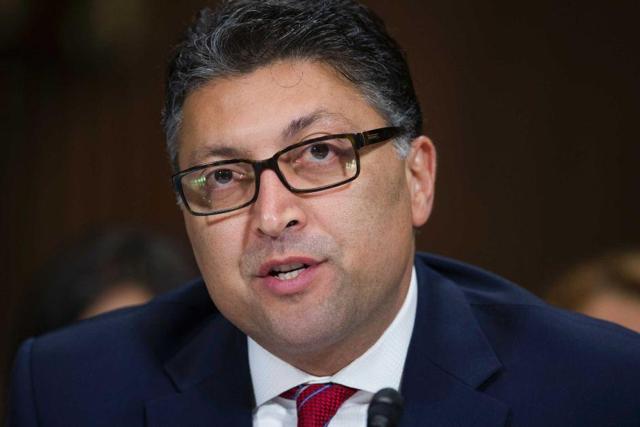 Makan Delrahim, Source: ABC.net
What happens if there is a merger
To be considered Goliath, a mighty giant who was rarely challenged, one must believe that they are untouchable. In our opinion, this sounds more like a massive government than a large corporation like AT&T, as the latter has been challenged in court many, many times, winning and losing. Of course, relative to small business, AT&T certainly seems Goliath-like. It is all about perspective. We digress. Here is the main concern.
Should the acquisition prove successful, AT&T would shift from being one of the major established telecommunications providers in the United States, and not only a leading provider of pay TV, but a major provider and producer of entertainment content. In effect, AT&T would become a vertically integrated entertainment company.
This is what the Department of Justice is challenging. They argue that AT&T would be too powerful, despite the type of integration being employed. This is a common theme in recent years with Department of Justice antitrust suits, though they have had mixed success. We contend (as a vested shareholder) that AT&T has simply offered to purchase Time Warner, and the latter party has agreed. It is not being conquered. It is not being assailed. It is not a hostile takeover. Just who is the Department defending? The argument is 'the competition,' and we certainly agree that protecting competition is a legitimate role of the Department.

Source: Department of Justice, Antitrust Division, Mission Statement
Protecting competition is vital
There is no doubt that ensuring competition can survive and thrive following a mega-merger is key. It is the reason antitrust laws were put into place to begin with. Back when smaller businesses were the proverbial "Davids" being squeezed out by the "Goliaths" of the corporate world.
These days, many of these types of cases are done to protect other massive Goliaths. That is, there are few-to-no 'Davids' in the corporate world. The primary objection in the case rests on the belief that competitors like Verizon and Sprint will be at a diminished capacity to compete, while rival television companies could be restricted from content. However, the biggest special interest in our opinion is the consumer.
Impacts on the consumer
The consumer needs to be considered. It may be suggested that too much power in the hands of one company could lead to prices being raised. There may be some truth to that statement, but it does not limit the competition in our opinion. This is especially true when record numbers of consumers are abandoning traditional TV anyway, cutting the cord. For those that remain, content issues need to be considered.
A legitimate concern we have is that a number of popular programs "could" be withheld from the consumer until AT&T gets a price it wants. Think about all of the HBO programs, like "Game of Thrones" or even sporting rights like NBA games on TNT and TBS. There are many ways in which AT&T (theoretically) could control content to hurt competition, raise prices and revenues, and ultimately impact consumers. Still, this case is different.
Why this case is different?
This is one of the largest anti-trust cases in decades, but what is so peculiar about this case is that vertical mergers like this one are routinely approved because they generally benefit consumers without removing any competitor from the market. In our view, this is still the case.
However, if we are searching for grounds to agree with the Department, we would argue that AT&T "could" effectively try and withhold content from other providers and lock-up the market as we alluded to above, hurting both the competition and the consumer simultaneously. Undoubtedly, this is the argument the Department will employ. However, the counter argument is a simple one from a business perspective. It probably would not make sense to try and control content like this by nickel and diming both the competition and customers, as the potential loss to revenues both short- and long-term could be catastrophic across all of the providers that consume Time Warner's content, but it is a "possibility". There are several potential outcomes.
If there is no merger
If there is no merger, then nothing changes from the status quo. A lot of time and money will have been wasted. It will be a win for Delrahim and the U.S. Government, to block AT&Ts bid. However, given all of the moves made by AT&T and Time Warner in preparation for the merger, we think that if the merger is blocked at its face value, there will be compromise.
A likely compromise, our worst-case scenario
Our guess is this. Like many other regulatory bodies around the globe, if there are concerns about too much power, a compromise may be reached if the Court sides with the U.S. Government. We predict such a compromise could include spinning off certain key assets such as Turner Broadcasting, or even more aggressively, DirecTV itself. However, if the Court sides with AT&T, then it will not be forced to divest any property.
Why we think AT&T will be victorious
Whether it is an outright win, or a compromise, the merger will happen. Is this as win for David, or a win for Goliath? We suppose once again that it depends on your view relative to AT&T, Time Warner, and the U.S. Government. But there is one key DOJ publication with a key quote that was noted by our colleague Financial Freedom Institute:
"First, the enforcement agencies need to exercise caution in taking actions against vertical transactions to avoid chilling efficiency-enhancing mergers that pose little risk of harm to competition. It is likely that anticompetitive effects will be more difficult to establish…"
Let us also not forget that the self-proclaimed David in this case is coming off somewhat hypocritical (a very Goliath-like trait). Just a few months ago, Delrahim was on record as saying he doesn't see a major problem in AT&T's $85 billion deal for Time Warner. The phrase "that's messed up" comes time mind, and with it, AT&T is holding him to his words. What do we mean? Delrahim has been listed as a witness for AT&T. This could be a major deciding factor in the case, in conjunction with all other witness testimony.
AT&T is a winning investment with or without Time Warner
There are many reasons why AT&T is a winning investment with our without Time Warner. First, the company continues to improve its free cash flow in recent quarters, and is committed to raising its dividend: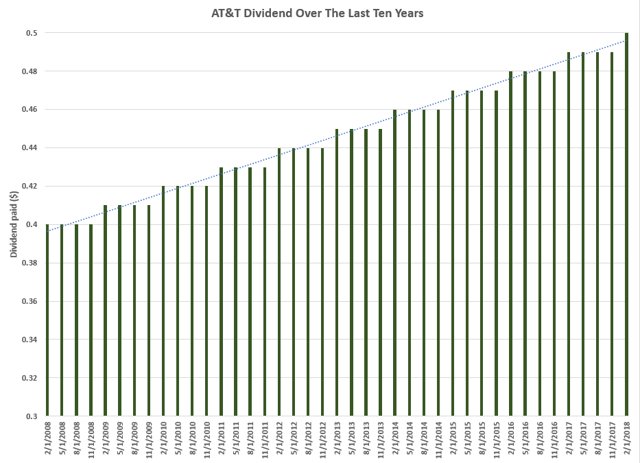 Source: SEC filings
As you can see AT&T has had an amazing history of paying its shareholders. Now, we do not usually buy this stock for growth, but if you time your buys properly you can capture both high-yield and share price growth.
As an example, if you purchased shares at say $37.40 in January 2008 and never did anything else in the name other than hold the position, you would be essentially flat on that investment at the current share price of $37.46. Ouch. However, dividends paid total $18.30, so the investment is up $18.36 on this investment. That's a total of 49%. That is not the best return, but it isn't zero either. What is more, by 2028 the entire initial investment will be recouped by dividends. The power of the dividend is even more magnified if dividend have been reinvested/compounded.
This advantage, the power of the dividend, is exponential in the out years. In other words, once you reach three to four decades of holding this name, most of your gains are made in the last few years of holding the stock. This is not a get rich quick name. But Time Warner should bring some growth to AT&T.
How Time Warner will help AT&T
Aside from what we discussed about competitive advantages, we previously looked at ways in which Time Warner can help AT&T fiscally. We will not repeat that information but invite you to review that column. As we have discussed this issue previously, and the present column is lengthy, we will simply hit the high points.
One of the major reasons for this purchase is for AT&T to save some money on content expenses. Any Time Warner content currently has to be paid for. So, this purchase will reduce those costs immediately (and of course and revenues that Time Warner brought in on the top line will be washed by the concomitant decline in AT&T expenditures). The benefit of the box office successes and subsequent ability to license that content will bring a much needed source of diversified revenue to AT&T. Finally, Time Warner has been in strong growth mode, and as such, AT&T is acquiring a winning business.
Take home
We are buyers of AT&T with or without a merger, but are befuddled by the DOJ antitrust chief's former words on the merger, and his now tough stance that the deal is anti-competitive stance considering it is a vertical integration of these businesses, which generally are always approved and benefit the consumer. While in theory AT&T 'could' go out of its way to limit access to content for competitors, this does not make fiscal sense. While it may lead to more customers choosing AT&T, we do not view the move as 'anti-consumer' or 'anti-competition.' We are left wondering who the proverbial David and Goliath are in this case. In either event, our worst-case scenario is that the merger will go through with compromise (e.g. asset sales, spinoffs).
As always, we encourage and welcome your comments.
Quad 7 Capital has been a leading contributor with Seeking Alpha since early 2012. If you like the material and want to see more, scroll to the top of the article and hit "follow." Quad 7 Capital also writes a lot of "breaking" articles that are time sensitive. If you would like to be among the first to be updated, be sure to check the box for "email alerts" under "Follow."
This article was written by
We are VERY proud to have created thousands of WINNERS, helping them learn the markets and grow their money. We are the team behind the top performing investing group BAD BEAT Investing. Quad 7 Capital was founded in 2017 by a team that consists of a long time investor, health researcher, financial author, professor, professional cardplayer, and hedge fund analysts.
The BAD BEAT Investing service is a specialized carve out of Quad 7 Capital and launched in 2018. The service is run by a team of hedge fund analysts. This a top performing investing group service relative to market returns. It is focused on trading opportunistic inflections, and leveraging mispriced stocks and momentum driven events for rapid-return swing trades, options education, and long-term investments. We also teach investors how to hedge their portfolios. Further, it offers a direct access line to our traders all day during market hours and provides daily market commentary.
Quad 7 Capital as a whole has expertise in business, policy, economics, mathematics, game theory and the sciences. The company has experience with government, academia, and private industry, including investment banking, boutique trading firms, and hedge funds. We offer market opinion and analysis, and we cover a wide range of sectors and companies, with particular emphasis on news related items and analyses on growth companies, dividend stocks, banks/financials, industrials, mREITS, biotechnology/ pharmaceuticals, precious metals, and small-cap companies.
If you want to win, follow us, and if you want to make real money, sign up to BAD BEAT Investing today. 
Analyst's Disclosure: I am/we are long T. I wrote this article myself, and it expresses my own opinions. I am not receiving compensation for it (other than from Seeking Alpha). I have no business relationship with any company whose stock is mentioned in this article.
Seeking Alpha's Disclosure: Past performance is no guarantee of future results. No recommendation or advice is being given as to whether any investment is suitable for a particular investor. Any views or opinions expressed above may not reflect those of Seeking Alpha as a whole. Seeking Alpha is not a licensed securities dealer, broker or US investment adviser or investment bank. Our analysts are third party authors that include both professional investors and individual investors who may not be licensed or certified by any institute or regulatory body.