China Mengniu Dairy: Multiple Earnings Growth Drivers For Market Leader In Under-Penetrated Market
Summary
China Mengniu Dairy is among the three largest dairy companies in an under-penetrated Chinese market.
Earnings growth drivers for Mengniu include corporate restructuring with associate company, international expansion leveraging on World Cup sponsorship, and launch of new premium products.
My target price implies a 28% upside for China Mengniu Dairy based on a 25 times forward P/E multiple applied to my FY2019 EPS estimate.
Elevator Pitch
China Mengniu Dairy Co., Ltd. (OTCPK:CIADF) (OTCPK:CIADY) [HKG:2319] is among China's top three dairy companies that is well-positioned to capitalize on a growing, under-penetrated, domestic dairy market. Future earnings growth drivers for Mengniu include the roll-out of new premium products, earnings upside from the restructuring, and streamlining of associate China Modern Dairy Holdings Ltd.'s (OTC:CMDKF) [HKG:1117] downstream operations and an acceleration of international expansion plans capitalizing on its World Cup sponsorship in June 2018. I arrive at a target price of HK$32.75 for China Mengniu Dairy by applying a 25 times forward P/E multiple to my FY2019 EPS estimate of RMB1.06 or HK$1.31, which implies a 28% upside from Mengniu's share price of HK$25.65 as of February 28, 2018.
Company Description
China Mengniu Dairy is a Hong Kong-listed Chinese dairy company that also trades on an OTC basis in the U.S. Mengniu is among the largest downstream dairy product manufacturer and distributor in China with an annual production capacity of in excess of 9 million tons in 2017. Mengniu generated 86.1%, 6.7%, 6.1% and 1.1% of its 1H2017 (YE Dec.) revenue from the Liquid Milk (comprises UHT milk, milk beverages, and chilled yogurt), Ice Cream, Milk Formula and Other Businesses (primarily cheese, plant-based nutritional food) segments respectively.
Mengniu also owns a 61.25% stake in Modern Dairy, China's largest upstream dairy farming company and producer of fresh raw milk with respect to herd size and quantity. Note that Modern Dairy is accounted for as an associate of Mengniu using the equity method, as Mengniu does not have more than 50% of the voting rights of Modern Dairy, taking into account zero coupon exchangeable bonds exchangeable into 689,438,782 shares of Modern Dairy representing approximately 11.24% of the company's issued share capital.
Market Leader In Under-Penetrated Chinese Dairy Market
China Mengniu Dairy is the second largest player in China's liquid milk market with a 27.8% market share based on AC Nielsen research, with the top three companies, Inner Mongolia Yili (OTC:IMYBY), Mengniu, Bright Dairy (market share figures are very close to each other within 1-2 percentage points) accounting for 87% of the domestic liquid milk market. It is a similar story in the UHT (ultra-high temperature processing) and chilled yogurt markets in China, where the same three companies dominate with a combined market share in excess of 80% for these two dairy sub-segments. Mengniu is the domestic market leader in chilled yogurt and the second largest player in UHT milk in China, boasting domestic market shares of 32.3% and 28.4% respectively.
In 2008, China was hit with a severe dairy scandal, where at least 300,000 babies in China became sick from milk powder contaminated with melamine, which dented consumer confidence in domestic dairy products. But the tide has shifted since then, back in favor of domestic dairy players like Mengniu. In an August 2017 China Daily article on the Chinese dairy industry, a Shanghai resident Zhou explained why he or she prefers domestic milk to imported milk, saying that "I prefer to purchase domestically produced fresh milk. As far as I know, the shorter time from production to use makes the milk fresher and more nutritious." The soundbite from Zhou and the market share statistics show that most Chinese still have faith and trust in domestic brands, particularly the ones from leading dairy companies like Mengniu. In Mengniu's case, its vertically integrated operations (through its stake in Modern Dairy) and partnerships with foreign companies such as Danone (OTCQX:GPDNF) (OTCQX:DANOY) (Danone holds a 20% stake in a joint venture with Mengniu to produce and sell chilled yogurt) and WhiteWave Foods (WWAV) (51%/49% joint venture for plant-based products) give consumer further confidence in the safety and quality of its products. I expect the top three domestic dairy players including Mengniu to continue enjoying a lion's share of the Chinese dairy market for the foreseeable future.
China's dairy market is significantly under-penetrated, compared with other international markets. Based on 2016 Macquarie research, China's liquid milk per capita consumption was 17.8 kilograms compared with 30.8 kilograms for Japan and 71.6 kilograms for the U.S. Using yogurt as another example, Chinese consumers spent about $20-30 per capita in 2016, compared with $100 per capita for the most developed markets internationally. While per capita consumption of yogurt is still low (but rising), Chinese consumers have shown an increased willingness to pay more to consume yogurt, as validated by the 5% CAGR in average selling price of yogurt from $10 to $15 between 2010 and 2017. Mengniu is poised to be a beneficiary of the growth in consumer spending per capita on dairy products in the mid-to-long term.
Corporate Restructuring With China Modern Dairy To Yield Profit Upside
In January 2018, China Modern Dairy announced that China Mengniu Dairy would buy a 50% interest in two downstream milk production business units engaged in the production and distribution of milk products and operation of dairy farms in China from China Modern Dairy for RMB 56 million (equivalent to the book values of these two companies). I view this as a significant positive for Mengniu for a couple of reasons.
Firstly, this allows Mengniu to streamline the upstream and downstream operations of the group as a whole, including Modern Dairy. Prior to this acquisition or corporate restructuring, Mengniu and Modern Dairy were involved in both upstream (dairy farming and raw milk supply) and downstream (production and distribution of milk products) business activities across the dairy value chain. With the disposal of these two downstream milk production units to Mengniu, Modern Dairy can focus its efforts on strengthening and exploiting its core competencies in the operation of dairy farms and supply of raw milk. As a leading manufacturer of dairy products with an extensive distribution network of dairy products in China, Mengniu is better positioned to manage these "non-core" downstream business units of Modern Dairy.
Secondly, Mengniu has the ability to turn around Modern Dairy's two loss-making downstream milk production business units. In 2016, these two business units registered a loss of RMB335 million which Mengniu had to equity-account in its own profit & loss financial statements. It is not unrealistic to assume that Mengniu can easily improve the profitability of these two downstream milk production business units by virtue of its downstream production expertise and experience, economies of scale and opportunities for cost synergies through reducing duplicate functions. Assuming these two business units are able to achieve the 7.9% operating margin of Mengniu's Liquid Milk business segment in future, this would translate to RMB82 million in operating profit (or about RMB50 million in associate profits equivalent to approximately 2% of Mengniu's 1H2017 annualized net profit after tax) based on two units' FY2016 combined revenue of RMB1.04 billion.
Thirdly, this series of corporate restructuring initiatives, including a new supply and processing agreement Modern Dairy signed with Mengniu in June 2017, has the potential to restore Modern Dairy to profitability and reduce or even eliminate future associate losses from Modern Dairy which Mengniu incurred in FY2016 and 1HFY2017. Under the new supply and process agreement, Modern Dairy terminated its existing distribution agreements for liquid milk products and instead will be selling its milk products directly to Mengniu on a cost-plus basis. In 1H2017, Mengniu recorded a loss from associate of RMB362.3 million from China Modern Dairy. I expect Modern Dairy to be at least break-even or even marginally profitable in FY2018, which would be a boost to Mengniu's financials.
World Cup Sponsorship To Extend Mengniu Brand Overseas
China Mengniu Dairy was announced as the June 2018 FIFA World Cup (arguably the biggest soccer and sports event of the year) official supplier of drinkable yogurt and pre-packaged ice cream in December 2017. As a World Cup sponsor, Mengniu has the right to broadcast a seven-minute commercial during each of the 64 World cup soccer matches, which should help the company and its products gain significant exposure internationally; 3.2 billion people watched the last World Cup in Brazil in 2014.
Mengniu does not disclose its revenue split between different geographical markets, so it is safe to assume that Mengniu currently derives most of its revenue from its home market, China. This is validated by Euromonitor referring to Mengniu as its "presence limited to China" in a September 2017 Euromonitor report on the Asia-Pacific dairy industry. In the same report, Euromonitor research found that the Asia Pacific dairy market delivered the fastest historical growth for the past five years among the different geographical regions globally, while still boasting the lowest per capita spending on dairy products.
For the 2012-2017 period, the overall Asia Pacific dairy industry grew by a 4-5% CAGR to become the largest dairy market overtaking Western Europe since 2015. Within Asia Pacific, the faster growing Asian dairy markets included Pakistan, Laos, Vietnam, and India which achieved CAGRs in excess of 10% over the same period. Looking ahead, Euromonitor is forecasting 2017-2022 CAGRs in the mid-to-high single digits for emerging Asian markets such as Myanmar, Laos, Cambodia, Vietnam, and Indonesia. In contrast, the dairy markets in mature regions like Western Europe and North America exhibited little or no growth over the past five years, while dairy markets in Middle East and Africa grew by a slower 3-4% CAGR compared with Asia Pacific. In terms of consumption on a per capita basis, consumers in Asia Pacific spent under $50 per capita on dairy products in 2017, versus per-capital spending of $200-$250 for Western Europe & North America and $100-$150 for Latin America & Africa respectively.
Apart from securing the World Cup sponsorship to capitalize on dairy opportunities in Asia Pacific, Mengniu has been actively expanding its overseas presence in the past one to two years. Its room temperature products (including Pure Milk, Low-Fat High Calcium Milk, Milk Deluxe, Fruit Milk Drink, Just Yogurt) and chilled products (including Yoyi C cultured milk, and ice cream product brands such as Deluxe, Suibian and Mood for Green) are already available in key Asian overseas markets like Hong Kong, Macau, Mongolia, Myanmar and Singapore. In its FY2016 annual report, Mengniu mentioned that it "achieved good sales performance" in these markets, although no actual numbers were provided. This good sales performance was made possible by Mengniu employing largely local staff in these overseas Asian markets and empowering them to develop new products catering to the specific preferences of the respective Asian markets. In the second half of 2017, Mengniu formed new supplier partnerships to enter Indonesia. Recall that I highlighted earlier that Indonesia is one of the emerging Asian markets (Myanmar as well) that Euromonitor is forecasting 2017-2022 CAGRs in the mid-to-high single digits.
In a nutshell, the international growth runway for Mengniu is very long and the sponsorship of this year's FIFA World Cup is just the first step in its international ambitions.
Riding On Premiumization Wave
A March 2016 McKinsey report titled, "The Modernization of the Chinese Consumer" illustrates how China is undergoing a wave of premiumization for its consumer market. Mckinsey's survey of 10,000 Chinese consumers aged between 18 and 56 years old across 44 Chinese cities shows that 59% of Chinese consumers surveyed agreed in 2015 that "I would buy famous-branded products if I had more money" compared with 41% in 2011.
Yogurt is a good example and illustration of premiumization trends in the dairy industry. China is the largest market for drinking yogurt contributing approximately 62% of Asia Pacific sales in 2017 and accounted for 83% of the growth in the value of the Asia Pacific yogurt market between 2012 and 2017, according to Euromonitor research. There are both demand and supply factors driving the growth of yogurt consumption in China. Chilled probiotic drinking yogurt is becoming more popular with Chinese consumers, and dairy companies such as Mengniu are extending the distribution of yogurt products and making a wider variety of yogurt products, including variants like cheaper non-probiotic yogurt (versus probiotic) and shelf-stable yogurt (versus chilled), to reach out to more Chinese consumers.
Mengniu is well-aware of this premiumization wave in China and introduced new products in the yogurt category last year to leverage on its market leading 30% market share in chilled yogurt in China. They include a super premium version of chilled yogurt that comes with a more attractive packaging and better nutritional benefits, and small size probiotic drinks that are easier to store at home and consume on the go.
New Yogurt Products Introduced By Mengniu In 2017 (Super premium
chilled yogurt on the left and Small size probiotic drink on the right)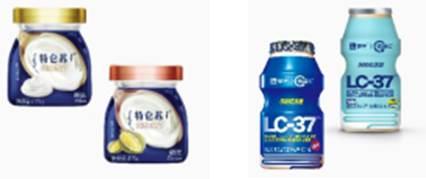 Source: Company Investor Presentation
In August 2017 at the release of its 1H2017 results, Mengniu highlighted that it is looking to introduce more premium products in both yogurt and non-yogurt categories. In the yogurt category, Mengniu is launching European-style charcoal yogurt, which a Australian health & wellness website Body+Soul claims that charcoal has "anti-ageing and detoxifying properties." Outside of the yogurt category, Mengniu is targeting active consumers, sportsmen and sportswomen with Milk Deluxe M-PLUS high protein milk that contains a mix of high quality milk, multi-vitamins, minerals and taurine ("amino sulfonic acid that is a required building block of protein" according to WebMD). For the health-conscious and less price-sensitive Chinese consumer, Xianyu pure milk, which boasts a mere two-hour time frame from milking to processing that claims to keep the milk at the highest quality minus the long transportation and storage time that other milk products undergo.
New Dairy Products In The Pipeline (European-style charcoal yogurt on the left, Milk Deluxe M-PLUS high protein milk in the middle and Xianyu pure milk on the right)

Source: Company Investor Presentation
Valuation
I arrive at a target price of HK$32.75 for China Mengniu Dairy by applying a 25 times forward P/E multiple to my FY2019 EPS estimate of RMB1.06 or HK$1.31.
I forecast Mengniu's revenue to grow by a three-year CAGR of 9% from RMB53.8 billion in FY2016 to RMB69.6 billion in FY2019. This 9% revenue CAGR is slightly faster than the 2011-2016 CAGR of 7.3% that the Chinese dairy & alternative milk grew at, as I assume Mengniu to grow faster than the overall Chinese dairy market by increasing its revenue contribution from both premium products with higher average selling prices and South-east Asian markets with faster expected growth rates. I expect Mengniu's net profit margin to improve from 3.8% in 1H2017 to 6.0% in FY2019. This results in a FY2019 EPS of RMB1.06 or HK$1.31 (based on a RMB:HKD of 1.24). The net margin improvement takes into account the turnaround of associate Modern Dairy from loss-making to profitability, the positive effects of operating leverage and growing contribution from premium products.
A forward P/E multiple of 25 times is reasonable, considering that Mengniu's peers Inner Mongolia Yili Industrial Group and Bright Dairy and Food Co Ltd are trading at forward P/E multiples of 25 and 22 times respectively.
My target price implies a 28% upside from Mengniu's share price of HK$25.65 as of February 28, 2018.
Variant View
The key risk factors for China Mengniu Dairy include a failure to restore Modern Dairy to profitability, lower-than-expected growth from premium products launches and overseas expansion, and food safety issues or scandals in China (even if it does not originate from Mengniu, consumer sentiment and confidence might be affected).
Thank you for reading this Seeking Alpha PRO article. PRO members received early access to this article and get exclusive access to Seeking Alpha's best ideas. Sign up or learn more about PRO here.
Editor's Note: This article discusses one or more securities that do not trade on a major U.S. exchange. Please be aware of the risks associated with these stocks.
This article was written by
Asia Value & Moat Stocks is a research service for value investors searching for attractive Asia-listed investment opportunities  with a huge gap between price and intrinsic value, leaning towards both deep value balance sheet bargains (i.e. buying assets at a discount e.g. net cash stocks, net-nets, low P/B stocks, sum-of-the-parts discounts) and wide moat stocks (i.e. buying earnings power at a discount in great companies like "Magic Formula" stocks, high quality businesses, hidden champions and wide moat compounders).

Those who believe that the pendulum will move in one direction forever or reside at an extreme forever eventually will lose huge sums. Those who understand the pendulum's behavior can benefit enormously. ~ Howard Marks
Analyst's Disclosure: I/we have no positions in any stocks mentioned, and no plans to initiate any positions within the next 72 hours. I wrote this article myself, and it expresses my own opinions. I am not receiving compensation for it (other than from Seeking Alpha). I have no business relationship with any company whose stock is mentioned in this article.
Seeking Alpha's Disclosure: Past performance is no guarantee of future results. No recommendation or advice is being given as to whether any investment is suitable for a particular investor. Any views or opinions expressed above may not reflect those of Seeking Alpha as a whole. Seeking Alpha is not a licensed securities dealer, broker or US investment adviser or investment bank. Our analysts are third party authors that include both professional investors and individual investors who may not be licensed or certified by any institute or regulatory body.