Top 5 Trends I Am Following In 2018
Summary
EVs, energy storage, and EV metals.
Blockchain and cryptocurrencies.
Robots and drones.
Internet connectivity and data storage.
Social media.
This article first appeared on Trend Investing on January 22, 2018; therefore all data is as of that date.
These are the top 5 major trends I am following in 2018
1) Electric Vehicles [EVs], energy storage, and the EV metals
China is likely to announce its internal combustion engine [ICE] ban plan date sometime in 2018. Then, by January 2019, the new China zero emission vehicle [ZEV] system will begin, boosting sales of longer range pure EVs.
Expect further advances in high-speed charging such as the Porsche Mission E that will use an 800V charger, to give 250 miles of range in only 15 minutes. The Mission E is planned to be on sale late 2018/early 2019.
Porsche Mission E - 15 minutes to charge for 250 miles of range

Electric vehicles have reached a critical point of adoption with China recently hitting 3.3% market share in December 2017. This will only improve in 2018, and get stronger in 2019 with the new China ZEV system beginning. Any announcement of a ban date for ICE vehicles in China will no doubt act as a strong catalyst to boost the sector, as it did in September 2017.
2) Blockchain and Cryptocurrencies
The blockchain will most likely be the biggest trend of 2018. The blockchain is evolving to the point where all information will be able to be stored on it in a decentralized safe manner. Added to this, the ethereum blockchain allows smart contracts, which means we can do safe transactions via the blockchain. This will revolutionize how we store data and how we do transactions/contracts. The contracts maybe buying a house and verifying title, verifying personal or business IDs, or buying an item online or in a store. It will most likely be a huge evolution of how we transact in everyday life.
Blockchain will grow rapidly into new sectors. Adoption by banks, financial services, medical, and legal industries.
Cryptocurrencies to continue their wild ride. Those currencies that can create revenue streams beyond just selling their coin will do well. Some examples could be Selfkey [Key], Factom (Factoid), and Power Ledger.
Blockchain is becoming more widely used and accepted. This will be a major growth sector in 2018. The cryptocurrencies are harder to forecast, but will no doubt see huge trading speculation and volatility again. Most likely those currencies with secondary uses will do best, and some new ones will shine.
I will be releasing soon several articles on how best to invest in the blockchain boom that we are just entering now. One article will discuss a new blockchain ETF that offers a reasonable way to gain exposure to the blockchain. The ETF is the Amplify Transformational Data Sharing ETF (BLOK). The next article will look at some blockchain companies such as Global Blockchain Technologies [TSXV:BLOC] (OTCPK:BLKCF), Social Reality (OTC:SRAX), and Seven Stars Cloud Group (SSC) just to name a few.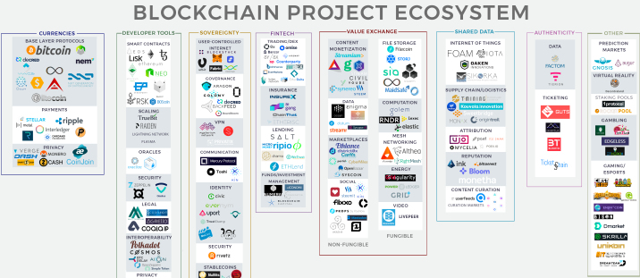 3) Robots and drones
Both industrial and personal robots are expected to grow in the teens or a greater percentage. One estimate is that robots may replace 800 million workers by 2030. Expect to start seeing robots in our airports, bus and train stations, and shopping centers soon. Two excellent ETFs to play the trend are the ROBO Global Robotics and Automation Index ETF (ROBO) and the Global X Robotics & Artificial Intelligence Thematic ETF (BOTZ).
Drones will continue to find their way into military service and other services such as delivery, aerial reconnaissance, border control, and much more.
Robots and drones will continue their stealth approach into mainstream society led by industrial robots to save costs and followed by gradual acceptance of robots in the public domain (airports, train, and stations etc) and to a lesser extent in our homes even initially just as personal assistants.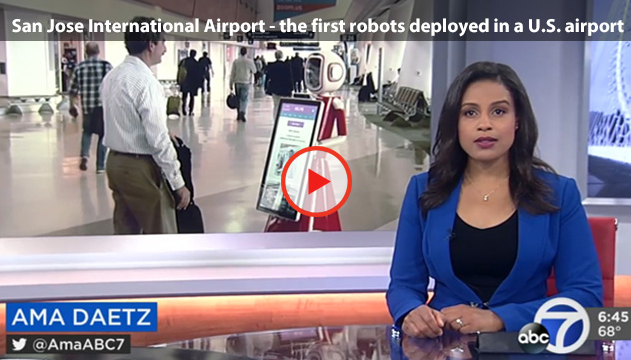 4) Internet connectivity and data storage
Internet connectivity will continue to spread both globally and within our own region. We will see 5G rolled out in the USA, much more video streaming, and widespread adoption of the Internet both at home and at work. More devices will be connected thanks to the Internet of Things, our cars will grow smarter and also connect via WiFi to the Internet. Cloud storage will continue at a rapid pace as will more data centers and data storage generally.
This trend includes many elements:
Data boom - Introduction of 5G will help accelerate the boom in Internet data flow and data storage. Cloud storage and data centers also to benefit.
Smart cars - WiFi enabled cars.
Artificial Intelligence [AI] - Big data analytics and machine learning.
Internet of Things [IoTs] - Able to control machines using WiFi and machines can communicate with us and other machines.
Global Internet traffic forecast by device type 2016 to 2021
The chart below highlights that smartphones will be the major source for "Internet traffic" [data] growth. PCs and internet-enabled UHD TVs will also be significant sources. Global Internet traffic is forecast to grow at a CAGR of 26%.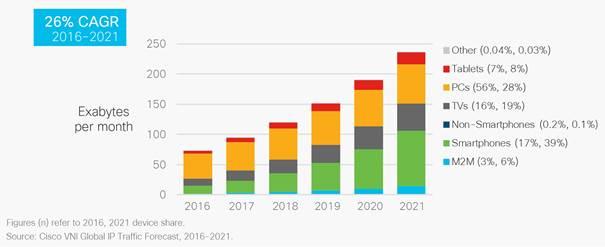 Mobile data traffic forecast growth by region 2016-2021
The graph below highlights most of the growth will come from the Asia Pacific region - think China, India, Indonesia, Philippines etc. Investors should take note of this and try to select stocks that have direct or indirect exposure to this region.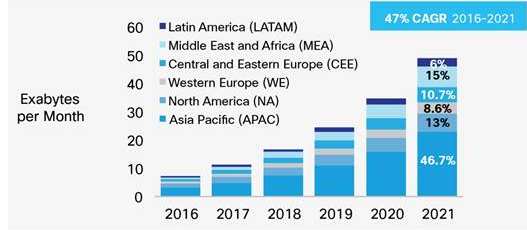 Source: Cisco VNI Mobile, 2017
Investors can read more in my articles "How To Profit From The Online Data Boom" and "Companies To Benefit From The Future Smart Car Boom."
A sample smart car with advanced driver assistance and WiFi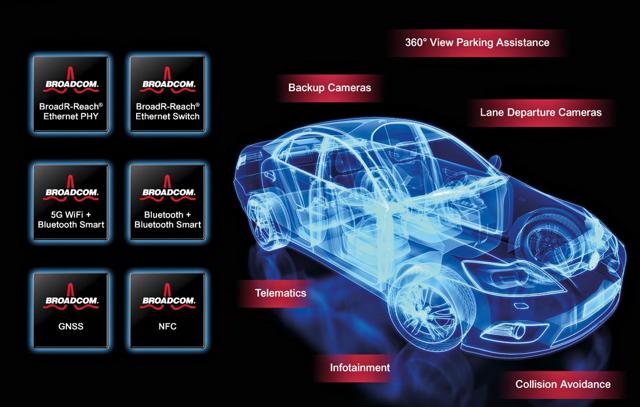 5) Social media
A December 2017 article from CNBC stated: "A new report from Pivotal's Brian Wieser estimates that Google and Facebook account for 73% of all digital advertising in the United States, up from 63% in Q2 2015."
Facebook (FB) owns Facebook, WhatsApp, and FB Messenger so dominates the social media scene. Alphabet Google (GOOG) (GOOGL) has YouTube and of course, dominates search. Combined Facebook and Google totally dominate online advertising excluding China.
According to a 2017 South China Post article, Baidu (BIDU), Alibaba (BABA) and Tencent (OTCPK:TCEHY) "account for a combined 72 percent of the market's total mobile ad revenue." The article is referring to China online ad revenue and was quoting eMarketer.
In China, Tencent's WeChat and QQ reign supreme in the social media area. Companies such as Momo (MOMO) and YY Inc. (YY) and other interactive online media are smaller with potential to grow strongly.
I plan to write an article on how to invest in the social media boom soon in 2018. I will focus on some smaller names as well as on the big five - Facebook, Google, Baidu, Alibaba, and Tencent.
Global social media users (millions)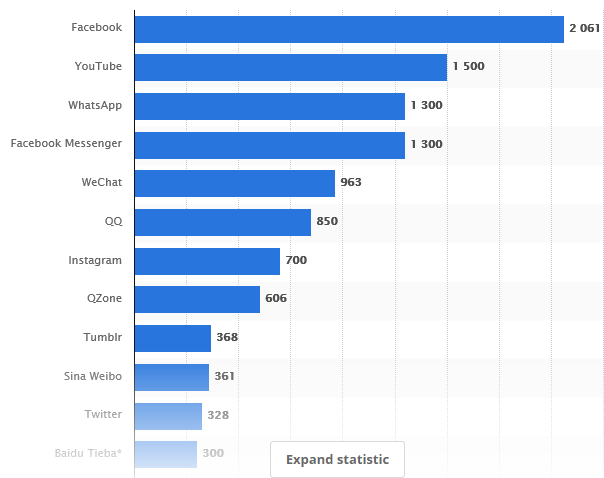 Source: Statista
In 2018, social media may see some fine-tuning such as Facebook's recent announcement to be more consumer friendly with feeds to focus more on family and friends rather than ads. Both Google and Facebook will continue to rapidly grow their subscriber base and dominate the space, whilst moving to improve ad targeting, resulting in continued strong revenues.
Other trends in 2018
Conclusion
My top 5 themes for 2018 are EVs, blockchain and cryptocurrencies, robots and drones, Internet connectivity and data storage, and social media.
Early in 2018, we have already witnessed some large volatility in crypto world as well as some volatility in the lithium miners. My view is that the recent sell-offs will soon settle, and we will soon resume positive sentiment towards the sectors I outlined above.
As usual, all comments are welcome.
Editor's Note: This article covers one or more microcap stocks. Please be aware of the risks associated with these stocks.
Trend Investing
Thanks for reading this article. If you want to go to the next level, sign up for Trend Investing, my Marketplace service. I share my best investing ideas and latest articles on the latest trends that are going to change the business world. You will also get access to exclusive CEO interviews and chat room access to me, and to other sophisticated investors. I'd love to have you join our community as we look to take advantage of the hundreds of hours of work I've done to analyze the best opportunities in emerging industries, especially the electric vehicle and EV metals sector. You can learn more by reading "The Trend Investing Difference", or sign up here.
My latest related Trend Investing articles are:
This article was written by
The Trend Investing group includes qualified financial personnel with a Graduate Diploma in Applied Finance and Investment and well over 20 years of professional experience in financial markets. They search the globe for great investments with a focus on trending and emerging themes. Their current focus is on electric vehicles, the EV metals supply chain, stationary energy storage and AI.
They lead the investing group of the same brand name,
Learn more
.
Analyst's Disclosure: I am/we are long ALTURA MINING (ASX:AJM), PILBARA MINERALS (ASX:PLS), COBALT BLUE (ASX:COB), KATANGA MINING (TSXV:KAT), GLENCORE (LSX:GLEN), ARDEA RESOURCES (ASX:ARL), SYRAH RESOURCES (AS:SYR), ROBO, BOTZ, GLOBAL BLOCKCHAIN TECHNOLOGIES (TSXV:BLOC), GOOG, FB, MOMO. I wrote this article myself, and it expresses my own opinions. I am not receiving compensation for it (other than from Seeking Alpha). I have no business relationship with any company whose stock is mentioned in this article.

The information in this article is general in nature and should not be relied upon as personal financial advice.
Seeking Alpha's Disclosure: Past performance is no guarantee of future results. No recommendation or advice is being given as to whether any investment is suitable for a particular investor. Any views or opinions expressed above may not reflect those of Seeking Alpha as a whole. Seeking Alpha is not a licensed securities dealer, broker or US investment adviser or investment bank. Our analysts are third party authors that include both professional investors and individual investors who may not be licensed or certified by any institute or regulatory body.