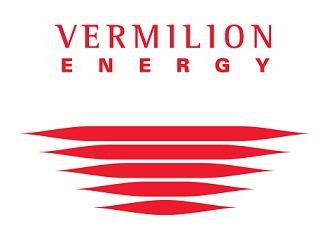 Global O&G producer Vermilion Energy (NYSE:VET) released strong Q4 results today and a 7% increase in the monthly dividend to C$0.23/share ($2.76 annually). In keeping with the general theme of weak energy stocks, a down market (the DJIA is currently down 350+ points), and weak oil prices, the stock (as traded on the NYSE) is down about a point today - pushing the forward yield up to 6.7%.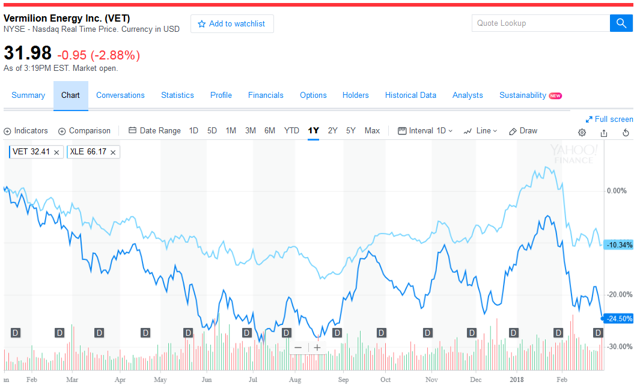 Source: Yahoo Finance
As bad as the broad energy sector has been over the past year (the broad Spider Energy ETF (XLE) is down ~10%), VET is down more than twice that (see graphic above). At the same time, VET yields more than 2x the XLE (2.9%).
Vermilion seems to be suffering from the fact that it is a "Canadian" oil and gas producer. As I have been reporting (see Woe Canada! and Cenovus: Rule #1 - When You're In A Hole, Stop Digging!), Canadian producers are suffering from a lack of pipeline exit capacity that has very negatively affected both WCS oil and AECO natural gas prices. WCS is currently trading at a $28/bbl discount to WTI.
But the facts are:
Vermilion is not an oil sands producer and not exposed to WCS.
The company spends the majority of capex outside of Canada.
The majority of production is outside of Canada.
And it has excellent exposure to the price of Brent (through oil production in France and Australia) and the Euro-gas market (through gas production in Ireland and the Netherlands).
But the market doesn't seem to care. That despite the fact that in 2018, Vermilion expects to generate $350 million+ in free cash flow and just raised its monthly dividend 7%.
Q4 And FY17 Results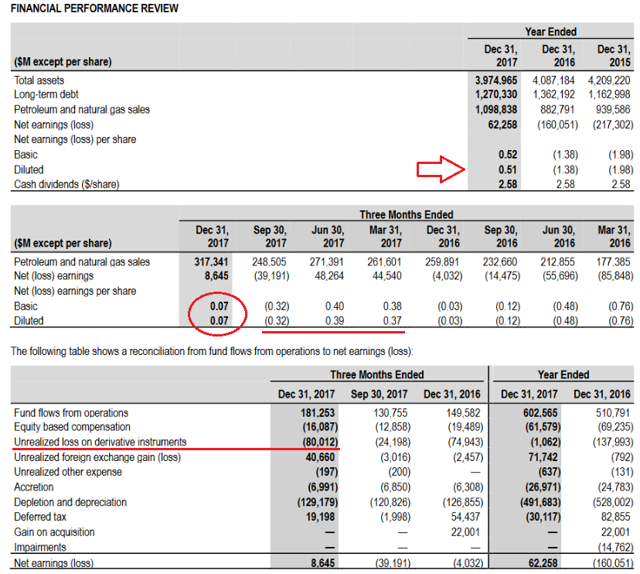 Source: 2017 MD&A
As shown in the graphic above, full-year net income was $0.51/share as compared to losses of $1.38 and $1.96 for the prior two years. Despite a 39% jump in FFO as compared to the prior quarter, net income for Q4 of only $0.07/share was mainly due to an $80 million unrealized hedging loss and despite a $40 million foreign exchange gain (likely due to the strength of the euro versus the Canadian Loonie).
While it would scare some investors that a company that pays out $2.58 in dividends during the year earned only $0.51/share in net income, note that VET reduced long-term debt by $92 million (6.7%) to $1.27 billion during the year. That equates to 2.3x trailing 12-month FFO of $603 million (and only 1.9x annualized Q4 FFO). Note full-year FFO of $603 million equates to roughly $5/share.
Production
Per share production in 2017 came in on the low-end of expectations (up 3% at 68,021 boe/d) due mainly to nearly a month of unplanned downtime at Corrib. The company said the unplanned downtime at Corrib affected average daily production by ~900 boe for the full year.
However, Q4 production of 72,821 boe/d was a record high and was up 8% from the prior quarter due to Corrib coming back online and excellent production growth in the Netherlands (up 59% qoq). Meantime, the company also reported very strong results from the Eesveen-2 well (60% working interest and drilled in Q3) in the Netherlands which was limited to ~10 MMcf/d net during the test period.
Going forward, the company plans to grow production by 12% in 2018 (8% on a per share basis) by spending $325 million (flat with 2017) leading to a very low capital intensity as compared to years past (mostly attributable to high capital expenses related to Corrib):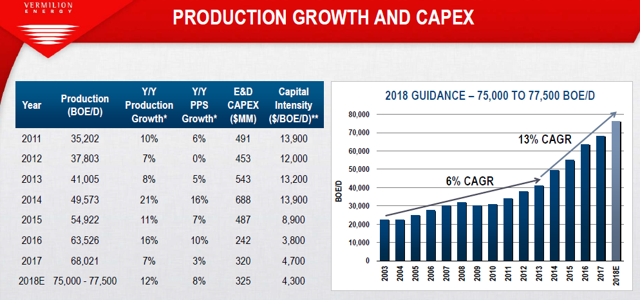 Source: March Presentation
Reserves
Disappointment in the stock's response to the Q4 EPS report may have been due to a relatively weak 2017 reserves report. Proved reserves grew only 0.5% in 2017 to 176.6 MMboe. That compares to total estimated 2017 production of 24.8 MMboe - or a reserve life of 7.1 years. Based on Q4's average daily production of 72,821 boe/d, proved reserves equate to a reserve life of 6.6 years.
The company performed better on "2P" (proved plus probable) reserves growth - which increased 3% to 298.5 MMboe.
Reserves were nicely diversified across the company's global asset base:
Strong Euro-Gas Market
Note my last Seeking Alpha article on VET wondered Is Hedging A Zero-Sum Game?
Hedging results once again negatively affected bottom-line results in Q4, and investors are actually looking at energy companies' bottom line these days. Yet VET's management reported that 43% of 2018's expected production is currently hedged, and an even greater amount of the company's expected Euro-Gas production (54%). That is because the Euro-Gas market has been relatively strong this year.
Oil & Gas 360 reports that another arctic cold-snap is hitting Europe and causing another surge in natural gas prices as measured by the UK NBP index, although they have backed off a bit in the last few days: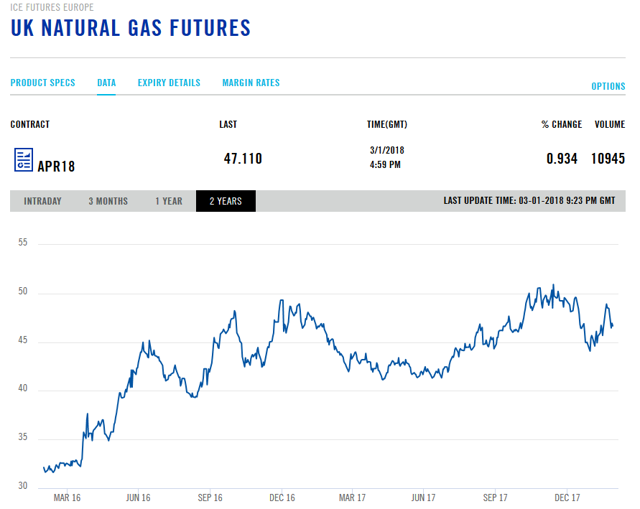 Source: ICE
So, the Euro-gas market remains a source of strength for VET. Also, note that management said "At present, our philosophy is to maintain greater torque to longer-term oil prices, with only 1% of our expected oil production hedged for 2019." That's nice to hear considering the hedging losses VET has reported over the recent past.
Summary And Conclusion
The 7% increase in the company's monthly dividend makes good on management's promise to return money to shareholders after a big rise in capex due to the Corrib project. That project is now online and delivery excellent FFO while capex had dropped more than 50% since 2014 (2014 E&D capex was $688 million versus an expected $325 million this year). At the current strip, free cash flow (defined as FFO - capital expenditures) for this year is expected to be north of $350 million. With 123,450,000 million fully diluted shares at the end of 2017, that equates to an estimated $2.83+/share. From that perspective, the $2.76/share annual dividend doesn't seem so large after all. VET and its 6.7% yield is very attractive here. But I have been saying that for a long time now, and the stock remains weak. Even weaker than the XLE. And that's saying something.