REIT Rankings: Single-Family Rentals
In our REIT Rankings series, we analyze one of the 15 real estate sectors. We rank REITs within the sectors based on both common and unique valuation metrics, presenting investors with numerous options that fit their own investing style and risk/return objectives. We update these reports quarterly.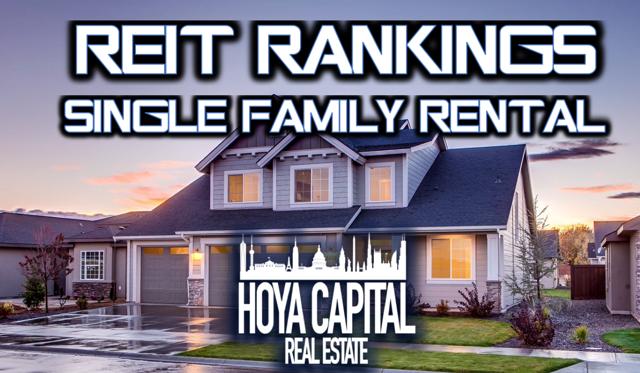 We encourage readers to follow our Seeking Alpha page (click "Follow" at the top) to continue to stay up to date on our REIT rankings, weekly recaps, and analysis on the REIT and broader real estate sector.
Single-Family Rental Sector Overview
Single-family rental REITs comprise 2% of the REIT ETFs (VNQ and IYR). Within Hoya Capital Single Family Rental Index, we track the two largest SFR REITs which account for roughly $17 billion in market value: American Homes 4 Rent (AMH) and Invitation Homes (INVH). There are two smaller portfolios, Front Yard Residential (RESI) and Raven (RVEN) that we do not include in our research at this time, but many of the broader themes still apply.

Above we show the size, geographical focus, and quality focus of the two single-family rental REITs we track. In the SFR market, portfolio quality is largely a function of the average age of properties within a portfolio (older houses require substantially more initial capex), average rent, and property location. These two SFR REITs own nearly 135k single-family homes and currently focus on markets that have experienced the strongest economic growth during this recovery. Many of these markets were hit particularly hard by the housing bubble, which allowed institutional investors to buy distressed properties in bulk.

Single-family rental REITs are one of the youngest REIT sectors, emerging in the wake of the housing crisis. As home prices plummeted, large private investors purchased distressed homes and non-performing loans by the thousands, often sight-unseen from other financial institutions and foreclosure auctions. Through spin-offs and IPOs, a handful of these portfolios were spun into REITs, beginning with AMH in 2013. Initially, the business model depended on the continual acquisition and sale of distressed housing assets, and REITs used foreclosures as a primary source of new home acquisition. The business model ultimately evolved into a stabilized ownership model more akin to typical apartment REITs.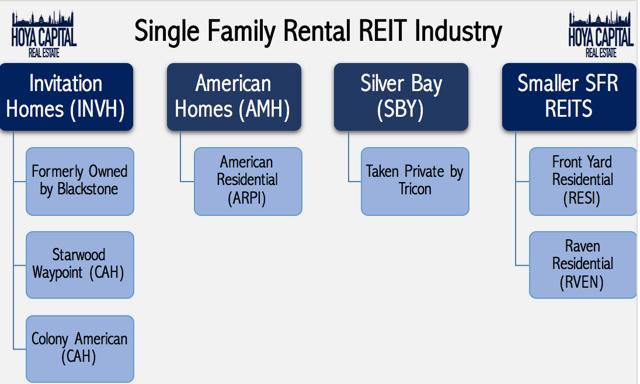 Density within markets is critical for SFR REITs. The industry has experienced a continuous wave of IPOs and consolidations over the past three years as these REITs recognized that, with the stabilized ownership model, market density was essential to achieving efficiencies in leasing, acquisition, and maintenance. We estimate that 500-1,000 units per market are needed to achieve minimum scale, but that 2,000 units or more are needed to reach a "critical mass" whereby the REIT can localize operations within that market and achieve cost efficiencies on par with apartment REITs. INVH owns 4,800 homes per market, while AMH owns 2,100 per market. While most of AMH's markets are above the 500-unit threshold, AMH will likely have more difficulty achieving the efficiencies of the combined INVH. That said, it's important to note that AMH owns a younger portfolio of homes that should require less annual maintenance. Also, keep in mind that higher density can leave the firm more exposed to market-specific risks.
Single-family rentals are nearly half of the total rental housing supply. SFRs have grown from just 10 million units in 2005 to over 16 million units today and could approach 20 million by 2020 based on current trends. Of the 16 million SFR houses, a tiny fraction - just 200,000 - is owned by institutional investors and 130,000 owned by single-family rental REITs. A highly fragmented market, the average SFR owner manages just 1-2 properties.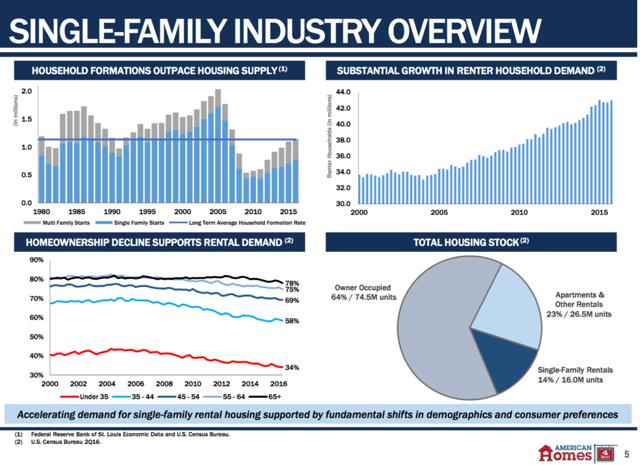 Recent Performance
Single Family Rental REITs had a solid 2017, delivering a total return of more than 7% compared to a 5% total return on the broader REIT index. The August 2017 announcement the INVH/SFR was applauded by investors, sparking a rally and creating positive momentum heading into 2018.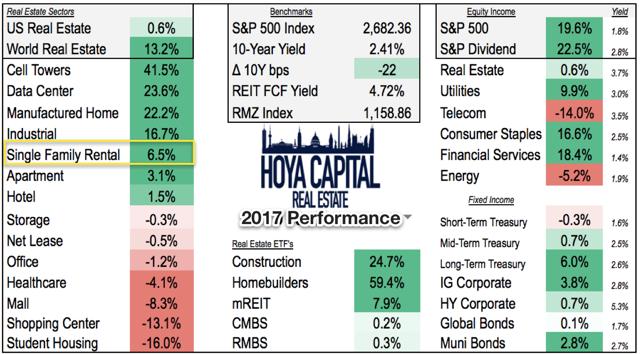 Whether it is fundamentally justified or not, the entire REIT sector has traded as a de facto bond proxy since the passage of tax reform last December. We continue to note that, over the long term, REITs have historically exhibited near-zero correlation with interest rates, but that this correlation tends to spike during periods of heightened interest rate uncertainty. The REIT index has dipped 14% since tax reform passed Congress amid rapidly rising inflation expectations, which has dragged the 10-year yield to three-year highs.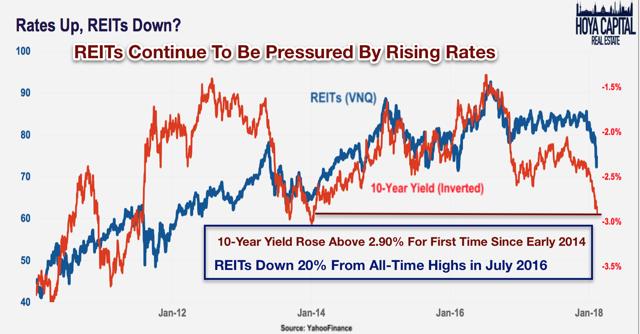 So far in 2018, in line with the broader REIT averages, the SFR sector has dipped nearly 9% compared to a 10% decline in the broader REIT average. INVH has outperformed AMH by nearly 5% since the start of the year and by more than 11% since the announcement of the INVH/SFR merger.

Earnings Results And Recent Developments
4Q17 earnings were slightly above expectations, led by strong results and solid guidance from INVH. Rental and leasing trends were firmer than expected with renewals growing at a 4.6% rate and new lease rates rising 1.6%. As a result, same-store revenue guidance for 2018 is above prior expectations at 4.3%. 2018 is expected to be a slower year for external growth as INVH indicates that it will be net neutral on the acquisition front while AMH plans to spend $500m on new homes and development.

The focus for most investors remains on efficiency metrics, which have shown continued improvement in recent quarters as portfolio growth and consolidation has allowed these REITs to spread overhead costs over a larger sum of rental revenue. The most watched metric, Same-Store Core NOI margins, improved to 63% in 2017, up from 61% in 2015, and is now within range of the apartment REIT average of roughly 65-70%. Corporate overhead (G&A and property management) remains higher than most apartment REITs but appears to be on a continued path of improvement.

Same-store revenues slowed modestly in 2017 but is expected to reaccelerate in 2018. At 4.3%, same-store revenue growth would be roughly 200bps higher than the apartment REIT average for 2018. Supply growth in the multifamily sector has been robust, pressuring rent growth and occupancy. Single-family housing markets, however, have seen far more moderate supply growth as a percent of existing stock. As we'll discuss below, both REITs reported a strong start to the 2018 leasing season.

Recent Developments And Emerging Themes
Over the past quarter and during earnings calls, several key themes and recent developments are being discussed. In general, the tone of earnings calls was quite positive as both REITs expressed confidence in the underlying fundamentals and the path for further growth. We analyzed the earnings calls from INVH and AMH and present the highlights.
Acquisitions Scaled Back Amid REIT Selloff
The sharp selloff across the REIT sector has forced many external-growth-oriented REITs to reconsider the acquisition plans for 2018. Like other acquisition-minded sectors, equity valuations play an important role in the underlying operating fundamentals of the business. As a result of lower share prices, these REITs are having more difficulty funding acquisitions with the same accretive spreads as in the past. Based on our estimates, the sector now trades at a 5-10% NAV discount, down from a 5-10% NAV premium in 2017. AMH has scaled back its ambitions acquisition plans in 2018 from $1.2 billion to $500m. From the AMH call:
"We have adjusted our near-term acquisition program to focus our activities on the channels that provide the best near-term and long-term returns. We now expect to complete $400 million to $600 million of total acquisitions in 2018 comprised of the following channels; approximately $200 million in traditional acquisitions; $200 million in -- through AMH development; and $100 million from our National Builder program.
After the purchase of SFR in 2017, INVH had already planned on 2018 being a relatively quiet year on the acquisition-front. The REIT expects to be net-neutral but remains opportunistic if the occasion presents itself. The company expressed that it will not change its underlying strategy based on share price movements.
"We still see growth in our sector regardless of the interest rate market or what share price might be doing. The best way to arm yourself versus uncertain environments on the macro is through growth. Second is to reduce the leverage. We continue to fortify our already strong balance sheet and our path towards investment grade. And then always, we're extremely opportunistic…. We're not going to take action just based on very recent type of volatility and share price, but we'll look at those allocations of our capital available to us and look at all options."
Built-To-Rent Trend Accelerating, AMH Taking The Lead
Home price appreciation has forced SFR REITs to get creative with external growth plans. AMH has pushed ahead with built-to-rent projects using internal development pipelines and partnerships with homebuilders. It sees 100 bps higher all-in yields from in-house development and 50 bps in incremental yield from built-for-rent purchases from homebuilders.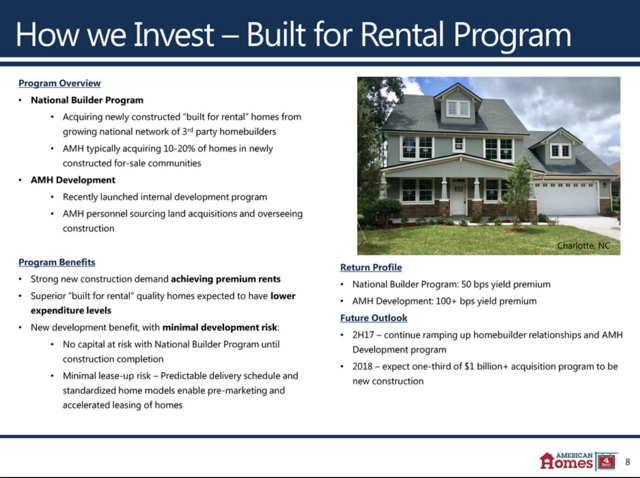 AMH plans to make these built-to-rent programs a larger percentage of their overall acquisition activity. The firm even went as far as to say that, if the program performs as well as expected that it could eventually negate the traditional external acquisition program.
Yes, I would say we're still in the pilot phase of our own development. And if it worked out as well as I think it'll work out, it's possible that that's our only investment avenue.
AMH's move into new development is certainly noteworthy and, if successful, could blur the lines between SFR REITs and homebuilders and keep the external growth channel open, even as home price appreciation limits the traditional acquisition opportunities. We noted last quarter that AMH does not see the need to acquire a homebuilder.
"At this point, we are not looking to acquire a homebuilder. I think we're very, very happy with the homebuilding function that we have in our own company. We are looking to build homes only for our own inventory. And I think between our National Builder program and the program that we're building out internally, I think we will be well-positioned and well covered."
Strong Momentum in Rental Trends
As mentioned above, both firms are seeing strong demand trends in the early months of 2018. Higher mortgage rates, the benefits of tax reform to disposable income, and a strong labor market appear to be creating a perfect condition for strong SFR demand growth. On the national level, single-family rents have slowed from the robust 6%+ rate of growth seen in mid-2015 but have reaccelerated in recent months since bottoming in mid-2017. Based on the Zillow ZRI Index below, we see that SFR rent growth now exceeds multifamily rent growth by the widest margin since at least 2012.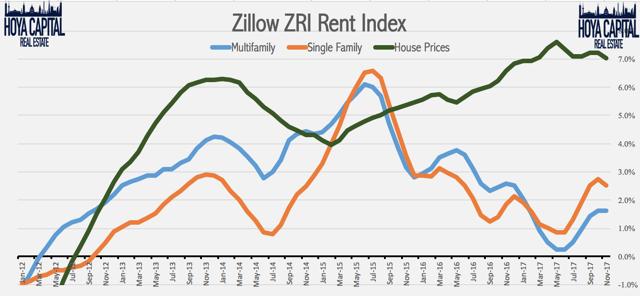 From the INVH call:
And what we're able to see now from even the January numbers I gave you is real acceleration of our renewal rent growth going into the end of the quarter here. We're seeing a lot of good momentum in the portfolio in the way we have it positioned today.
AMH noted similar trends. From their call:
"Demand for leasing has really picked up in January and February over November and December, which were probably our strongest Novembers and Decembers we've ever had."
Merger Closes, Mega-Landlords Created
Invitation Homes' acquisition of Starwood was closed on November 16. INVH expects the merger to create cost synergies of $45-50 million per year and be immediately accretive to AFFO. The merger was an all-stock merger of equals, and the combined company is the second-largest residential REIT by total units behind Mid-America's portfolio of 100k apartment units. The benefits of the synergies are outlined in INVH's presentation below.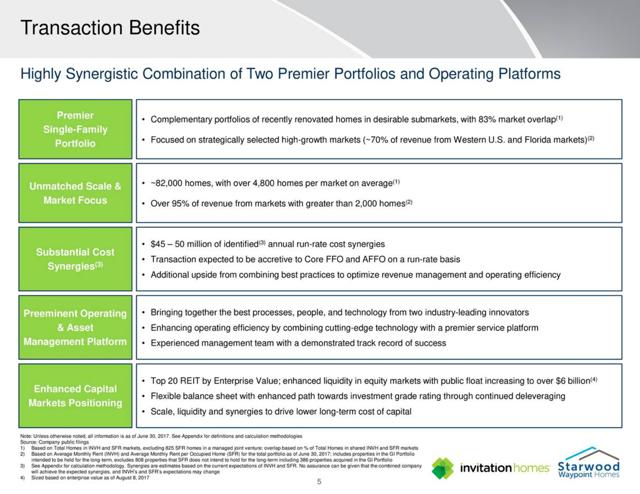 California Rent Control Poses A Threat
Last year, members of the California Assembly introduced a bill to repeal the Costa-Hawkins Rental Housing Act, which would give cities broad power to enact rent control policies. While the bill failed to pass, local groups are mounting efforts to get the measure on the ballot for the November 2018 elections. If passed, rental owners would potentially be limited in their ability to raise rents in line with market conditions. Executives from INVH point out (correctly, we believe) that the true issue is lack of supply and that rent control policies would be a poor way to address the core problem. A far better solution, we believe, would be zoning and regulatory reform that encouraged new development by restraining the power of local governmental agencies. Instead, this measure does the exact opposite, giving these agencies incrementally more power.
"The real issue out there is really not rent control: it's supply of housing. The legal systems of many of these states have significant roadblocks to housing supply that impacts in the time to deliver and, most importantly, the cost to build new housing …. As you know, in California, the Costa Hawkins was the preemptive law across the state, prohibiting rent control, and that was put in place for a reason. They had the foresight to know that that's not a good solution to housing."
By virtue of its exposure to California, INVH would be more exposed to the potential negative ramifications than AMH. It appears that there are decent odds that the initiative passes, given the political climate of the state. From the INVH call:
"The real estate industry is watching this and monitoring it. The rental businesses are all working together to monitor the situation and will be joined together to respond to the issue if it continues to grow"
2 Reasons to Be Bullish on Single-Family Rental REITs
1) 'Renter Nation' Isn't Going Away Anytime Soon
We are right in the middle of the demographic boom that is most likely to prefer rental living. As of today, the most common age in the United States is 26. After that, it's 27. Then 25, 24, and 28. There are five million more Americans in their 20s than in their 40s.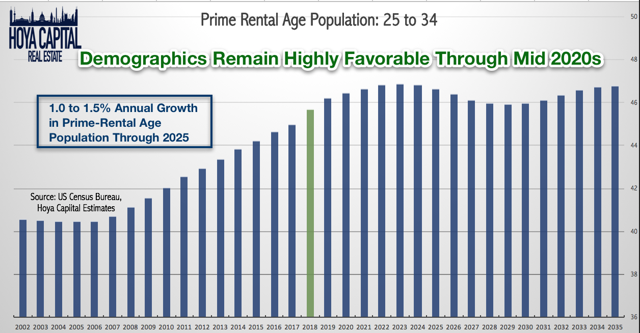 The prime rental age population (25 to 34) will continue to grow until the mid-2020s, adding 1.0% to 1.5% per year. High student loan debt burdens, moderate wage growth, and a "rent-by-choice" preference also makes this demographic more likely to rent. We continue to discuss home price affordability (or lack thereof) and how we believe that rental demand will continue to surprise to the upside as potential home buyers remain in the rental markets for longer than expected. Home prices are up more than 40% since 2012, while rents are higher by roughly 20%. Meanwhile, median household income is higher by roughly 15%. Below, we show our Hoya Capital Buy vs. Rent Index. Using the assumptions below, we estimate the annual costs for the equivalent housing unit for an owner and a renter. Because of robust home price appreciation, rising mortgage rates, and rising property taxes, it is now 10% more costly to own versus rent.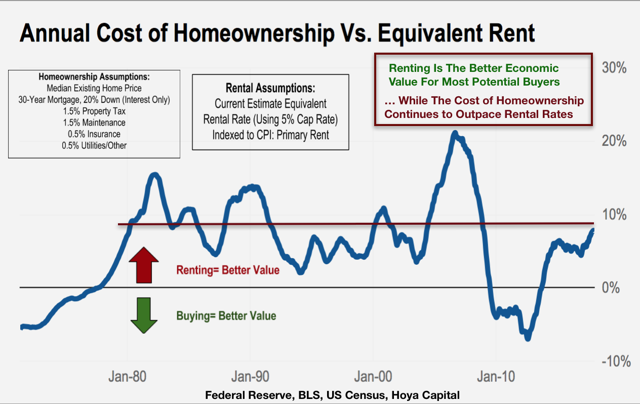 Tax reform is expected to tip the scales even further towards renting. By doubling the standard deduction, only 14% of households will now benefit by itemizing their mortgage interest, according to a Zillow report. This removes a key incentive that is currently used by nearly half of all homeowners. For potential homeowners in high-tax localities, property taxes also became significantly more expensive through the capping of the state and local tax deduction at $10,000. Perhaps, the NAR said it best. During negations of the tax reform package, the National Association of Realtors issued a press release reading:
"By doubling the standard deduction and repealing the state and local tax deduction, the plan would effectively nullify the current tax benefits of owning a home for the vast majority of tax filers. Current homeowners could very well see their home's value plummet and their equity evaporate if tax reform nullifies or eliminates the tax incentives."
The modest tick higher in the homeownership rate in 2017 has gotten a lot of media attention. Articles have been written that raise questions about the health of the rental markets if younger households suddenly acquire a taste and ability to own rather than rent. Below, we show that the homeownership rate has returned to the pre-bubble average of 64%. Digging deeper into the data, however, we can see that the recent modest climb in homeownership is not because of millennials re-entering the market in great numbers. The homeownership rate among households less than 44 years old has fallen considerably more than the overall rate since the recession and has been moving sideways since bottoming in 2015.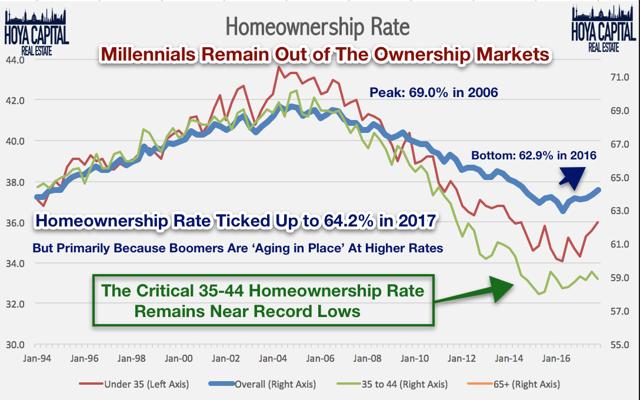 2) Limited Supply
Compared to apartment REITs, which have seen declining same-store NOI growth rates as supply growth has heated up, SFR REITs have seen more favorable supply/demand fundamentals. As a percent of existing stock, annual supply growth in the multifamily sector is now 2%. Supply growth in the single-family sector, however, remains well below 1%.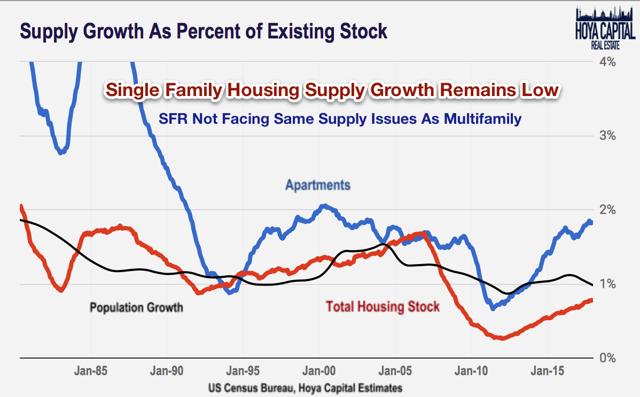 As a whole, housing markets remain undersupplied by historical standards, creating tight housing conditions that have pushed rents and home values higher. Population growth continues to outpace total housing supply growth. As we continue to discuss, structural constraints to supply growth (restrictive zoning and regulations, local politics/NIMBYism, tight construction and lending markets) are unlikely to abate anytime soon.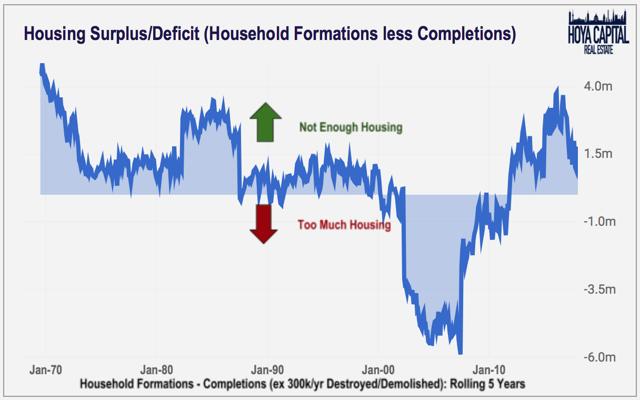 In the most recent earnings call, INVH sees a continuation of the tight housing markets and wants to continue to focus on markets with higher barriers to entry.
"The market is still really tight. We're seeing a lot of activity in the space from not only single-family rental companies, but there are a lot of end users that are still out there trying to buy homes… One area of emphasis for us continues to be in higher barrier to entry sub-markets and parts of markets we're going to see outperformance in terms of growth…. We're seeing rent growth north of 6% and so we're pretty bullish in terms of the fundamentals of the markets that we're in, but we recognize that it is still a little bit tight."
2 Reasons To Be Bearish on Single-Family Rental REITs
1) Home Price Appreciation May Outpace Rent Growth
Critics of SFR REITs question the sustainability of the business model and contend that the institutionalization of SFR was merely a result of a short-term dislocation of the housing market, and that further potential growth will be far more difficult. The fundamental issue is that rent is not necessarily tied to home prices. Over the past several decades, we've seen times where home price appreciation has exceeded potential rent growth. Much of this appreciation is a direct result of the presence of these massive institutional buyers competing over homes.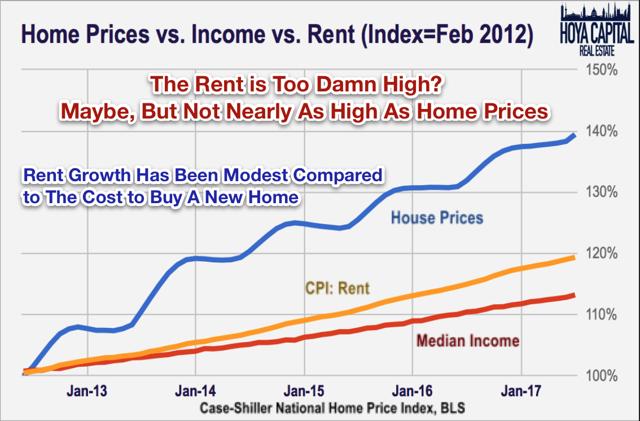 This can create a problematic situation for SFR REITs: Future acquisitions become less accretive as REITs are forced to pay higher prices for the same cash flow. Meanwhile, property taxes, and other expenses tend to increase with rising home values, for which the REIT would be on the hook. For other REIT sectors, this is less of an issue: as asset value rises, even if cash flow projections stay the same, investors are willing to value the firm at higher multiples based on higher levels of Net Asset Value. While SFR REIT executives have said they would be willing to sell off assets if the REITs trade at sizable NAV discounts, we think this is easier said than done.
2) Tenant Satisfaction and Growth of "Fees & Other Income" As A Revenue Source
Seeking Alpha author Michael Boyd published an interesting short thesis on AMH, titled "American Homes 4 Rent: Plenty of Red Flags." In the report, Boyd raises two concerns that we believe warrant further monitoring. First, the REIT receives a large number of negative reviews from current and former renters (including a Facebook group with 1,500 members), many of whom believe they have been overcharged on rent, utilities, or other fees, and also complain that AMH has been slow to respond to maintenance issues. The company receives roughly 200 complaints per year on the Better Business Bureau. Experienced landlords know how notoriously difficult it can be to satisfy renters, particularly when market rents are rising.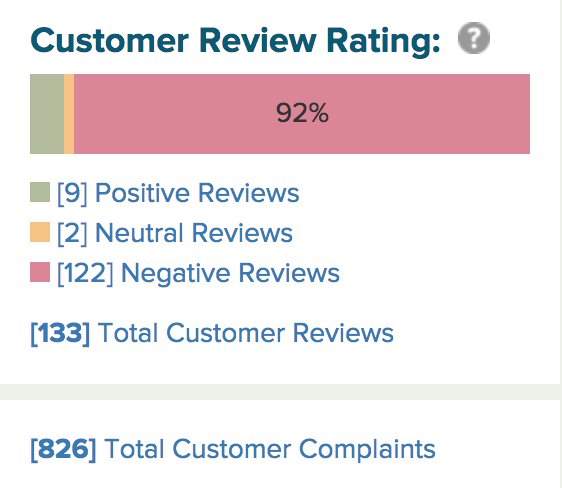 We've read many of the complaints across Facebook and the BBB website, and we don't believe the frequency or nature of renter complaints about AMH is significantly higher than those about the average landlord. In fact, the BBB gives the company a top "A" rating, indicating that AMH receives relatively fewer and less severe complains per renter than the average landlord. That said, we do see risk that the REIT's "brand value" may be affected by the prominence of these complaints in online searches, which may negatively affect a potential renter's perception of the company.
Second, Boyd raises the concern that fees and other income (such as chargebacks) are becoming a larger percentage of total revenue. Fees and chargebacks are a bit of a "black box" for SFR REITs, and it's not always clear what is driving the change, and AMH and INVH use different accounting conventions for these categories. Rising fee income can result from numerous sources, including late fees, pet fees, and application fees. Chargebacks, on the other hand, primarily arise when the landlord pays for utilities and is later reimbursed by tenants.
INVH includes fees and chargebacks in a single revenue line item called "other property revenue." AMH, instead, has separate line items for fees and chargebacks and deducts chargebacks from expenses. Boyd believes AMH is tinkering with the accounting of chargebacks to inflate Core NOI metrics, and that the rising percentage of fees and chargebacks indicates that AMH may be overcharging and/or "nickel and diming" tenants.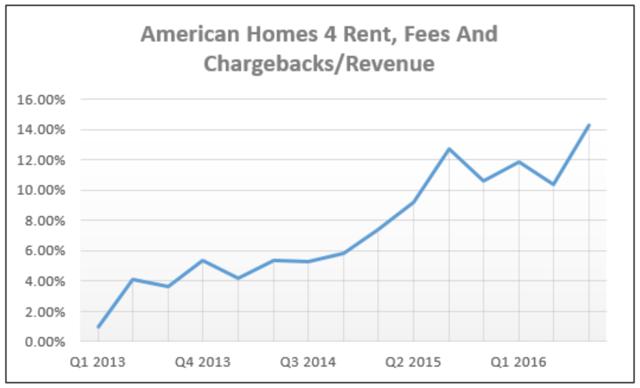 While we do believe it's important to monitor the "fees and chargebacks" categories for unusual changes, we also think the trends exhibited by AMH and INVH are not unusual. "Fees" as a percent of revenue has actually remained fairly consistent over time. The rising chargebacks are a result of AMH's initiative to become the utility account holder for a greater percentage of homes in order to streamline the rental process for tenants, which naturally leads to higher tenant reimbursements. While we would prefer INVH and AMH to provide more detail into these line items and break out the fees and chargebacks separately, we don't see an issue with including chargebacks in either the revenue or expense category.
Valuation Of Single-Family Rental REITs
Relative to other REIT sectors, single-family rental REITs appear moderately expensive based on Free Cash Flow (aka AFFO, FAD, CAD). The sector now trades at a 5-10% discount to NAV.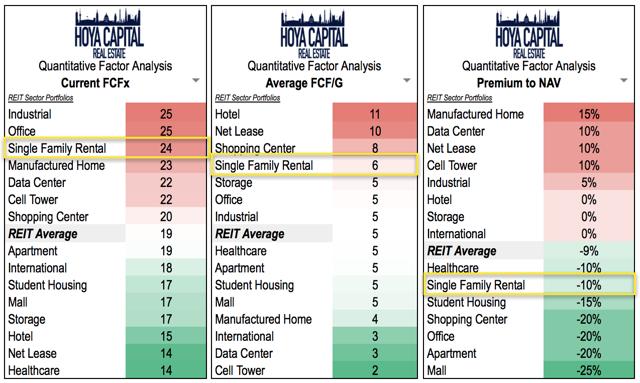 INVH has significantly outperformed AMH over the past quarter and now trades at a valuation premium to AMH.

Sensitivity To Equities And Interest Rates
SFR REITs are not particularly sensitive to interest rates nor equity markets. These REITs can serve as an effective hedge within a real estate portfolio against rising interest rates.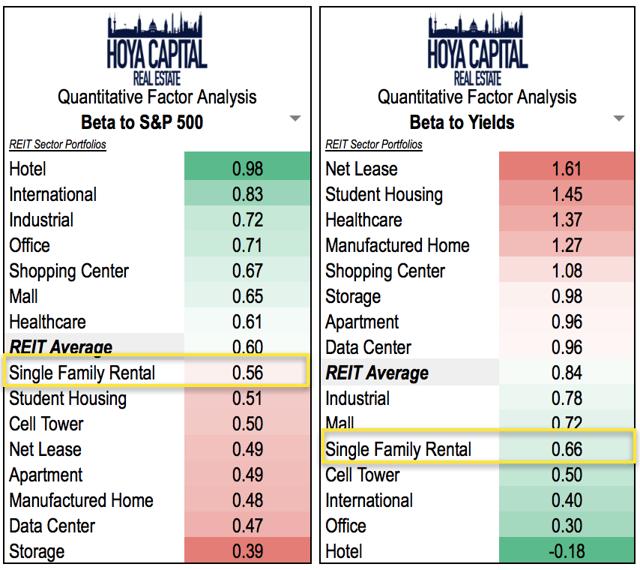 We separate REITs into three categories: Yield REITs, Growth REITs, and Hybrid REITs. (Click on each link to read more information about our methodology). As a sector, SFR REITs fall into the Growth REIT category.

While both REITs are somewhat immune from changes in interest rates relative to the broader REIT sector, INVH has exhibited slightly higher interest rate sensitivity than AMH.


Dividend Yield And Payout Ratio
Based on dividend yield, single-family rental REITs rank at the bottom of the REIT universe, paying an average yield of 1.1%. They pay out just 55% of their available cash flow, so these firms have greater potential for dividend growth and reinvestment than other sectors.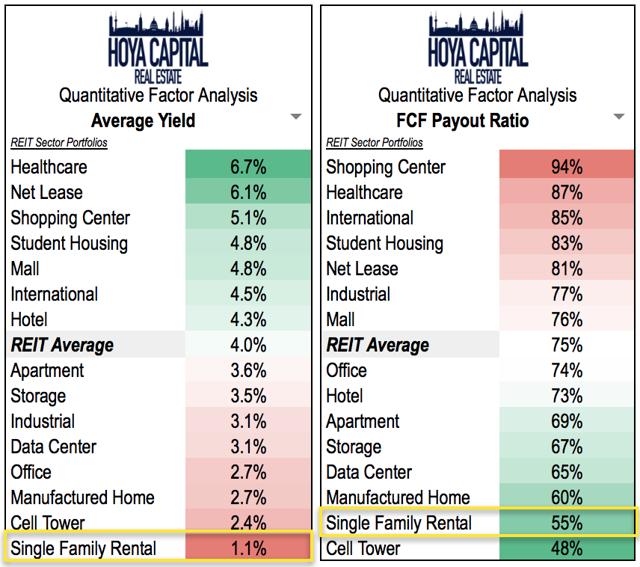 As these REITs mature, we expect their payout ratios to rise to levels in line with other REIT sectors.

Bottom Line
Single-Family Rental REITs, the newest REIT sector, have defied critics and achieved cost efficiencies on par with their apartment REIT cousins. Demand remains strong as homeownership remains historically low. Scale and focus in specific markets have allowed these REITs to keep capex and maintenance costs in check. Investors have applauded the REITs' focus on reaching a critical mass. Fundamentals in the SFR space appear stronger than most other REIT sectors. 4Q17 earnings were slightly above expectations as margins continue to improve and rental trends remain firm.
Home price appreciation has forced SFR REITs to get creative with external growth plans. AMH has pushed ahead with built-to-rent projects using internal development pipelines and partnerships with homebuilders. Critics raise concern about home price appreciation, renter satisfaction, and expense control. The macro tailwinds of favorable demographics, low supply, and home ownership unaffordability appear to outweigh these risks.
The homeownership rate in the United States remains near multi-decade lows. Demographics, affordability, and attitudes towards ownership continue to suggest that the "American Dream" no longer requires homeownership. The institutionalization of the single-family rental market has coincided with the decline in home ownership. SFR REITs emerged from the market dislocations that occurred during the financial crisis.
Technology and productivity are the wild cards that may determine the fate of the institutional SFR industry. Logistically, managing portfolios of thousands of SFR homes was impossible less than a decade ago. If SFR REITs can continue to harness and develop cost-saving technologies that streamline the acquisition, disposition, leasing, and maintenance processes and be leaders in this field, we expect the SFR business to not only be sustainable, but for the SFR REIT model to exhibit a competitive advantage over smaller private equity players in the space.
We aggregate our rankings into a single metric below, the Hoya Capital REIT Rank. We assume that the investor is seeking to maximize total return (rather than income yield) and has a medium-to-long term time horizon. Valuation, growth, NAV discounts/premiums, leverage, and long-term operating performance are all considered within the ranking.

Based on their superior growth metrics over the near term and the anticipated benefits of the INVH/SFR merger, we view Invitation Homes as the most attractively-valued REIT in the SFR sector. For further analysis on all fifteen real estate sectors and how they all stack up, be sure to check out all of our quarterly updates: Apartment, Manufactured Housing, Net Lease, Data Center, Student Housing, Malls, Hotel, Cell Tower, Industrial, Healthcare, Shopping Center, Office, and Storage.
Editor's Note: This article discusses one or more securities that do not trade on a major U.S. exchange. Please be aware of the risks associated with these stocks.