Tesla's New Moves With Home Depot And Lowe's Explained
Summary
Tesla continues to make it difficult to measure the performance of its under performing solar and storage businesses.
Nevertheless, is it easy to see that Company has significant challenges ahead and is attempting to put its Buffalo factory capacity to use with Home Depot deal.
We discuss the intricate relationships between Tesla, Panasonic, Enphase and the recent Section 201 tariff implications.
Readers of Seeking Alpha should know by that Tesla (NASDAQ:TSLA) 10-k filing shows an ongoing and increasing effort effort by management to make Tesla's business more opaque. This is particularly true when it comes to the troubled solar and storage business. The 10-k now makes it very difficult to separate the performance of these two businesses.
The 10-k did confirm our view is that Tesla Solar Roof business is unlikely to be meaningful in 2018. The poor Solar Roof ramp has significant implications for Tesla and the Company's Buffalo fab. This article explains how Tesla is dealing with the challenges.
In context of the 10-k, recent news that Tesla is working with Home Depot and Lowe's in marketing solar and energy solutions should not be a surprise to investors. Due to contractual issues, that we discuss below, Tesla may be forced to ramp its existing solar business to make up for lack of meaningful Solar Roof sales.
According to the Bloomberg article:
"Tesla Inc. is planning a major expansion of its solar division at Home Depot Inc., embarking on a critical test of the mainstream appeal of its renewable-energy products.
The tech pioneer, best known for its electric cars, is beginning to roll out Tesla-branded selling spaces at 800 of the retailer's locations, the company confirmed to Bloomberg News. The areas, which will be outfitted during the first half of this year, are staffed by Tesla employees and can demonstrate its solar panels and Powerwall battery.
Lowe's (LOW) -- the second-largest U.S. home-improvement chain, after Home Depot (HD) -- has also been in discussions with Tesla about selling its solar products, said people familiar with the situation. At some point, Home Depot may also offer Tesla's much-anticipated solar roof, said one of the people, who asked not to be identified because the deliberations are private. Tesla, Lowe's and Home Depot declined to comment on those plans.
Home Depot had a previous relationship with SolarCity Corp., the company Tesla acquired in 2016 and has since retired as a brand -- with salespeople in some stores trying to generate customer leads. But the products themselves weren't on-site. Now, they will be highlighted in high-profile displays, which are 12 feet tall and 7 feet wide. Some locations will be fitted with visual demonstrations that show how the products work."
This appears contrary to Tesla stated plans to reduce the retail footprint of the solar division. Until recently, investors have been told by Tesla (TSLA) management that Tesla will abandon the expensive SolarCity's retail model and sell future solar systems from Tesla stores. Synergies, we were told, would develop from cross selling Tesla products in Tesla showrooms.
So, what gives?
We suspect the answer may lie in the Buffalo fab contract between Tesla and Panasonic (OTCPK:PCRFY). We already know that Tesla had projected a poor module cost structure at Buffalo and, at last disclosure, was expecting its modules to cost above $0.50 a watt. Since that disclosure, the Buffalo fab operations have been taken over by Panasonic.
Panasonic, while being a vastly superior manufacturer to Tesla, is nowhere to be seen in the top 10 list of module manufacturers. With no major solar analysts tracking Panasonic's efforts, there is no publicly available data that we can find on Panasonic's module cost structure.
So, what is Panasonic's cost structure at Buffalo? We do not know. Since Panasonic is not a major player, we do not believe that Panasonic's cost structure in Japan is competitive with cost leaders such as First Solar (FSLR) or JinkoSolar (JKS). However, given that the State of New York has essentially built and furnished the Buffalo fab, it is likely that Panasonic production cost structure at Buffalo is competitive with the leaders.
Tesla is likely paying a premium to Panasonic for the modules but we expect that the premium is small – likely a single digit percentage. In return for the small premium, we suspect that Tesla is bound by minimum purchase commitments from Panasonic. Commitments that Tesla may be finding are difficult to keep in the current environment.
As can be seen from the image below, what remains of the old SolarCity business has now shrunk.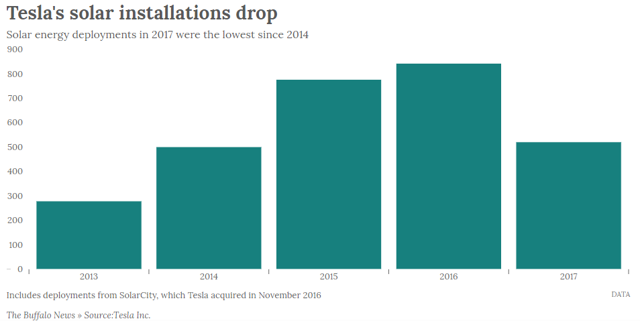 With solar sales at 2014 levels, Tesla is faced a big challenge. As the solar business shrinks, Tesla's module needs, as a percentage of Gigafactory planned output, have dropped. 2017 shipments, as can be seen from the image above, are less than half of the planned 1 GW capacity.
In other words, Tesla now is in a position to have to meet its purchase commitments to Panasonic but without the required run rate in its solar business. The Home Depot agreement and Lowe's potential agreement should be viewed in this context.
Tesla investors should be thankful that President Trump has recently imposed tariffs on imported solar cells and modules under the Suniva Section 201 case. These tariffs, which start at $0.35 per watt in 2018, significantly advantage domestic manufacturing facilities like the Buffalo fab. Consequently, even if the Buffalo fab has an inferior cost structure before tariffs, it now likely has a significantly more favorable cost structure.
Note that Panasonic production does not seem to be exclusive to Tesla and Panasonic also seems to be independently ramping its own module product line. In this context, the recently announced partnership with Enphase (ENPH) makes eminent sense for Panasonic. The high efficiency panels from Buffalo, when paired with Enphase microinverters, can make for very attractive residential solutions.
As a result of the Section 201 tariff advantage, we now expect the Buffalo fab to ramp quickly and likely reach the rated 1 GW capacity by the end of 2018. In total, we estimate that Buffalo may produce as much as 750MW of solar modules this year.
Investors should note that this module ramp has very little bearing on Tesla's Solar Roof product. We continue to be extremely skeptical of the Solar Roof ramp and do not expect initial volumes until mid-to-late 2018. We do not expect Tesla to ship meaningful volumes of Solar Roof in 2018.
Altogether, these Section 201 tariff related developments are positive for Enphase, Panasonic, and Tesla.
Editor's Note: This article covers one or more microcap stocks. Please be aware of the risks associated with these stocks.
For timely, cutting-edge insights, analysis and investing ideas of solar, battery, autonomous vehicles, and other emerging technology stocks, check out Beyond the Hype. This Marketplace service gives you early access to my best investing ideas, along with event driven and arbitrage opportunities when they are most edgy and actionable. If you want expert advice on seeing through the hype, separating fact from fiction, avoiding investing landmines in emerging technologies, and an opportunity to participate in a vibrant and intellectually stimulating real-time chat room with other high-caliber, like-minded investors, consider subscribing to Beyond the Hype today. Subscribers also get access to all past articles.
This article was written by
Where emerging technology and truth converge.
Author of Beyond the Hype, a comprehensive emerging technology stock analysis and discussion service on Seeking Alpha Marketplace. Currently, we focus on identifying and investing in the semiconductor, renewable energy, storage, EV, autonomous vehicle, CPU, and GPU markets.
Beyond the Hype is different because it is dedicated to cutting through management and Wall Street commentary and providing fresh and insightful perspectives from a mid-market M&A consultant specializing in the technology and energy industries who's also been an individual Investor for over 25 years. The platform is about growth oriented investments primarily in market leaders and technology leaders. Investment philosophy is long term buy and hold with average holding time of several years.
Beyond the Hype is different because it is dedicated to cutting through management and Wall Street commentary and providing fresh and insightful perspectives on companies and investments. We see through hype, show the true value of companies, and make investments safer. A lot of views tend to be controversial, against the grain, and remarkably accurate.
In investing, people typically talk about high risk, high reward. At Beyond The Hype, we would like to do a little better. Our motto is: Low Risk, High Reward
Analyst's Disclosure: I am/we are long JKS, FSLR. I wrote this article myself, and it expresses my own opinions. I am not receiving compensation for it (other than from Seeking Alpha). I have no business relationship with any company whose stock is mentioned in this article.
Seeking Alpha's Disclosure: Past performance is no guarantee of future results. No recommendation or advice is being given as to whether any investment is suitable for a particular investor. Any views or opinions expressed above may not reflect those of Seeking Alpha as a whole. Seeking Alpha is not a licensed securities dealer, broker or US investment adviser or investment bank. Our analysts are third party authors that include both professional investors and individual investors who may not be licensed or certified by any institute or regulatory body.