Cineplex: Dividend Grower With A Strong Moat
Summary
Cineplex's stock has fallen precipitously despite a wide moat in the Canadian movie industry.
The stock had an impressive Q4 rebound in results and additional dividend growth to boot.
The industry and stock should rebound in 2018, while paying a very high yield.
Looking for a stock with quality earnings, impressive value, a large moat and a 5% yield? After a large fall during 2017 due to slowing box office numbers, Cineplex (OTCPK:CPXGF) has become an enticing value play. It is the largest theater operator in Canada, constantly diversifying itself with other media and entertainment revenues. It pays a 5.12% yield while maintaining an impressive market share and moat in Canada. As you can see on the chart below, it has outperformed AMC (AMC) significantly, coming from a place of likely overvaluation to great value. While AMC also pays a dividend yield, it is saddled with debt and does not have the diversified entertainment offerings of CPXGF. Let's take a look at what makes Cineplex a great value, starting with the financial results.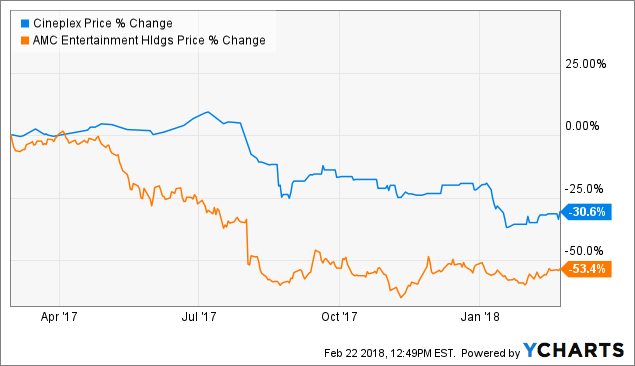 Fourth Quarter Financials
In 2017, Cineplex had $715.6M of box office compared to $992.5M for the country as a whole for a 72.1% share. This gives Cineplex pricing power when it comes to advertisement, concessions, and box office. Q4 was a great one overall for Cineplex, with the growth of the entertainment side making up for a modest box office number. Revenue for Q4 was $426.3M, which is an impressive 10.6% increase from 2016. This led to a net income of $28.79M, an increase of 23.4% against a very weak 2016 period. Attendance, on the other hand, was down 2.1% showing, while attendance is a large portion of revenue, growth can still be attained. Attendance has proven to be based mostly on the quality of the movies released, with past weak years often followed by much stronger years. This gives me significant hope for an attendance rebound for 2018. Loyalty continues to be strong for Cineplex, with the Scene program with Scotiabank (BNS) at 8.9M Canadians. They both have a 50% ownership of the program, using it to generate a large set of data on Canadian customer tendencies. Since near 25% of the population gains benefits from going to Cineplex, it pays to be pick it over competing options. This Scene program keeps people choosing CPXGF over its few competitors, providing a free movie or popcorn every few outings.
CPXGF continues to pay between 60% and 85% of adjusted free cash flow into dividends. Current cash flows should be adequate to pay a 5+% yield at these levels safely. The payout ratio overall in 2017 was 70%, a reasonable and 'safe' number considering an expected improved movie slate for 2018. I do expect the company to raise the dividend at some point in 2018, even as some feel it should decrease it to fuel growth. The company has raised the dividend consistently and it has not fallen since the IPO in 2003, giving it a strong backing. The additional cash flow not put into dividends will be used to upgrade facilities and create new entertainment locations.
Much of the weakness in Cineplex and AMC has stemmed from the weakness in the movie slate in 2017. Data points continue to show that the industry has legs, it just needs quality content that people want to see. The Black Panther opened as the best February opening ever at 202M on the first weekend, - Cineplex's best first quarter movie ever. If Hollywood delivers, the people will come out and experience movies on the big screen. So while Netflix (NFLX) and other forms of home media will continue to bite into attendance, the movie industry has many years ahead of strong results. As of Feb. 21st, movie grosses in North America are up an impressive 7.2% compared to this time in 2017. This bodes well with the strong slate of movies to be released, including another star wars film, and many strong Disney (DIS) films. The Incredibles, The Avengers, Star Wars, and Jurassic Park are blockbuster franchises that should provide us the best Q2 ever. This year will prove to be a huge bounce back for the film industry, and it will alleviate much of the fears of box office declines. If you believe in the slate of movies for 2018, now is the time to purchase the cinema stocks.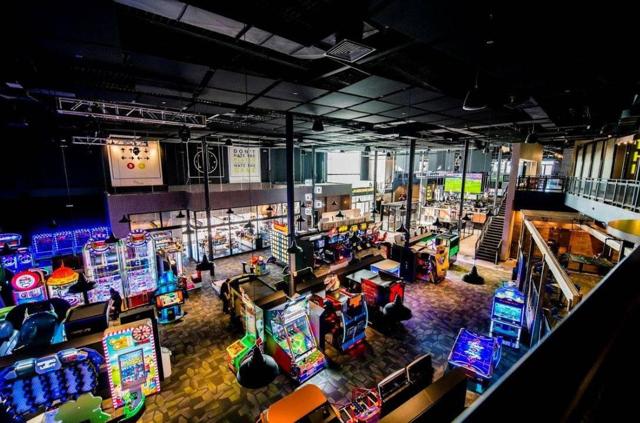 Diversification and The Rec Room
Diversification is the name of the game and a great reason to own Cineplex over its southern competitor AMC. Cineplex is working diligently to diversify away from box office revenues into higher margin food and entertainment. As you can see above, the rec room is a combination of restaurant, gaming center, and sports bar. The rec room is the growth engine of CGX going forward, providing a combination of high margin entertainment and concessions. 4 locations are open now, with 3 more on the way in 2018. Those locations provided $35.2M revenue in 2017 and look for that number to balloon in 2018. Concession revenues have better margins than tickets, allowing the rec room to generate a much better operating margin. Revenues of $16.88M and operating expenses of $13.5M give an operating margin of 25%. This is significantly higher than the overall business margin of 15.2% over the full year of 2017. This is because of the higher portion of high revenue food and alcohol.
It has been pushing this theme with the increasing VIP locations as well, allowing you to buy whole meals during your movie. Over time, expect the rec room to become a larger portion of the business, along with new Playdium and Topgolf entertainment locations. These are not expected to open until 2019, making them moot for the shorter term valuation rebound. For 2017 as a whole, non-movie entertainment was 11.9% of revenue compared to just 0.6% in 2013. This should head towards 20-25% in the next two years providing a significant boost in margins and revenue in the process. These numbers will become increasingly important to the bottom line come 2019.
The media unit of the business is also becoming more important, with digital and print media growing 16.7% y/y to $61.5M. The majority of this is those annoying ads you watch waiting for the movie to start, but some portion is digital place media. Cineplex has been expanding in this area as it "increased our location count by 9.2% or 1,079 new locations to a total of 12,926 locations." The 18.1M for that segment is an increase of 15.5% over Q4 2016. Look for continued high single digit growth in this area going forward. The last key part of 'Media' revenues are those from gaming and E-Sport tournaments. Cineplex has had tournaments for games such as Call of Duty from Activision (ATVI) and Counter-Strike from Valve. It will continue to do this for advertising opportunities and bringing the younger generation into its theaters. This continued diversification in advertising and entertainment is a key part of why this is a safe and stable investment.
Margin Expansion Opportunities
Margin expansion is the solution to the lack of box office growth for CPXGF. The main ways to increase margins are higher price point seating and higher margin concessions. Cineplex is doing those both in spades, with concession revenue up 7% even with attendance down 2.1%. This means the concessions per person were up 9.4% mostly owing to alcohol and pricier VIP cinema food. People enjoy the higher end meals they can get at the VIP, resulting in the all-time best quarterly "CPP" at $6.29. Look for these numbers to continue to rise as the company continues to add VIP screens and enhanced meal options.
The second part is the increasing of box office per person (BPP), which stems from upgraded options like IMAX or 3D. The industry continues to push these options due to the higher margin and relative ease of upgrade. This number was also a record high, at $10.54 per ticket, stemming from 46.4% premium tickets of varying kinds. This is lower than the norm, but the number should stabilize around 50% going forward. The price increases continue to greatly outpace any inflation and provide a cushion for low attendance. The addition of a larger minimum wage in Ontario should help boost revenue for that province as well, as the millennial generation has increased spending money. This will also lead to reducing the workforce and adding more digital terminals to purchase tickets. These margin expansion factors are a long-term story and could take years to become relevant to the P/L.
Risk Factors
The biggest risk factor lies in a continuing decrease in attendance as customers search for cheaper entertainment options. Netflix and even Disney are planning on moving lots of their content to a streaming model. This gives people less incentive to go see a movie as they will likely be able to access it in the near future online.
A Cineplex specific risk that it noted on its Form 10-Q is the potential increase in minimum wage. The largest province Ontario recently raised its minimum wage to $14.00, with $15.00 an hour coming in Jan. 2019. This increases the costs of labor with 87% of the employees paid hourly near this rate. This could happen in additional provinces and pressure operating margins farther if it happens. Fortunately, only 6% of workers are unionized, so the risk of any work disruption regarding pay is very low.
Another risk to keep in mind are the costs charged for movies and content sold to Hollywood. In stronger quarters, the % is higher, like in Q4 where it was 53.4%. Also, if the Canadian dollar weakens, it increases the film costs as a % of revenue. The more top loaded the box office is in films like Star Wars and The Avengers, the higher the fee for CPXGF. While this number has been steady, it has potential to rise from pressures relating to Netflix and a lower number of profitable movies.
Please note that in this article for ease of calculation I have used CAD dollar amounts in this article as Cineplex reports only in Canadian dollars. Also, the stock will be difficult to accumulate OTC because of the low volume and high spreads. The average volume is just 250, so building a larger position will be difficult. If possible, buying it in its CAD version on the TSX under the ticker CGX is advisable to prevent this. Make sure to use limit orders in order to prevent any slippage in your order. The company has great fundamentals, but it is unlikely to get a Nasdaq or NYSE listing so you need to be aware of those risks when purchasing the American version of the shares.
Conclusion
A rebound in the box office in 2018 will alleviate fears of an end of the theater era. Q2, in particular, should be extremely strong, after a great start thanks to The Black Panther in Q1. People still want an exceptional 'experience' and CPXGF provides a top-tier one for a reasonable price. It will continue to increase earnings at the margin, with upgraded food and seating options. The dividend will stay in the 4-5% range, in a company with dominant market share in its area. While you should not expect a return to 2015 levels, the stock will provide a nice upward move and a safe play for a potentially volatile 2018. Having a strong and increasing dividend will act as a floor for the shares just below these levels, giving a great base for a run into the summer when the movie slate should be exceptional. I would recommend the shares for anyone looking for a steady dividend grower with a steady moat for their portfolio.
This article was written by
Don't let the name fool you. I have worked professionally in Finance in Canada for over 10 years helping clients achieve maximum alpha. I am focused on Canadian stocks, Technology and growth stocks. The key to long term returns are disruptive companies that change the landscape of their industry. I also focus on Mid-Cap companies with strong management and high growth to attain alpha. I buy swing positions as well for quality companies when they return to their longer term averages - combine technical setups with solid fundamentals to beat the market. Follow me to get notified on any new article posting - the market moves faster than ever.
Analyst's Disclosure: I am/we are long CPXGF. I wrote this article myself, and it expresses my own opinions. I am not receiving compensation for it (other than from Seeking Alpha). I have no business relationship with any company whose stock is mentioned in this article.
Seeking Alpha's Disclosure: Past performance is no guarantee of future results. No recommendation or advice is being given as to whether any investment is suitable for a particular investor. Any views or opinions expressed above may not reflect those of Seeking Alpha as a whole. Seeking Alpha is not a licensed securities dealer, broker or US investment adviser or investment bank. Our analysts are third party authors that include both professional investors and individual investors who may not be licensed or certified by any institute or regulatory body.