Petrobras (NYSE:PBR) continues to march through the mess of the previous corruption scandal. This time, Offshore Energy Today reported that Petrobras had reached a possible settlement with Sete Brazil. Sete Brazil was originally set to build 29 rigs (23 drillships and 6 semi-subs) for Petrobras, which were to be used in the company's wide exploration and development programs offshore Brazil. However, a combination of rapid decline in oil prices and wide corruption scandal in Brazil destroyed Sete Brazil's ambitions and put the whole project under a big question.
According to Offshore Energy Today, Petrobras will charter four rigs and terminate the contracts for other rigs. It's important to note that the deal is still subject to approval by both companies. The contracts for the four rigs will have a duration of ten years with a dayrate of $299,000. Also, Petrobras will forego its 5% stake in Sete. For a deal to come through, Sete will have to find an international-class drilling rig operator with experience in deepwater drilling to operate the rigs.
Let's look at the deal first from Petrobras' side and then from the offshore drilling industry side.
It has been long questioned how many Sete rigs will ultimately appear in the market. As per Sete's latest presentation dating back to 2016, the best-built rigs looked like this: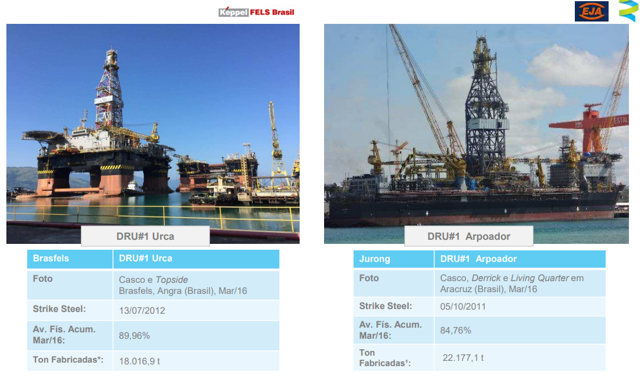 I checked all the rigs mentioned in the above-mentioned Sete presentation through InfieldRigs and here's what I found. Currently, 4 drillships (Arpoador, Deepsea Guarapari, Cassino, Deepsea Itaoca) and 3 semi-subs (Urca, Frade, Bracuhy) are listed as "under construction". The remaining Sete rigs are already cancelled. The Offshore Energy Today's report did not specify which rigs will Petrobras be taking. Current delivery dates are 2018 (Arpoador), 2019 (Urka, Frade, Deepsea Itaoca), 2020 (Deepsea Guarapari, Bracuhy) and 2021 (Cassino). It is possible that Petrobras will be taking the first four rigs to come out of the yards, but we'll have to wait for the official confirmation on this.
Speaking about the dayrate, the resolution of this matter looks decent for Petrobras. Yes, the current dayrates for ultra-deepwater rigs are in the $150,000 - $200,000 range and sometimes even lower dependent on location and the duration of the contract. However, dayrates will increase in 2020 and beyond (that's your author's view which is shared by many industry observers), so Petrobras is getting off the hook with its legacy Sete deal at a reasonable price with only 4 rigs to contract.
Now let's turn to the implications of this deal for the offshore drilling industry. Brazil is the world's most important deepwater region, so each company with ultra-deepwater assets is interested in the successful resolution of the Sete story. "Successful" here for industry participants means that the less Sete rigs come out of the yards, the better.
From this point, only 4 rigs being contracted by Petrobras is a big relief for offshore drillers like Ensco (ESV), Rowan (RDC), Noble Corp. (NE), Transocean (RIG), Diamond Offshore Drilling (DO), Seadrill (SDRL), Ocean Rig (ORIG), Seadrill Partners (SDLP) and Pacific Drilling (OTCPK: OTCPK:PACDQ). Also, Sete will be forced to find an "international-class" drilling company to operate the rigs, and, most likely, it will be one of the companies listed above.
As I wrote back in September 2017, activity in Brazil is set to increase as both majors and Petrobras itself are ready to drill once again. Most likely, real jobs for the majority of drillers won't come until 2019, but after this, Brazil will serve as a very important factor in the reduction of rig oversupply. The potential outcome of the Sete story looks favorable for the whole industry.
To sum it up, Petrobras is getting a good deal. The company has been very active since the beginning of this year and the turnaround in business is followed by a turnaround in the share price, which is up 35% year-to-date. Drillers' charts look really ugly right now as the market seems disappointed that the recent upside in oil prices did not lead to immediate positive results outside of the North Sea segment. Anyway, the potential Petrobras-Sete deal is a good catalyst for the industry which will play out in 2019 and beyond.
If you like my work, don't forget to click on the big orange "Follow" button at the top of the screen.
Editor's Note: This article covers one or more microcap stocks. Please be aware of the risks associated with these stocks.