Trade war talks have been rattling global markets since President Trump announced on Thursday, Mar. 1 that he will impose tariffs of 25% and 10% on imports of steel and aluminum, respectively.
The announcement came following a meeting with executives from U.S. metals producers. While nothing is official yet, Trump said that he would formally announce the measures sometime next week. "So far, this Administration tends to come out strong at the start and ends up being more reasonable in their approach as time goes on," JJ Kinahan, chief market strategist at TD Ameritrade said. "This isn't a time to panic, and look at the actual facts when you're trading."
One important factor that investors might consider is whether the tariffs will be implemented in a blanket approach, or if they will be targeted around specific countries. The U.S. Department of Commerce made several different recommendations to the President as part of its investigations into the impact of steel and aluminum imports on national security, while Trump's announcement seemed to favor a broad approach.
Market Reaction
The market reaction to the proposed tariffs came quickly and March started off on a shaky note. While there was some strength in domestic metals companies, particularly ones more concentrated in steel and aluminum production, major indexes declined over the course of yesterday's trading session.
The news of the tariffs, combined with poor February auto sales data that was released yesterday, hit automakers hard. Since Thursday's open, General Motors (GM) was down over 5% and Ford (F) was down about 2.5% as of mid-day Friday. The American International Automobile Dealers Association expressed concern over the tariffs and said " both metals are crucial to the production of cars and trucks sold in America today and would raise the sale prices of those vehicles substantially."
"The tariffs Trump is implementing could pose real challenges to some industries, including ones you might not immediately think of," JJ Kinahan, chief market strategist at TD Ameritrade said. "Consider, for instance, soda and beer makers that rely on aluminum for cans."
Molson Coors Brewing Co. (TAP) was one of several companies that sounded off on the decision. "We buy as much domestic can sheet aluminum as is available, however, there simply isn't enough supply to satisfy the demands of American beverage makers like us," the company said in a tweet. "American workers and American consumers will suffer as a result of this misguided tariff."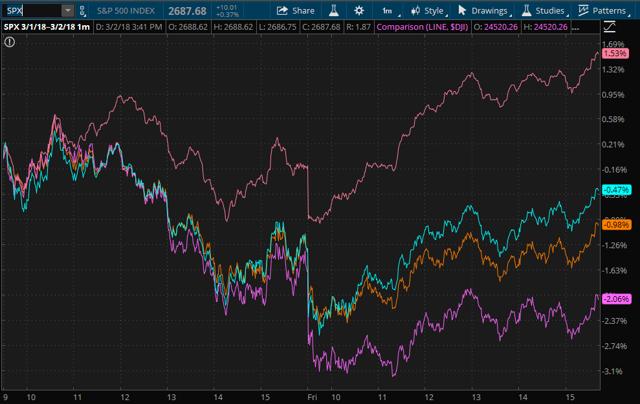 MAJOR BENCHMARKS SINCE THURSDAY'S OPEN. The chart shows the performance of the S&P 500 (SPX, orange line), the Nasdaq Composite (COMP, teal line), the Dow Jones Industrial Average ($DJI, purple line) and the Russell 2000 (RUT) since market open on Thursday, Mar. 1. All four gained ground on Friday, with the RUT being the strongest performer. Chart source: The thinkorswim® platform from TD Ameritrade. For illustrative purposes only. Past performance does not guarantee future results.
International Reaction and Talk of Trade Wars
The international reaction to the proposed tariffs was swift.
Canada's Foreign Minister Chrystia Freeland said,"Should restrictions be imposed on Canadian steel and aluminum products, Canada will take responsive measures to defend its trade interests and workers." China's Foreign Ministry Spokesperson Hua Chunying said the country"will take necessary measures to safeguard its legitimate rights and interests," when asked about the tariffs in a press conference. President of the EU's European Commission, Jean-Claude Juncker, said this in a statement:" The EU will react firmly and commensurately to defend our interests. The Commission will bring forward in the next few days a proposal for WTO-compatible countermeasures against the US to rebalance the situation."
Now, the question is what the final tariffs will end up being, and what steps other countries might end up taking in response to them.
Takeaways for Investors
"If tariffs go up, it will, at the margin, tend to put more upward pressure on prices, and those upward pressure on prices will have to be considered by the monetary authority," New York Fed President William Dudley said in a recent speech in Brazil (Brazil is the second largest source of U.S.-imported steel behind Canada, according to IHS Markit's Global Trade Atlas.)
For an idea of how the Fed views the tariffs and how that thinking might enter its policy decisions, and ultimately impact interest rates, consider keeping an eye on the next FOMC meeting on Mar. 20-21. That will also be Fed Chair Jerome Powell's first meeting as head of the Federal Reserve.
Beyond the implications for inflation and the Fed's monetary policy, Kinahan pointed out that "the prospect of faltering economic relations between the U.S. and China might also be adding additional fears. Remember, U.S. stocks took a brief dive back in January after a media report that China might consider slowing or halting its purchases of U.S. Treasuries." China later denied that report, but this highlighted how intertwined both countries' economies and governments are.
Despite all the news, keep in mind the U.S. hasn't officially enacted anything yet, and it may be prudent for investors to use caution when making any investment decisions based on the information so far. Not only could foreign countries' retaliatory trade measures add more volatility in the next few weeks, the actions they end up taking could have wide-ranging impacts on different sectors. It might be best to let the dust settle to see what actually ends up happening.
TD Ameritrade® commentary for educational purposes only. Member SIPC.
Disclosure: I/we have no positions in any stocks mentioned, and no plans to initiate any positions within the next 72 hours. I wrote this article myself, and it expresses my own opinions. I am not receiving compensation for it (other than from Seeking Alpha). I have no business relationship with any company whose stock is mentioned in this article.