Natural Health Trends Corp.: Big Risks, Big Reward
Summary
A crackdown on illegal pyramid schemes by Chinese officials and some one-time events have weighed on membership growth in the last two years.
FY17 was a bad year for NHTC, with membership down almost 20%, but momentum improved in Q4.
The headwinds have impacted NHTC more than peers because Hong Kong accounts for almost all of NHTC's business.
The flip side to this is that there's potentially a lot more upside in NHTC if conditions normalize and the bad publicity goes away.
Natural Health Trends Corp. (NASDAQ:NHTC) is an international direct-selling and e-commerce company whose subsidiaries sell personal care and wellness products under the NHT Global brand in more than 40 countries, including North America, China, Taiwan, South Korea, Singapore, Malaysia, Japan, and throughout Europe.
Figure 1: Products

Source: 10-K
Approximately 90% of total order volumes come from Hong Kong. Here, the company distributes its products through a network marketing system, which is a form of person-to-person direct selling (commonly referred to as a pyramid scheme). Under this system, members working as independent contractors purchase the company's products at wholesale prices and then refer the products to prospective consumers. Members earn commissions based on the amount of product purchased in their down-line (either from members they have recruited directly or from those who joined through someone else they recruited).
NHTC's stock performance in recent years has been something to behold. After trading as a penny stock for almost 15 years since its founding in 2001, the share price increased almost 1,000% between 12/31/13 and 12/31/15 (Figure 2). Growth in active members, which up to that point had been steady but underwhelming, increased by a factor of 4x during this two-year period (Figure 3).
Figure 2: Stock Performance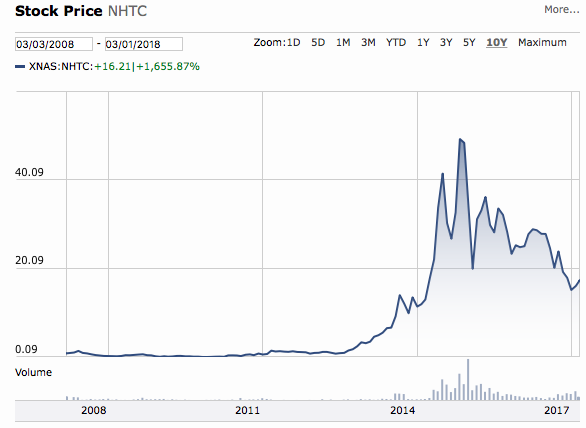 Source: Morningstar
Figure 3: Active Members

Source: Madison Investment Research
Note: NHTC defines active members as those that have placed at least one product order with the company during the preceding 12-month period.
But the stock fell off a cliff a couple months later after it was reported that the company was being investigated for fraud for operating as an illegal pyramid scheme. NHTC denied these allegations and went about business as usual, but the growth in active members has fallen off in the last two years. As of 12/31/17, the membership base was almost 20% below 2016 levels (Figure 3).
Why is Membership Falling?
Management blames the decline in membership on external factors, including the G20 Summit in 2016, the 20th Anniversary of Hong Kong's handover and China's Communist Party's 19th National Congress, which, according to management, hindered members' ability to organize meetings and conduct business. Basically, the Chinese government had to empty city districts, block traffic, and shut down businesses to prepare for these events. Now, it's hard to believe that the investigations aren't having at least some impact on membership levels, but the claims management puts forth do seem plausible.
Network marketing, by definition, is a connection-driven business and NHTC attributes much of the growth in the earlier part of the decade to the numerous incentive trips and training programs it held, which were instrumental in introducing new people to the network. Any serious obstacles to promotional events, meet-ups, and membership interaction should, in theory, stifle growth, and the company didn't offer an incentive trip last year that was comparable to the one it had in 2015. It therefore seems unlikely that the decline in membership has anything to do with a mature market or lost business to competitors. With a population of 7.4 million people (~7,000 people per square kilometer), Hong Kong is one of the most densely populated places in the world and an ideal market for face-to-face marketing. NHTC's penetration levels are still low, and we think there's still a lot of room for growth here if the bad publicity dies down.
The company reported results for Q4 last week and there are signs that things could be turning around. Total revenues increased 15% sequentially and sales in Hong Kong increased 13% sequentially, marking the first sequential quarterly increase in sales since Q2 2016. Membership declined from Q3 to Q4, but the decrease was lower than it has been in recent quarters and the company is seeing positive momentum in Southeast Asia, Japan, and Europe. NHTC attributes the pick-up in growth to a number of incentive trips and training programs it held throughout the year, and to a refined compensation structure that it believes will better incentivize members. In 2018, NHTC will make additional adjustments to the reward system, such as narrowing the gap between low-rank and mid-level members and adding one-time cash bonuses for new participants.
Valuation
NHTC is a financially health company (no debt) that generates strong cash flows and high returns on capital. But the stock is still incredibly cheap and trades at a 50% discount to peer averages across all the standard valuation multiples (Figure 4).
Figure 4: Peer Group Comps

Source: Madison Investment Research
The peer group isn't perfect; there's very little overlap in terms of marketplace and product range with NHTC, but these companies still serve as a useful benchmark due to their similar customer bases and business models.
The seemingly obvious explanation for the NHTC discount is the ongoing investigation from Chinese authorities, but Herbalife (HLF), NuSkin (NUS), and USANA (USNA) all run the same multi-level marketing strategy, and all of them have come under investigation for running pyramid schemes in the last year, by the same Chinese authorities no less. NHTC is currently being sued in three lawsuits alleging, among other things, that the company made materially false and misleading statements regarding the legality of its business operations in China, but NHTC's peers have and/or continue to face similar charges. There's a substantial amount of doubt regarding the long-term viability of all these businesses, but even more so when it comes to NHTC.
The difference between Natural Health Trends Corp. and HLF, NUS, and USNA is that NHTC is almost entirely dependent on Hong Kong, whereas the operations of peers are more evenly spread around the globe. China accounted for 92% of NHTC's revenues in 2016, compared to 20% for HLF, 32% for NUS, and ~40% for USNA. A permanent crackdown in Hong Kong would therefore cripple NHTC, whereas peers would be able to shake it off to varying degrees.
Conclusion
FY17 was a bad year for NHTC, but momentum improved in the fourth quarter. The company's dependence on China means that the recent headwinds there have impacted NHTC more than peers, but the flip side is that there's a lot more upside potential in NHTC if the regulatory fears die down and management is right about its issues being largely external. NHTC appears to have a viable business backed by strong financials. Whether or not you trust this enough to invest is another matter.
This article was written by
equity analyst / macro. passed cfa level ii exam
Analyst's Disclosure: I/we have no positions in any stocks mentioned, and no plans to initiate any positions within the next 72 hours. I wrote this article myself, and it expresses my own opinions. I am not receiving compensation for it (other than from Seeking Alpha). I have no business relationship with any company whose stock is mentioned in this article.
Seeking Alpha's Disclosure: Past performance is no guarantee of future results. No recommendation or advice is being given as to whether any investment is suitable for a particular investor. Any views or opinions expressed above may not reflect those of Seeking Alpha as a whole. Seeking Alpha is not a licensed securities dealer, broker or US investment adviser or investment bank. Our analysts are third party authors that include both professional investors and individual investors who may not be licensed or certified by any institute or regulatory body.