The strength of January disappeared in February despite little negative macroeconomic news, leading many analysts to conclude that profit-taking (and to a certain extend deleveraging) was driving the sudden fall in the S&P 500 (SPY). And while the shot-up in the VIX drove a fascinating, headline-catching story about poorly designed and understood ETPs blowing up, it remains the broad assumption of Wall Street analysts that the sell-off lacks a structural cause.
Hints of this are in the more placid bond markets.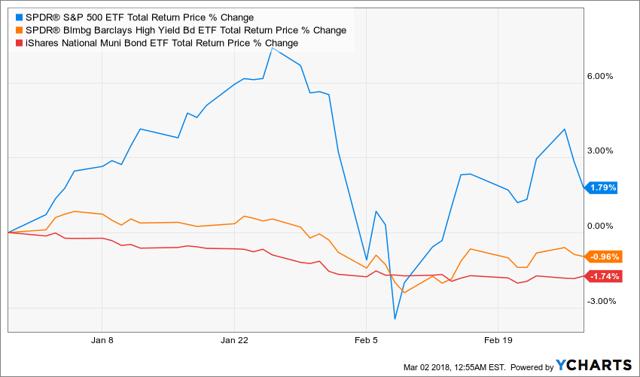 Although down, both the iShares National Municipal Bond ETF (MUB) and the SPDR High Yield Bond ETF (JNK) saw little change in their pre-crisis trend.
Greater volatility in equities was reflected in CEFs, although in some cases in counter-intuitive ways. Broadly, however, we saw equity CEFs fall in February and, so far, these funds have failed to recover. That has driven bigger discounts for a number of funds, while also increasing yields and simultaneously making those yields easier to achieve for fund managers.
Returns by Asset Class
Despite their synergistic relationship to volatility, buy-write CEFs fell the sharpest amongst the market panic. According to CEF Insider's Buy-Write Sub-Index, these funds fell by over 7% in a matter of days and have not yet fully recovered: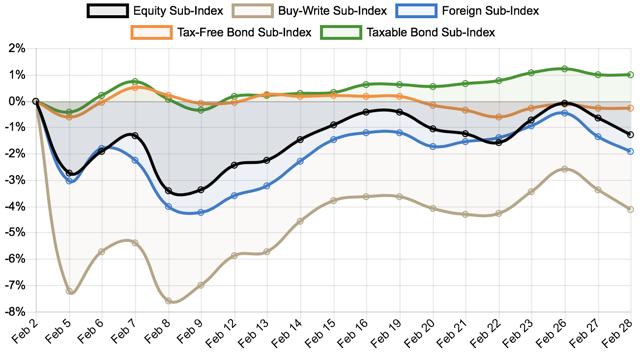 As you can see by comparing that index with the Equity Sub-Index, buy-write funds fared much worse during the downturn, while a slightly stronger correction in the Foreign Sub-Index after a (so far short-lived) U.S. dollar recovery belies CEF investors' risk-off attitude in February. Also, in a rare convergence with the broader market, we saw both the Tax-Free Bond Sub-Index and the Taxable Bond Sub-Index not only see less volatility, but actually end the month flat-to-up slightly regardless of the weakness elsewhere.
Biggest Discounts
Many of January's most discounted CEFs remain so in February, but we have also seen a shift away from an equity-heavy list to one with more muni bond funds having larger discounts: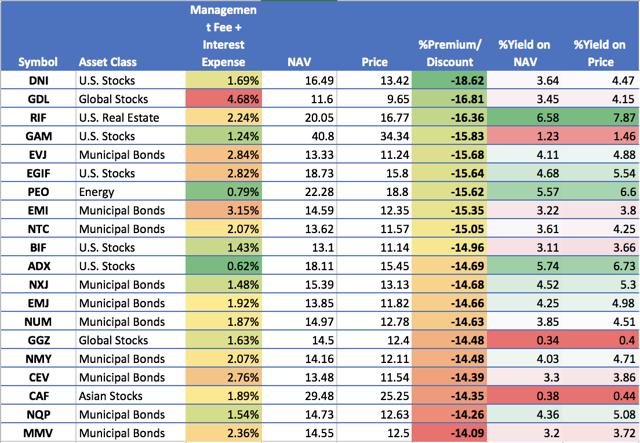 The larger discounts on muni bond funds make sense when we consider the fundamental strength in muni bond markets relative to the greater risk-off moves in equity markets. As NAVs have remained stable among these muni bond funds, fund flows out of the funds (for whatever reason) have caused higher discounts. That, of course, is an opportunity for investors who have dry powder to deploy.
Biggest Premiums
Largest premiums remain focused on a few familiar names, but it's particularly interesting to note how some funds have seen their premiums rise significantly in a month. For instance, one of my swing-trading favorite funds, PIMCO Global StocksPLUS & Income (PGP) has gone from a 16.9% premium to NAV at the end of January to a 24.6% premium to NAV at the end of February: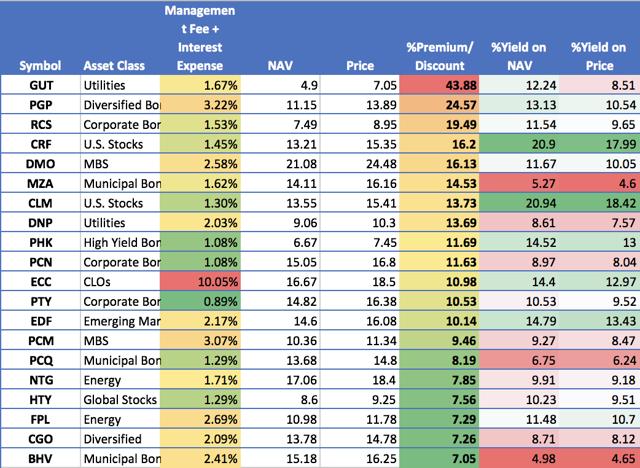 Noteworthy too is the 7.6% premium at the John Hancock Tax Advantaged Global Fund (HTY), which had an incredible swing from a rare discount to a large premium in the span of a couple months: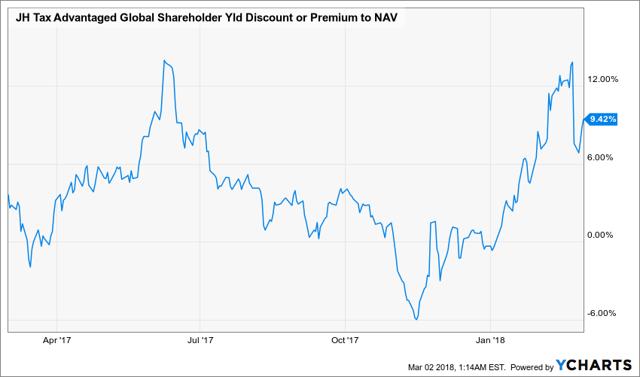 CEF investors aware of this opportunity were able to bag a quick profit on this fund.
A quick look at a Seeking Alpha favorite high yielder—the Eagle Point Credit Company (ECC)—is interesting. ECC reported earnings recently, with a NAV per share increase. However, ECC also reported an NII decline of 11%, which some are brushing off as being offset by capital gains. One should look very closely at ECC's results (and in particular to its portfolio yield, fees, and ratio of NAV gains to NII declines) to determine whether this is enough to justify a constructive view on ECC. This is ECC's performance for 2018 so far: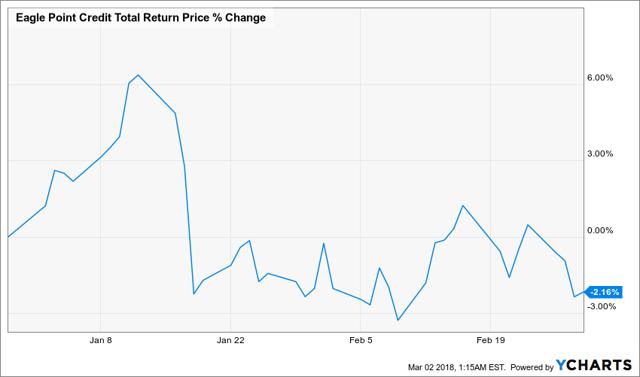 Best 1mo Returns
79 of the CEFs tracked by CEF Insider were outperforming the S&P 500 by the end of February, and 154 were flat or positive.
The top CEFs have for the most part seen commensurate NAV and price declines on a total return basis (a metric that, frustratingly, is not available on Yahoo Finance, Google Finance, Seeking Alpha, or many other free online services), with the obvious exceptions of HTY and the Nuveen Pennsylvania Municipal Value Fund (NPN):
The Central and Eastern Europe Fund (CEE) remains the best performing CEF of January and February 2018. However, this fund remains down over the last decade: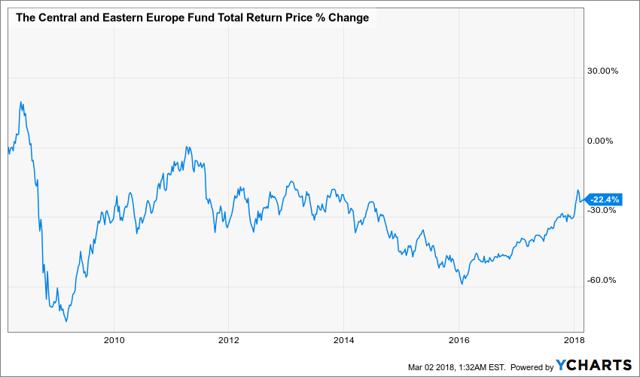 Worst 1mo Returns
Despite its historical popularity with investors, two PIMCO funds have seen the worst YTD total price returns as of the end of February, in addition to some REIT funds and other PIMCO funds:
However, in all but one cases these CEFs have had a positive NAV total return, which indicates that this sell-off in these worst CEFs is an irrational overselling:
This, in turn, provides a very rare opportunity for CEF investors—the kind of opportunity that I pointed out at the start of 2017. Investors who take contrarian positions on funds with strong fundamentals and falling prices will get an opportunity both for market-beating performance and significantly higher yields (CEF Insider's target is 7.5%).
Disclosure: I/we have no positions in any stocks mentioned, and no plans to initiate any positions within the next 72 hours. I wrote this article myself, and it expresses my own opinions. I am not receiving compensation for it (other than from Seeking Alpha). I have no business relationship with any company whose stock is mentioned in this article.